(CNN)The funeral of Formula One legend Niki Lauda took place in Vienna on Wednesday, where some of the sport's most recognizable faces were in attendance.
Defending F1 world champion Lewis Hamilton and his former teammate Nico Rosberg were among those who paid their respects, alongside Alain Prost, who raced with the Austrian at McLaren in the 1980s. Outside of motorsport, Austria's President Alexander Van der Bellen and Hollywood star and former California governor Arnold Schwarzenegger also attended the funeral.READ: Three-time Formula One champion Niki Lauda dies aged 70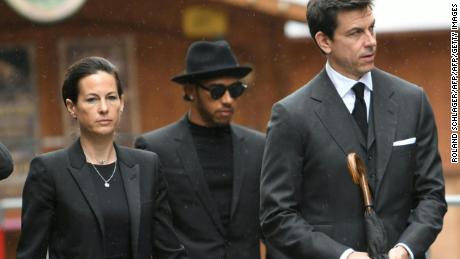 Hamilton arrives at Lauda's funeral alongside Birgit Lauda and Mercedes boss Toto Wolff.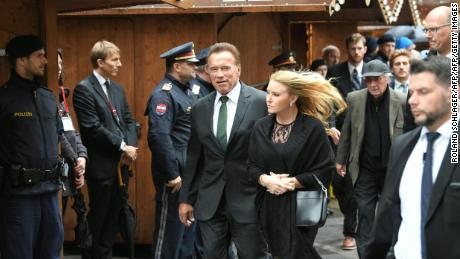 Arnold Schwarzenegger and girlfriend Heather Milligan arrive at St. Stephen's in Vienna.Lauda passed away at the age of 70 on May 21. He was hospitalized with influenza earlier this year and underwent a lung transplant in August 2018.Read MoreThe Austrian, who won F1 titles in 1975, 1977 and 1984, is best remembered for his recovery from a life-threatening crash at the German Grand Prix in 1976. He inhaled toxic fumes and suffered horrific burns after his car collided with a barrier and burst into flames, but returned to racing just six weeks later. Two of his three world titles were won after the crash. READ: Hamilton dedicates Monaco victory to Lauda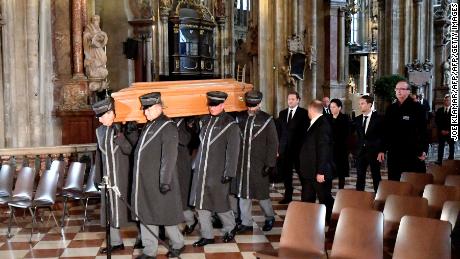 Lauda's coffin arrives at St. Stephen's Cathedral in Vienna.After retiring from motorsport, Lauda enjoyed a successful entrepreneurial career by founding three airlines, Lauda Air, Fly Niki, and Laudamotion. He also served as a non-executive chairman for Mercedes.On Sunday, Hamilton dedicated his victory in Monaco to Lauda, saying after the race that he was "fighting with the spirit of Niki.""He's been such an influence in our team," the Brit continued, "and I know he will be looking down and taking his hat off."
Source Link:
https://www.cnn.com/2019/05/29/motorsport/niki-lauda-funeral-formula-one-motorsport-austria-spt-intl/index.html
[0]
Comments
comments