Hong Kong (CNN)New satellite images published by a US think tank may provide the world's first look at China's next aircraft carrier, as construction progresses on a mysterious large vessel in a shipyard outside Shanghai.
Significant new activity at the Jiangnan Shipyard was captured in satellite images from April, published by Washington-based think tank the Center for Strategic and International Studies (CSIS).According to CSIS, they show a massive bow and main hull section of a large vessel under construction. At points, the hull section is as wide as 40 meters (131 feet).Experts said while it was difficult to be sure, the size and scale of the new vessel strongly suggested China's much-anticipated new aircraft carrier, referred to as Type 002."What we are seeing at Jiangnan is consistent with what we would expect for the build of the Type 002. The vessel under construction is rather large, so that limits what else it could be," CSIS analyst Matthew Funaiole said.Read More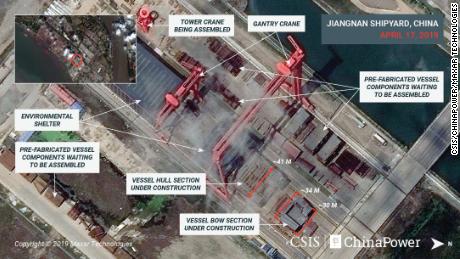 Satellite images released by CSIS which could show the new advanced Chinese aircraft carrier under construction in April.Rumors that the Chinese military was constructing a third, more modern aircraft carrier have been circling for more than a year. It was only in November that state media Xinhua first hinted at a new vessel."Six years have passed, our (first) domestic carrier has been trialed, entry into service is just around the corner. The new aircraft carrier has also been built on the slipway," the article said. The US Department of Defense has estimated that it could be completed as early as 2022.China currently has one aircraft carrier in operation, the Liaoning. Another is undergoing sea trials: the unnamed Type 001a, the country's first domestically built aircraft carrier.Funaiole said with three operational aircraft carriers in its fleet, China would be joining "an exclusive club of countries."
Satellite images from April show a rapid series of changes at the Jiangnan shipyard, outside of Shanghai.Director of the International Security Program at Sydney's Lowy Institute, Sam Roggeveen, said while China's first two carriers are variations on an older Soviet-era design, the Type 002 is expected to have more in common with advanced US vessels."The previous two had what they call a ski jump ramp which allows aircraft to take off without any mechanical assistance," he said, adding the new model is likely to have a more-advanced catapult launch system."You can launch more aircraft, and heavier aircraft, which effectively means the ship becomes much more capable."Rapid naval expansionIn the past few years, China's navy has expanded at an increasingly rapid pace. Between 2016 and 2017, 32 new ships were commissioned by the PLA, according to US government reports. In comparison, the US commissioned 13.Since 2014, China has launched more submarines, warships, principal amphibious vessels and auxiliaries than the total number of ships currently serving in the navies of Germany, India, Spain, Taiwan and the United Kingdom, according to a 2018 report by think tank IISS.
China's military is going from strength to strength under Xi JinpingProduction capacity is still increasing as well. Satellite images of Jiangnan Shipyard outside of Shanghai showed it had increased in size by 64% over the past decade.Beijing's domestically-produced aircraft carrier, the Type 001a, is likely to be put into service in 2019, according to a new Pentagon report, which said China's People's Liberation Army Navy (PLAN) was developing into a "global force.""The PLAN's ability to perform missions beyond the first (Pacific) island chain is modest but growing as it gains more experience operating in distant waters and acquires larger and more advanced platforms," the Pentagon report said.But Roggeveen said it could be a while before the Chinese navy began to steadily churn out aircraft carriers at the rate it has other ships."China's now on such a steep learning curve that they're not really at the point where they can start building several of these without learning and refining their design as they go," he said."They're aiming for something that I think they can't get in one leap."
Source Link:
https://www.cnn.com/2019/05/07/asia/china-aircraft-carrier-satellite-intl/index.html
[-0.246709]
Comments
comments