(CNN)A New Jersey woman who communicated on Facebook with members of ISIS under the name "Umm Nutella" only weeks after she pleaded guilty to connecting US-based extremists with the terrorist group was sentenced Wednesday to 48 months in prison, minus time served.
Sinmyah Amera Ceasar, 24, who pleaded guilty to one count of conspiracy to provide material support to a foreign terrorist organization in February 2017, has spent 28 months in prison in total. Prosecutors said Ceasar was so prominent in her role as a facilitator for would-be terrorists that they brokered the cooperation agreement in the hopes that she could lead investigators to dangerous ISIS members.
'It's not their fault': German families plead for return of stranded ISIS childrenBut when Ceasar was released on bail in April 2018 as part of that agreement, she went back on Facebook, chatting with the same ISIS members and reaching out to new ones, prosecutors said. Ceasar chose the name "Umm Nutella" based on a marketing ploy in which ISIS members would take selfies with a jar of the hazelnut spread or, in some cases, a kitten to appeal to children, according to a law enforcement official with knowledge of the investigation.Read MoreDuring the three-day sentencing hearing, prosecutors and Ceasar's attorneys debated whether she was a diehard ISIS supporter or a troubled woman who's the product of neglect and abuse. New York Eastern District Court Judge Jack Weinstein sentenced Ceasar to far less than the 30 to 50 years prosecutors had requested as part of federal sentencing guidelines. "She is well on her way to rehabilitation," Weinstein said, citing testimony from her psychologist. "This sentence will also save her as a human being."
After surviving ISIS and a civil war, these Syrian women built a female-only villageProsecutors called the 48-month sentence "exceedingly low" and have argued that in interviews with investigators, Ceasar admitted to being drawn to ISIS by watching a video of a beheading. Soon, she was creating pro-ISIS images online.They say Ceasar had contact information in her phone for two known ISIS members who were killed in airstrikes.In November 2016, Ceasar was headed to Sweden to get married when she was was arrested at JFK International Airport. She signed a cooperation agreement with prosecutors and was released on bail in April 2018 on the condition that she not use social media and not contact the ISIS members she had been speaking with. But about 50 days later, Ceasar used a laptop to create fake profiles on Facebook, one of which was Umm Nutella, prosecutors said. Investigators followed her for six months and found that she was contacting known ISIS supporters, even those she had not told prosecutors about as part of her agreement. Some of the people Ceasar contacted or tried to contact were the subjects of terror investigations, prosecutors said.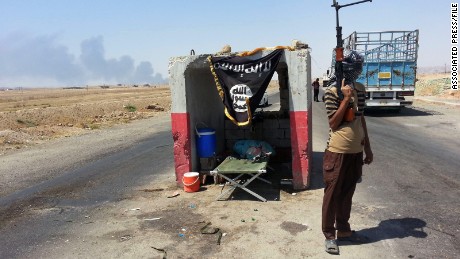 ISIS Fast FactsInvestigators searched Ceasar's cell phone and found three Facebook accounts created using fake names, among other records. After being contacted by authorities, Ceasar deleted about 1,000 messages and instructed those she contacted to delete messages as well, prosecutors said. Just before the sentencing, Ceasar told the court that she accepted responsibility and didn't understand the "magnitude of atrocities in their methods.""I understand that I found comfort in their propaganda," Ceasar said. "I was foolish and ignorant. I understand actions I took were wrong. I would never do it again." Lead defense attorney Deidre D. von Dornum used testimony from Ceasar's psychologist to show that a traumatic life led her to seek out a support network.Sexual abuse by her father from ages 5 to 7, followed by three marriages to abusive men, left her searching for a makeshift family, von Dornum said — not her undying support for ISIS.Ceasar was also sentenced to eight years of supervised release in which probation officers are expected to update authorities on her progress each month. Her attorney also asked that she be sent to a facility in Danbury, Connecticut, so she could take advantage of its mental health programs. "It's a very compassionate sentence," von Dornum said, adding that Ceasar was "terrified" before she entered the courtroom on Wednesday. "We can't fight ISIS by not supporting our young people."
Source Link:
https://www.cnn.com/2019/06/26/us/umm-nutella-isis-sentenced/index.html
[-0.853574]
Comments
comments