Story highlightsMalaysia Airlines Flight 17 was show down over Ukraine nearly three years agoSo far no suspects have been named
(CNN)The people responsible for shooting down Malaysia Airlines Flight 17 will be prosecuted by courts in the Netherlands, that country's foreign ministry said Tuesday.
A total of 298 people from 17 countries died when the flight from Amsterdam to Kuala Lumpur, Malaysia, was brought down in Eastern Ukraine in July 2014.Officials have not identified any suspects.The five countries — Australia, Belgium, Malaysia, the Netherlands and Ukraine — comprising the Joint Investigation Team decided any prosecutions would take place in a Dutch court, Foreign Minister Bert Koenders said.Nationalities aboard MH17
Nationalities aboard MH17193 Dutch (including 1 dual Netherlands/U.S. citizen)43 Malaysian (including 15 crew, 2 infants)27 Australian12 Indonesian (including 1 infant)10 British (including 1 dual UK/South African citizen)4 German4 Belgian3 Filipino1 Canadian1 New Zealander
Full passenger manifest (PDF)
"The ongoing criminal investigation enjoys virtually unanimous support from the international community," Koenders said. "MH17 has shown how a shared tragedy can lead to close international cooperation and a determination to see that justice is done."Read MoreA 2016 report from the group concluded that MH17 was downed by a Buk missile brought in from Russia and fired from a Ukrainian village under the control of pro-Russian separatists. Russia, which has repeatedly denied involvement in the downing of the Boeing 777, vetoed a 2015 UN Security Council resolution that would have created an international tribunal to prosecute those responsible.
JUST WATCHEDWhat happened to MH17?ReplayMore Videos …MUST WATCH
What happened to MH17? 01:042016: Ahead of MH17 report, Russia says if plane shot down, Ukraine pulled triggerBritish Foreign Secretary Boris Johnson expressed support for the decision, calling it "a critical step in holding to account those responsible for this tragedy." "The UK offers its full support and cooperation towards the prosecution process, and I urge all other states to do the same as laid out in UN Security Council Resolution 2166," Johnson added.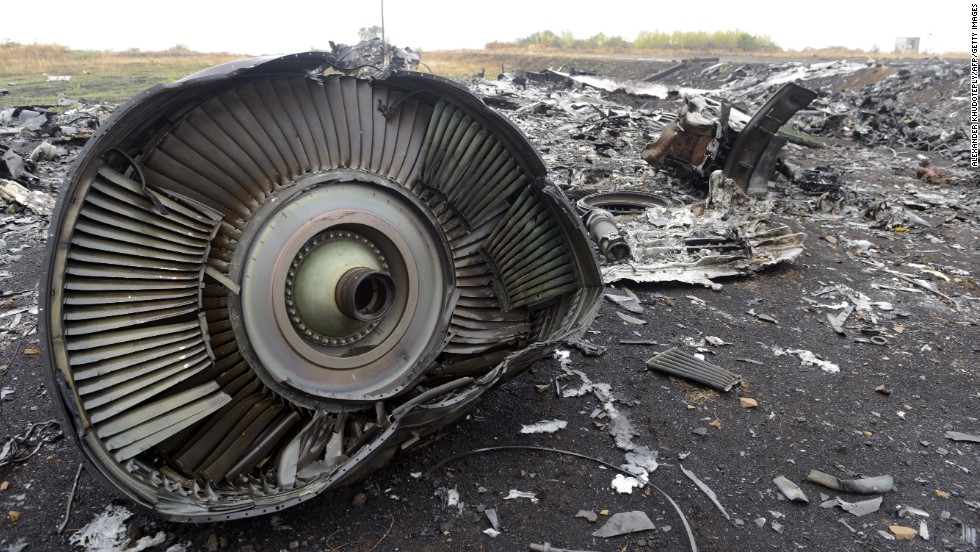 Photos: Malaysia Airlines Flight 17 crashes in UkraineDebris from Malaysia Airlines Flight 17 sits in a field at the crash site in Hrabove, Ukraine, on September 9, 2014. The Boeing 777 was shot down July 17, 2014, over Ukrainian territory controlled by pro-Russian separatists. All 298 people on board were killed. In an October 2015 report, Dutch investigators found the flight was shot down by a warhead that fit a Buk rocket, referring to Russian technology, Dutch Safety Board Chairman Tjibbe Joustra said.Hide Caption 1 of 58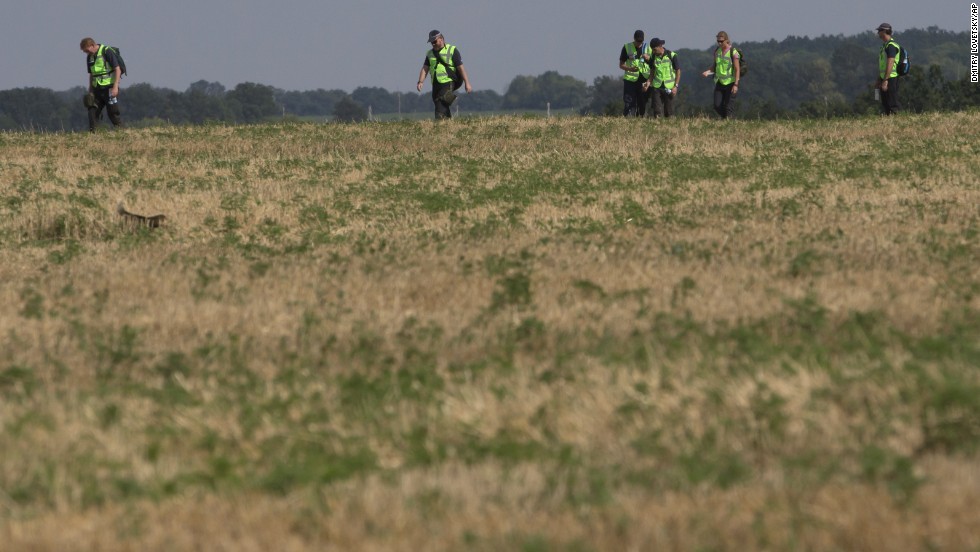 Photos: Malaysia Airlines Flight 17 crashes in UkraineAustralian and Dutch experts examine the area of the crash on August 3, 2014.Hide Caption 2 of 58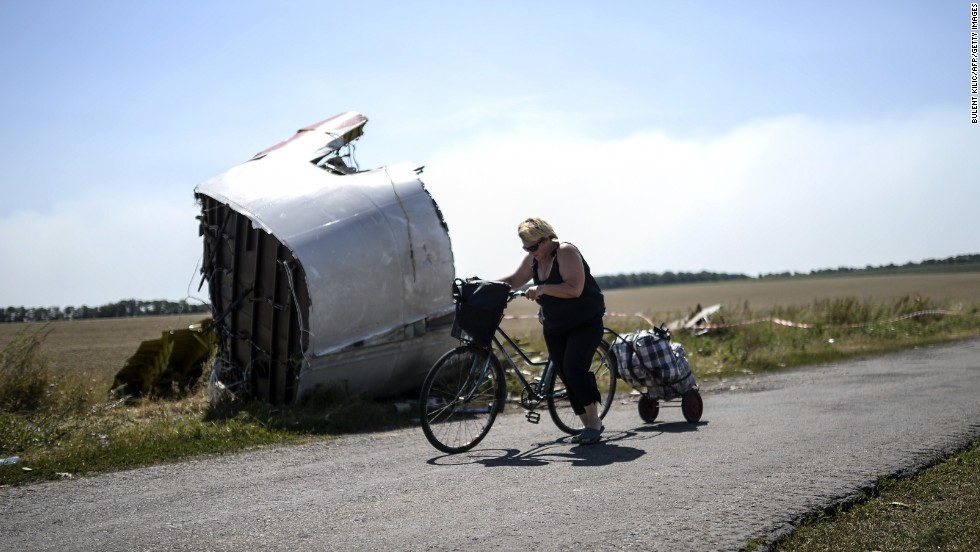 Photos: Malaysia Airlines Flight 17 crashes in UkraineA woman walks with her bicycle near the crash site on August 2, 2014.Hide Caption 3 of 58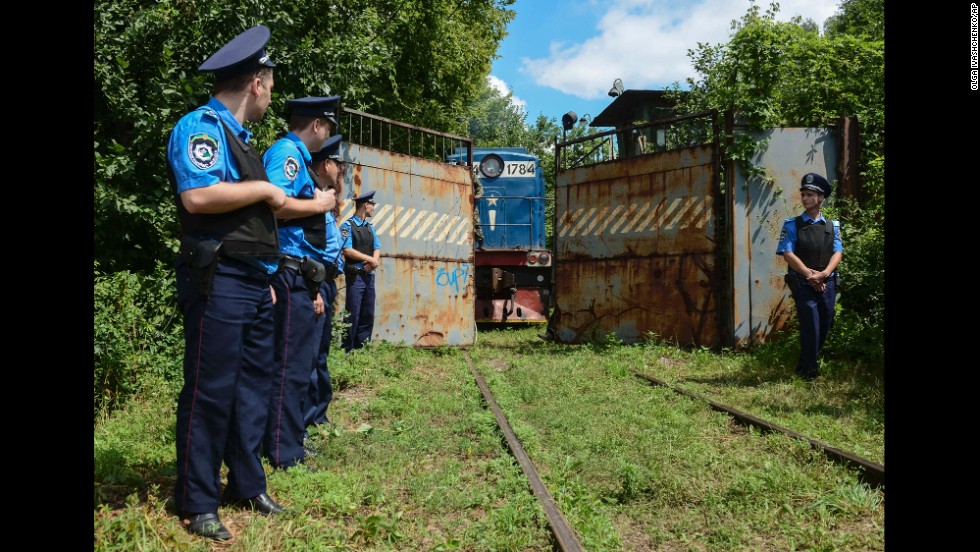 Photos: Malaysia Airlines Flight 17 crashes in UkrainePolice secure a refrigerated train loaded with bodies of passengers from Malaysia Airlines Flight 17 as it arrives in a Kharkiv, Ukraine, factory on July 22, 2014. Hide Caption 4 of 58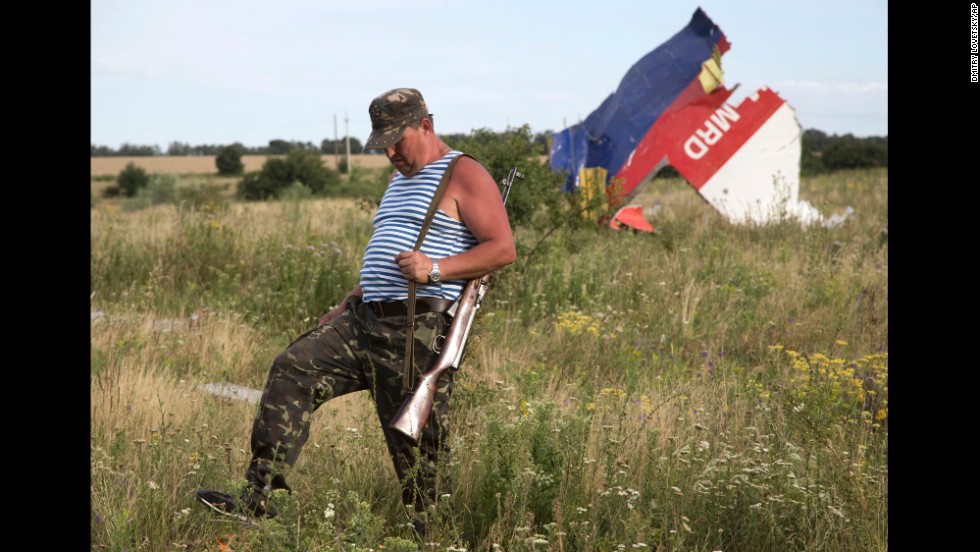 Photos: Malaysia Airlines Flight 17 crashes in UkraineA pro-Russian rebel passes wreckage from the crashed jet near Hrabove on Monday, July 21, 2014.Hide Caption 5 of 58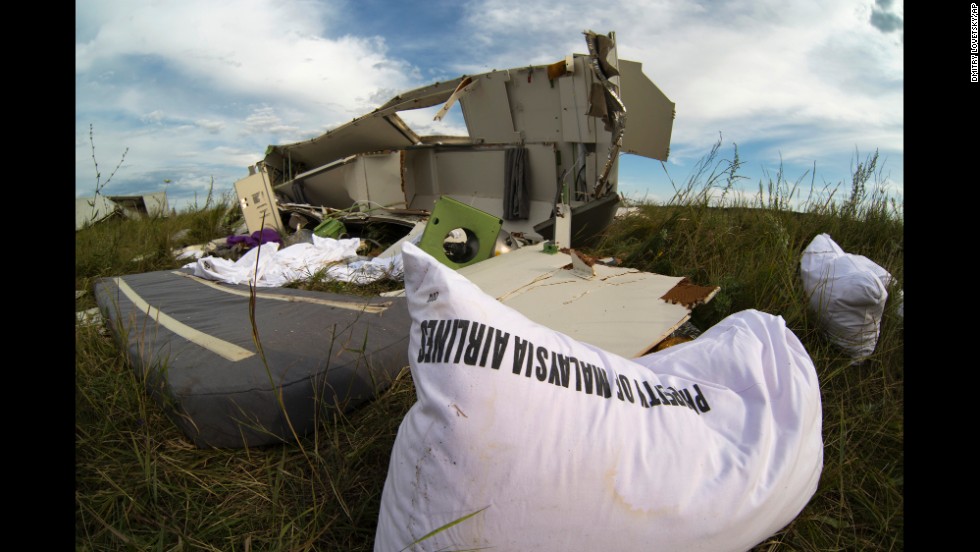 Photos: Malaysia Airlines Flight 17 crashes in Ukraine – Wreckage from the jet lies in grass near Hrabove on July 21, 2014.Hide Caption 6 of 58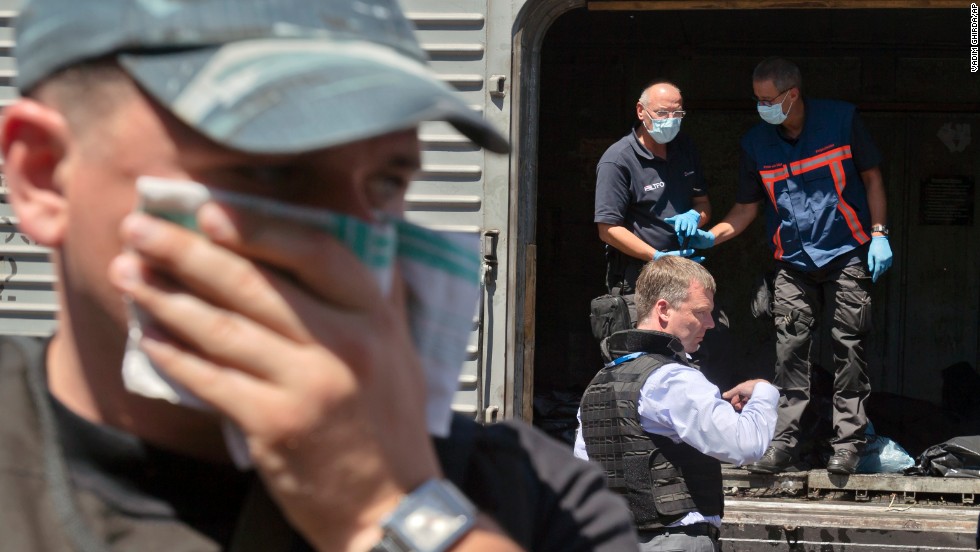 Photos: Malaysia Airlines Flight 17 crashes in UkraineA man covers his face with a rag as members of the Organization for Security and Co-operation in Europe and the Dutch National Forensic Investigations Team inspect bodies in a refrigerated train near the crash site in eastern Ukraine on July 21, 2014.Hide Caption 7 of 58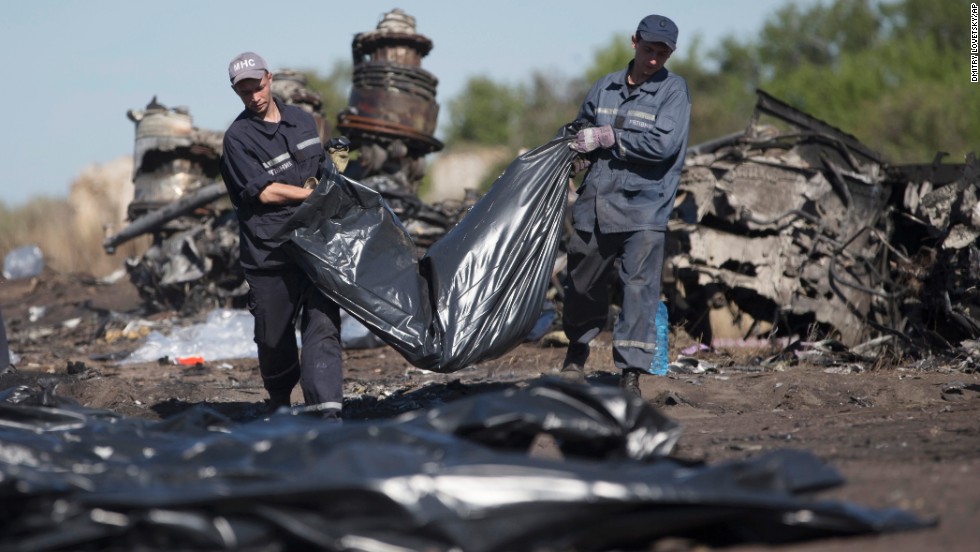 Photos: Malaysia Airlines Flight 17 crashes in UkraineEmergency workers carry a victim's body in a bag at the crash site on July 21, 2014.Hide Caption 8 of 58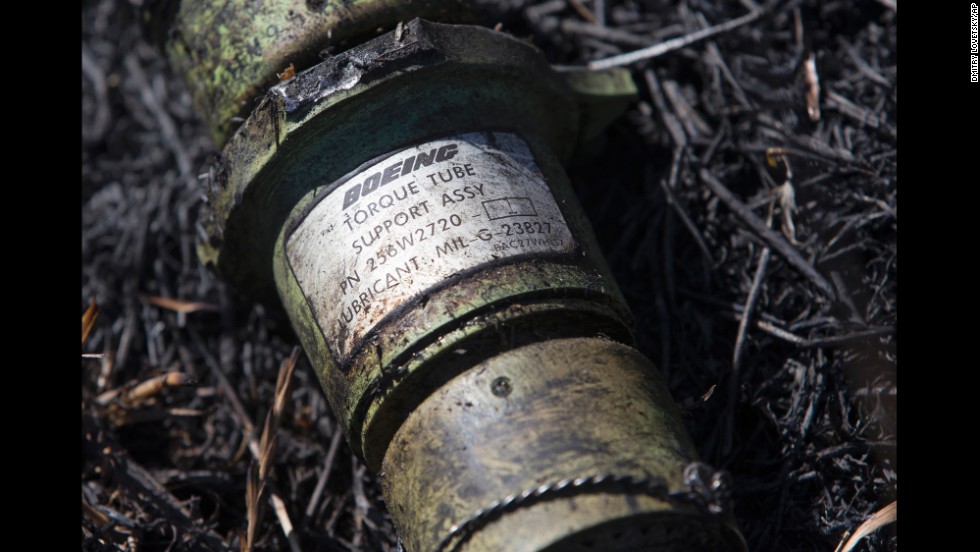 Photos: Malaysia Airlines Flight 17 crashes in UkraineA piece of the plane lies in the grass in eastern Ukraine's Donetsk region on July 21, 2014.Hide Caption 9 of 58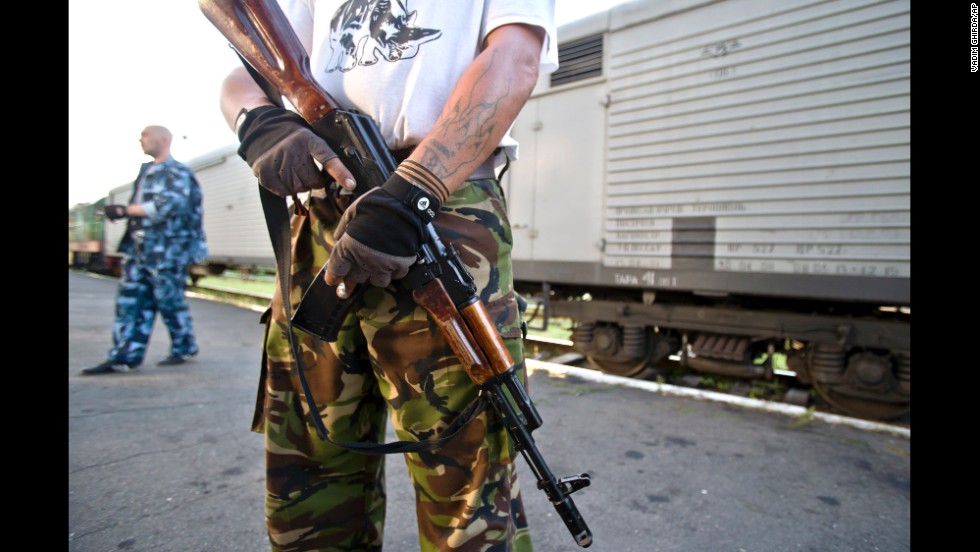 Photos: Malaysia Airlines Flight 17 crashes in UkraineAn armed pro-Russian rebel stands guard next to a refrigerated train loaded with bodies in Torez, Ukraine, on Sunday, July 20, 2014.Hide Caption 10 of 58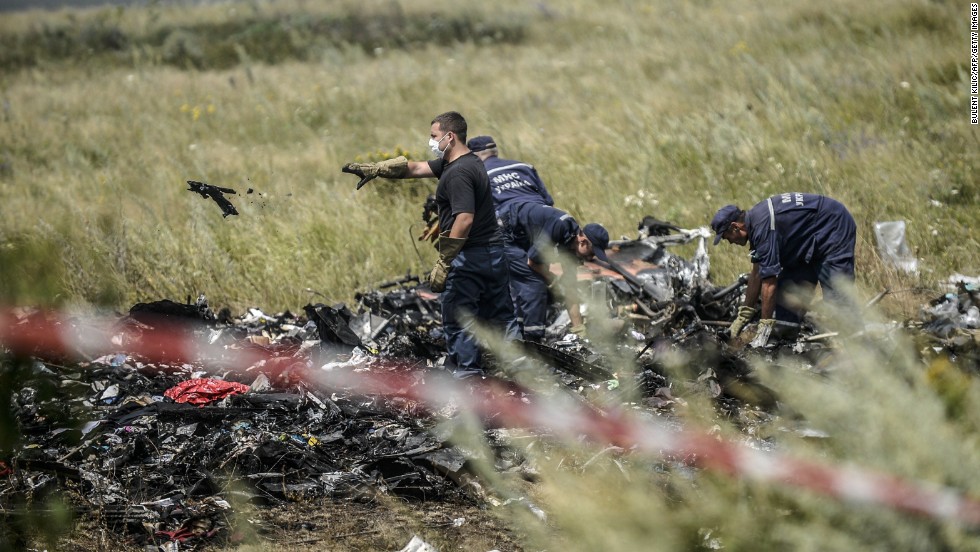 Photos: Malaysia Airlines Flight 17 crashes in UkraineUkrainian State Emergency Service employees sort through debris on July 20, 2014, as they work to locate the deceased.Hide Caption 11 of 58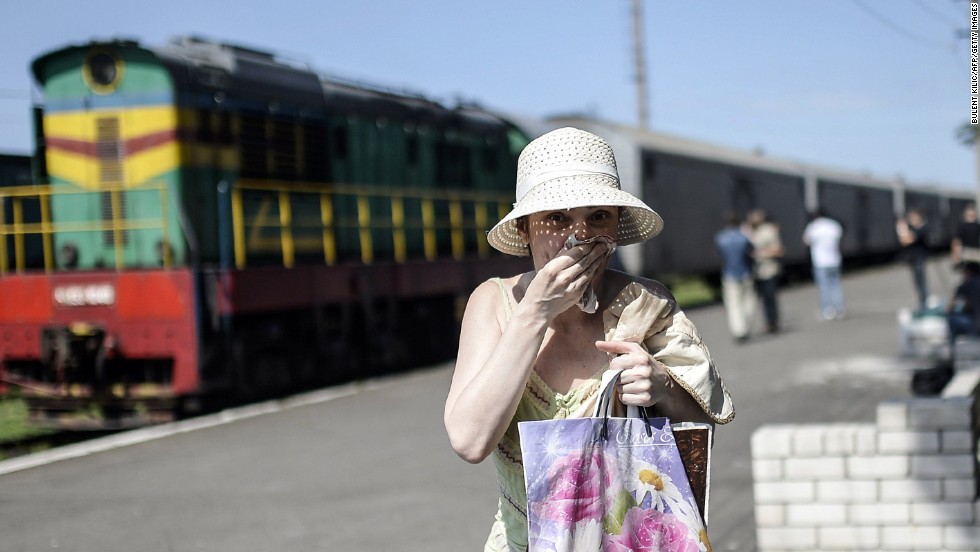 Photos: Malaysia Airlines Flight 17 crashes in UkraineA woman covers her mouth with a piece of fabric July 20, 2014, to ward off smells from railway cars that reportedly contained passengers' bodies.Hide Caption 12 of 58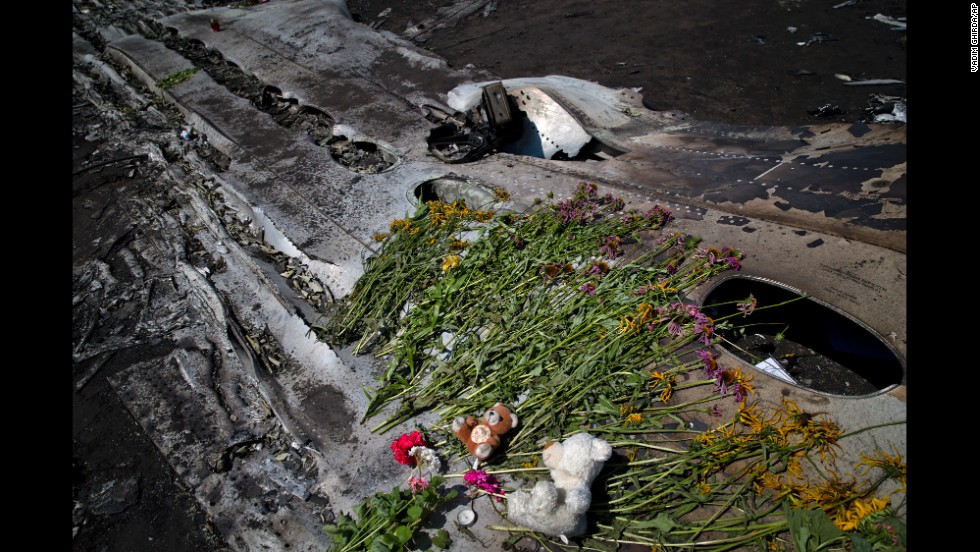 Photos: Malaysia Airlines Flight 17 crashes in UkraineToys and flowers sit on the charred fuselage of the jet as a memorial on July 20, 2014.Hide Caption 13 of 58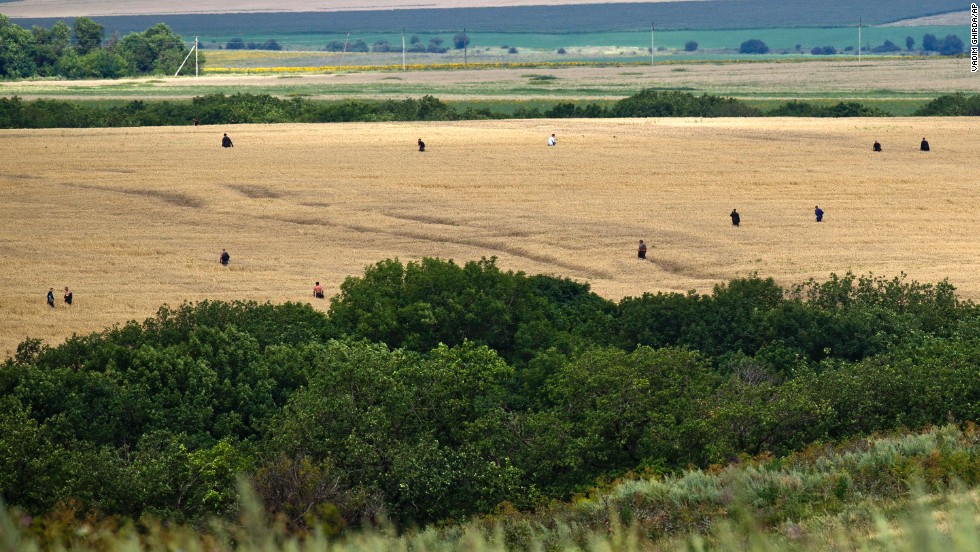 Photos: Malaysia Airlines Flight 17 crashes in UkrainePeople search a wheat field for remains in the area of the crash site on July 20, 2014. Hide Caption 14 of 58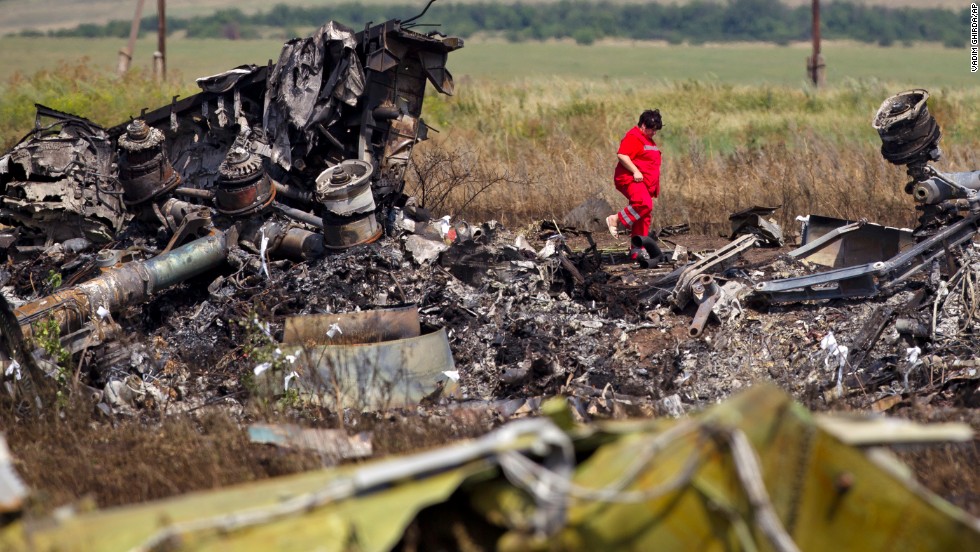 Photos: Malaysia Airlines Flight 17 crashes in UkraineA woman walks among charred debris at the crash site on July 20, 2014.Hide Caption 15 of 58
Photos: Malaysia Airlines Flight 17 crashes in UkraineEmergency workers load the body of a victim onto a truck at the crash site on Saturday, July 19, 2014. Hide Caption 16 of 58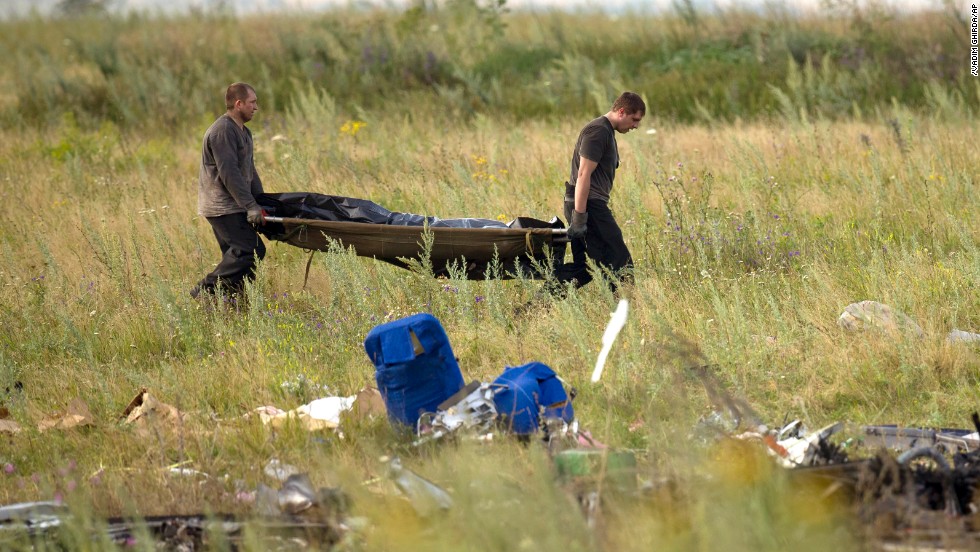 Photos: Malaysia Airlines Flight 17 crashes in UkraineEmergency workers carry the body of a victim at the crash site on July 19, 2014. Hide Caption 17 of 58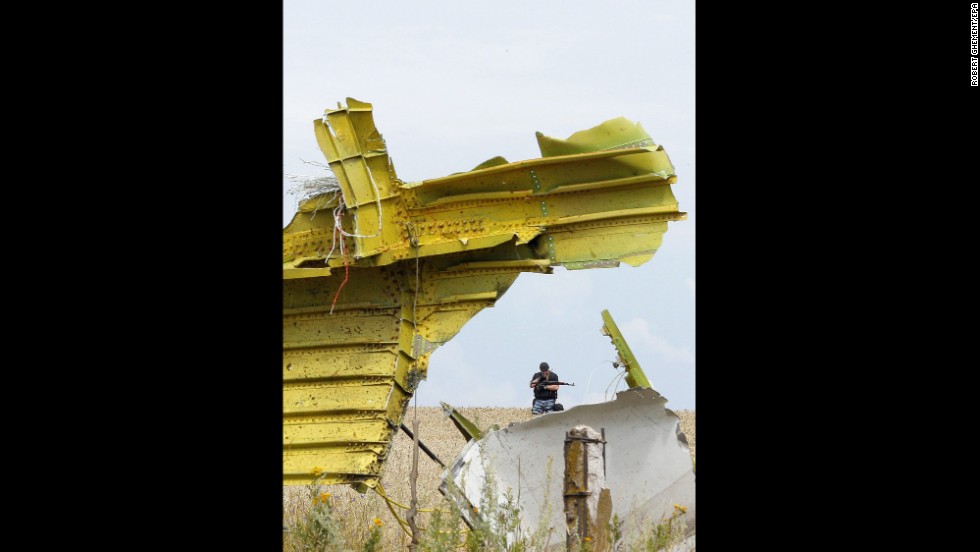 Photos: Malaysia Airlines Flight 17 crashes in UkraineA large piece of the main cabin is under guard at the crash site on July 19, 2014. Hide Caption 18 of 58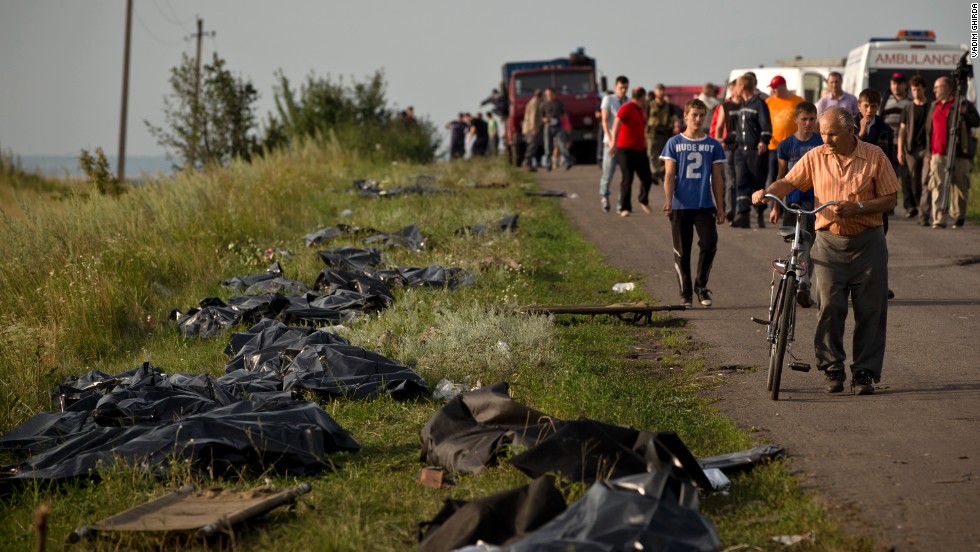 Photos: Malaysia Airlines Flight 17 crashes in UkraineVictims' bodies are placed by the side of the road on July 19, 2014, as recovery efforts continue at the crash site. International officials lament the lack of a secured perimeter.Hide Caption 19 of 58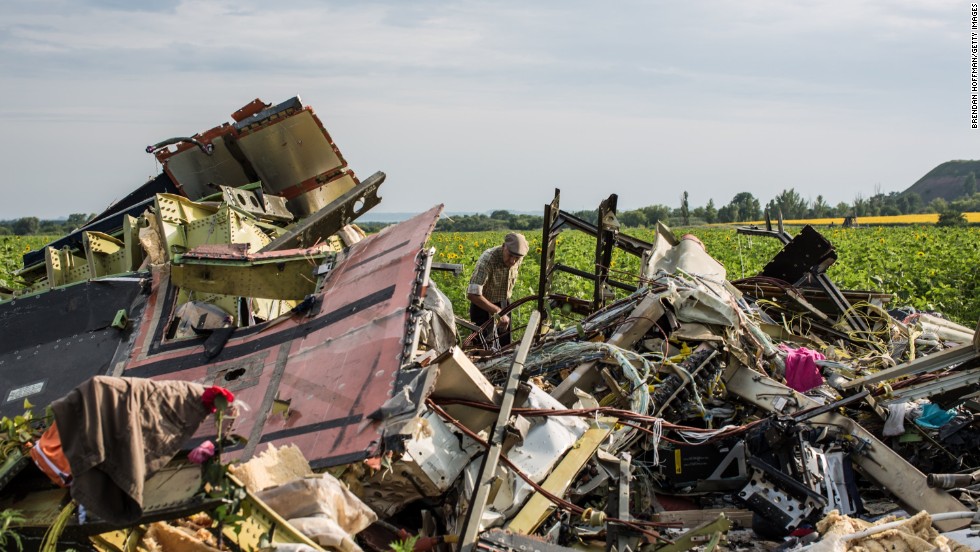 Photos: Malaysia Airlines Flight 17 crashes in UkraineA man looks through the debris at the crash site on July 19, 2014. Hide Caption 20 of 58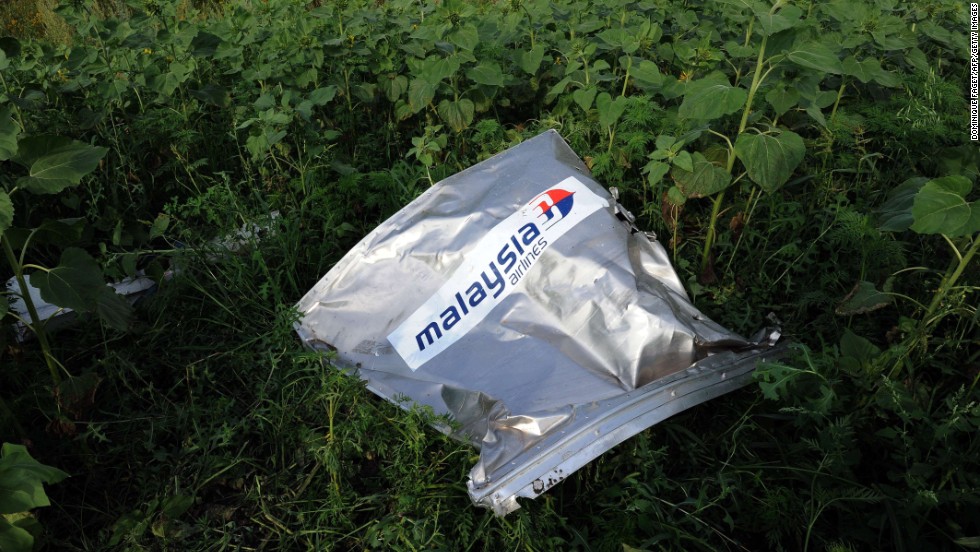 Photos: Malaysia Airlines Flight 17 crashes in UkraineAn envelope bearing the Malaysia Airlines logo is seen at the crash site on July 19, 2014. Hide Caption 21 of 58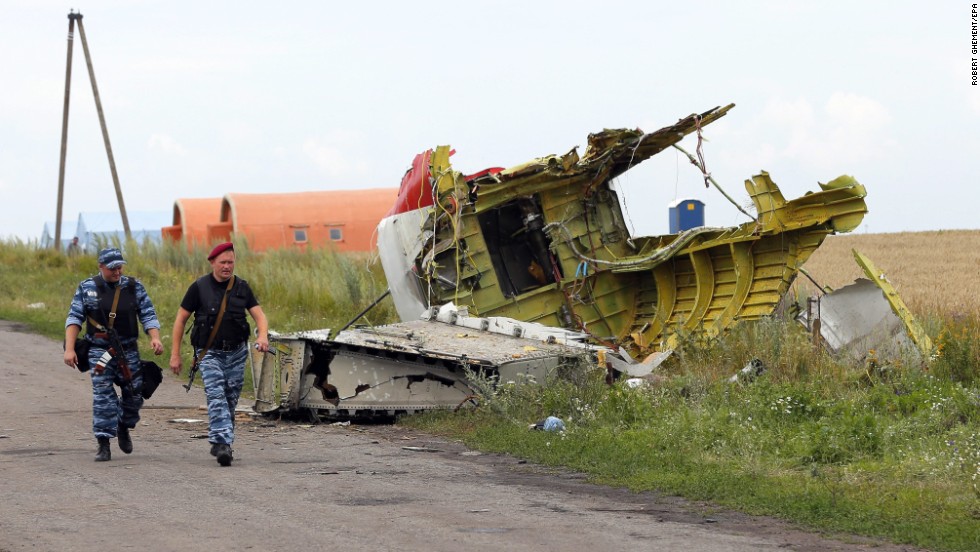 Photos: Malaysia Airlines Flight 17 crashes in UkraineArmed rebels walk past large pieces of the Boeing 777 on July 19, 2014. Hide Caption 22 of 58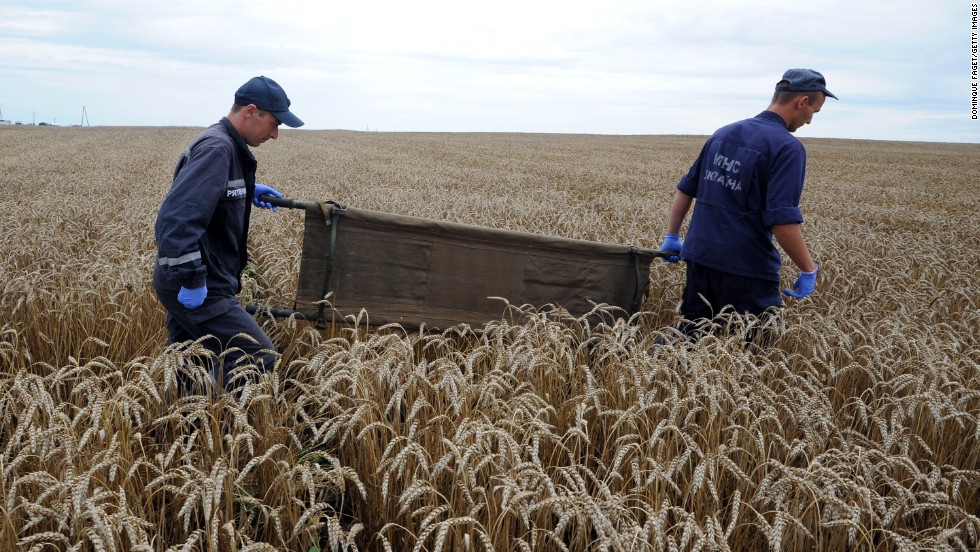 Photos: Malaysia Airlines Flight 17 crashes in UkraineUkrainian rescue workers walk through a wheat field with a stretcher as they collect the bodies of victims on July 19, 2014.Hide Caption 23 of 58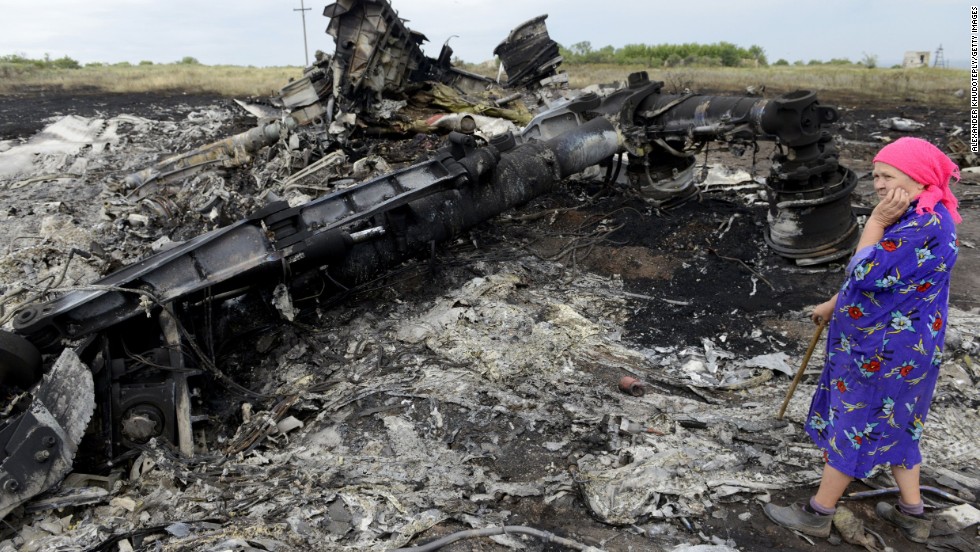 Photos: Malaysia Airlines Flight 17 crashes in UkraineA woman looks at wreckage on July 19, 2014.Hide Caption 24 of 58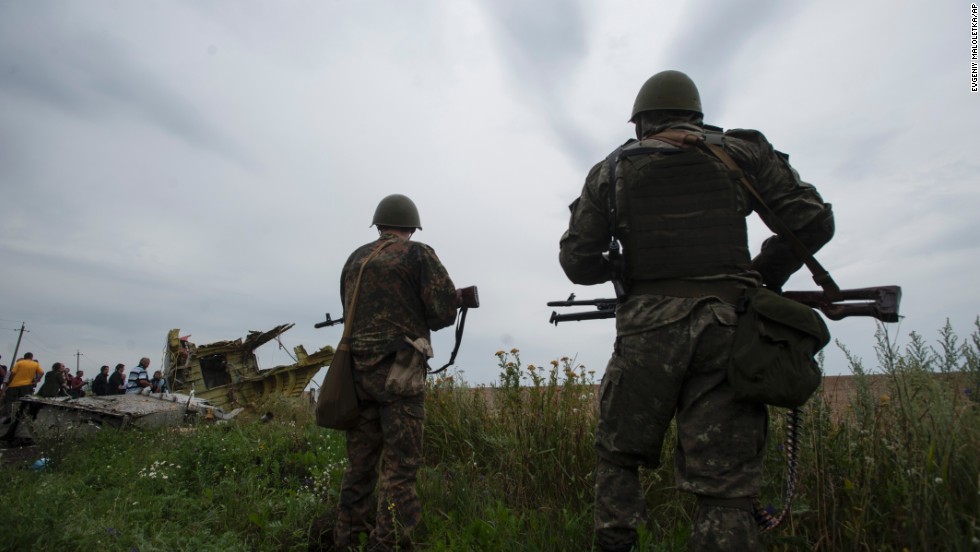 Photos: Malaysia Airlines Flight 17 crashes in UkrainePro-Russian rebels stand guard as the Organization for Security and Co-operation in Europe delegation arrives at the crash site on Friday, July 18, 2014. Hide Caption 25 of 58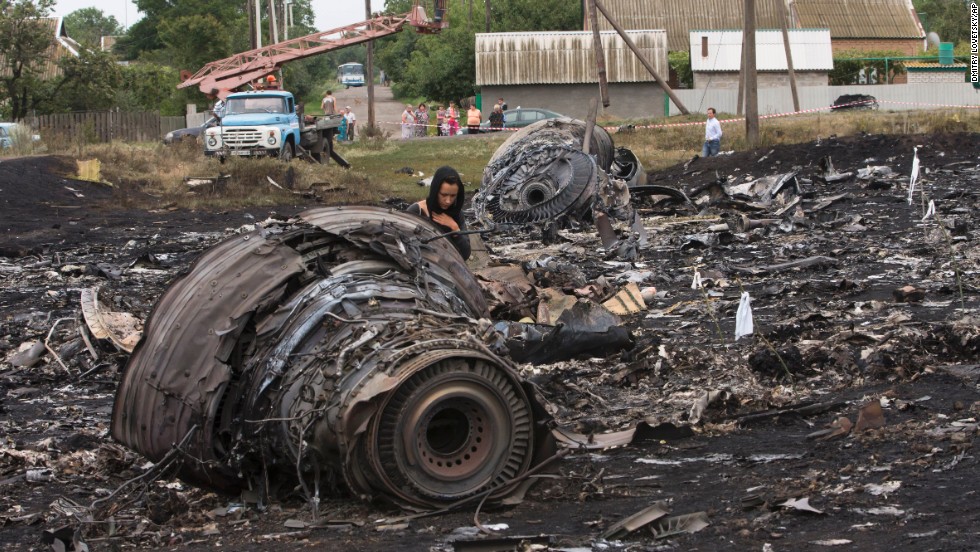 Photos: Malaysia Airlines Flight 17 crashes in UkraineA woman walks through the debris field on July 18, 2014. Hide Caption 26 of 58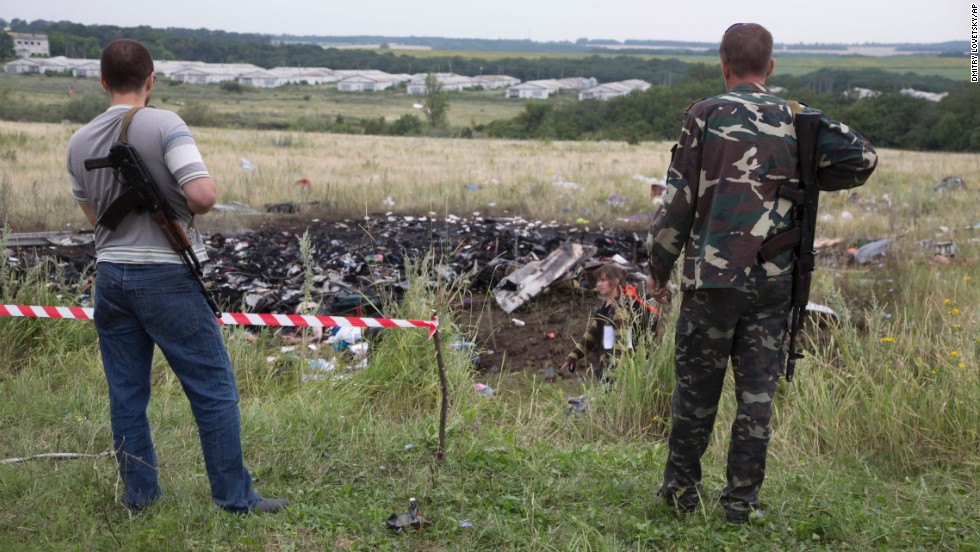 Photos: Malaysia Airlines Flight 17 crashes in UkrainePro-Russian rebels stand guard at the crash site.Hide Caption 27 of 58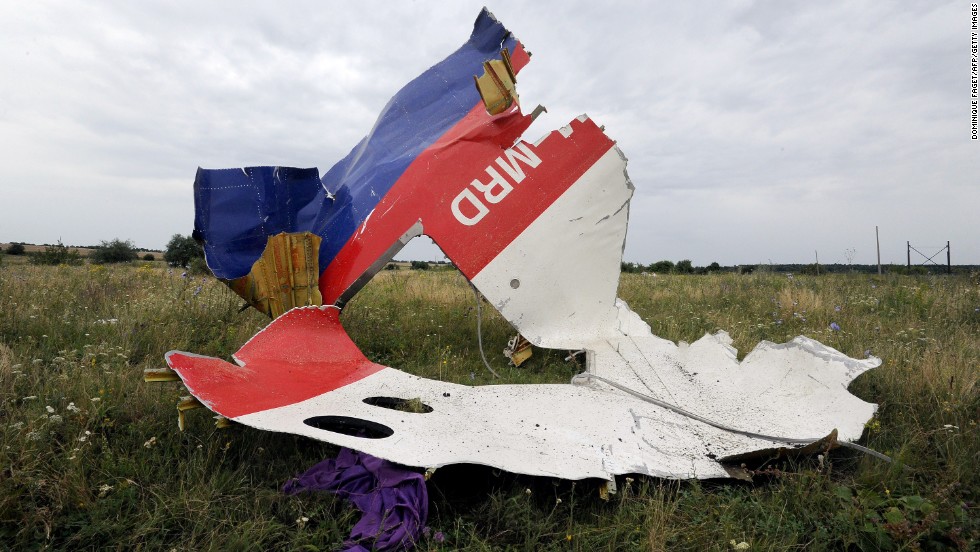 Photos: Malaysia Airlines Flight 17 crashes in UkraineWreckage from Flight 17 lies in a field in Shaktarsk, Ukraine, on July 18, 2014.Hide Caption 28 of 58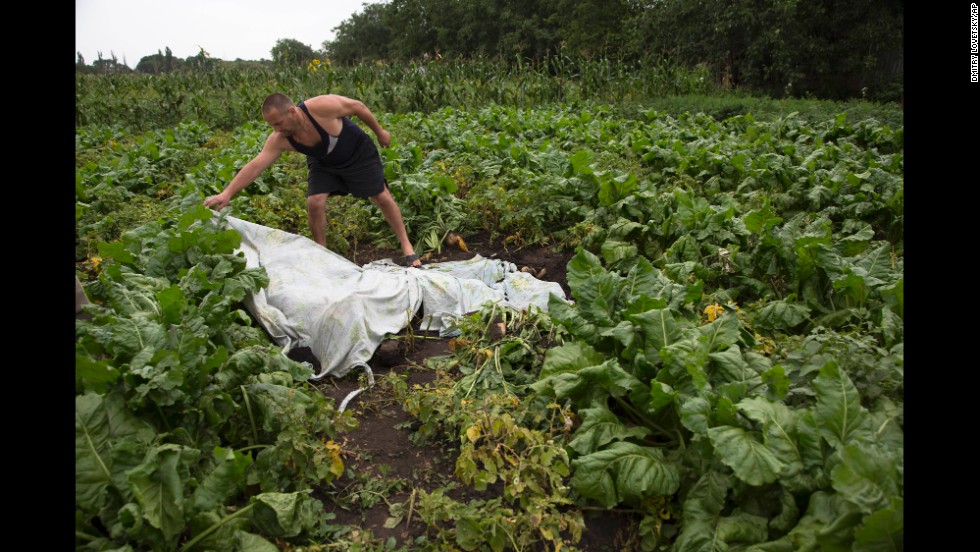 Photos: Malaysia Airlines Flight 17 crashes in UkraineA man covers a body with a plastic sheet near the crash site on July 18, 2014. The passengers and crew hailed from all over the world, including Australia, Indonesia, Malaysia, Germany and Canada. Hide Caption 29 of 58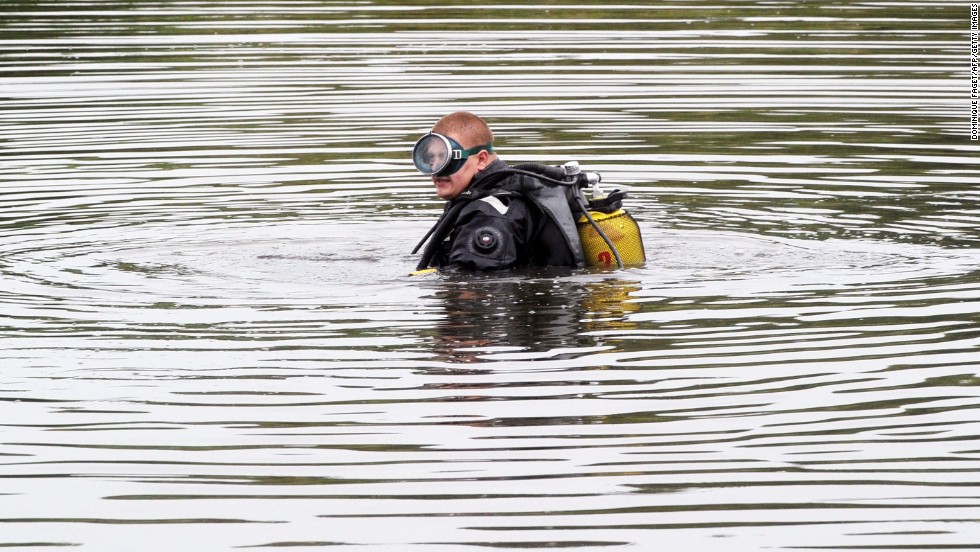 Photos: Malaysia Airlines Flight 17 crashes in UkraineA diver searches for the jet's flight data recorders on July 18, 2014.Hide Caption 30 of 58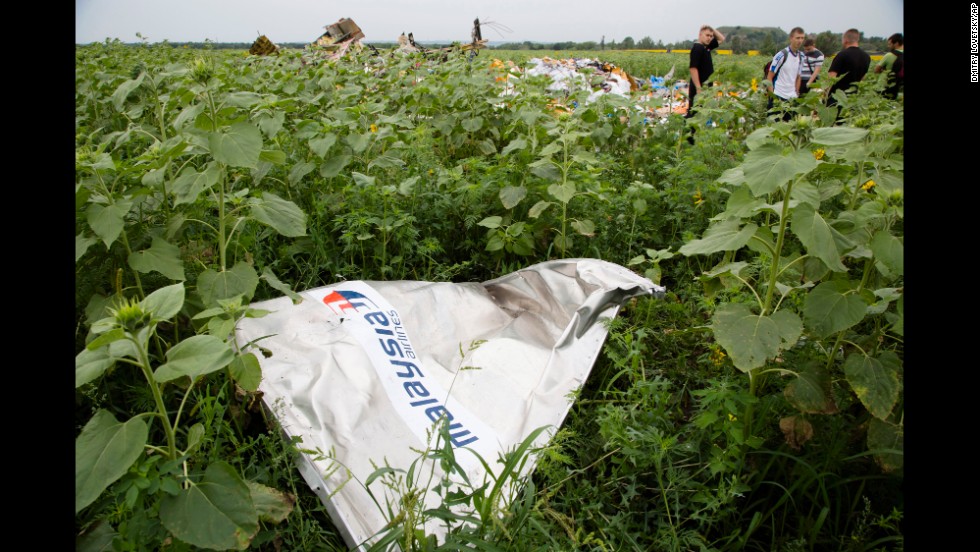 Photos: Malaysia Airlines Flight 17 crashes in UkraineCoal miners search the crash site.Hide Caption 31 of 58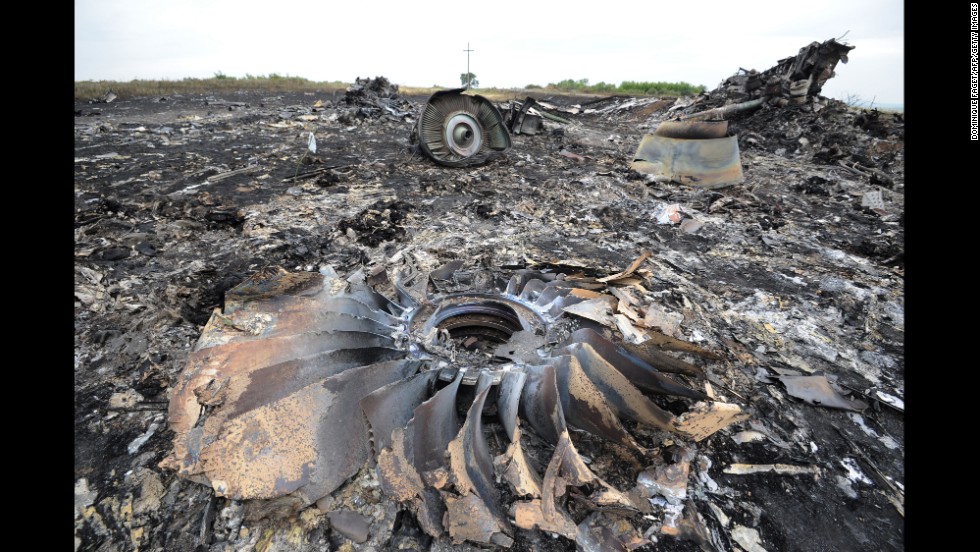 Photos: Malaysia Airlines Flight 17 crashes in UkraineWreckage from the Boeing 777 lies on the ground July 18, 2014.Hide Caption 32 of 58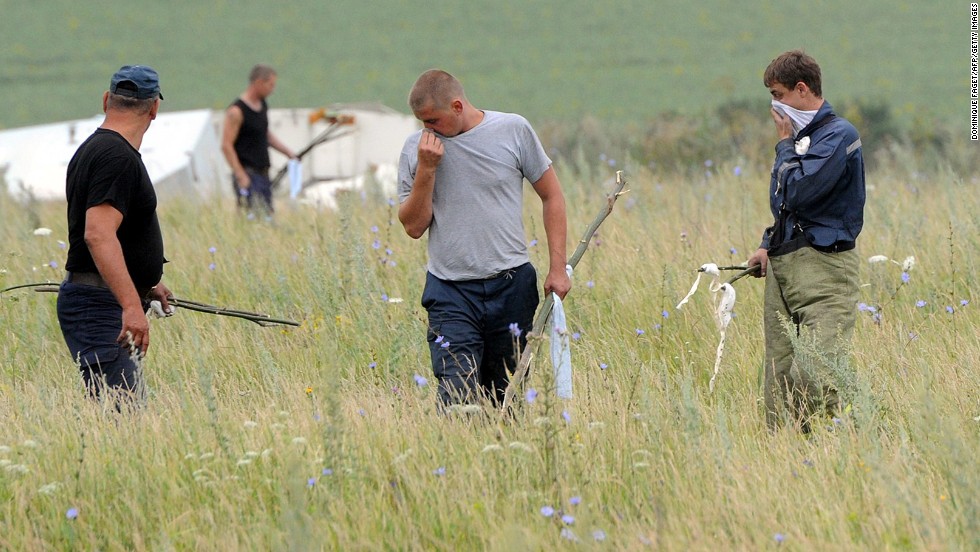 Photos: Malaysia Airlines Flight 17 crashes in UkrainePeople search for bodies of passengers on July 18, 2014. Hide Caption 33 of 58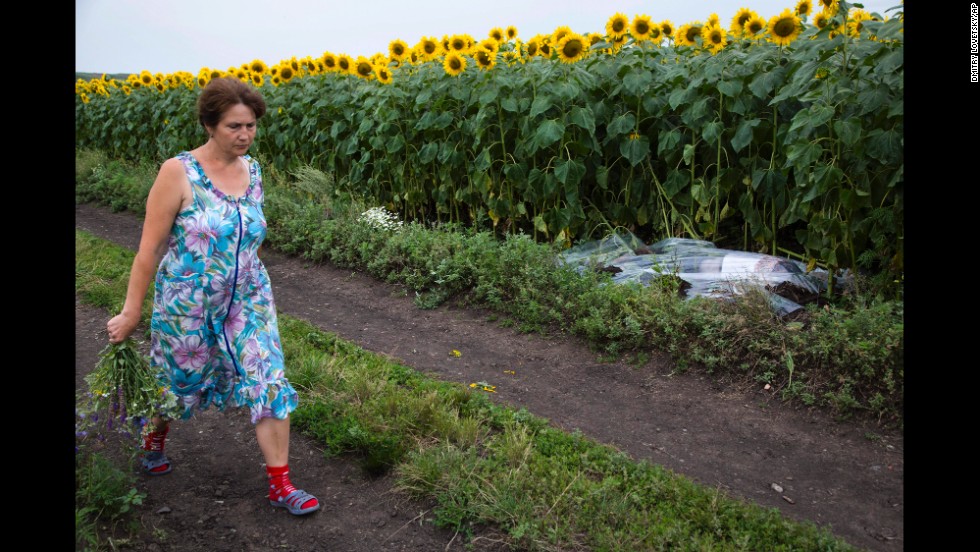 Photos: Malaysia Airlines Flight 17 crashes in UkraineA woman walks past a body covered with a plastic sheet near the crash site July 18, 2014.Hide Caption 34 of 58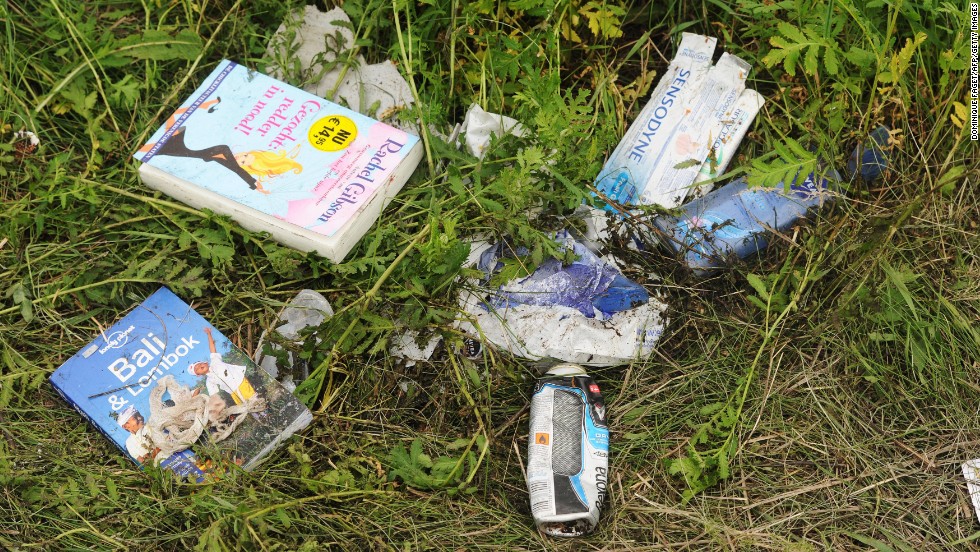 Photos: Malaysia Airlines Flight 17 crashes in UkraineBelongings of passengers lie in the grass on July 18, 2014.Hide Caption 35 of 58
Photos: Malaysia Airlines Flight 17 crashes in UkrainePeople inspect the crash site on Thursday, July 17, 2014.Hide Caption 36 of 58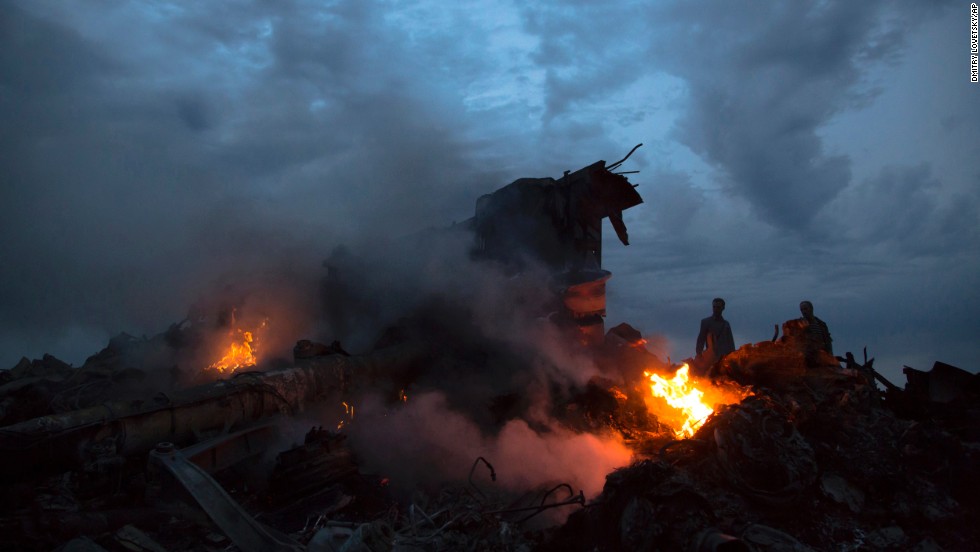 Photos: Malaysia Airlines Flight 17 crashes in UkrainePeople walk amid the debris at the site of the crash.Hide Caption 37 of 58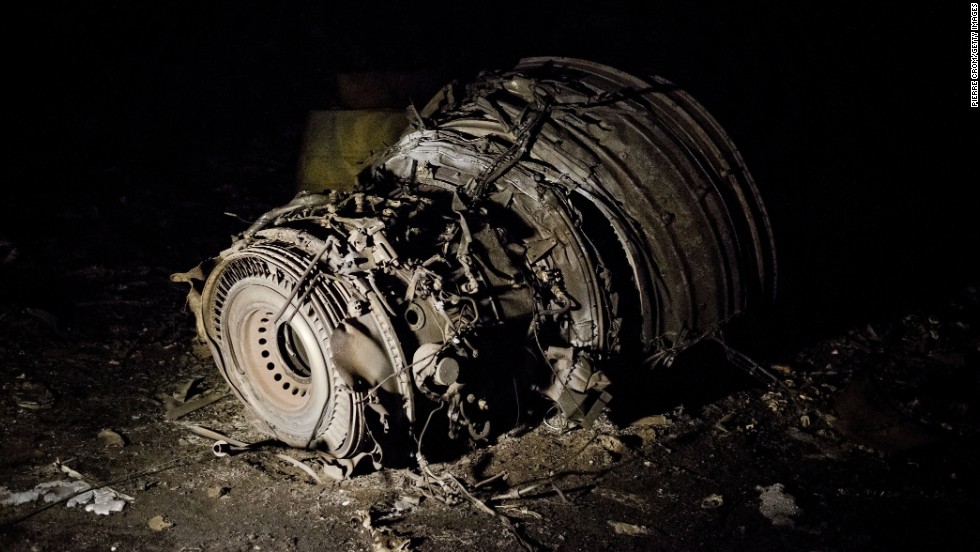 Photos: Malaysia Airlines Flight 17 crashes in Ukraine Debris smoulders in a field near the Russian border. Hide Caption 38 of 58
Photos: Malaysia Airlines Flight 17 crashes in UkraineFire engines arrive at the crash site.Hide Caption 39 of 58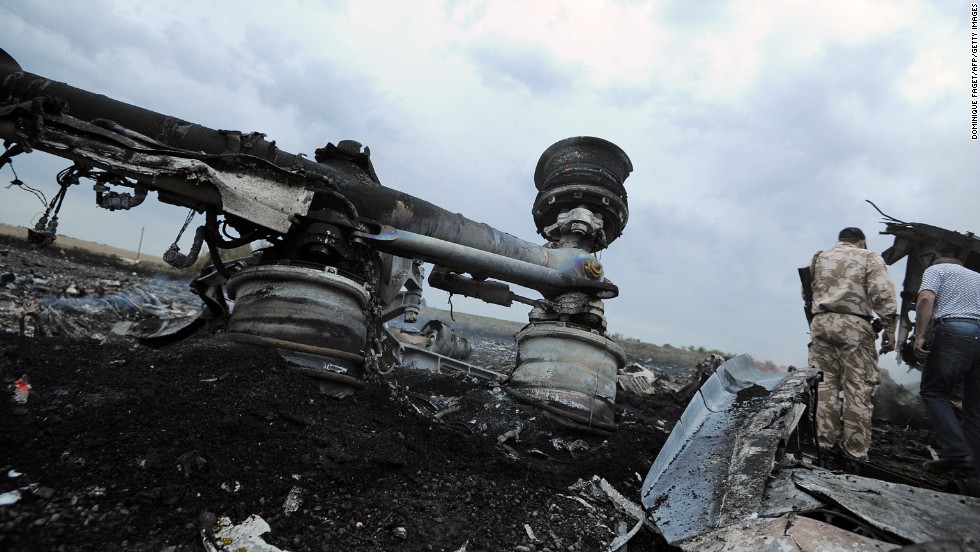 Photos: Malaysia Airlines Flight 17 crashes in UkraineA man stands next to wreckage.Hide Caption 40 of 58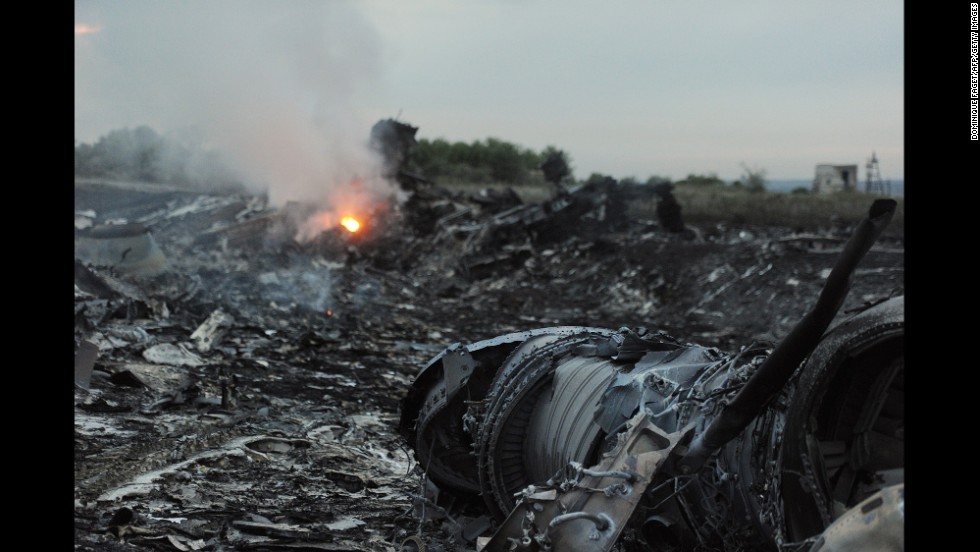 Photos: Malaysia Airlines Flight 17 crashes in UkraineDebris from the crashed jet lies in a field in Ukraine.Hide Caption 41 of 58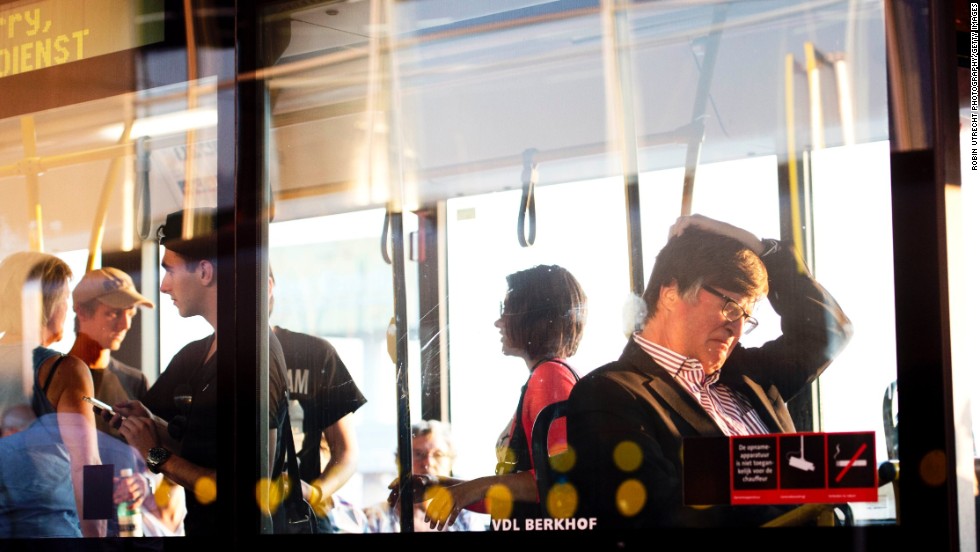 Photos: Malaysia Airlines Flight 17 crashes in UkraineFamily members of those aboard Flight 17 leave Schiphol Airport near Amsterdam, Netherlands.Hide Caption 42 of 58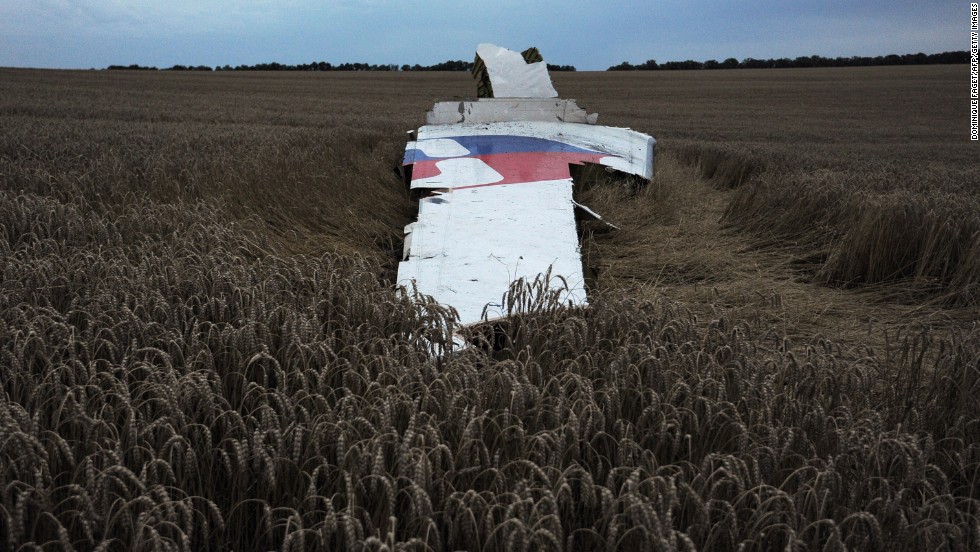 Photos: Malaysia Airlines Flight 17 crashes in UkraineA large piece of the plane lies on the ground.Hide Caption 43 of 58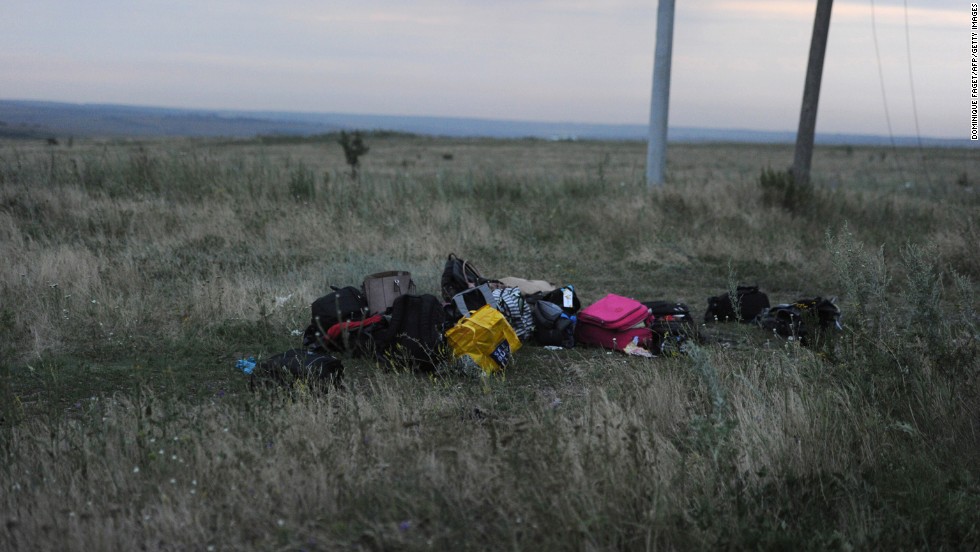 Photos: Malaysia Airlines Flight 17 crashes in UkraineLuggage from the flight sits in a field at the crash site.Hide Caption 44 of 58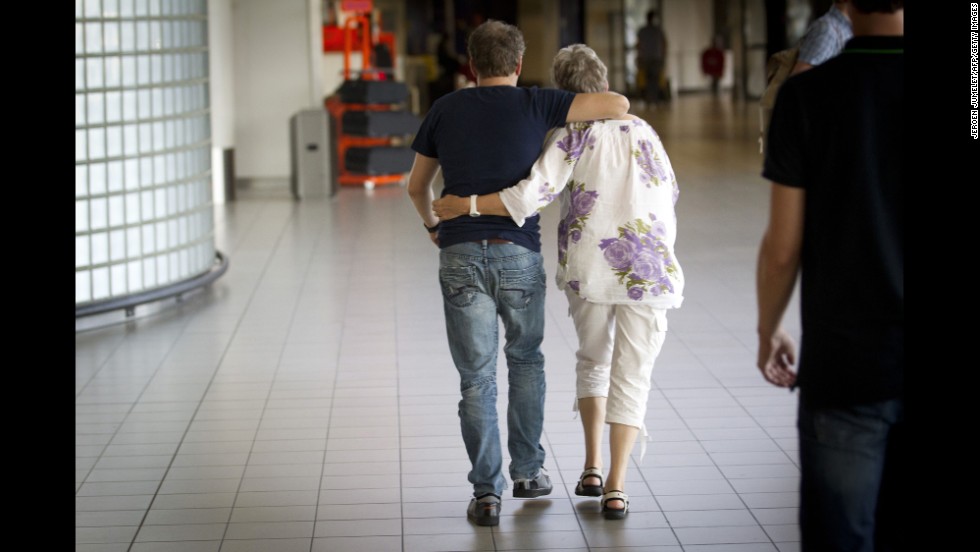 Photos: Malaysia Airlines Flight 17 crashes in UkraineA couple walks to the location at Schiphol Airport where more information would be given regarding the flight.Hide Caption 45 of 58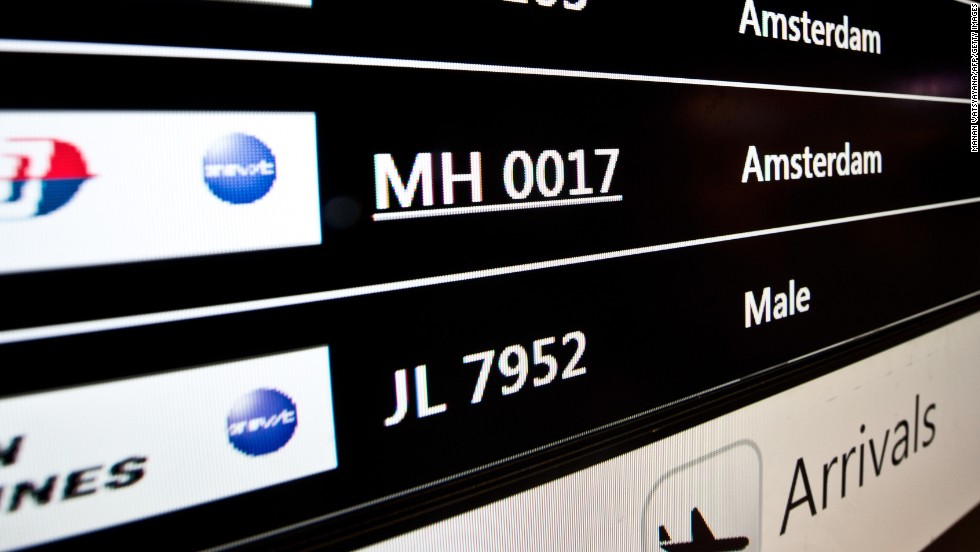 Photos: Malaysia Airlines Flight 17 crashes in UkraineFlight arrivals are listed at the Kuala Lumpur International Airport in Sepang, Malaysia.Hide Caption 46 of 58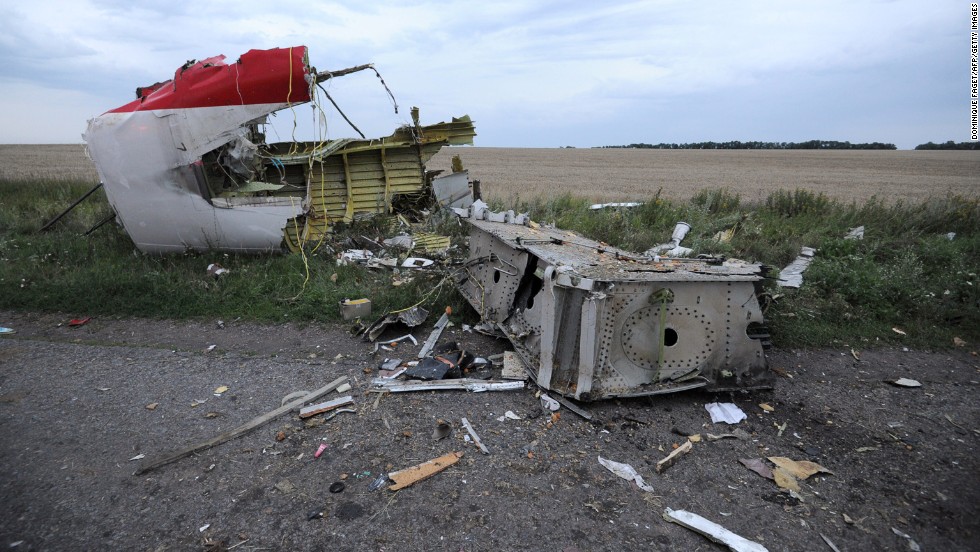 Photos: Malaysia Airlines Flight 17 crashes in UkraineDebris from the Boeing 777, pictured on July 17, 2014.Hide Caption 47 of 58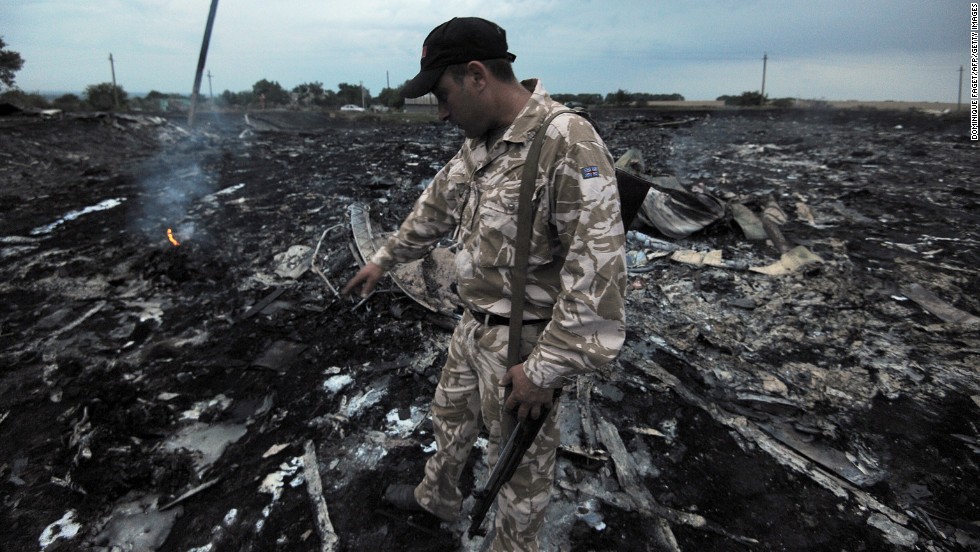 Photos: Malaysia Airlines Flight 17 crashes in UkraineA man inspects debris from the plane.Hide Caption 48 of 58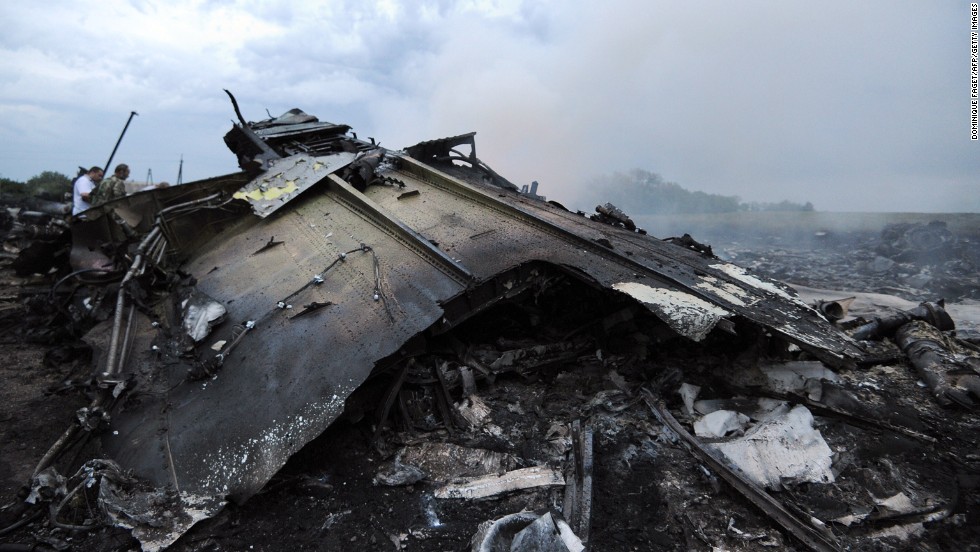 Photos: Malaysia Airlines Flight 17 crashes in UkraineWreckage from the plane is seen on July 17, 2014.Hide Caption 49 of 58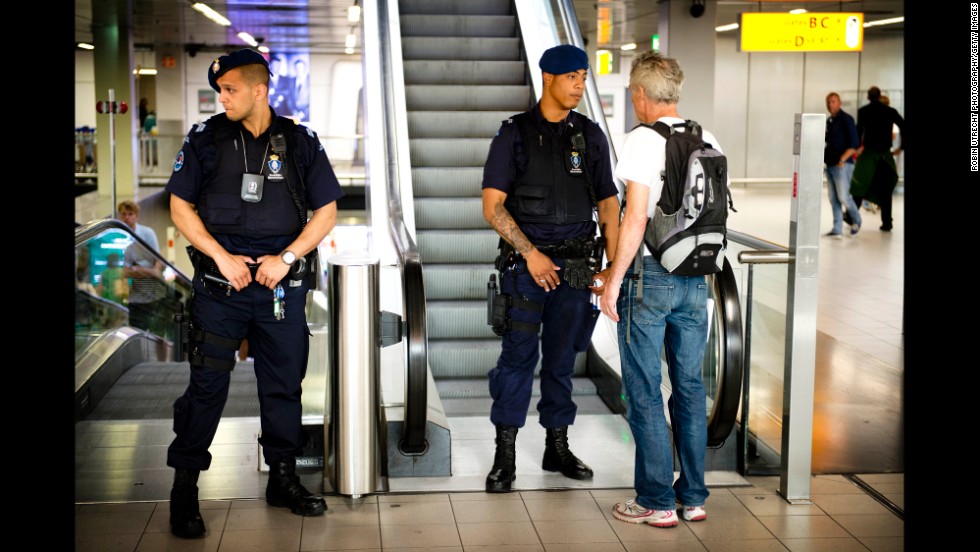 Photos: Malaysia Airlines Flight 17 crashes in UkraineA man talks with security at Schiphol Airport on July 17, 2014.Hide Caption 50 of 58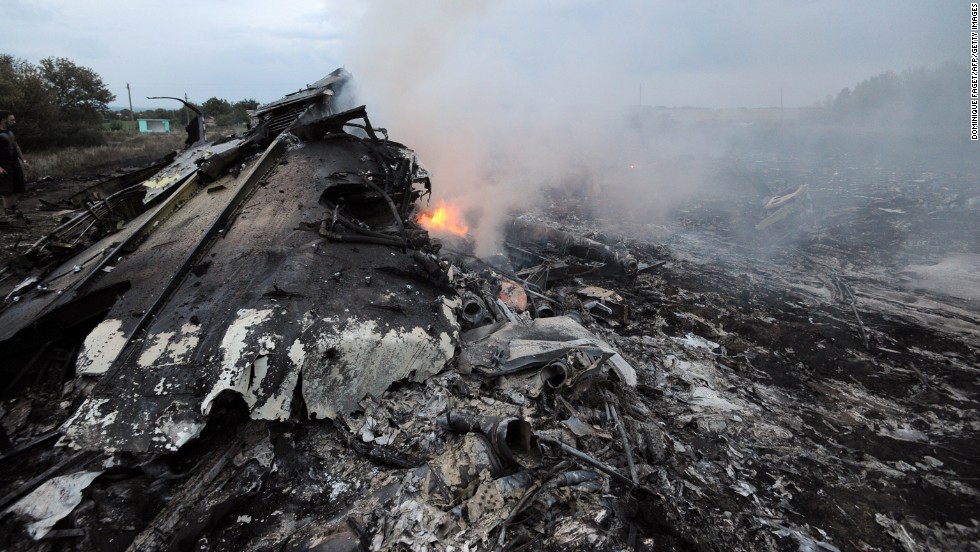 Photos: Malaysia Airlines Flight 17 crashes in UkraineWreckage burns in Ukraine.Hide Caption 51 of 58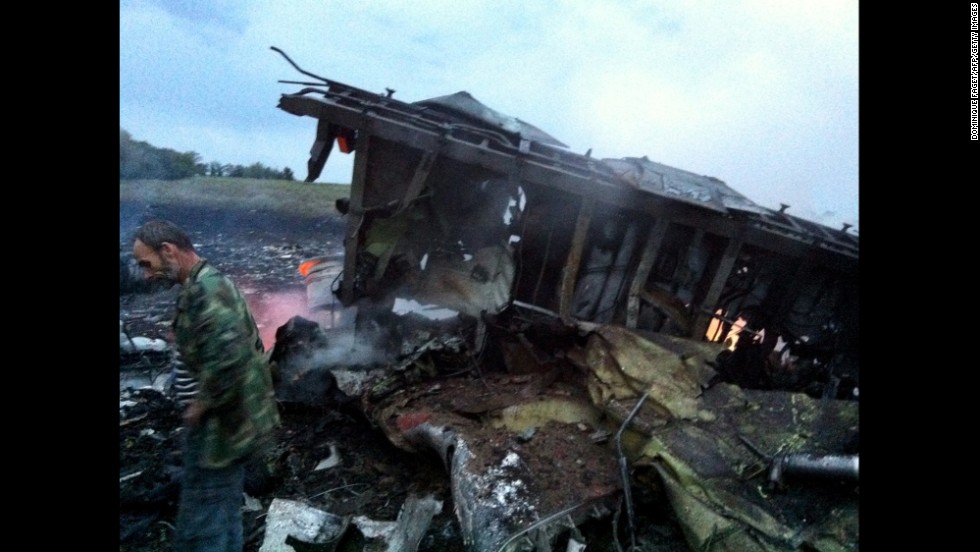 Photos: Malaysia Airlines Flight 17 crashes in UkraineA man stands next to the wreckage of the airliner.Hide Caption 52 of 58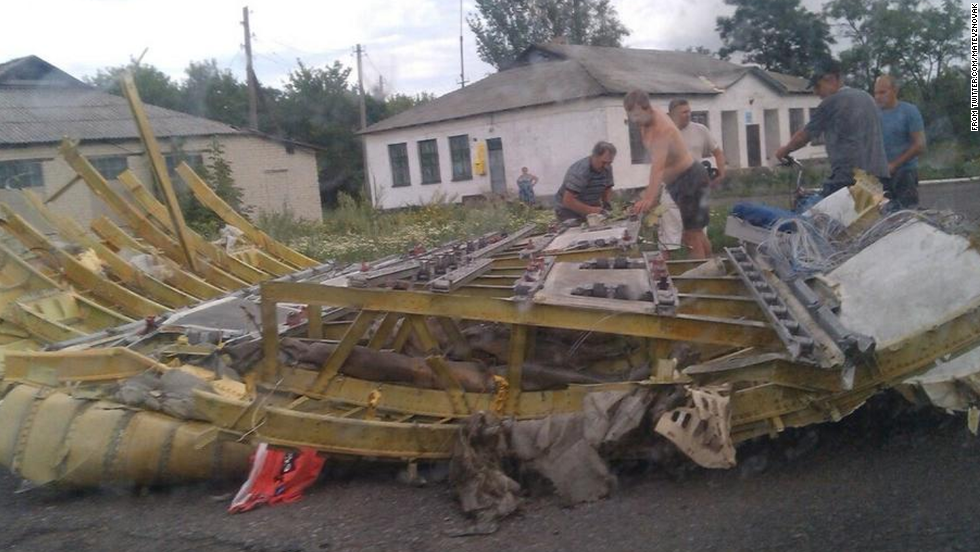 Photos: Malaysia Airlines Flight 17 crashes in UkrainePeople inspect a piece of wreckage believed to be from Malaysia Airlines Flight 17. This image was posted to Twitter.Hide Caption 53 of 58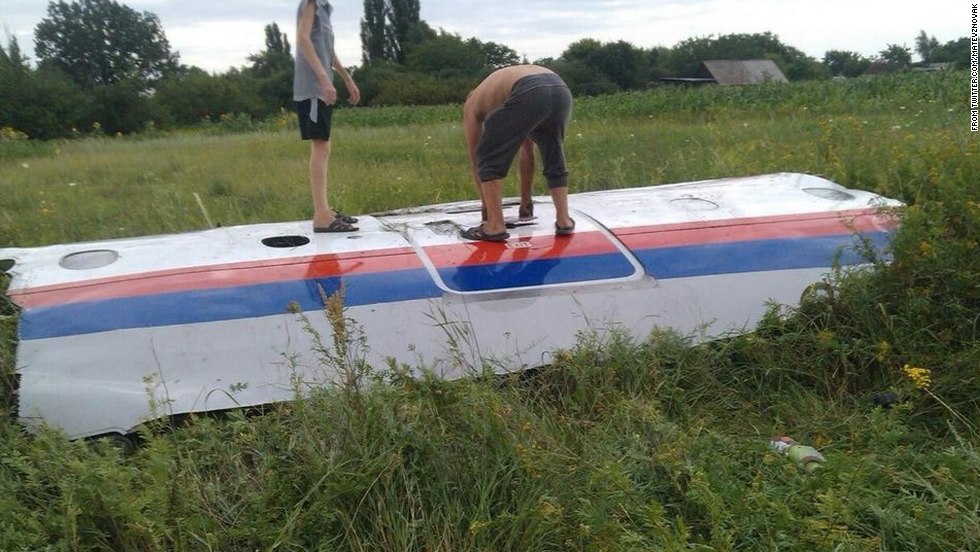 Photos: Malaysia Airlines Flight 17 crashes in UkrainePeople inspect a piece of wreckage believed to be from Malaysia Airlines Flight 17. This image was posted to Twitter.Hide Caption 54 of 58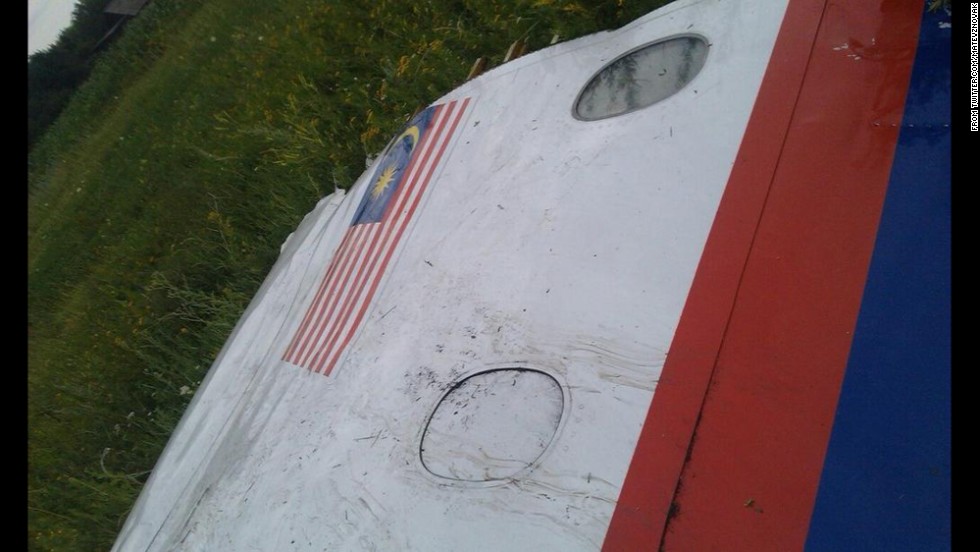 Photos: Malaysia Airlines Flight 17 crashes in UkraineA piece of wreckage believed to be from Malaysia Airlines Flight 17. This image was posted to Twitter.Hide Caption 55 of 58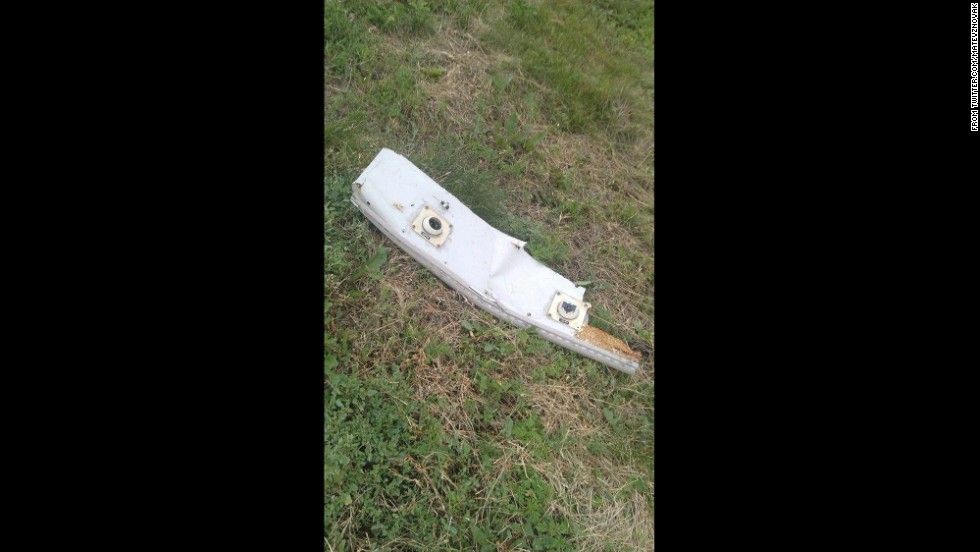 Photos: Malaysia Airlines Flight 17 crashes in UkraineA piece of wreckage believed to be from MH17. This image was posted to Twitter.Hide Caption 56 of 58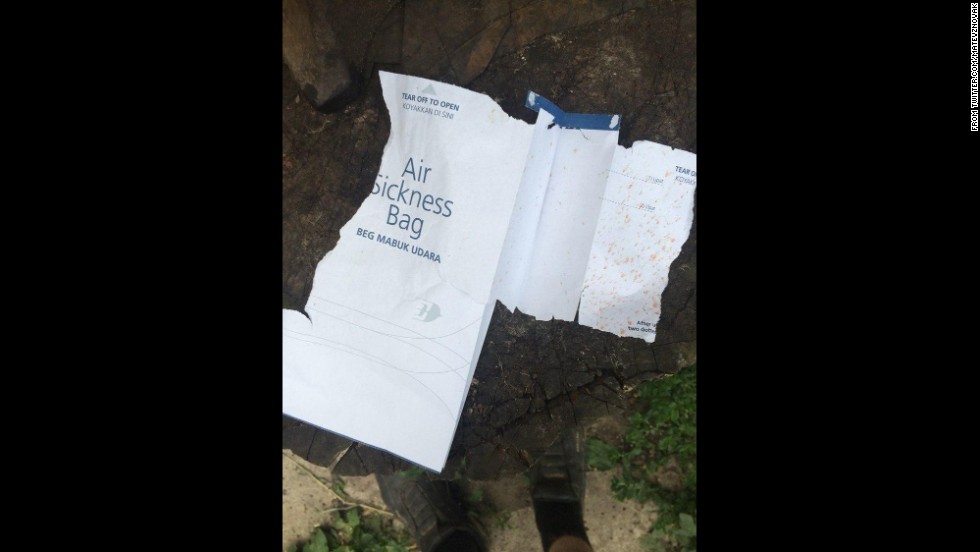 Photos: Malaysia Airlines Flight 17 crashes in UkraineAn airsickness bag believed to be from MH17. This image was posted to Twitter.Hide Caption 57 of 58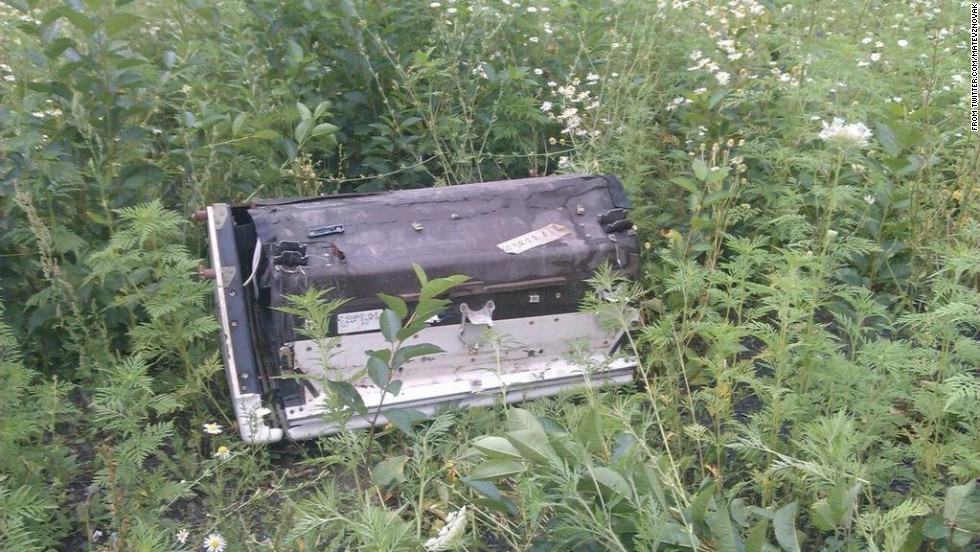 Photos: Malaysia Airlines Flight 17 crashes in UkraineA piece of wreckage believed to be from MH17. This image was posted to Twitter.Hide Caption 58 of 58
















































Australia Prime Minister Malcolm Turnbull and Foreign Minister Julie Bishop applauded the decision."The JIT's decision to support a Dutch national prosecution will ensure that results from the investigation are taken into account and that justice for the victims and their families, including the 38 people who called Australia home, is delivered," Turnbull and Bishop said in their statement.Most of the 283 passengers on the flight were Dutch. Malaysia Airlines settles damages with most MH17 families
Source Link:
https://www.cnn.com/2017/07/05/europe/netherlands-mh17/index.html
[-0.768265]
Comments
comments