Jain Kim, a CNN staff member, has lived in Atlanta for almost 20 years and is a member of the Atlanta chapter of the Asian American Journalists Association. The views expressed in this commentary belong to the author. View more opinion at CNN.
(CNN)My parents, like many immigrants, came to the United States from Korea for a better future. They were taught that this is the land of endless opportunities and that there were rules to follow in order to reach that better future. The rules were so strong, clear and always prevalent: to make sure they never took their eyes off the prize. These "rules" were supposed to keep the American ideal alive but in effect kept foreigners in their place and away from the majority. This is the "model minority" myth. And as is increasingly obvious, a myth is exactly what it is.
Jain Kim The attacks and murders of Asians and Asian-Americans, most recently six Asian women among the eight shot dead in my hometown of Atlanta, prove that even if we follow the rules, we keep our mouths shut, and we keep our heads down, we still get murdered. Even if the country says it loves our culture and our food, we are still seen as foreigners who don't belong here. We are considered White-adjacent, until we aren't. In the same vein, we are invisible and our place in history seems to be missing. But by believing that we can maybe one day become "White," we are perpetuating White supremacy. The topic of race in America, which is primarily focused on White vs. Black, often leaves Asian Americans invisible and silenced. And even after horrific events like this, people still choose to believe that racism against the AAPI community isn't real. Why? Because the topic of race in America is so focused on White vs. Black that racism against any other community can't be real or serious enough? This is not to take away from the severity of what has been happening to our Black brothers and sisters for centuries, but somehow racism and hatred towards Asians has been less visible even though it is very real and very alive.Read More For most of us, January 26, 2020 was the day Kobe Bryant died in a horrific helicopter crash. I'll forever remember his death, too. He was, after all, one of my favorite athletes. However, another event was also casting its creeping shadow. It wasn't given the name Covid-19 then, but a deadly coronavirus that was new to the public consciousness was making its way through global headlines. Not much was known about the virus, other than that the first cases were reported in Wuhan, China, and the virus was extremely contagious. My then-boyfriend-and-now-fiancé and I decided to dine out for a late lunch at a restaurant in Smyrna, Georgia. When we arrived, nothing seemed to be off. We didn't get any stares or dirty looks. No one avoided standing too close to us or made any nasty comments.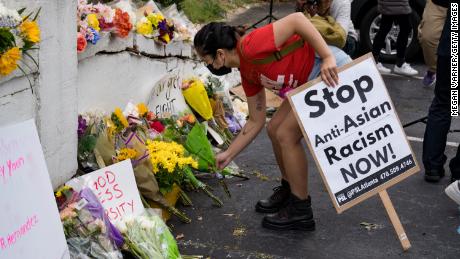 Who's teaching us to hate As a matter of fact, I wasn't even thinking about being treated differently for being Asian. But we were the only people to be seated outside on the covered patio when the dining room had more than enough seats for us. It was a chilly January day so I asked if we could be moved to the dining room and the hostess obliged. After being seated inside, our server was very short with us and barely made an attempt to stop by the table to check on us after taking our order — she did the bare minimum. It wasn't until she apparently realized that we were the "American" type of Asians who spoke English without accents that she decided to provide a semblance of customer service. And I couldn't help but wonder if we were possibly being racially profiled in connection to Covid-19. It's been a rough year, to say the least. And in more ways than one. Between having a President who spewed harshly racist rhetoric, a global pandemic and a racial reckoning following the killing of George Floyd, everyone has had their fair share of trauma. I am not the spokesperson for millennials or children of immigrants, but I can confidently say it's hard for my generation to have to witness events like the shootings in Atlanta and the attacks on elderly Asians in places like New York and San Francisco. They are our grandparents, aunts, uncles, parents. Immigrants who came to America for a new beginning, working their way through odd jobs and long hours to provide for their families and often making little to no money, in pursuit of the American Dream. Innocents minding their own business, walking down the street, at their jobs, eating at restaurants, and yet, being attacked for being Asian. It's unfathomable. But we see how undeserved and wrong this is. How undeserving any minority community is of racial attacks.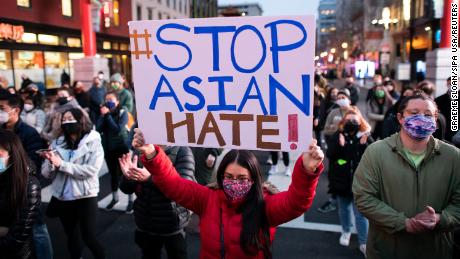 How are the Atlanta spa shootings NOT a hate crime? So, we fight back by calling it what it is. We take to the streets, to social media, to our private text messages and conversations and we bring awareness. We let the world know this is NOT OK. It's also painful to hear someone like Captain Jay Baker, a public information officer at the Cherokee County, Georgia, Sheriff's Office, seem to make excuses for the alleged Atlanta shooter with comments like, "he was pretty much fed up" and Tuesday "was a really bad day for him." Baker has since been removed as spokesman and Sheriff Frank Reynolds said that Baker's comments were not intended to disrespect any of the victims as "empathy or sympathy for the suspect," but they still completely take away from the fact that innocent Asian people were killed. Or that authorities did not immediately label it a hate crime after the suspect told the police that he had a "sexual addiction" and had carried out the shootings at the massage parlors to eliminate his "temptation." You can't tell me that this is not the epitome of White privilege, or that White privilege does not exist. A man charged with senselessly killing AAPI women told authorities that his motives were not racially charged and at least some appear to take his words seriously. This sets a dangerous precedent for people who will act on their hatred toward a certain community. It's hard to have hope for the future and for humanity when our trauma and struggles are constantly being ignored and brushed under the rug. Or even worse, when it's believed we deserve this. But this time feels different. The reaction to what has happened in Atlanta is heartwarming and enough to keep us going. The outpouring of support coming from all different directions is a sign that we are bigger than this. We need leaders who will hold racists, criminals, murderers and assailants accountable for their actions and who will call it what it is. We need parents to teach their children to be good and decent human beings. We need allies and advocates who will continue to fight the good fight and support their colleagues, friends, neighbors, etc. We need to continue to have empathy and sympathy toward one another without comparing pain and suffering. Get our free weekly newsletter
Sign up for CNN Opinion's new newsletter.
Join us on Twitter and Facebook
If you really think about it, the Asian and Black communities are more interwoven than we initially think. It's important to acknowledge that our struggles are wildly different, and while it is unproductive to compare them to one another, our experiences and struggles are inexplicably linked. These incidents are not accidental or isolated. They are intentional, and my community is being targeted. We are all being targeted. We are in danger. We are scared and angry. And we just want a fair chance at living. For everyone grieving or worried about their loved ones coming home safely, we must stop the hate.
Source Link:
https://www.cnn.com/2021/03/21/opinions/asian-americans-atlanta-shooting-stop-hate-kim/index.html
Bad Request
Your browser sent a request that this server could not understand.
Size of a request header field exceeds server limit.
Comments
comments