American Muslim organizations are decrying the Supreme Court's decision on Tuesday to uphold President Donald Trump's travel ban.
Many Muslim activists compared the 5-4 decision to past Supreme Court rulings that allowed for discrimination against certain minority groups ― such as African-Americans and Japanese-Americans ― and pledged Tuesday to continue fighting against bigotry.
"The Supreme Court has been wrong on major decisions before, and so our fight continues," said Linda Sarsour, executive director of the Muslim-led social justice organization MPower Change. "The right to live in peace and be treated justly no matter one's race, ethnicity or religion is too important to let one person, one decision, destroy it."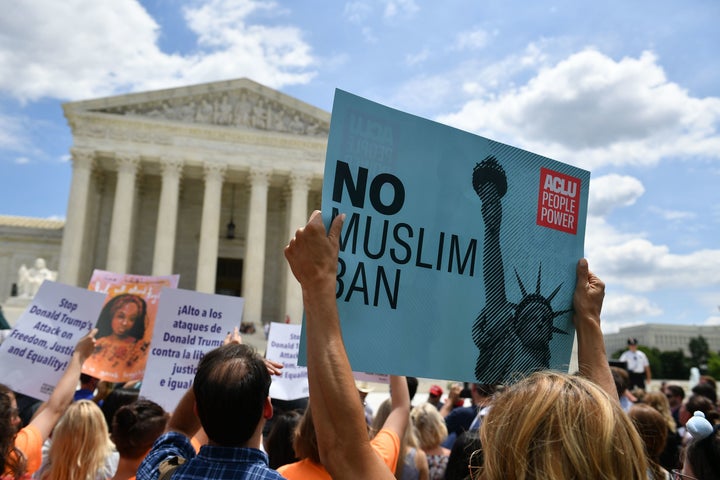 MANDEL NGAN via Getty Images People protest the Muslim travel ban outside of the U.S. Supreme Court in Washington, D.C., on June 26, 2018.
Trump has issued three versions of his travel ban, all of which faced court challenges. The latest iteration, issued as a presidential proclamation in September, restricted people from eight countries ― Iran, Libya, Syria, Yemen, Somalia, Chad, Venezuela and North Korea ― six of which are predominantly Muslim. Chad has since been removed from the list.
In Tuesday's decision, the Supreme Court's five conservative justices argued that the travel ban is not a "Muslim ban" since the countries included in the latest iteration contain "just 8 percent of the world's Muslim population." Chief Justice John Roberts, who wrote the majority opinion, stated that the travel ban is "facially neutral toward religion" and has a legitimate national security justification "quite apart from any religious hostility."
But Muslim activists trace the travel ban's roots back to Trump's December 2015 call for a "total and complete shutdown of Muslims entering the United States." They've also pointed out that the president has repeatedly made hostile statements about Muslims, claiming that "Islam hates us" and that the U.S. was "having problems with Muslims coming into the country."
As a result, many American Muslims still consider Trump's travel restrictions to be a Muslim ban.
-On December 7, 2015 Trump's Muslim ban was born: "Donald J. Trump is calling for a total and complete shutdown of Muslims entering the United States."-On June 26, 2018 the GOP controlled US Supreme Court turned Trump's anti-Muslim hate into American policy.
— (((DeanObeidallah))) (@DeanObeidallah) June 26, 2018
The Council on American-Islamic Relations, an advocacy organization that has filed legal challenges to all three iterations of Trump's travel ban, refers to the travel policy as "Muslim Ban 3.0."
CAIR's national executive director, Nihad Awad, said the Supreme Court has given the Trump administration a "green light to inject discrimination back into the immigration system."
"The Muslim Ban's bigotry should have been as clear to the Supreme Court as it is to the Muslims demonized by it," Awad said in a statement. "Apparently, everyone but the Supreme Court can see the decision for what it is: an expression of animosity."
Protesters from about 24 advocacy groups gathered outside the Supreme Court to denounce the justices' decision. Other protests are being planned in Minnesota, Maryland and Georgia.
CAIR's New York chapter teamed up with a coalition of 11 religious and secular organizations to hold a rally in New York City's Foley Square to support the Muslim community.
New York City came out to say we #StandWithMuslims. pic.twitter.com/CE531yfU2T
— Linda Sarsour (@lsarsour) June 26, 2018
Albert Fox Cahn, CAIR-NY's legal director, likened Tuesday's decision to the 1857 Dred Scott v. Sandford case, in which the Supreme Court declared that black Americans "had no rights which the white man was bound to respect." He also cited the Court's 1944 Korematsu v. United States ruling, which upheld the imprisonment of Japanese-Americans during World War II.
"Like its predecessors Dredd Scott and Korematsu, today's decision was unjust," Cahn said. "And like its predecessors, this ruling will be condemned by future generations as a betrayal of the promise of equality and justice for all."
The Dred Scott and Korematsu decisions are both widely discredited ― in fact, Roberts explicitly distanced Tuesday's decision from Korematsu, writing that the 1944 ruling "has nothing to do with this case."
"The forcible relocation of U. S. citizens to concentration camps, solely and explicitly on the basis of race, is objectively unlawful and outside the scope of presidential authority," Roberts wrote. "But it is wholly inapt to liken that morally repugnant order to a facially neutral policy denying certain foreign nationals the privilege of admission."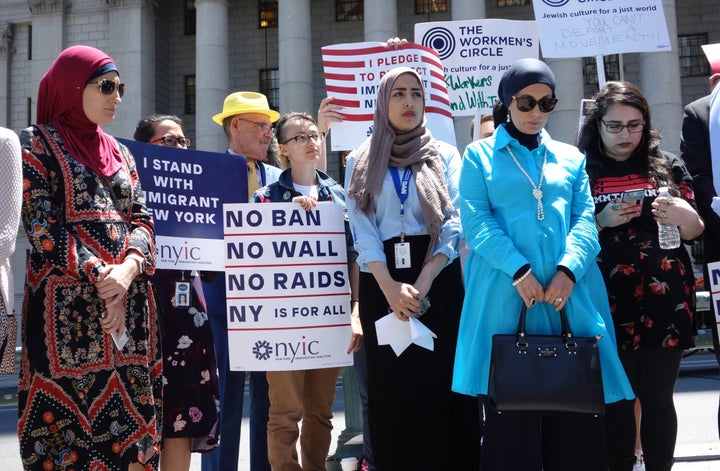 DON EMMERT via Getty Images Members of the New York Immigration Coalition talk about the Supreme Court decision to uphold President Donald Trump's Muslim ban on June 26, 2018.
In a blistering dissent to the majority opinion, however, Supreme Court Justices Sonia Sotomayor and Ruth Bader Ginsburg pointed out that the travel ban originated in Trump's proposal to ban Muslims from entering the U.S. ― and that the president had himself likened the proposal to Franklin D. Roosevelt's discriminatory policies during World War II.
"By blindly accepting the Government's misguided invitation to sanction a discriminatory policy motivated by animosity toward a disfavored group, all in the name of a superficial claim of national security," the pair wrote, "the Court redeploys the same dangerous logic underlying Korematsu and merely replaces one 'gravely wrong' decision with another."
The justices also warned that their conservative counterparts were "turning a blind eye to the pain and suffering the Proclamation inflicts upon countless families and individuals, many of whom are United States citizens."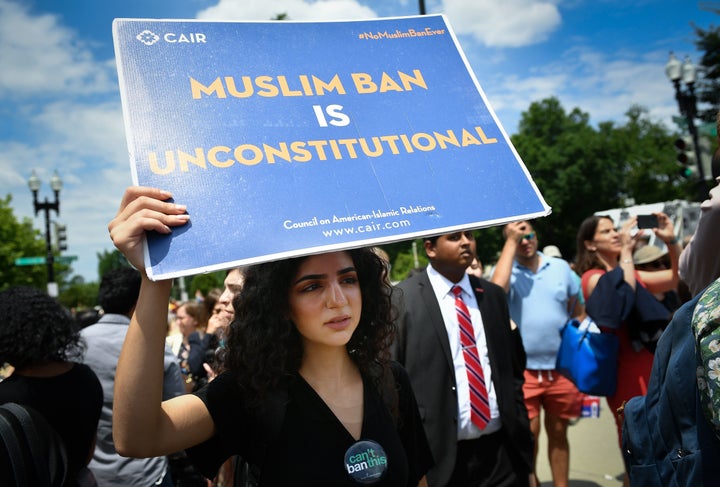 MANDEL NGAN via Getty Images People protest Trump's travel ban outside the Supreme Court on June 26, 2018.
Tuesday's decision puts all Americans at risk, said Farhana Khera, executive director of Muslim Advocates, which has filed eight lawsuits against the Trump administration regarding the travel ban.
She also invoked widely-condemned Supreme Court decisions of the past.
"Not since key decisions on slavery, segregation in schools, and Japanese American incarceration, have we seen a decision that so clearly fails to protect those most vulnerable to government-led discrimination," Khera said.
"It says that even when an administration is clearly anti-Muslim, when it targets Muslims, when it insults Muslims, and when it puts a policy in place that specifically hurts Muslims – that the Court will let it stand. If it can happen to Muslims, it can happen to anyone."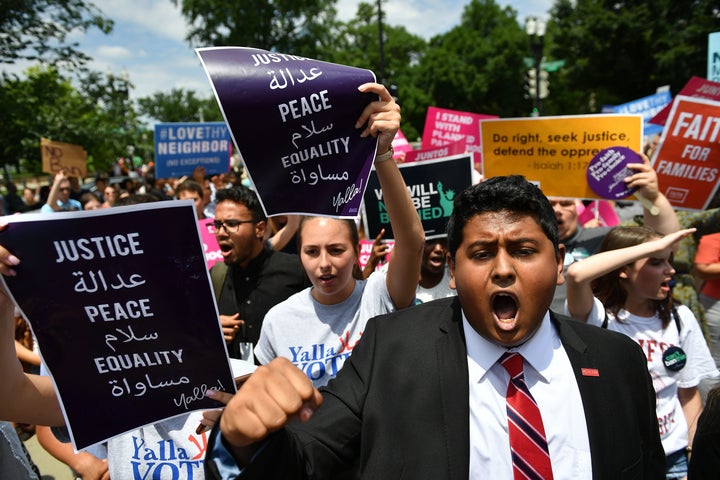 MANDEL NGAN via Getty Images People protest the Muslim travel ban outside of the US Supreme Court in Washington, DC on June 26, 2018.
Sarsour, who has long led efforts to mobilize Muslim communities, pledged Tuesday that American Muslims will continue to speak up.
"We will protest, we will vote, and we will organize against this bigotry until we have reunified our families and communities and overturned the Muslim Ban once and for all," she said in a statement. "Most importantly, we will continue mobilizing and defending our communities from un-American, bigoted policies—whether they are endorsed by the Supreme Court or not."
As an American-Muslim teen, it is so empowering to be at this #NoMuslimBanEver rally tonight at Foley Square — surrounded by community, friends, and allies — listening to role models like @lsarsour & @DebbiAlmontaser. I am outraged, but I am also hopeful. pic.twitter.com/cOshy8Ep7r
— Ziad Ahmed (@ziadtheactivist) June 26, 2018 Download
Source Link:
https://www.huffingtonpost.com/entry/muslim-groups-on-travel-ban-this-isnt-the-first-time-the-supreme-court-has-failed-america_us_5b32928fe4b0b5e692f2124f
[-0.36537]
Comments
comments