Theresa J. Fanone retired as a senior family therapist. She worked with families affected by substance abuse, grief, trauma and domestic violence. She spends her time with her ninegrandchildren, gardening and volunteering in the community. The views expressed in this commentary are her own. View more opinion on CNN.
(CNN)Donald Trump recently said that his supporters who stormed the Capitol on Jan. 6 were "hugging and kissing" police officers and posed "zero threat."
My experience of that day, and every day since, has been significantly different.My son, Michael Fanone, is a 20 year veteran of the Metropolitan Police Department, assigned to the First District. I knew there was a rally planned for Jan. 6. All leave had been canceled. This was to be an "all hands on deck" event. Michael was scheduled to work his regular shift but left for work early that day. I had been listening and watching on television the speeches at Trump's "Save America" rally. More and more, my anxiety grew as I saw the enormous crowd and listened to the negativity and tone of the rhetoric expressed by all speakers. For me, it evoked fear and sounded like the speakers were advocating for a threatening confrontation.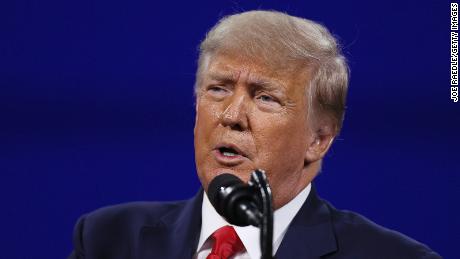 Trump's big lie could backfire in Georgia Terror, horror, anger, fear and rage do not begin to capture the emotions I felt that day, wondering which police officer's face belonged to my son. I prayed — for my son and all the sons, daughters, fathers and mothers who were present that day. Watching the beatings, suffering, fear and confusion on these officers' faces will leave an indelible imprint on my mind forever.Read MoreAfter watching this unfold for hours, I received an emotional, tearful phone call from Officer James Albright, Jimmy, Michael's partner, saying, "He's okay, he's okay, he is conscious, in a neck brace and with the doctor, he is being brought down for testing and scans." My first conversation with Michael, who sounded terrified, began with, "Mom, the hate in those people's eyes, they wanted to kill me, they kept screaming, 'kill him, kill him, get his gun and kill him.'" Michael, along with many other officers, had been holding the door to the West Tunnel of the Capitol (the door the President uses when he takes the oath of office) when he was pulled through the doorway by the mob, pushed down the stairs, kicked, beaten, maced, tased repeatedly on his neck, had his face shield ripped off and his badge and radio taken. Michael's injuries resulted in a heart attack, due to trauma, stress and repeated tasing to his neck, burns on his neck and chest, a concussion, a traumatic brain injury and post-traumatic stress disorder.The days, weeks and months that have followed have been equally as traumatic and painful for our family as we watch Michael struggle with the impact of PTSD, and continue to walk with him while he faces the reality of the violence he experienced. Equally as difficult and insulting have been those who have taken the perspective to minimize, diminish, understate and whitewash the violent insurrection on Jan. 6 and its lasting impact on the more than 850 MPD officers, as well as officers from other jurisdictions and their families. These officers, all of them, fought to protect, maintain order and civility. All of them were heroes. This is just my experience. I can only speak for myself and my family. However, there were almost 140 officers who experienced injuries of all magnitudes, some permanent. Three young men died — one from injuries sustained during the attack and two who committed suicide after responding to the attacks. Get our free weekly newsletter
Sign up for CNN Opinion's new newsletter.
Join us on Twitter and Facebook
All have mothers and fathers, grandmothers and grandfathers, sisters and brothers, and children who will experience the traumatic impact associated with this day for a very long time. Since Jan. 6, as some seemingly try to rewrite history and paint a less violent picture of what happened that day, my son has been concerned about the diminishment of the sacrifice of all the officers who had a role in restoring peace that day. After everything Michael and his fellow officers have been through, it's an awful burden to carry. And as his mother, it's heart wrenching. But a tweet that Father James Martin, SJ posted on Jan. 14 sums up my thoughts and what I hope every officer and their family members know: "Many have asked me where Christ would have been in the US #Capitol riots. Well, God [is] in all of us. But I see Christ most in the ones who are beaten, not those who are doing the beating…"
Source Link:
https://www.cnn.com/2021/04/01/opinions/mom-of-injured-capitol-officer-fanone/index.html
[-0.531672,"negative"]
Comments
comments