Moscow (CNN)The stakes were relatively low in Moscow's municipal election: 45 seats in the City Duma, a local legislative body.
But the results of Sunday's vote could have far-reaching impact. United Russia, the country's ruling party, lost around a third of its seats, and the country's embattled political opposition is casting the outcome as a major victory, as well as a direct challenge to Russian President Vladimir Putin's two-decade rule. "For the first time in Putin's 20 years in power, his party came up against organized opposition in an election, and we beat them," said Alexei Navalny, Russia's most prominent opposition figure.It's worth noting that Navalny and his closest allies will not be taking seats in the local legislature. Independent and opposition candidates were largely kept off the ballot by local election authorities, so the Russian opposition settled for what they saw as a lesser evil: voting for candidates less beholden to United Russia.That strategy — dubbed "Smart Voting" — seems to have worked. As early results came in on Monday, United Russia appeared to have lost multiple seats in Moscow's city legislature.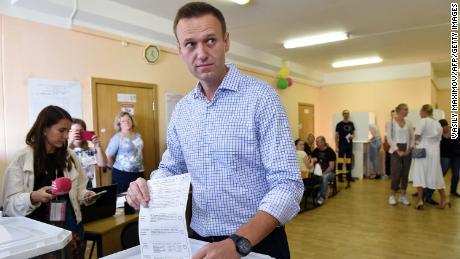 Alexei Navalny casts his vote in the Moscow City Duma election Sunday.Read MoreSelf-nominated candidates aligned with United Russia were set to occupy 26 of 45 seats in the Moscow City Duma, RIA-Novosti cited Valentin Gorbunov, head of the Moscow Election Commission, as saying. United Russia previously held 28 seats, along with 10 self-nominated candidates backed by the party."Throughout the history of the MGD (Duma), the party in power has not lost so many districts," Navalny wrote on Twitter. "All well done. However, it's too early to relax."Moscow has been a laboratory for political activism this summer.The push for Smart Voting followed several weeks of street protests in the capital that were spurred by moves to keep opposition candidates off the ballot. Those crested on August 10, when as many as 50,000 people rallied in the city, the biggest demonstrations seen in Moscow since early 2012.But authorities also proved they were ready to make sweeping arrests to blunt the momentum of the protests. According to OVD-Info, a site that monitors arrests, over 2,000 people were jailed in a series of sanctioned and unsanctioned demonstrations. Well-equipped riot police showed that they were effective at quelling protests.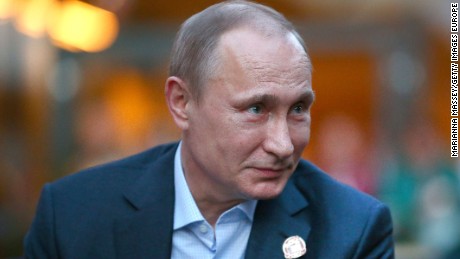 Vladimir Putin has dominated Russia for 20 years. Will he ever step down? Navalny himself was jailed amid a roundup of opposition figures ahead of unsanctioned demonstrations on July 27 and sentenced to 30 days for allegedly violating protest laws. (He fell ill in custody and his physician suspected poisoning by an unknown substance.) How have the authorities reacted to this new challenge to the ruling party? With spin, it seems.Moscow Mayor Sergei Sobyanin said in a statement on Twitter that Sunday's vote was "perhaps the most emotional and really competitive in all of recent history. On average, almost five candidates fought for mandates in each constituency. Passions were serious."Sobyanin did, however, acknowledge the shift in the city's politics."In addition to a strong detachment of Communists, a cohort of respected parties Yabloko and Just Russia will take seats in parliament," he said. "The Duma has become politically more diverse, which in general, I hope, will benefit the city parliament."Dmitry Peskov, the Kremlin spokesman, was equally unruffled."In general, the recent election campaign in Russia was very successful for the United Russia party," he told reporters in a conference call Monday. "Somewhere there are more seats, somewhere there are fewer seats, but in the whole country the party has shown its political leadership."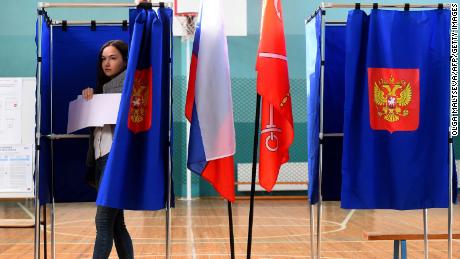 Russia's ruling party takes a hit in Moscow electionPeskov's confidence is not unfounded: While Putin's ratings have slipped in recent months, he maintains a consistently high approval rating. Levada-Center, an independent pollster, put his approval rating in August — the height of this summer's protests — at 67%.Political observers are often quick to point out that Moscow is not Russia: The city is a wealthy enclave that is home to the country's liberal elite.But Alexander Baunov, a senior fellow at the Carnegie Moscow Center, argued in a recent essay that the Kremlin is paying particularly close attention to the way political winds blow in the capital."Moscow has lost its status as a special political enclave in the country," he wrote. "The crackdown on protest is being directed not by the mayor but from the Kremlin. Both Russia's rulers and the opposition see the confrontation as a trial run for a bigger showdown in the parliamentary election of 2021 and the next presidential election of 2024." In other words, this municipal election may be a dress rehearsal for more political confrontation.
Source Link:
https://www.cnn.com/2019/09/09/europe/moscow-election-political-confrontation-intl/index.html
[0.449637]
Comments
comments