(CNN)More than half of Europe's endemic trees — species that are only found in the region — are at risk of extinction because of diseases, pests and human activities, a conservation organization based in Geneva has said.
The International Union for Conservation of Nature (IUCN) Friday released its findings as part of its newly published European Red List of Trees. While the European Red List had already assessed 15,000 species, including vertebrates, freshwater molluscs and trees, the latest study focused on the dangers to lesser-known species.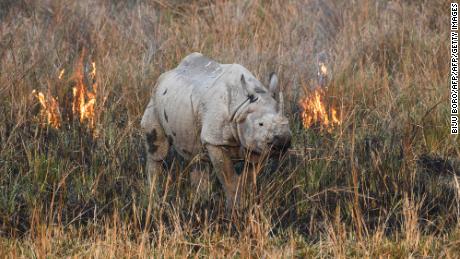 One million species threatened with extinction because of humansIn total, 58% of Europe's endemic trees are at risk of dying out — as well as more than two-fifths of the continent's 454 native species.The horse chestnut — native to Bulgaria, Greece, Albania and the Republic of North Macedonia but widespread elsewhere in Europe — is among those in danger. Read MoreIt has been deemed "vulnerable" to extinction because of a decline caused by the leaf-miner moth — whose caterpillars feed on its leaves — forest fires, logging and tourism. In the UK, three types of whitebeam that were only discovered 10 years ago are now critically endangered. They belong to the "Sorbus" genus, which is particularly affected — three-quarters of its 170 species are at threat, the IUCN said.
Almost 600 plant species have become extinct in the last 250 yearsCraig Hilton-Taylor, head of the IUCN Red List Unit, said: "It is alarming that over half of Europe's endemic tree species are now threatened with extinction."Trees are essential for life on earth, and European trees in all their diversity are a source of food and shelter for countless animal species such as birds and squirrels, and play a key economic role."He called for cooperation between the European Union, regional assemblies and conservationists to overcome the threat. The latest assessments show that it is not only trees that are endangered — almost half of Europe's shrubs and more than a fifth of land molluscs are at risk of extinction. Luc Bas, director of IUCN's European Regional Office, said: "This report has shown how dire the situation is for many overlooked, undervalued species that form the backbone of Europe's ecosystems and contribute to a healthy planet. "We need to mitigate human impact on our ecosystems and prioritise the protection of these species."
Source Link:
https://www.cnn.com/2019/09/27/europe/europe-native-trees-extinction-scli-intl-scn/index.html
[-0.434425]
Comments
comments