(CNN)As the Broward County sheriff continues to face criticism for his department's actions before and after the deadly school shooting in Parkland, thousands of Floridians will be arriving in Tallahassee on Monday to demand more gun control.
It is the second time in recent days that protesters have converged on the Capitol to pressure lawmakers into taking action. About 100 students and their chaperones made the 450-mile bus trip from Parkland last week, meeting with lawmakers and Gov. Rick Scott and staging a protest outside the state House of Representatives. But where students last week sought conversations and lobbied for a variety of gun control and school safety measures, the group arriving Monday lists as one of its aims a permanent ban on assault-style rifles like the one used by the Marjory Stoneman Douglas school shooter.
First buses have arrived! Welcome Tampa and Pensacola! #RallyinTally pic.twitter.com/iQ4xsJwic3
— Mayor Philip Levine (@MayorLevine) February 26, 2018 The "Rally in Tally" will be led by former Miami Beach Mayor Philip Levine, who is vying for the Democratic gubernatorial nomination, and is expected to draw 1,000 Floridians from across the state, according to a news release.Sheriff cooperatingRead MoreThe rally will unfold as lawmakers, including Scott, demand a state investigation into the Broward County Sheriff's Office response to the deadly February 14 school shooting.On Sunday, Scott asked the Florida Department of Law Enforcement to "immediately investigate the law enforcement response" to the shooting, according to a news release from his office.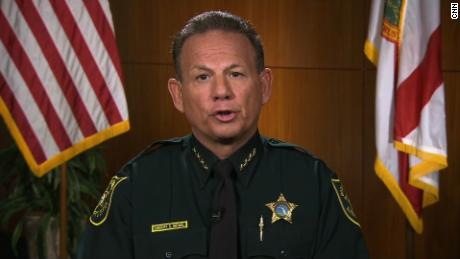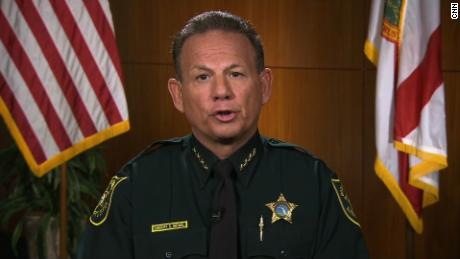 JUST WATCHEDTapper questions sheriff's 'amazing leadership'ReplayMore Videos …MUST WATCH
Tapper questions sheriff's 'amazing leadership' 02:36Broward County Sheriff Scott Israel said in a statement that his department "will fully cooperate" with the probe, "as we believe in full transparency and accountability."Israel has been under growing pressure as state House Speaker Richard Corcoran, along with 73 other Republican state representatives, called on the governor to suspend Israel for "incompetence and neglect of duty" in a letter sent Sunday. They said that he and his deputies had information about the shooter, yet failed to intervene "in the years, months, and days leading up to that shooting," which Corcoran described as "unacceptable and unforgivable." "Sheriff Israel failed to maintain a culture of alertness, vigilance, and thoroughness amongst his deputies. … As a result of Sheriff Israel's failures, students and teachers died," the letter said. Amid calls for his suspension, Israel, a Democrat, said Sunday, "Of course I won't resign." Law enforcement including the FBI and local authorities received warnings about the gunman before the attack, including one caller saying the eventual gunman could be a "school shooter in the making."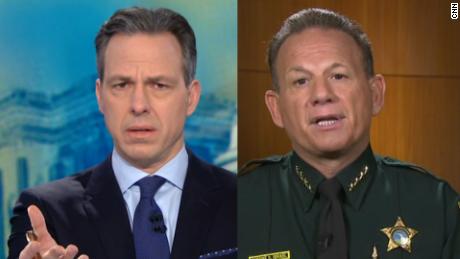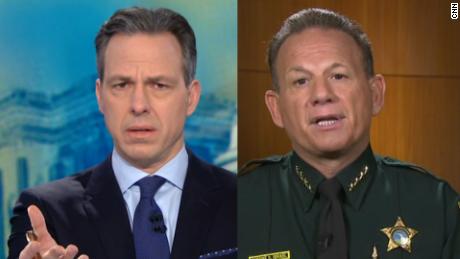 JUST WATCHEDSee Tapper's full interview with Sheriff IsraelReplayMore Videos …MUST WATCH
See Tapper's full interview with Sheriff Israel 27:59The sheriff's office said it received several calls related to the gunman in the past decade. Israel said investigators are looking into the handling of at least two calls that may have tipped off law enforcement. Read the transcript of the interview with Sheriff IsraelWhen questioned about red flags brought to law enforcement's attention, Israel said, "I can only take responsibility for what I knew about. I exercised my due diligence. I've given amazing leadership to this agency."What happened during the shooting?There have also been questions about how Broward County deputies responded during the critical moments of the massacre.During the shooting, the armed school resource officer assigned to the school stayed outside the building where the shooting was taking place, authorities said. Scot Peterson took cover outside as bullets flew for 4 minutes and "never went in," Israel had said. "I was disgusted. I was just demoralized with the performance of former deputy (Scot) Peterson," Israel said.
JUST WATCHEDNo, the media does not 'love mass shootings'ReplayMore Videos …MUST WATCH
No, the media does not 'love mass shootings' 06:19Peterson had received active-shooter training, according to a letter Israel had written in response to Florida state Rep. Bill Hager, who wrote a letter urging the governor to remove Israel from his post for his deputies' "unfathomable inaction" during the massacre.Peterson resigned last week following his suspension. Questions also have mounted over what happened during the shooting. Sources have previously said that Coral Springs police officers arrived at the site of the shooting and were surprised to find three sheriff's deputies, in addition to Peterson, had not entered the school.Israel said his department is also looking into reports that the deputies didn't enter the school building during the shooting, but as of now, Peterson was the only officer that he was certain had been derelict.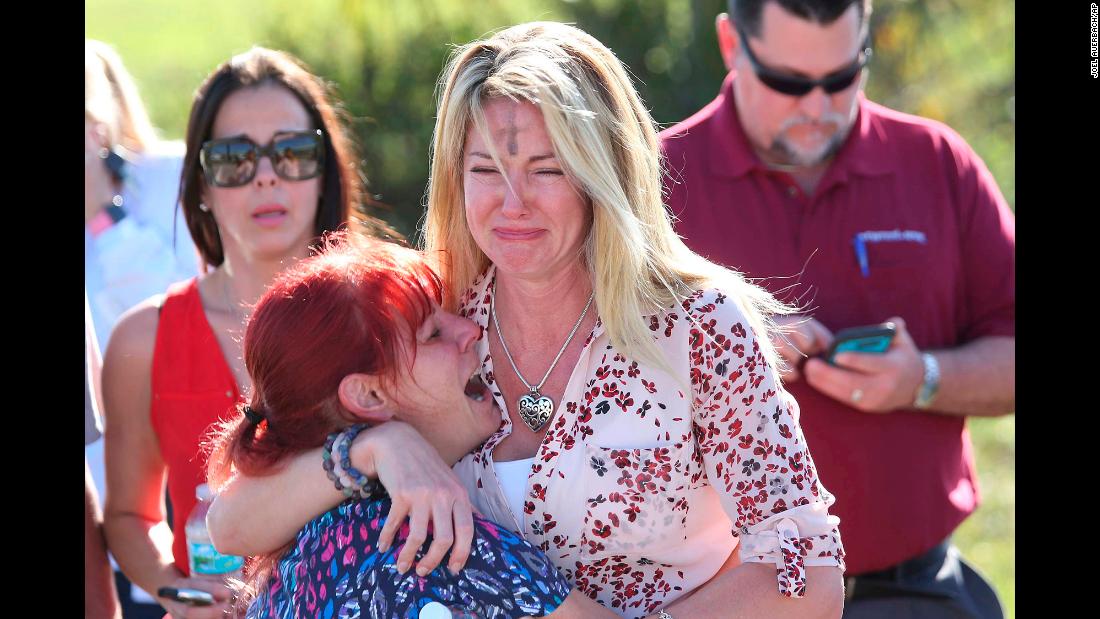 Photos: Deadly Florida school shootingParents wait for news after a shooting at Marjory Stoneman Douglas High School in Parkland, Florida, on Wednesday, February 14. At least 17 people were killed at the school, Broward County Sheriff Scott Israel said. The suspect, 19-year-old former student Nikolas Cruz, is in custody, the sheriff said. The sheriff said Cruz had been expelled for unspecified disciplinary reasons.Hide Caption 1 of 13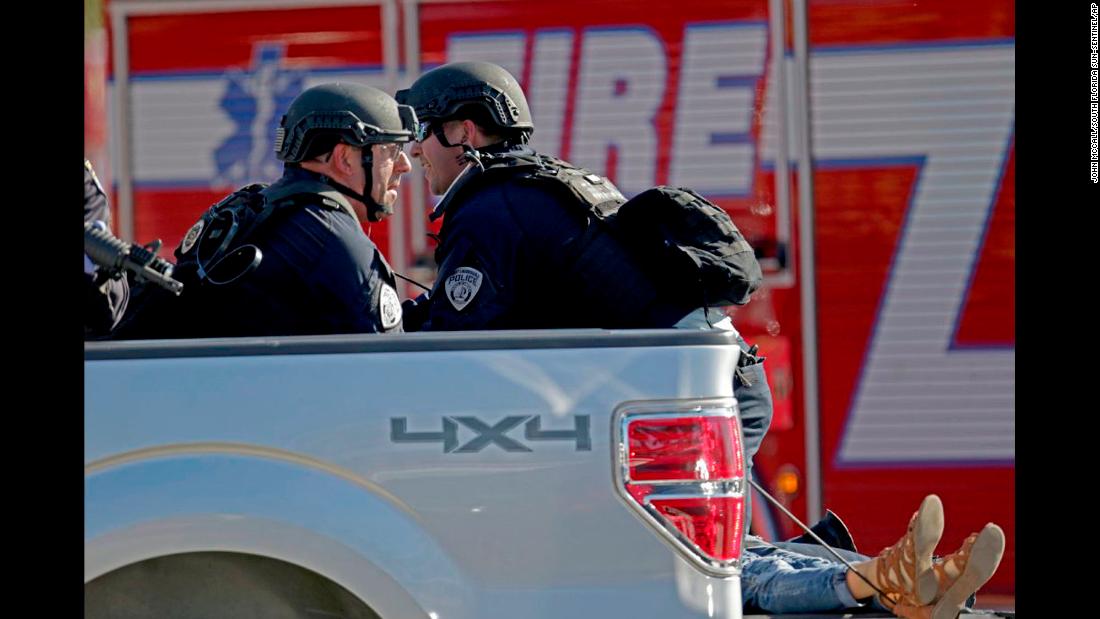 Photos: Deadly Florida school shootingPolice officers ride in the back of a pickup truck as they tend to a victim.Hide Caption 2 of 13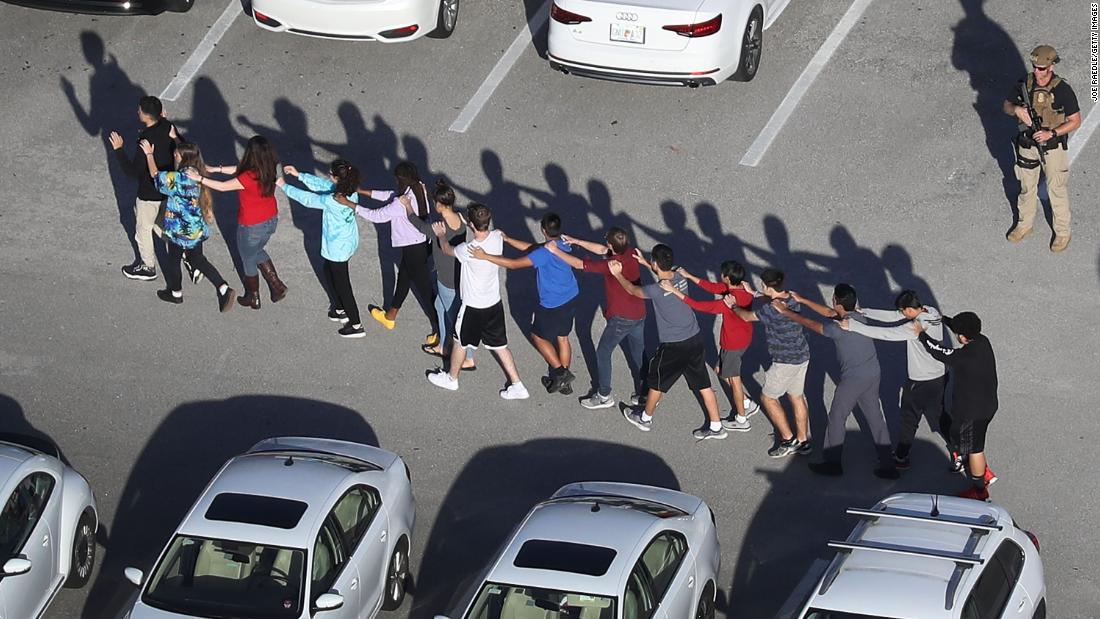 Photos: Deadly Florida school shootingPeople are brought out of the Marjory Stoneman Douglas High School after the shooting. Hide Caption 3 of 13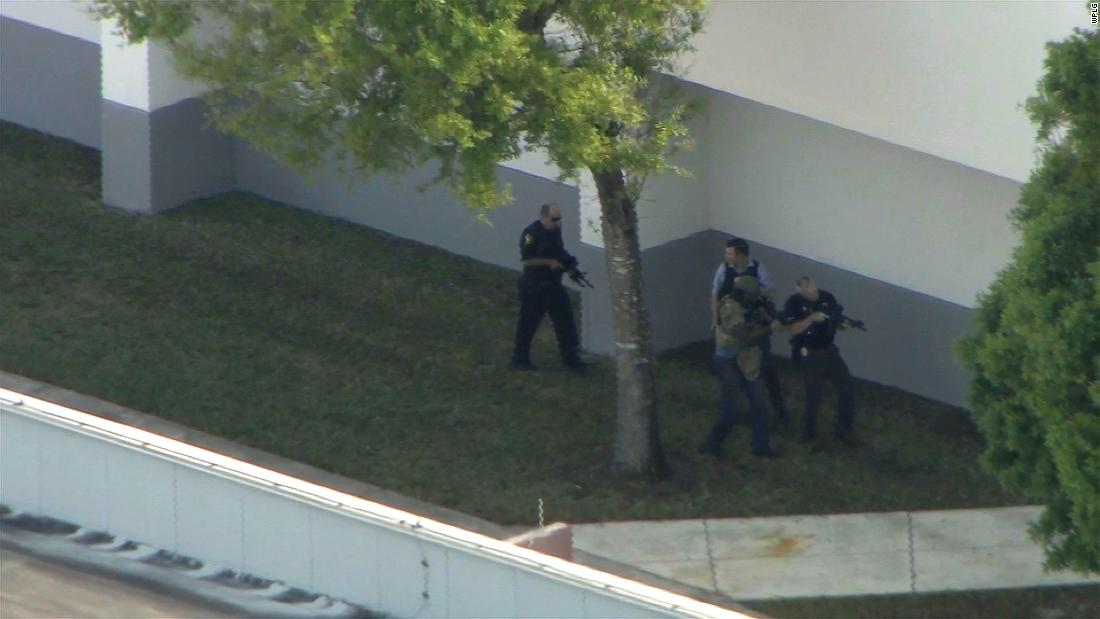 Photos: Deadly Florida school shootingPolice officers surveil the exterior of the school while the shooting was active.Hide Caption 4 of 13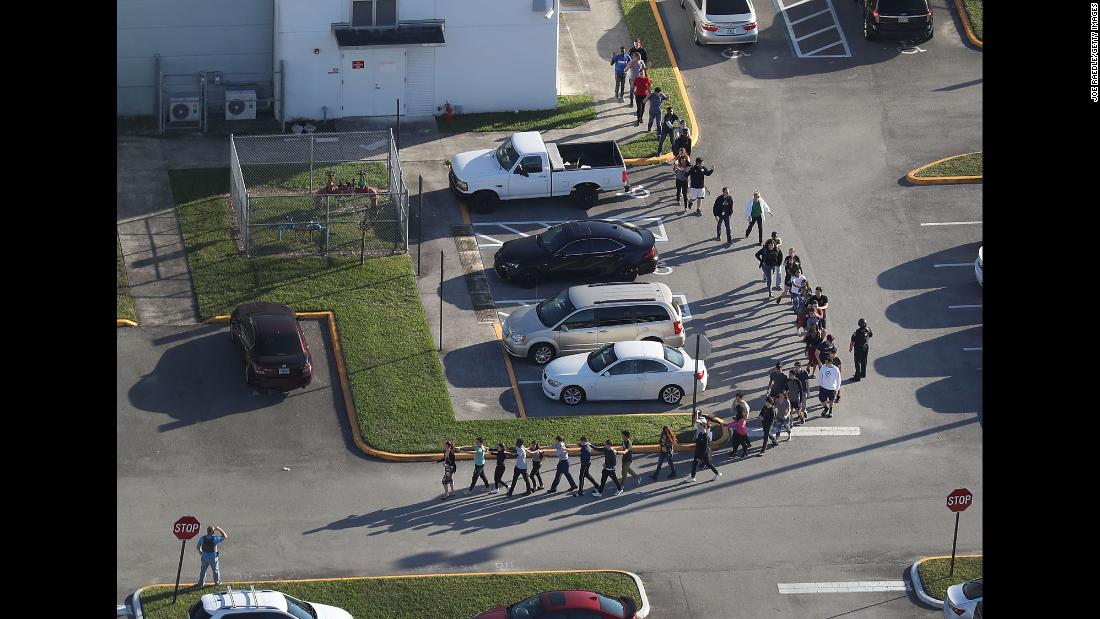 Photos: Deadly Florida school shootingStudents and faculty are evacuated from the school.Hide Caption 5 of 13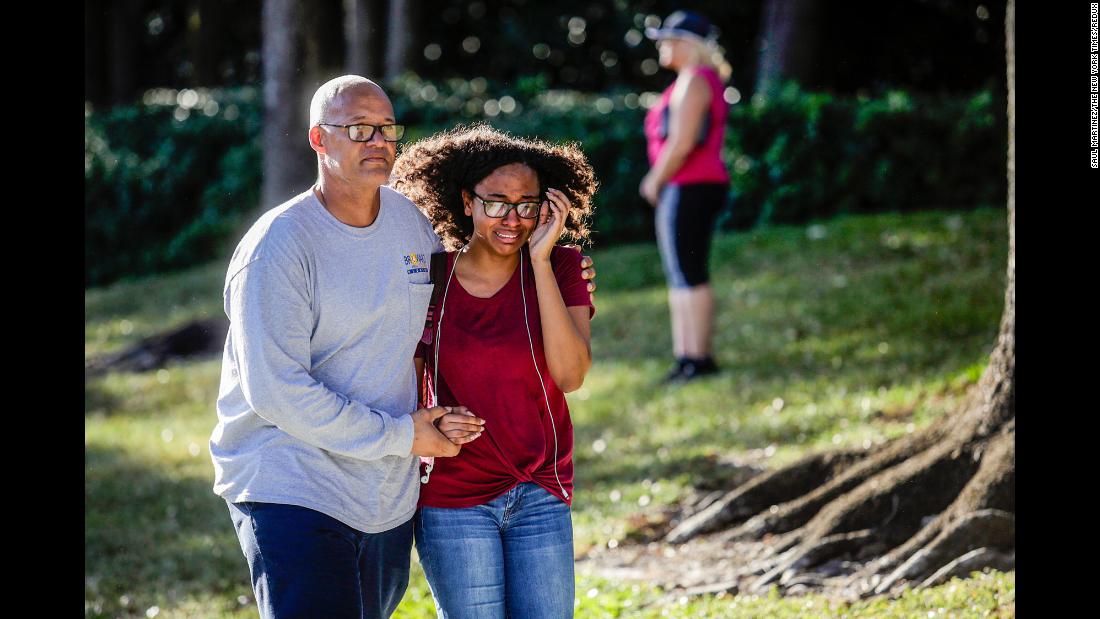 Photos: Deadly Florida school shootingA father and daughter embrace after a mass shooting at the Marjory Stoneman Douglas High School.Hide Caption 6 of 13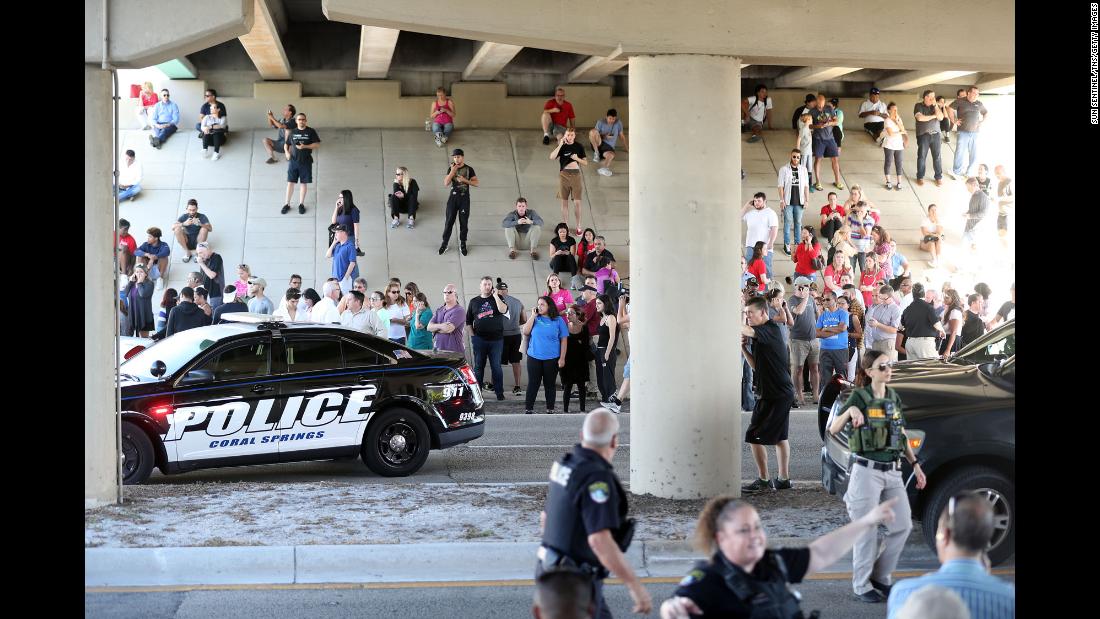 Photos: Deadly Florida school shootingFamily members wait for word from students beneath an underpass just south of the campus of Marjory Stoneman Douglas High School.Hide Caption 7 of 13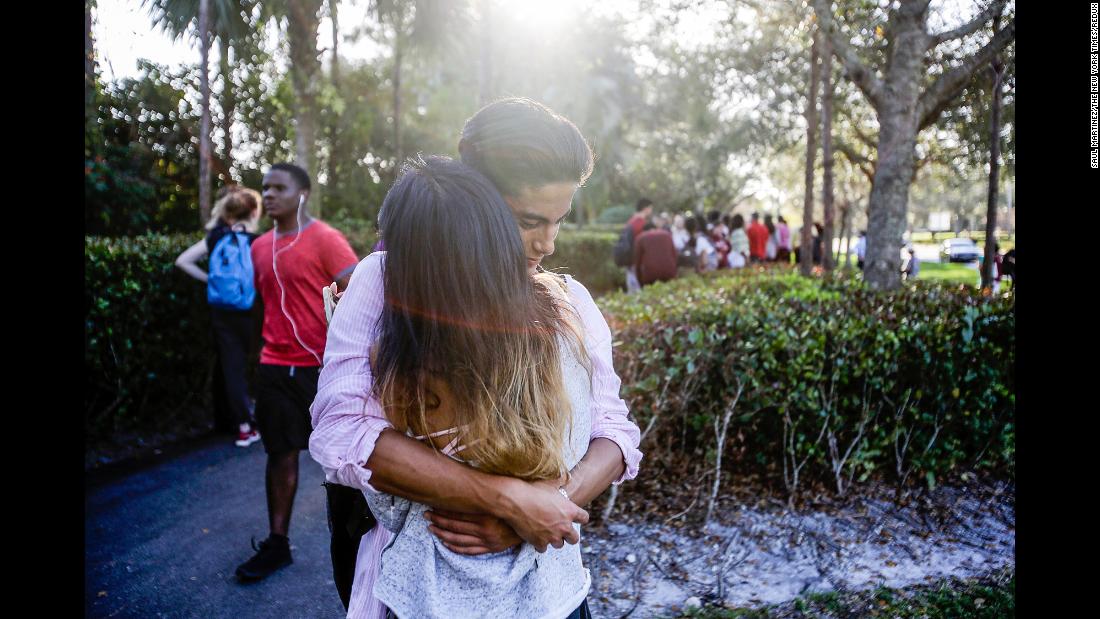 Photos: Deadly Florida school shootingLavinia Zapata embraces her son, Jorge, after he was evacuated from the school.Hide Caption 8 of 13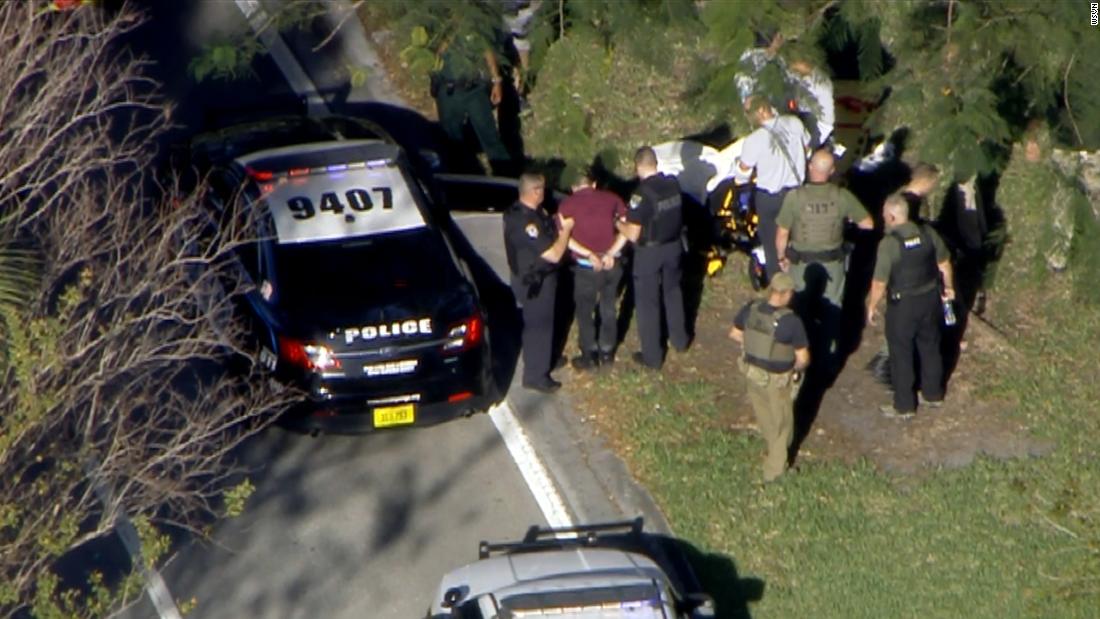 Photos: Deadly Florida school shootingThe suspect, 19-year-old former student Nikolas Cruz, is taken into custody by authorities. Cruz was apprehended off of the campus.Hide Caption 9 of 13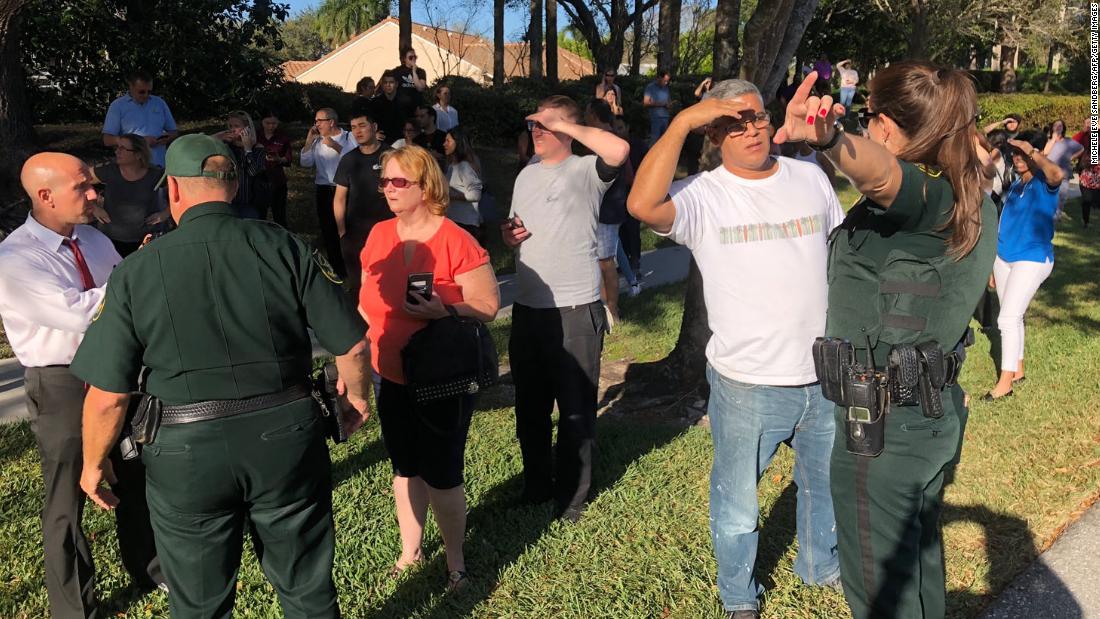 Photos: Deadly Florida school shootingSecurity instructs parents following the shooting. Parents were told they would be reunited with their children at a local Marriott Hotel.Hide Caption 10 of 13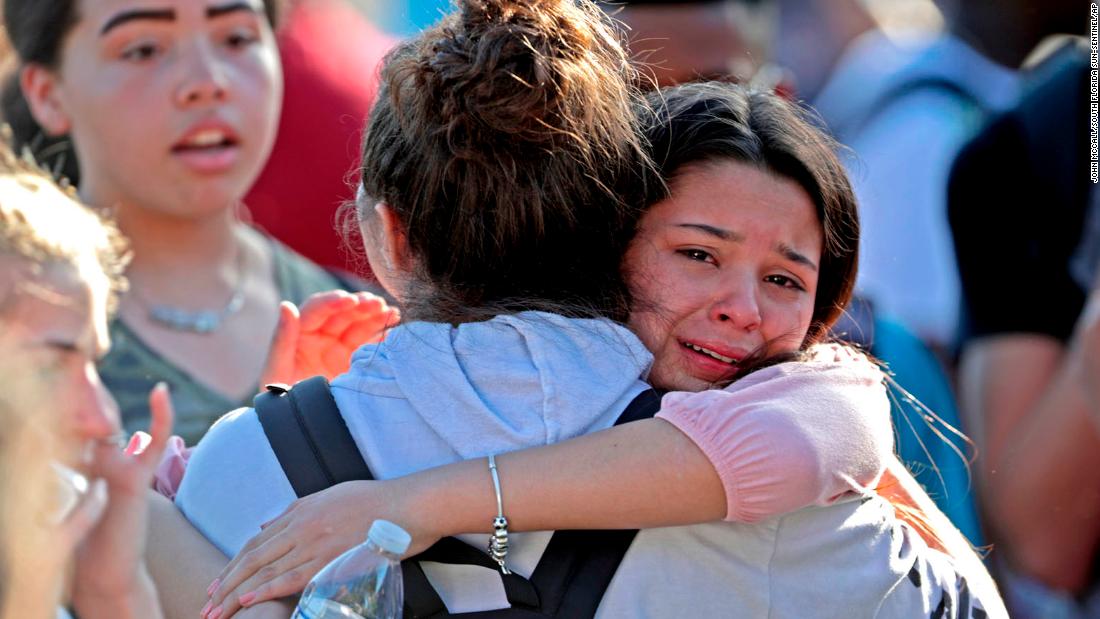 Photos: Deadly Florida school shootingStudents released from lockdown console each other. While some students were evacuated, many remained in the school until authorities could come to their aid.Hide Caption 11 of 13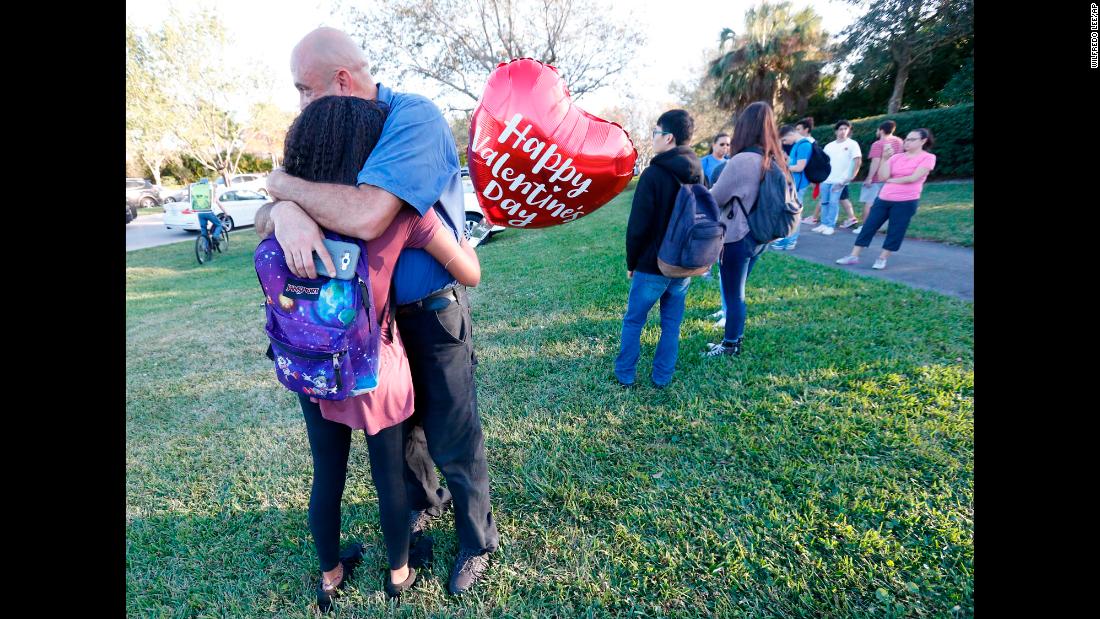 Photos: Deadly Florida school shootingFamily members embrace after shooting.Hide Caption 12 of 13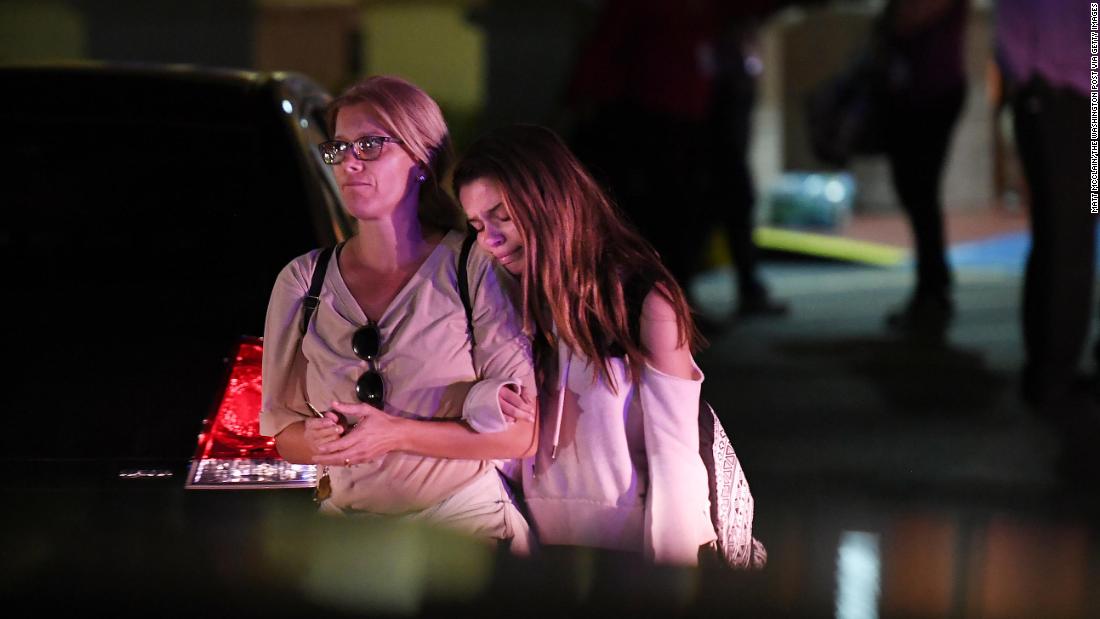 Photos: Deadly Florida school shootingPeople embrace while leaving the Fort Lauderdale Marriott Coral Springs Hotel, which authorities designated as a staging point for witnesses to the shooting. Hide Caption 13 of 13













"We will get to the truth, but at this point, one deputy was remiss, dereliction of duty, and he's now no longer with this agency. And that's Peterson," Israel said. He added that his department's investigation indicates the Coral Springs officers didn't arrive until about 4 minutes after the shooter had left the campus.A report on what Coral Springs officers observed is expected. Sources caution that surveillance video is currently being reviewed and official accounts could ultimately differ from recollections of officers on the scene.Wounded survivor speaksAppearing alongside her parents Monday, Maddy Wilford, 17, thanked the police officers, EMTs and doctors who scrambled to save her life after the shooting.Lt. Laz Ojeda of the Coral Springs Fire Department said that after officers revived Maddie inside the school, she needed a chest seal to stop the bleeding. She had also suffered gunshot wounds to the abdomen and upper right arm, he said. Ojeda wept as he recalled rubbing Maddy's sternum inside the ambulance. "She came around. She told me she was 17," he said.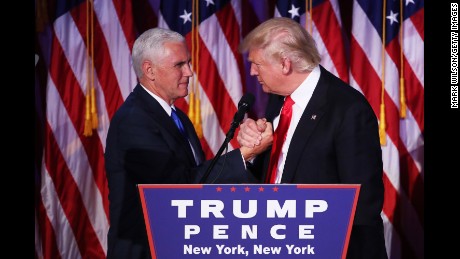 Trump campaign emails photo of Parkland survivor, asks for donations Dr. Igor Nichiporenko, who was charged with Maddy's care at Broward Health North, said she was pale and unresponsive when she arrived at the emergency room. Suffering "massive bleeding" and fluid in her abdomen, Maddy was rushed into the operating room within 10 minutes of her arrival. She underwent what he called "damage control" surgeries on her abdomen and arm, before undergoing a thoracotomy, or incision into her chest wall. Nichiporenko credited the fast work of first responders, his trauma team's experience and Maddy's resilience for her quick recovery. She was discharged last Wednesday."Young people have a tendency to heal very fast," the doctor told reporters. Echoing the words of her mother, Missy Cantrell Wilford, Maddy thanked those who supported and prayed as she recovered. "I'd just like to say that I'm so grateful to be here and it wouldn't be possible without those officers and first responders and amazing doctors and especially all the love that everyone has sent," she said, her right arm obviously still troubling her. "All the love that's been passed around, I definitely wouldn't be here without it."President Donald Trump's re-election campaign used a photo of Maddy in a fundraising email Saturday. Neither Maddy nor her parents addressed the photo, but her mother told reporters she was "grateful to the President, who came."Return to campusAs the investigations continue, Stoneman Douglas students returned to campus Sunday for a voluntary campus orientation. Grappling with trauma, some students and parents making their first emotional return to campus wore school T-shirts that read: "MSDStrong.""It was really scary. I didn't know how I was going to feel when I went in and I saw the fence around the freshman building … and all the windows were covered," sophomore Tanzil Philip said.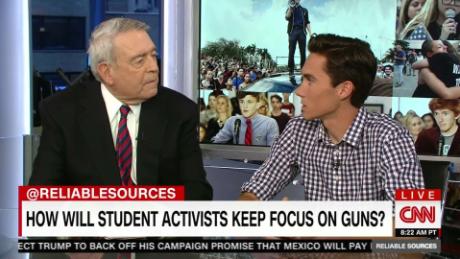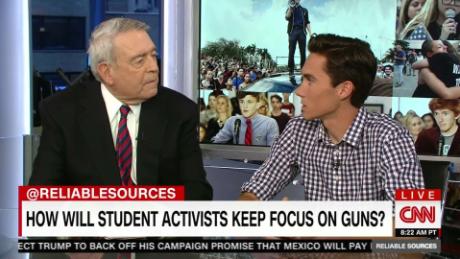 JUST WATCHEDDavid Hogg meets Dan RatherReplayMore Videos …MUST WATCH
David Hogg meets Dan Rather 07:58The building where the shooting occurred will remain closed. Armed deputies were on campus and will be on hand when students return to class Wednesday.Philip said students met in the theater room, "and we just gave each other hugs."Related: These are the victims of the Stoneman Douglas shootingSchool officials are working with students who don't want to return to Stoneman Douglas, arranging for them to transfer. Superintendent Robert Runcie said officials will be accommodating and take measures like adding counselors and service dogs in classrooms.
Source Link:
https://www.cnn.com/2018/02/26/us/florida-school-shooting/index.html
[-0.242596]
Comments
comments