(CNN)The death toll from Guatemala's Fuego volcano eruption keeps rising, and now more hazards threaten grieving residents.
At least 62 people were killed after the volcano erupted Sunday, spewing a river of lava and plumes of smoke almost 6 miles into the air, said Mirna Celedon, spokeswoman for Guatemala's Institute of Forensic Sciences. Thirteen of the dead have been identified so far.
At least 15 people have been hospitalized, including 12 children — some of whom suffered severe burns, the nation's health ministry said. Volcanic ash has already stretched across a 12-mile radius, and winds could carry the cloud even farther, officials said.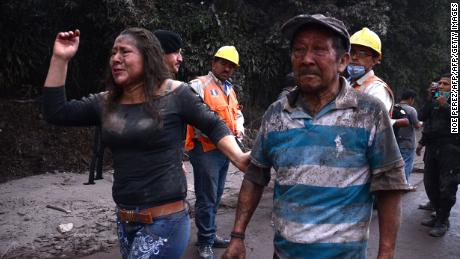 Residents flee El Rodeo village after the Fuego volcano erupted.Survivor Consuelo Hernandez told the disaster agency some of her relatives were buried. Images from the scene showed a firefighter weeping. Read MoreIn pictures: Guatemala volcano erupts"Not everyone escaped, I think they were buried," Hernandez said in a video released by CONRED, the government agency for disaster reduction. "We saw the lava was pouring through the corn fields, and we ran toward a hill." Guatemala's President Jimmy Morales has declared three days of national mourning.1.7 million people affected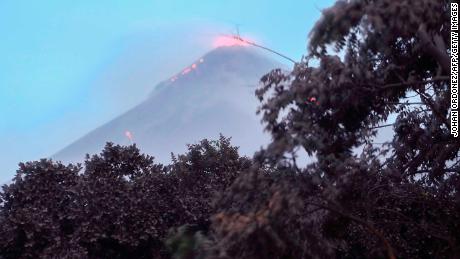 A Monday photo shows ongoing volcanic activity at Fuego. More than 3,100 people have been evacuated and 1.7 million people have been affected by the eruption, according to CONRED. Satellite footage of Fuego shows the massive dark gray eruption was visible even from space.Authorities urged residents living near the volcano to evacuate immediately, and warned some in Chimaltenango, Sacatepequez and Escuintla states to watch out for volcanic rocks and ash.Residents were told to avoid roads close to the volcano and make sure water is not contaminated.
#PNCProtegerYServir Elementos de nuestra Policía Nacional Civil continúan en la búsqueda y rescate de personas que han resultado damnificadas por el #VolcánDeFuego en la aldea El Rodeo en Escuintla. Hasta el momento han rescatado a niños y adultos pic.twitter.com/JxOdkl0xih
— PNC Guatemala (@PNCdeGuatemala) June 4, 2018 The eruption officially ended late Sunday, said Guatemala's National Institute of Seismology, Vulcanology, Meteorology and Hydrology. "The eruption … is reaching its end with 14.763 feet of ash and weak-to-moderate explosions and incandescence in its crater," it said in a statement.But it warned there could be new eruptions, and residents in the surrounding areas should be on alert for mudslides containing volcanic material.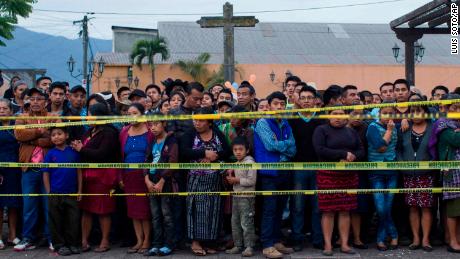 Neighbors stand outside a temporary morgue near Volcan de Fuego in Alotenango, Guatemala.Scenes of destructionDiego Ibarguen, who works for a firefighter support organization, flew a drone over areas awash in ash."Basically there's no houses left, and to my assumption there's nobody left there … except the people doing the search and rescue," he said. "The sad news is there's a bunch of recovery of bodies of children and adults there."He said ash and gases have covered large areas of ground. "The volcano did what it does when you live to close to the area," he said.Ixmucane Monsanto, a volunteer firefighter, said conditions make it very difficult to mount rescue operations, even when rescuers know families are buried under the ash."It's very unstable ground to walk on," she said. "The moment you step in, you have to have your mask and whole equipment to not put yourself at risk.Mario Cifuentes, another volunteer firefighter, also spoke of difficult conditions, noting that the soles of some firefighters' boots have been torn off because of the heat. Breathing is difficult, he said.But he felt compelled to help in this disaster."These are my people, this is my country," he said.Why this eruption is much deadlier than Hawaii'sThe Guatemala eruption stirred recent memories of Hawaii's Kilauea eruption, which terrorized Big Island on May 3.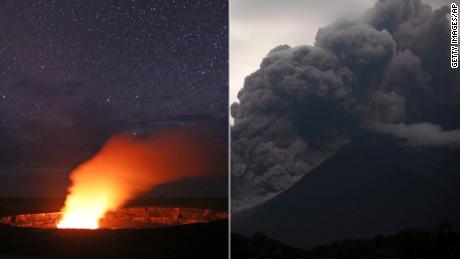 Why Guatemala's eruption is so much deadlier than Hawaii'sBut the Fuego eruption is much deadlier — for several reasons. Unlike the Hawaii volcano, which has destroyed homes with slow-moving lava, the Fuego volcano unleashed fast-moving pyroclastic flow — a nasty mix of ash, rock and volcanic gases that can be much more dangerous than lava.Pyroclastic flows can race down a volcano at hundreds of kilometers per hour — much faster than people or even cars. To make matters worse in Guatemala, "villages are right on the foothills of the mountain," CNN meteorologist Ivan Cabrera said. "So they had no time (to escape)."'Ring of fire'Guatemala is situated on the "Ring of Fire," an area of intense seismic activity.The 40,000-kilometer (25,000-mile) area stretches from the boundary of the Pacific Plate and the smaller plates such as the Philippine Sea plate to the Cocos and Nazca Plates that line the edge of the Pacific Ocean.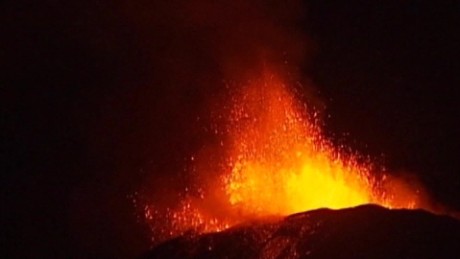 What is the Ring of Fire? Volcan de Fuego, which means fire volcano, is one of Central America's most active. It is near the colonial city of Antigua. Sunday's explosion rained soot over the popular tourist destination and other villages in the Sacatepéquez state, covering them in ash. Villages south of the volcano in the Escuintla department were affected, too, Cabañas said. Some ash reached the capital of Guatemala City about 25 miles away, forcing the closure of its international airport. The Guatemalan army shared images of officers clearing the runway with push brooms.
Elementos de la Primera Brigada de Policía Militar "Guardia de Honor", realizan limpieza en la pista de aterrizaje del Aeropuerto Internacional "La Aurora", afectada por la caída de ceniza volcánica.#365DíasAlServicioDeMiPatria pic.twitter.com/nnnd0ULA1u
— Ejército Guatemala (@Ejercito_GT) June 4, 2018 Mexican President Enrique Peña Nieto expressed condolences and offered assistance."All our solidarity and support to the President Jimmy Morales and the Guatemalan people for the loss of human life after the eruption of the volcano of Fire."The President of El Salvador offered his condolences via Twitter and said his country stood ready to assist its neighbor.Israel's Ambassador to Guatemala and Carmen Yulín Cruz, the mayor of San Juan, Puerto Rico, also expressed their solidarity.
Source Link:
https://www.cnn.com/2018/06/04/americas/guatemala-fuego-volcano-erupts/index.html
[-0.638793]
Comments
comments