(CNN)A storm system bringing much needed rain to drought-stricken western states will also bring unwelcome severe storms this week to the Central US.
On Sunday, showers and thunderstorms will move through areas of California and portions of the desert Southwest. While less than 1 inch of rain is forecast for portions of central and southern California and the Southwest, any rain is welcome as these areas continue to suffer from a growing drought. About 83% of the western United States is experiencing drought conditions.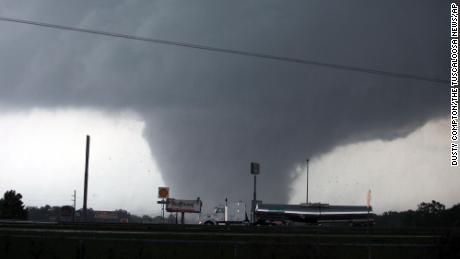 La Niña could supercharge this year's tornado season, just like it did to deadly effect in 2011It's what the system does after the weekend that has people in the Central US paying attention.Over 150 severe storm reports came in last week across the country, and some of those same areas could get hit with more by mid-week."Starting Tuesday, chances for thunderstorms will increase, especially across the eastern Panhandles where some storms may be severe," the National Weather Service office in Amarillo, Texas, said in a tweet this weekend. "Additional storm activity is possible on Wednesday along a cold front."Read More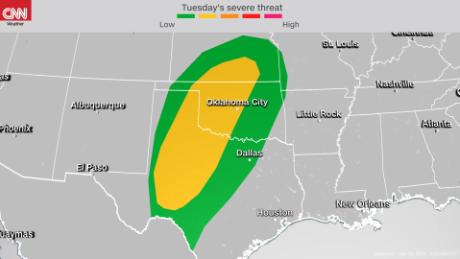 The best chance for severe weather begins Tuesday from Wichita, Kansas, down through San Angelo, Texas. The main threats will be damaging winds, hail and tornadoes. The Storm Prediction Center also cautions that Wednesday could hold the potential for severe storms, but that largely depends on the evolution of the storms. Also, if a more progressive system develops, that could suggest increased severe storms across the Southeast and Mid-Atlantic late in the week. All of these things will need to be watched in the coming days as the storm evolves.Flash flooding will also be a concern for areas of Texas, Oklahoma, Arkansas and Missouri, where some locations could pick up more than 4 to 6 inches of rain Tuesday through Friday.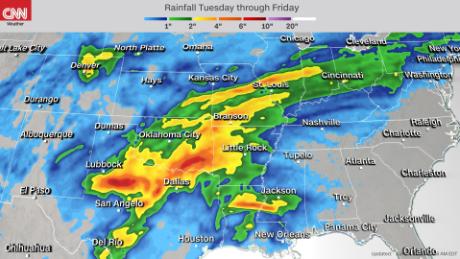 While areas of the Red River Valley, from northeastern North Dakota to northwestern Minnesota, would welcome the rain to improve the moderate to severe drought conditions in that region, too much rain in a short period of time could be hazardous.It's been a 'slow' month for tornadoesStatistically speaking, May is the peak month for tornadoes across the country, but April is also near the top of the list. However, this year April is way below normal. According to SPC, we've had 34 confirmed tornadoes so far this month, far below the three-year average of 224.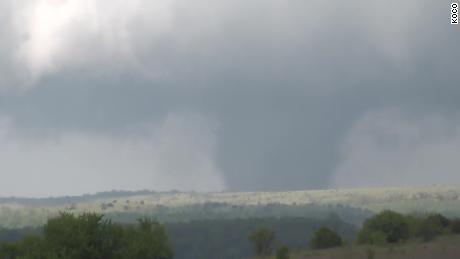 Here's why the US has more tornadoes than any other countryThis is a good thing. We like to see that number as low as possible, especially since the first three months of the year were slightly above normal. From January to March, the US saw 218 confirmed tornadoes, but the average is only 162. That is largely due to March having had 191 confirmed tornadoes, way over the monthly average of 82.The area facing the biggest threat of severe storms on Tuesday has been relatively quiet in terms of severe weather this year."Most of the significant severe weather days so far this year have been focused on the lower Mississippi Valley and the Deep South," said Taylor Ward, a CNN meteorologist. "This could be the most substantial threat of the year so far in Oklahoma and Kansas. While this may be a bit late in the spring, this is certainly not unusual, as late April and May is the peak for severe weather in the Southern Plains."
Peak month for all tornadoes by state. We also look at strong tornadoes and break it down here: https://t.co/fgKaprt2ye pic.twitter.com/ypLqFubRor
— U.S. Tornadoes (@USTornadoes) April 9, 2021
Source Link:
https://www.cnn.com/2021/04/25/weather/severe-storms-texas-oklahoma-tornado/index.html
[-0.699483,"negative"]
Comments
comments