Mexico City (CNN)In just the first few months of 2019, the Mexican coastal state of Veracruz has been plagued by bloodshed — on the streets, in drive-by shootings, and even with a massacre at a family gathering.
Mexico's National Public Safety Secretariat registered 682 homicides in Veracruz from January through March, along with 122 kidnappings.Veracruz, with its 400 miles of coastline on the Gulf of Mexico, is one of the country's most important areas for importing and exporting goods but the state is beset by tension and a bloody war between cartels.Last week in the city of Minatitlán, in the southern part of the state, 13 people were killed at a family party, according to the Public Security Department of Veracruz. Local authorities said they believe the Jalisco New Generation Cartel (CJNG by its Spanish acronym) was involved in the massacre, in an act of revenge.Among the dead was a 1-year-old boy who was shot multiple times, according to the state-run news agency Notimex, citing local witnesses. The boy's father also died, and his mother was wounded — she was hospitalized with three other victims.Read MoreA day after the mass shooting, the secretary of public security for Veracruz, Hugo Gutiérrez Maldonado, tweeted that federal and state forces had been deployed in "a strong search and capture operation of those responsible" for the killings in Minatitlán. He called on the state's attorney general to help in the search.Veracruz Gov. Cuitláhuac García held an emergency meeting the day after the shooting "to address the regrettable and condemnable events.""We're going to clean up this country. Corruption will end. Impunity will end. And there will be justice," Mexican President Andrés Manuel Lopez Obrador said last Sunday. But just a few days later, on Wednesday, there was a drive-by shooting in Mixtla de Altamirano, a town about 165 miles northwest of Minatitlan. Three people were killed — Mayor Maricale Vallejo Orea, her husband and their driver.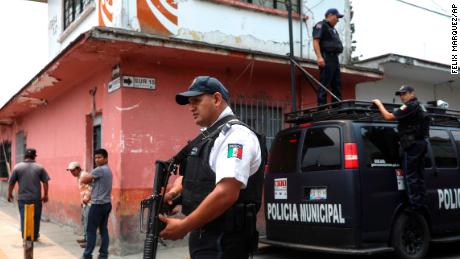 Municipal police stand guard at a forensic office where the bodies of the Mixtla de Altamirano mayor, her husband and her driver were taken after a drive-by shooting.Following the wave of violence plaguing Veracruz, President Lopez Obrador, accompanied by his security cabinet, visited Minatitlán, where the family massacre took place, on Friday. He initiated his security plan for the region, with the recently approved creation of a new National Guard — Lopez Obrador's main plan in his effort to fight violence and corruption afflicting the country. "I've come to Minatitlán to tell you: you are not alone. You have the complete support of the government," he said.According to Lopez Obrador, "there will be elements of the military, marine and federal police" who will be "coordinated by one command — either the military or the marine," in accordance with the local government, adding that due to the recent incident in Minatitlán, the decision was made to begin there with the "coordination of the National Guard," around 1,000 "elements" in that region alone. Lopez Obrador was sworn into office in December 2018, at the end of a year that saw more than 33,000 homicides in Mexico — the highest number since the country began keeping records.This year alone has seen a national increase of nearly 10% in violence compared to last year.The neighboring states of Puebla and Oaxaca, along Veracruz's southern border, have also experienced a wave of violence. According to the nation's National Public Safety Secretariat, in the first three months of 2019, there were 558 homicides in Puebla and 462 in Oaxaca.According to InSight Crime, a foundation focused on Latin America's "threat to national and citizen security" as well as organized crime, the rival cartel factions in Veracruz consist of CJNG and a splinter of the Zetas cartel, at war in the coastal state after "members of the Zetas Old School allegedly executed three suspected CJNG members" in early April.Mexican news outlet Proceso, in an article on March 15, reported that the Jalisco New Generation Cartel "declared war against the government of Veracruz," citing a narcomanta — a message from a cartel written on cloth — that was left at the Veracruz port warning, "a lot of us will die." The Mexican government has been fighting a drug war with cartels and drug traffickers since 2006 and at the same time, drug cartels have been fighting each other in a brutal campaign for control of territory.Lopez Obrador's new National Guard initiative will be the first test in his campaign to rid the country of drug violence and corruption."Before, you didn't know where the authority ended and where delinquency started — there will be no mixing," Lopez Obrador said Friday regarding the initiative and operations of this security phase.
Source Link:
https://www.cnn.com/2019/04/28/americas/mexico-veracruz-violence/index.html
[-0.680772]
Comments
comments