London (CNN Business)A plant-based burger company from the United Kingdom wants a slice of the hot market for meat alternatives in the United States.
Meatless Farm, which is based in Leeds, has signed an exclusive distribution deal with Whole Foods to sell its products at US stores for six months starting this summer, the British company said Monday.The startup already sells its fake ground meat, burgers and sausages in grocery stores across Britain. Meatless Farm is also in Canada, the United Arab Emirates, Hong Kong and Sweden. The United States is a natural next step, CEO Robert Woodall told CNN Business. It's planning to set up an office in New York.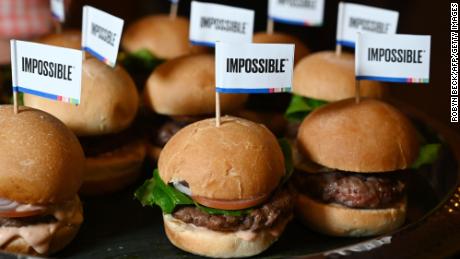 America is running out of Impossible BurgersWoodall, a veteran of The Kellogg Company (K), said the United States is a "pioneering market when it comes to plant-based foods," citing the success of Impossible Foods and Beyond Meat (BYND).Read MoreThose brands have seen their fortunes rise in recent months as restaurants — and investors — scramble to get in on the meatless trend.Burger King has said it will roll out its Impossible Whopper across the United States, while Beyond Meat's public offering has been a Wall Street smash. Beyond reported first-quarter sales of $40.2 million, up 215% from the same period a year before. That's helped its stock price to more than double following an IPO in May.Companies like Beyond, Impossible and Meatless Farm are making a play for customers who want to eat healthier and reduce their impact on the planet. The latest wave of products are designed to appeal to meat eaters.
Britain's Meatless Farm brand is coming to Whole Foods as it makes its US debut.Meatless Farm sees itself as filling a slightly different niche since it's focused on grocery stores, instead of restaurants, according to Woodall.The typical Meatless customer is a parent who's using its meat-free products for a spaghetti Bolognese dinner, he said, pointing to the company's "family friendly" packaging. It's also targeting younger consumers who care about the environment.In cutting a deal with Whole Foods, Meatless Farm gets access to a huge pool of prestige shoppers. And since Whole Foods is owned by Amazon (AMZN), there's potential for real scale.Woodall said that right now, the space is wide open. He sees the success of the Beyond Meat IPO as an encouraging sign for its rivals."This is not a food fad," he said. "This is not going to last for a couple of months. This is a genuine shift in consumer behavior that's starting with young consumers."
Source Link:
https://www.cnn.com/2019/06/24/business/meatless-farm-whole-foods/index.html
[0.589941]
Comments
comments