(CNN)Red Bull's Max Verstappen emerged from the chaos and carnage of a rain-hit German Grand Prix at Hockenheim Sunday to claim his second victory of the Formula One season.
Follow @cnnsport In a race littered with crashes and safety cars, the young Dutchman kept his composure to top the podium from four-time former champion Sebastian Vettel, who salvaged some pride for Ferrari and delighted the German fans after starting from the rear of the grid.Russia's Daniil Kvyat took an unlikely third for Toro Rosso with Canadian Lance Stroll in fourth for Racing Point as the established order was turned upside down.Championship leader Lewis Hamilton started on pole in his Mercedes but finished out of the points in 11th after losing his wing as he went off the track and had to serve a time penalty for an illegal pit entry following the incident.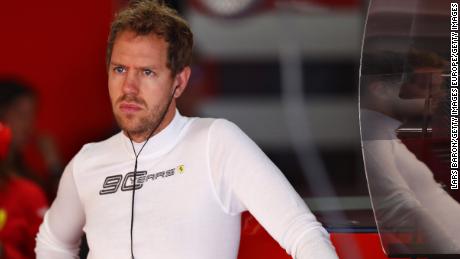 F1: Sebastian Vettel to start from back of the grid at German Grand Prix after turbo failureHis teammate Valterri Bottas looked set to close up in the title race, but crashed out on lap 57 of 64 to complete a sorry afternoon for all-conquering Mercedes.Read MoreHis spin brought a furious reaction from Toto Wolff, the Mercedes team principal, who was seen banging his fists on the table as the last chance of victory at their home grand prix disappearedAfter all the drama, Hamilton still has a 39-point lead in the title race from Bottas, with Verstappen taking closer order in third, 22 points further adrift.Before Vettel's late charge after the fourth and final safety car it looked set to be another dismal afternoon for Ferrari, with his teammate Charles Leclerc careering into the gravel after moving into a good position to challenge for the lead.
LAP 29/64Minutes after stopping for a set of slicks, Charles Leclerc's race is overHe crashes into the barriers and the Safety Car comes outHuge drama here at Hockenheim#GermanGP #F1 🇩🇪 pic.twitter.com/WFRXAx2utN
— Formula 1 (@F1) July 28, 2019 The young Monegasque star slumped over his steering wheel in frustration but one lap later Hamilton was to follow him in almost exactly the same spot, losing control of a race he had led from the start with a 35-second advantage at the time of the crash.Renault's Nico Hulkenberg also suffered the same fate on the same corner while in fourth place, prompting the third safety car and Leclerc later complained that the low-grip asphalt in that area was "unacceptable" in F1, particularly in the wet. "It's like a dragster track, very dangerous," he added.
What to say on a day like today…This hurts every single one of us to the core.We will take our pain and learn our lessons. It is time to reflect, be humble and grow stronger from the mistakes we made.#GermanGP #Motorsport125 pic.twitter.com/RfYImc1rR5
— Mercedes-AMG F1 (@MercedesAMGF1) July 28, 2019 Hamilton was to eventually make six pit-stops, finishing out of the points for the first time in 23 races.Running in 12th, Hamilton was heard over race radio asking his engineer Pete Bonnington: "How has it gone this bad?"360-degrees spinVerstappen himself made five pit-stops and survived a 360-degrees spin to win for the second time in three races and for the seventh time overall in F1."It was amazing, but really tricky out there," said Verstappen."To make the right calls, you had to be focused. We put on the slick tires and we had a 360! But it was alright."
Red Bull Ring ✅Hockenheimring ✅Hungaroring ❓ pic.twitter.com/TwaLCLaFL8
— Aston Martin Red Bull Racing (@redbullracing) July 28, 2019 Vettel, who crashed out of last year's German Grand Prix while leading, gained a measure of redemption after equaling his best result of a to date disappointing season. "It was a long race and at some stages if felt like it was never-ending. I am just very happy." he said.For Kvyat, who has endured a topsy-turvy F1 career, it was a double celebration after it was confirmed that he became a father on Saturday night when his partner Kelly gave birth to a daughter.
This picture says it all.Also…Congrats on being a new Daddy @kvyatofficial !!! pic.twitter.com/3hJbkpJ79g
— Toro Rosso (@ToroRosso) July 28, 2019 "It's amazing to be back on the podium. It was a horror movie with a bit of black comedy out there!" said the Russian, neatly summing up the race.Behind him there was an excellent fourth for Stroll as his team made a well-timed pit-stop for slick tires in drying conditions, with Carlos Sainz in fifth for improving McLaren and Kvyat's Toro Rosso teammate Alex Albon in sixth.Visit CNN.com/sport for more news, features, and videosAlfa Romeo's Kimi Raikkonen, Romain Grosjean for Haas, Antionio Giovinazzi of Alfa Romeo and Kevin Magnussen (Haas) completed the points-scoring in a race that will be remembered for many years.
Source Link:
https://www.cnn.com/2019/07/28/motorsport/german-grand-prix-verstappen-hamilton-ferrari-spt-intl/index.html
[-0.260221]
Comments
comments