Story highlightsBrutal temperatures, snowfall expected in New York and BostonSchool closures, thousands of flights canceled ahead of storm
(CNN)After dumping rare snowfall on parts of the southeastern coast, a powerful winter storm is set to hammer the Northeast with up to 12 inches of snow and strong winds. By the end of this week, parts of the Northeast will be colder than Mars.
Thirteen states from South Carolina to Maine are under a winter storm warning as a massive bombogenesis begins wreaking havoc Thursday. Forecasters say the Northeast states will see threatening hurricane-force winter wind gusts and blinding snow.The bombogenesis — an area of rapidly declining low pressure — will result in what's known as a "bomb cyclone," which happens when a cyclone has a big drop in atmospheric pressure over a short period of time.
Photos: Frigid temperatures strike USOmar Elkhalidi scrapes ice off his windshield in Savannah, Georgia, on Wednesday, January 3. Only a few motorists ventured out in freezing rain that coated bridges and ramps with ice, forcing police to close roads and highways.Hide Caption 1 of 20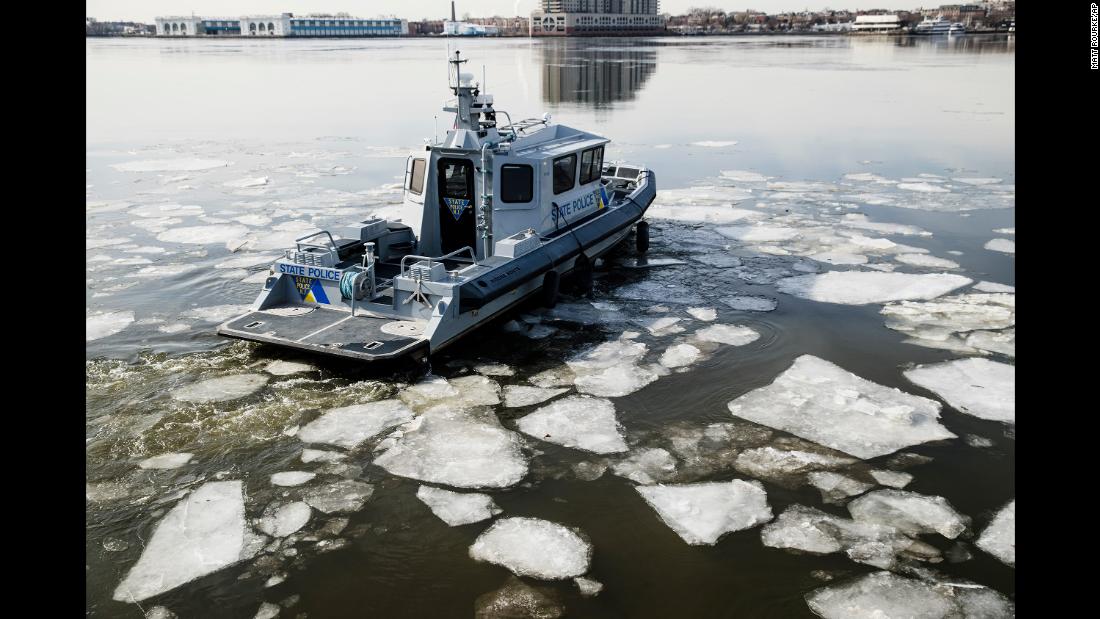 Photos: Frigid temperatures strike USA New Jersey State Police boat floats through ice on the Delaware River near Camden, New Jersey, on January 3.Hide Caption 2 of 20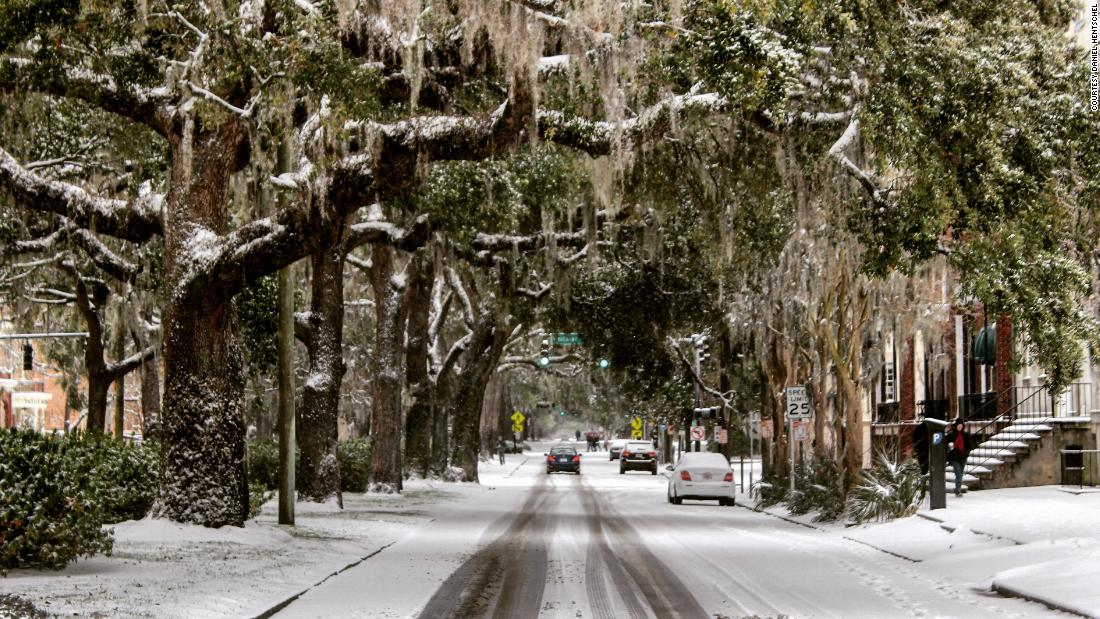 Photos: Frigid temperatures strike USA light layer of snow is draped across oak trees and Spanish moss in Savannah, Georgia, on January 3.Hide Caption 3 of 20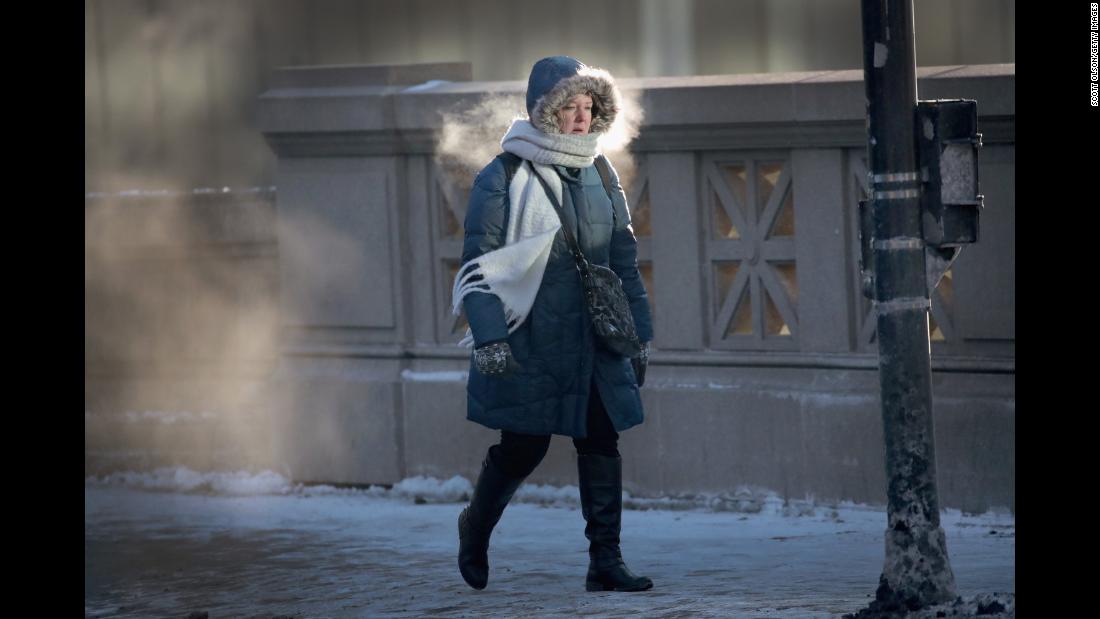 Photos: Frigid temperatures strike USA woman in Chicago walks to work in sub-zero temperatures on Tuesday, January 2. Blasts of Arctic air have brought weather-related deaths, record-low temperatures and historic amounts of snowfall to parts of the United States.Hide Caption 4 of 20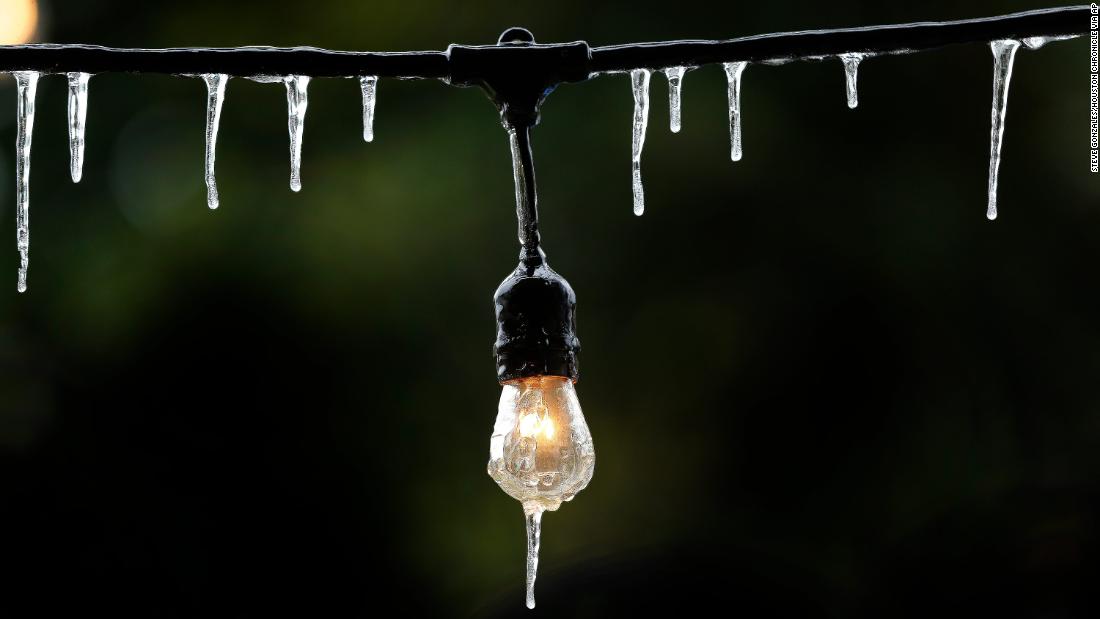 Photos: Frigid temperatures strike USIcicles form on a outdoor string of lights in Houston on January 2.Hide Caption 5 of 20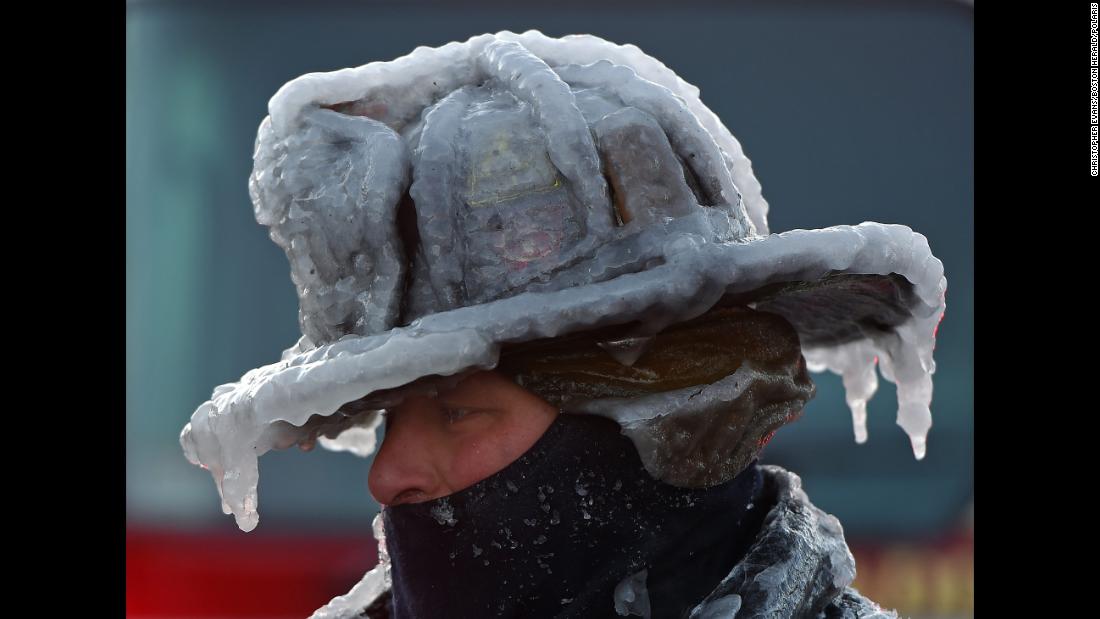 Photos: Frigid temperatures strike USFirefighter Bobby Lehman, with his helmet and gear caked in ice, tries to thaw out after battling a fire in Nahant, Masschusetts, on Monday, January 1.Hide Caption 6 of 20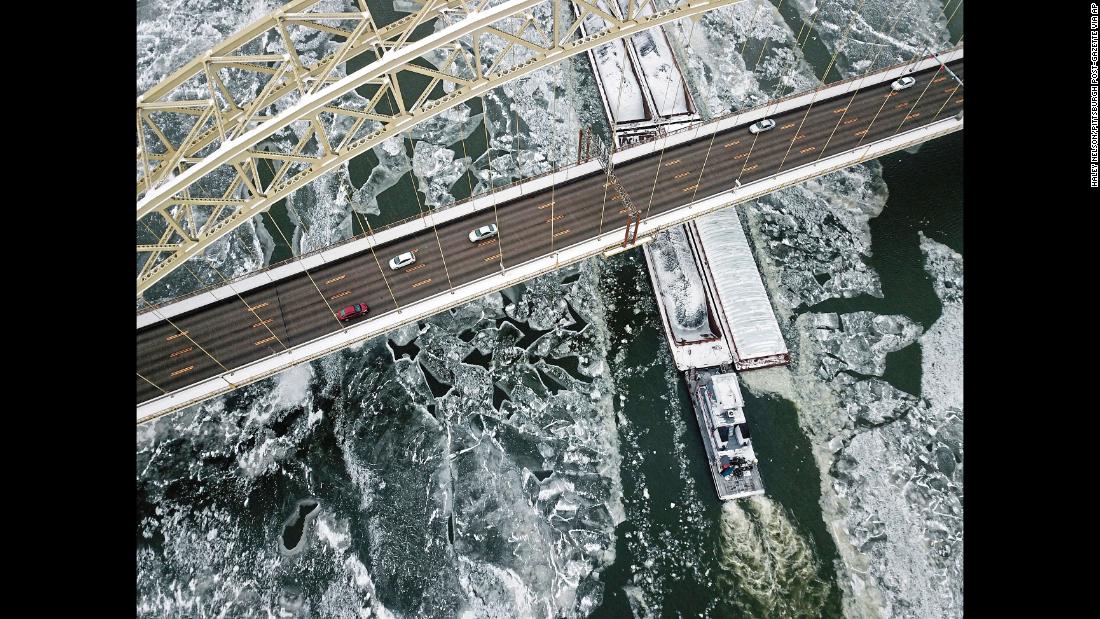 Photos: Frigid temperatures strike USA barge cuts through ice on the Ohio River as it passes under the West End Bridge, along the North Shore district in Pittsburgh on January 1.Hide Caption 7 of 20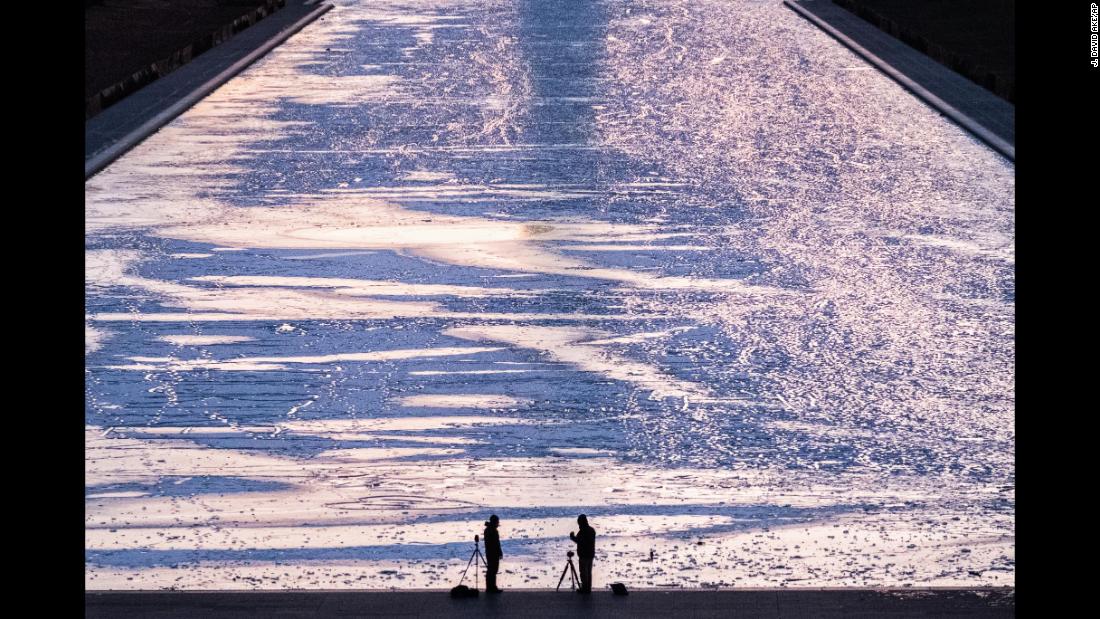 Photos: Frigid temperatures strike USTwo photographers are silhouetted against the frozen surface of the Reflecting Pool in Washington as they capture the first sunrise of the new year.Hide Caption 8 of 20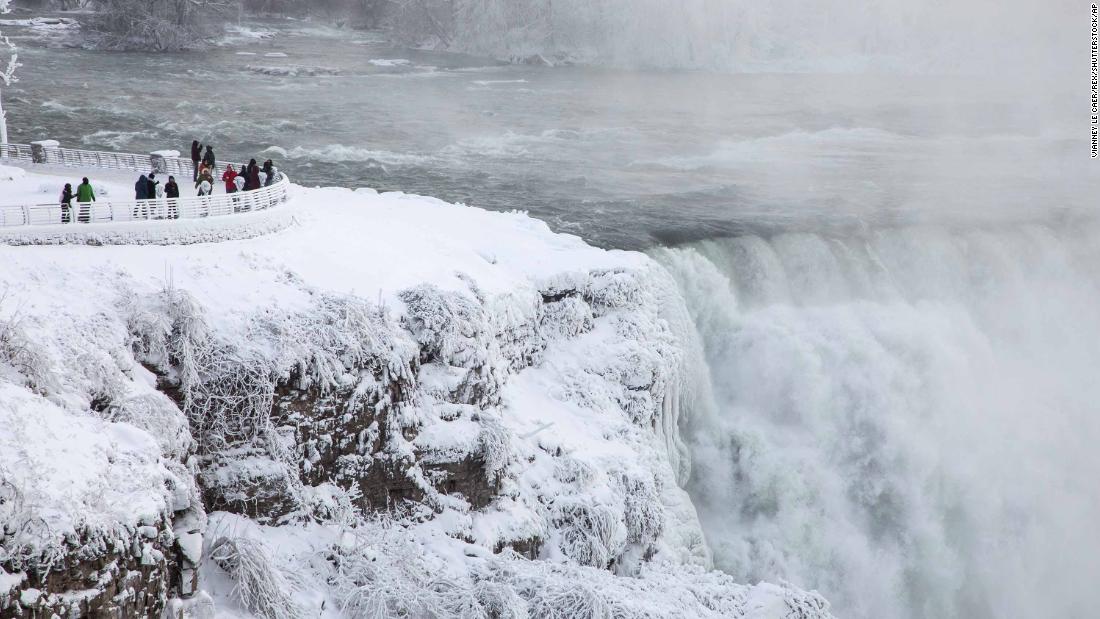 Photos: Frigid temperatures strike USVisitors view Niagara Falls in New York on Sunday, December 31.Hide Caption 9 of 20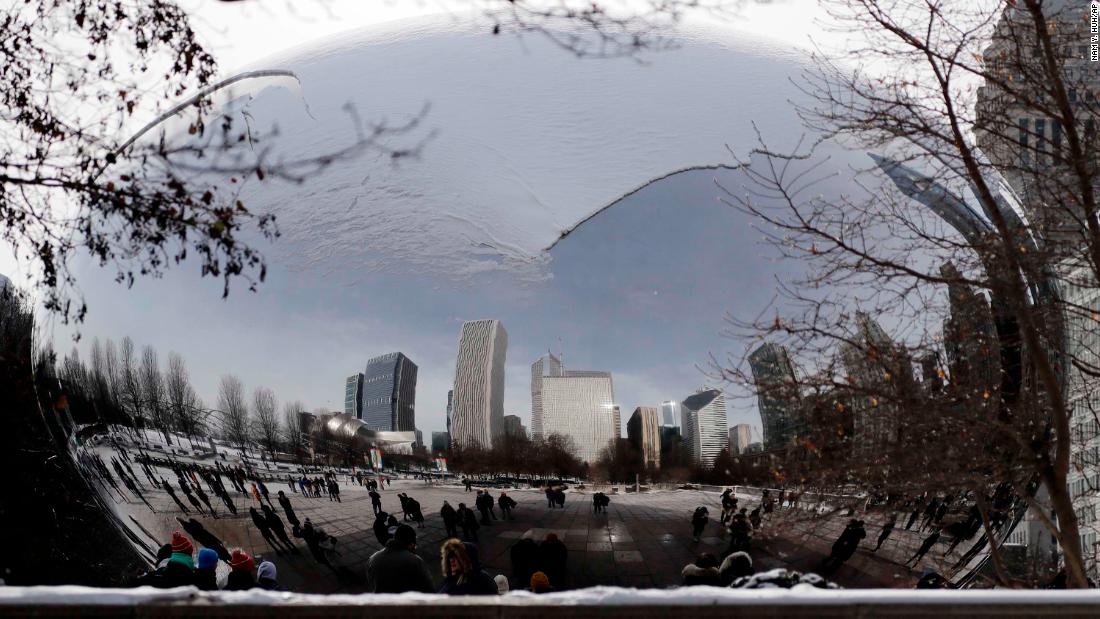 Photos: Frigid temperatures strike USThe Cloud Gate sculpture is blanketed with snow in Chicago's Millennium Park on December 31.Hide Caption 10 of 20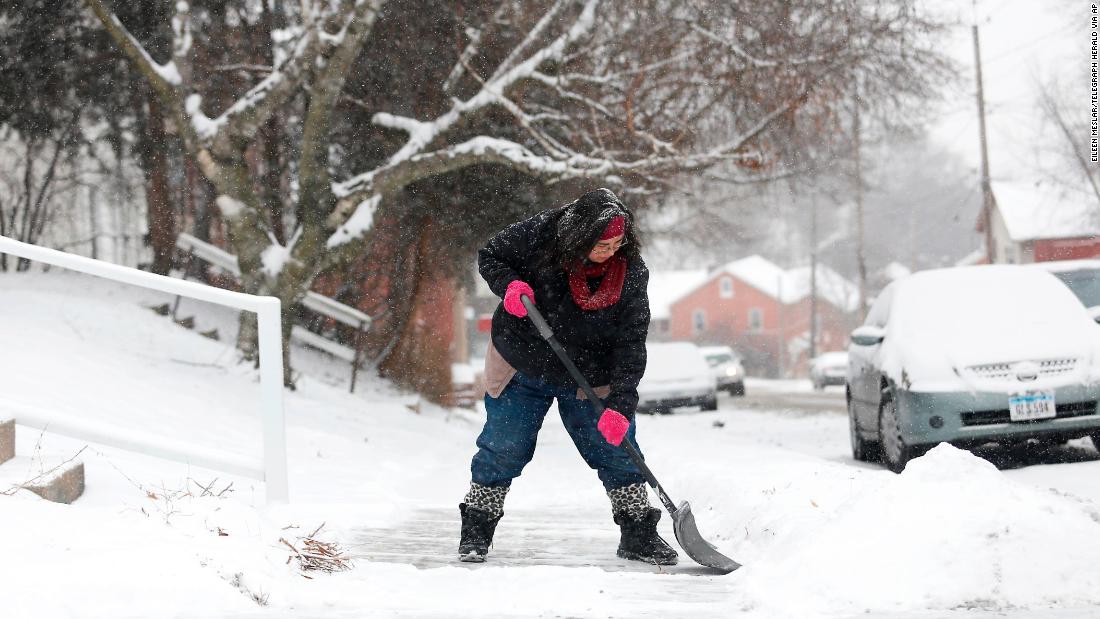 Photos: Frigid temperatures strike USSamantha Dement-Graham shovels her neighbor's sidewalk in Dubuque, Iowa, on Friday, December 29.Hide Caption 11 of 20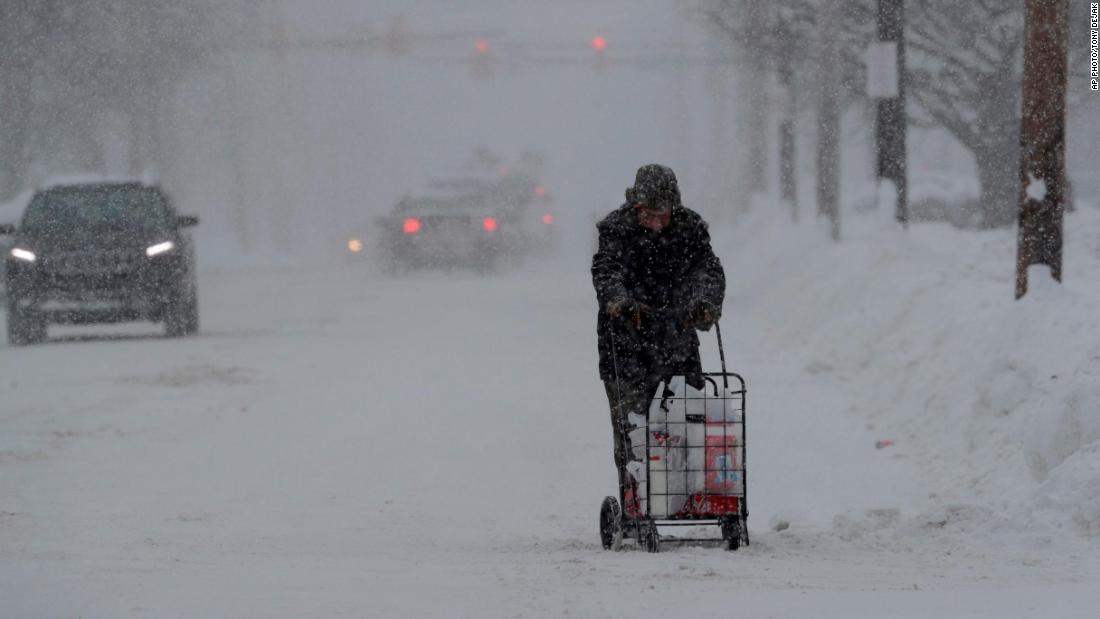 Photos: Frigid temperatures strike USA man in Erie, Pennsylvania, walks with his groceries in a cart on December 29.Hide Caption 12 of 20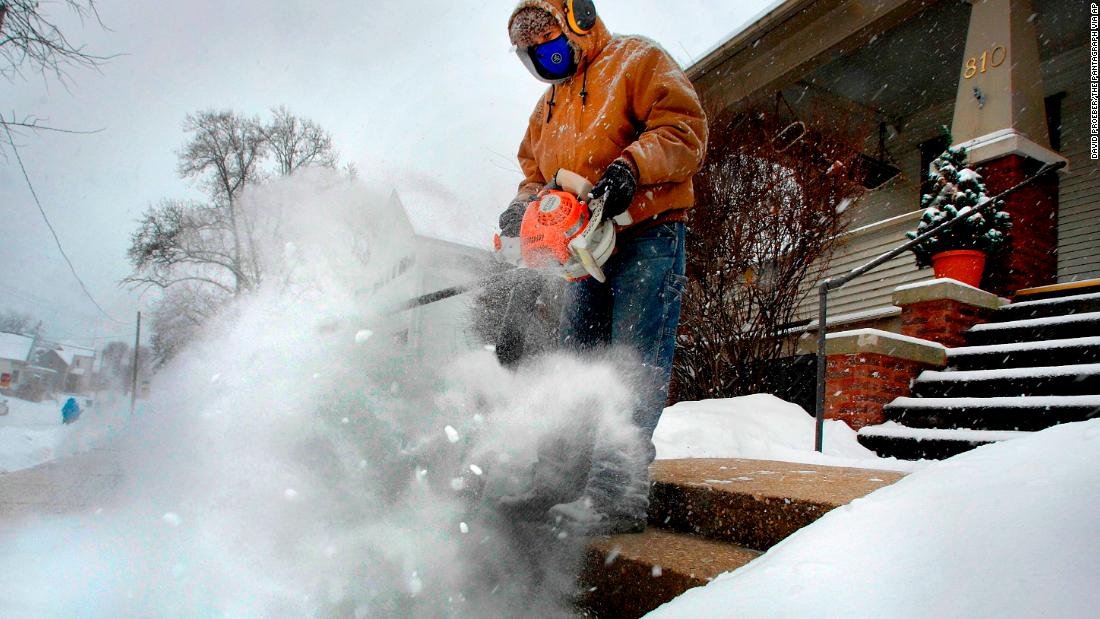 Photos: Frigid temperatures strike USJose Nieto uses a leaf blower to clear snow from the steps of a sick neighbor's house in Bloomington, Illinois, on December 29.Hide Caption 13 of 20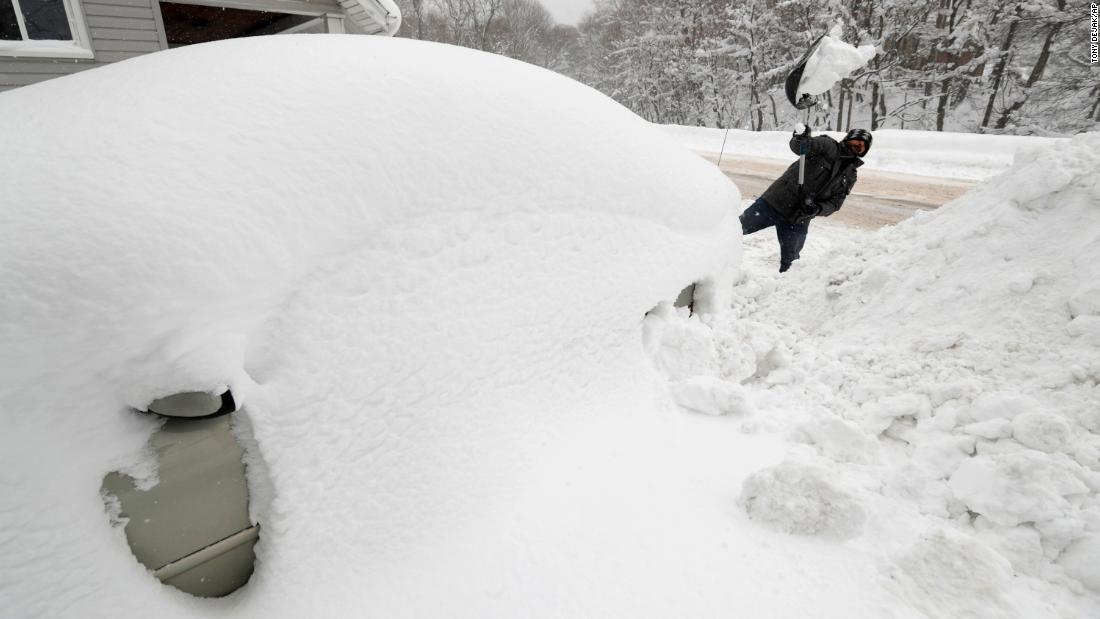 Photos: Frigid temperatures strike USA man digs his car out in his driveway in Erie, Pennsylvania, on December 29.Hide Caption 14 of 20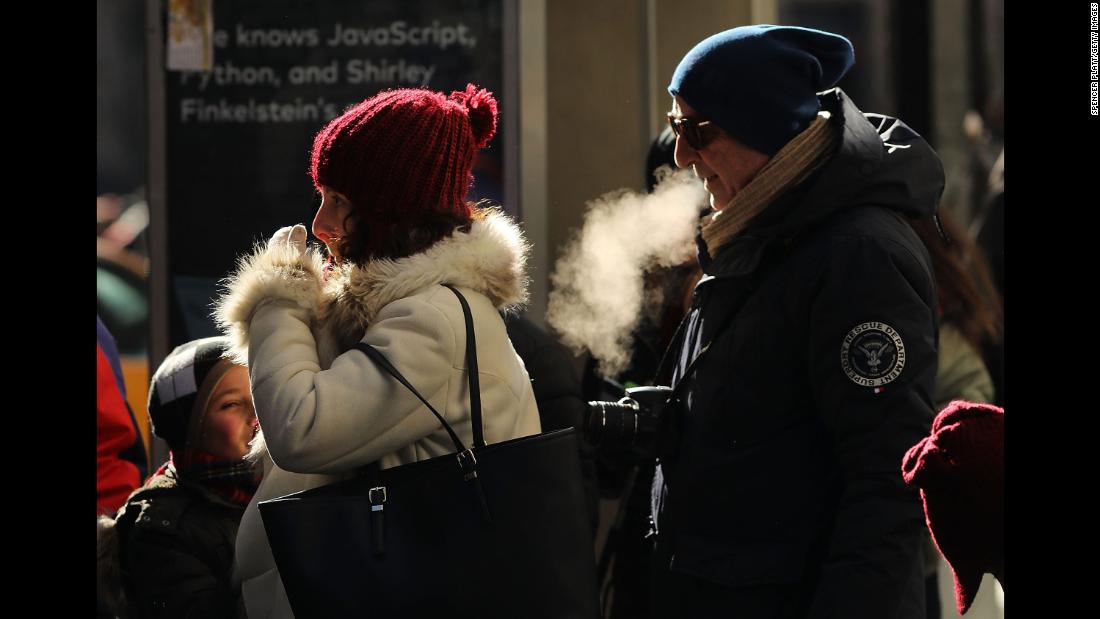 Photos: Frigid temperatures strike USPeople walk through a frigid New York City on Thursday, December 28.Hide Caption 15 of 20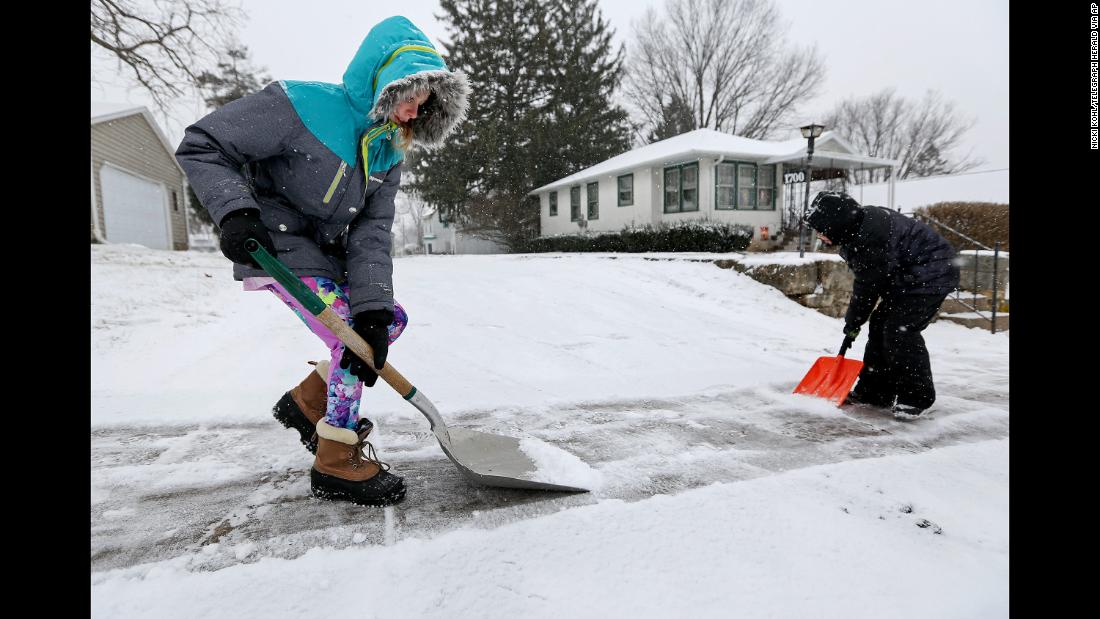 Photos: Frigid temperatures strike USKarlee Winter and her brother Samuel Espinoza shovel snow from their neighbor's sidewalk in Dubuque, Iowa, on December 28.Hide Caption 16 of 20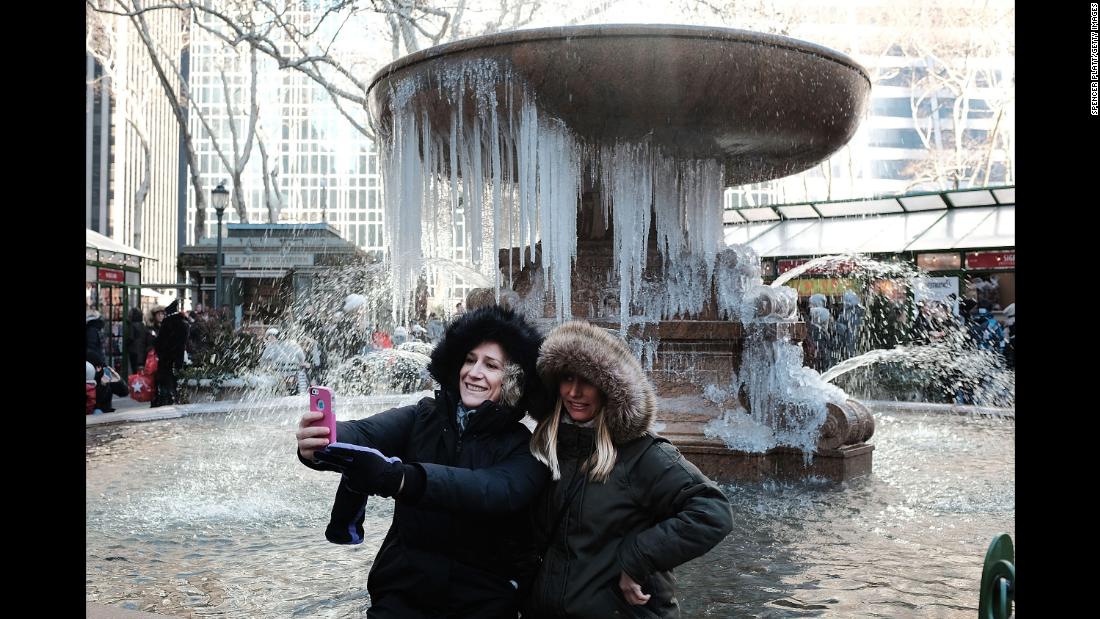 Photos: Frigid temperatures strike USTwo women take a selfie in front of a partially frozen fountain in New York City on Wednesday, December 27.Hide Caption 17 of 20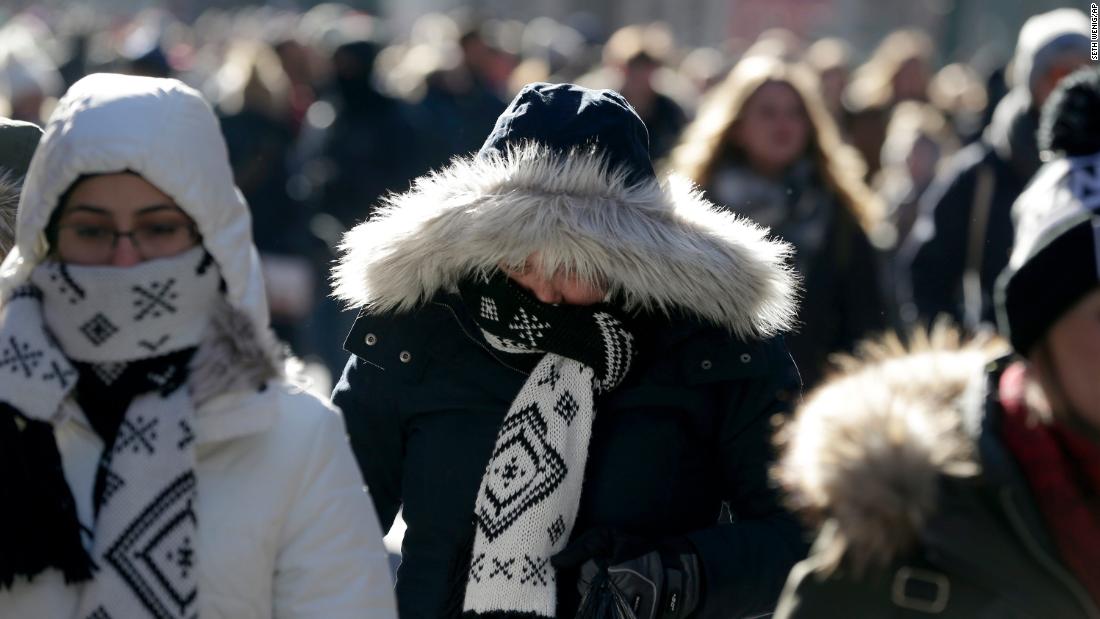 Photos: Frigid temperatures strike USPeople try to keep warm in New York's Times Square on December 27.Hide Caption 18 of 20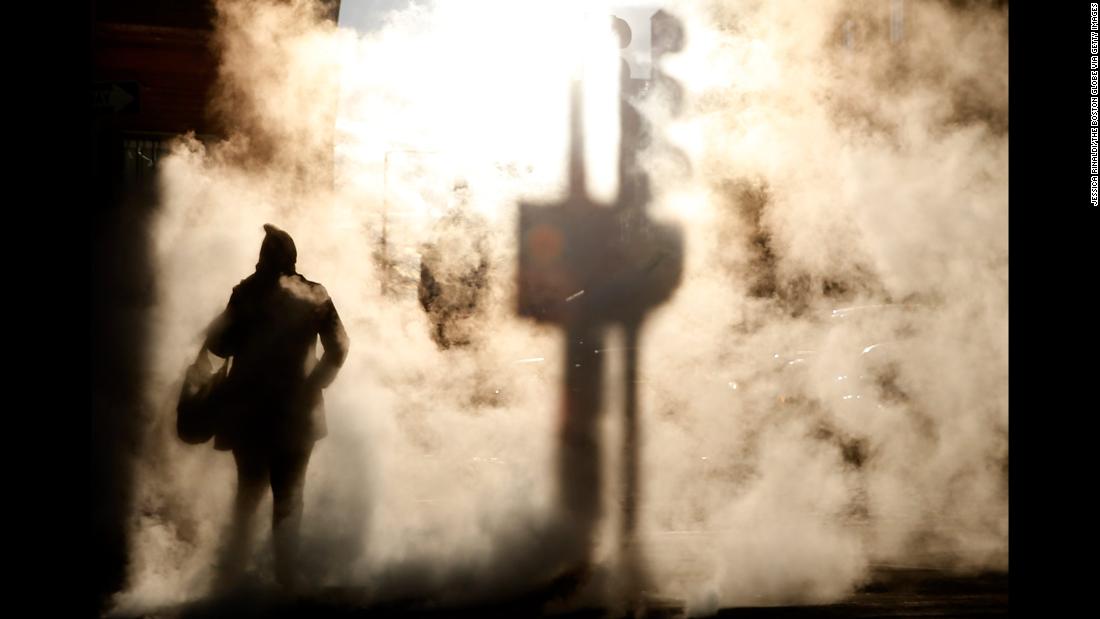 Photos: Frigid temperatures strike USA person walks by a steam vent in Boston on December 27.Hide Caption 19 of 20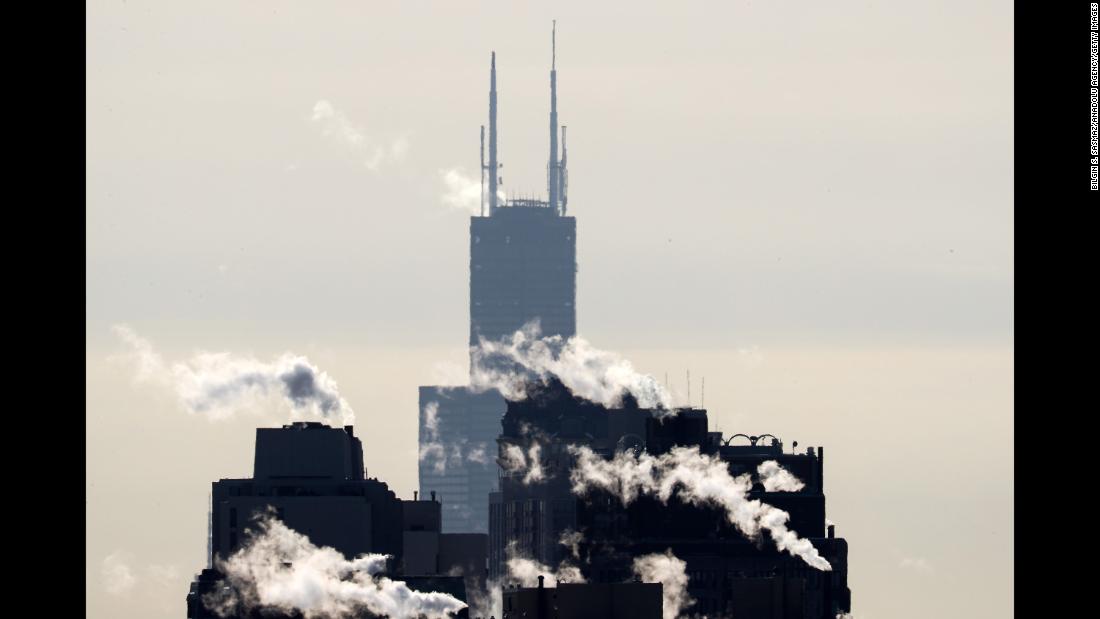 Photos: Frigid temperatures strike USSmoke rises from Chicago skyscrapers on Tuesday, December 26.Hide Caption 20 of 20



















Bomb cyclones can draw colder air in from the North, which can blast areas in the northern hemisphere with icy temperatures. They frequently occur in North America when cold air over North America interacts with the warm air over the ocean water from the Atlantic but they have also been reported in eastern Asia and South America.Latest developmentsRead More•Deadly cold: At least 12 people in the US have died this week in cold-related deaths, officials said. Six deaths were reported in Wisconsin, four in Texas, one in North Dakota and one in Missouri. •The US Senate canceled voting on Thursday so lawmakers could leave ahead of the storm.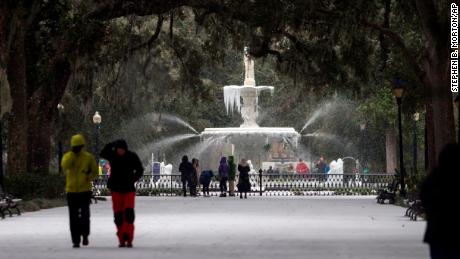 Forsyth Park in Savannah, Georgia.•Storm is snarling roads and air travel: More than 2,700 US flights on Thursday have been canceled, according to Flightaware.com. And over 90% of Thursday flights from LaGuardia Airport in New York City are canceled and American Airlines suspended all departures from Boston.•Rare snow sightings: Parts of the Southeast saw ice-laden palm trees and snow-dusted beaches. For many, it was their first-ever sight of snow. •Storm moves north: After the Southeast had freezing rain, sleet and snow on Wednesday, the specter of the storm led to school closures and left store shelves empty in Northeastern states.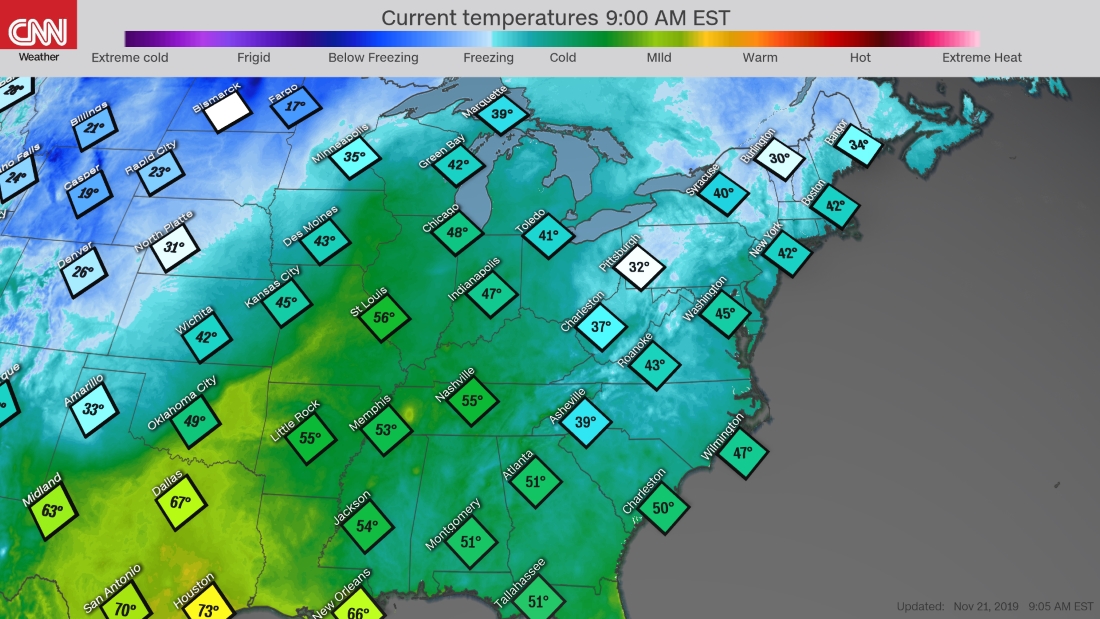 States brace for snowfallIn Connecticut, where the storm is expected to hit after midnight, Gov. Dan Malloy urged motorists to stay off roads if possible. The forecast calls for a minimum of six inches of snow and winds up to 50 mph, potentially hindering utility repairs should power lines go down."We cannot and will not order people up in trucks to fix lines when the winds are too high," Malloy said. Virginia Gov. Terry McAuliffe declared a state of emergency and urged Virginians to prepare for the storm, which could dump up to a foot of snow in portions of eastern Virginia.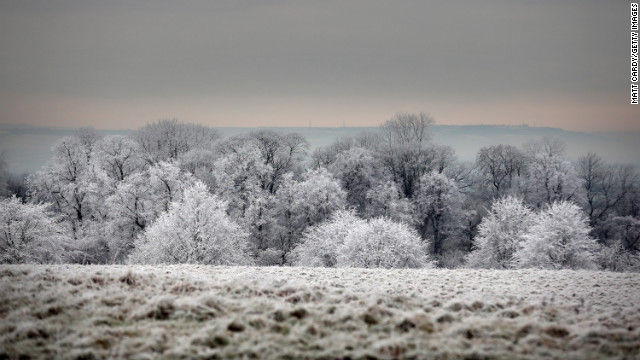 The coolest cold-weather terms to memorize this winter "The bitter cold that continues to plague the Commonwealth will be joined by a potentially significant winter storm which will blast Hampton Roads, the Northern Neck, Eastern Shore and other areas of Eastern Virginia with snowfall and blizzard-like conditions in some communities," McAuliffe said Wednesday. Track severe weather across the country "With this forecast in mind, all Virginians should take the necessary precautions now to ensure they are prepared for the travel disruptions, power outages and other threats to health and safety that could arise during this significant weather event."Expect more bone-chilling temperaturesThe bombogenesis will usher in another round of single-digit or subzero temperatures to the Northeast on Thursday.In New York and Philadelphia, temperatures are expected to dip to 3 degrees this weekend.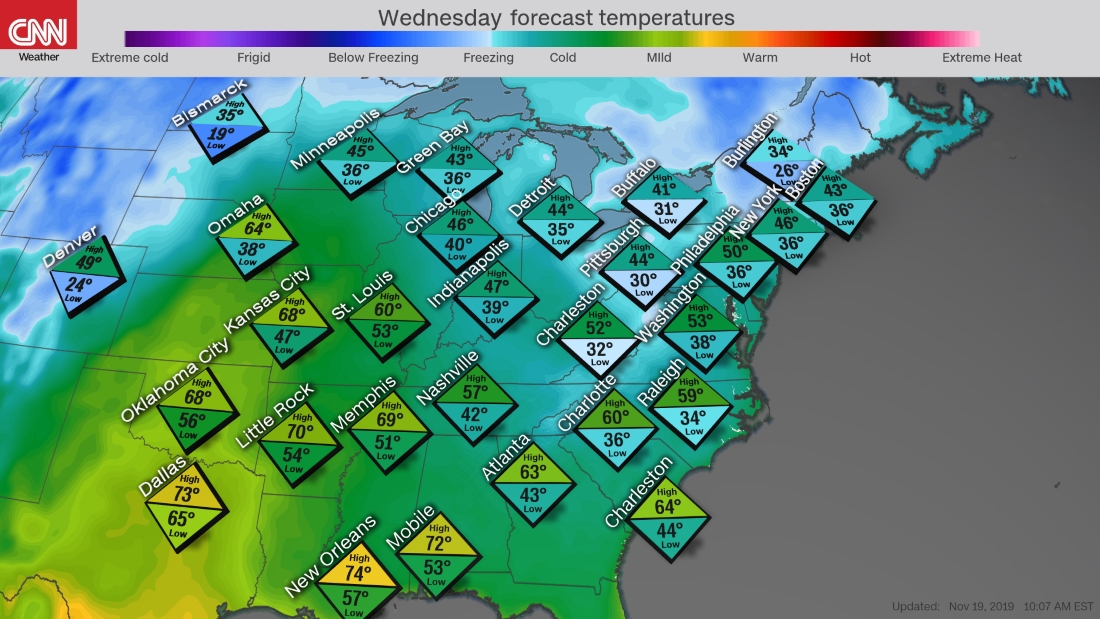 New York City schools are closed Thursday and sanitation workers are getting ready to deploy 2,200 plows to help clear the streets as 4-6 inches of snowfall are expected. The snow, combined with "exceptionally strong winds," means crews will be working in near-whiteout conditions, New York City Sanitation Commissioner Kathryn Garcia said.In photos: Brutal cold torments the USBoston could see minus 7 degree temperatures paired with about 12 inches of snow, forecasters say. Gov. Charlie Baker said the greatest areas of concern are along the Plymouth County coast stretching from Sandwich to Dennis on Cape Cod.
love 2 grocery shop 4 the Big Storm™️ pic.twitter.com/PvSsLQmpTg
— LED (@smeleanorviolet) January 4, 2018 But not only the Northeast states will see frigid temperatures on Thursday. Every East Coast state from Maine to Georgia has either a winter weather advisory, a winter storm warning or a blizzard warning.Snowfall blankets the SoutheastCities in the Southeast that rarely see snow turned into winter wonderlands as dozens of car crashes were reported and airports closed.Runways at Charleston International Airport closed and the South Carolina Highway Patrol reported dozens of accidents as snow and sleet fell. In Georgia, the Savannah/Hilton Head International Airport — typically booming with tourists this time of year — closed on Wednesday due to severe winter weather conditions.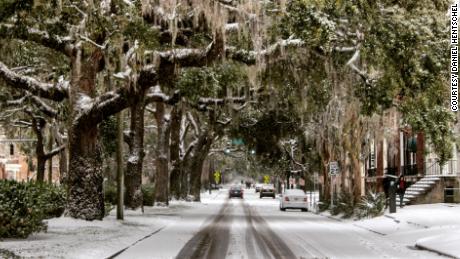 In South Carolina, some areas had seen five to six inches of snow by Wednesday afternoon, requiring more than 13,000 tons of salt, Gov. Henry McMaster said.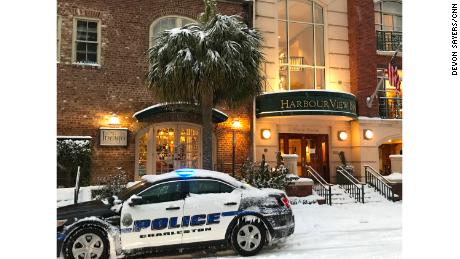 A picturesque scene Wednesday in Charleston, South Carolina.Steady snowfall blanketed Charleston, recording at least 5.3 inches on Wednesday. It was the most snow the city has seen in one day since 1989 and the third-highest snowfall amount on record.Amid the Instagram-worthy scenes, McMaster warned of dangerous conditions as evening temperatures were expected to remain below freezing through Monday. McMaster urged people to stay indoors as much as possible to minimize risk of injury.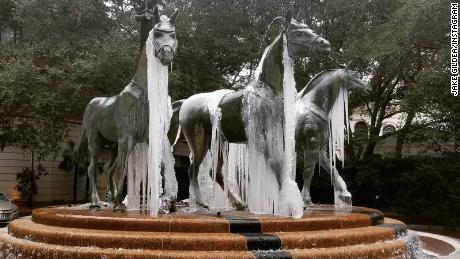 The Quadriga sculpture at Belmond Charleston Place gets a makeover.Tallahassee, Florida, had not seen measurable snowfall since 1989, CNN meteorologist Michael Guy said.
YO ITS ACTUALLY SNOWING IN TALLAHASSEE pic.twitter.com/Ydh9pc4QPG
Source Link:
http://www.cnn.com/2018/01/04/us/cold-weather-arctic-outbreak/index.html
[-0.71103]
Comments
comments