Story highlightsTottenham 0-1 Manchester City Game played on awful pitch Wembley hosted NFL game on Sunday
(CNN)Manchester City moved back to the top of the Premier League on goal difference after edging out Tottenham Hotspur in a match played on an awful Wembley pitch.
Riyad Mahrez scored the only goal of the game but Monday's match will be remembered as much for the almost comical playing surface.Follow @cnnsport Tottenham was supposed to be in their new stadium for this fixture but delays in the building process meant the club was forced to use a tired-looking Wembley pitch instead. England's national stadium had hosted an NFL match between the Jacksonville Jaguars and Philadelphia Eagles on Sunday and ground staff had a little over 30 hours between the two kick-offs.Despite their efforts, both flanks were visibly cut up and the large NFL logo in the center circle served as a constant reminder as to why the pitch made life harder than usual for the 22 players on Monday.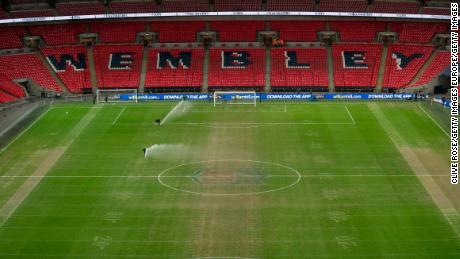 Wembley hosted an NFL match on Sunday. Read MoreRead: Julen Lopetegui sacked by Real Madrid Read: Leicester City Football Club confirms owner's death in helicopter crash Mahrez in Leicester tribute Mauricio Pochettino had joked that the pitch might help his side against their in-form opponents but Spurs' luck was out as the visitors made a blistering start.Mahrez's goal arrived after some uncharacteristic direct build-up play from Pep Guardiola's side — perhaps due to the pitch. Goalkeeper Ederson, usually happy to pass the ball out from the back, pumped the ball long down the field. Kieran Trippier misread his header, allowing Raheem Sterling to dart through on goal. The winger had time and space to square the ball to the Algerian for a simple tap-in. Mahrez pointed to the sky during the celebrations, a tribute to his former club Leicester City who are mourning the death of owner Vichai Srivaddhanaprabha following a tragic helicopter accident on Saturday."It's been very difficult for me," Mahrez told Sky Sports after the game. "The boss was very special to me," he added, referring to Srivaddhanaprabha."I have many memories of him. He was such a good person, such a good human and that's why I put my hands up in the air. He did a lot for me and for Leicester. He was like a Dad to me. He was very, very special."Had it been a better pitch, Erik Lamela might have found a late equalizer. Dele Alli sprung free from the midfield and seemingly set up the winger perfectly but the Argentine saw his effort clear the crossbar. On a closer look, the ball did appear to take a bobble before Lamela made contact.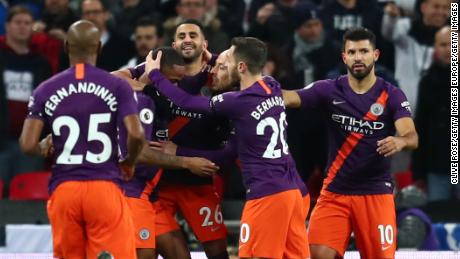 Manchester City celebrate after Mahrez's goal.An awful pitch The court of social media ridiculed the playing conditions for one of the biggest Premier League games of the season.
Ok, gave it a chance, but have to say it. This Wembley pitch is a travesty. Turf damage, yardage markings, an NFL crest in the centre circle. Spurs v Man City is taking place on a college gridiron training field.
— Paul Hayward (@_PaulHayward) October 29, 2018 On many occasions the ball bounced awkwardly and conditions were clearly far from the standard expected in the English Premier League.Despite this, some failed to see what all the fuss was about.
Think this Wembley pitch is bad? Rotherham had to play at Don Valley Stadium three days after a U2 gig back in 2009 pic.twitter.com/WY56buDs77
— Richard Easterbrook (@1Easterbrook) October 29, 2018 Visit cnn.com/football for more news and videosBoth teams decided to rest star players from their starting line-ups. Tottenham began without Christian Eriksen and Manchester City without Kevin de Bruyne — although both were second-half substitutes.Both have struggled with injuries this season and their managers may have aired on the side of caution with such an uneven playing surface.
Source Link:
https://www.cnn.com/2018/10/29/football/manchester-city-tottenham-wembley-premier-league/index.html
[-0.326547]
Comments
comments