Nic Robertson is CNN's international diplomatic editor. The opinions in this article belong to the author.
(CNN)We only know what we don't have when it's too late. Northern Ireland has been suffering from this recently.
For months now, it's been missing even the semblance of real peace. For even longer, it's been lacking political leadership, ever since its devolved government collapsed over two years ago.But most painfully, it has lost a talented young journalist, Lyra McKee.After McKee's funeral on Wednesday, Prime Ministers Leo Varadkar and Theresa May stood awkwardly outside Belfast's St. Anne's Cathedral, in a way that people often do in unfamiliar situations. Both looked outside their comfort zones.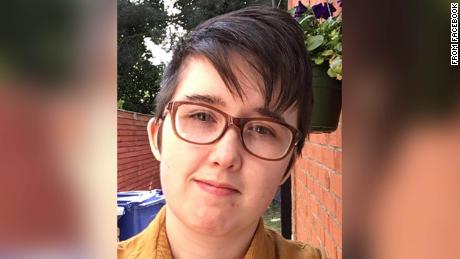 Journalist's murder is a wake-up call the UK can't ignoreFor what felt like an age, they stood opposite Lyra's family and friends, who were clustered around the heavily flowered hearse carrying Lyra's coffin.Read MoreIt was as if an invisible gulf separated them, a gap that peculiarly prevents power from connecting with the pain of others.I don't imagine this was a situation of their liking or choosing. Perhaps their security cohorts warned them not to mingle. Perhaps, with so many cameras, the risk of a bad image or a dressing down by the bereaved was too high.Irrespective of all that — and remembering May and Varadkar are both honorable people — those moments are going to stay lodged in my mind for a long time.It is rare for politicians to experience first-hand the pain and suffering of others, especially in Northern Ireland, where Irish and British prime ministers don't often go, and where the terror threat level is "severe," meaning a threat is imminent.They had both just been chastened by Father Martin McGill's emotional eulogy to Lyra inside the cathedral.It wasn't only his words shaming them and Northern Ireland's politicians. "Why in God's name does it take the death of a 29-year-old woman with her whole life in front of her to get us to this point?" McGill asked. It was the near minute-long standing ovation that followed. This was an explicit, public reaction, not voters at some remote ballot box. It was inescapable.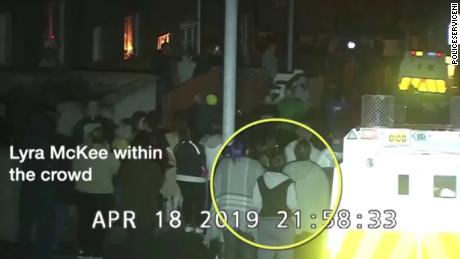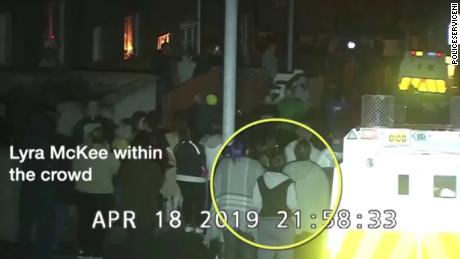 JUST WATCHEDSurveillance footage shows journalist moments before deathReplayMore Videos …MUST WATCH
Surveillance footage shows journalist moments before death 02:58McGill's call for them to do more, to fix the things missing in Northern Irish lives — such as peace and politicians who work together — hit a nerve.Standing outside in the bright daylight near Lyra's family for those long minutes brought them face-to-face with the pain in Northern Ireland's recent history.In Lyra's TedX talk in Belfast a few years back, she revealed how her thinking had shifted after visiting a mosque.Conversations she had had there opened her mind, which just for the record was never closed, to some other ideas.Outside the cathedral, a friend of Lyra's told me that her legacy will live on if others follow her lead."We're not asking people to suddenly go from voting for fanatical parties to going middle-of-the-road, we're asking for a little side step, we're asking them to go a little bit less fanatical and I think if everyone can make that one small change, that little tiny thing, and pay it forward we could actually see a generational change."That's what I was thinking looking at Varadkar and May. Two powerful leaders, used to making tough decisions, but remote to emotions that underlie the issues behind those decisions.Could, those minutes staring towards Lyra's coffin and the agony around it bring a "small change" or lead to a "side step" in their thinking.Could this be the "doorway to a new beginning" McGill said he wished Lyra's death might open?The young will hope, the religious will pray, and the cynical will point to what the police did outside the cathedral.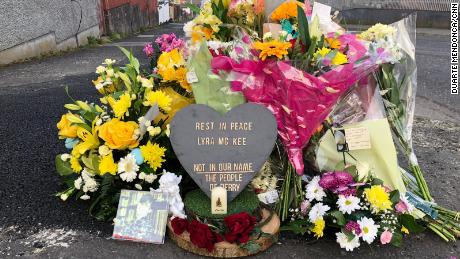 Flowers and tributes are left near the spot where Lyra McKee was shot on Thursday night.After the funeral, the head of Northern Ireland's police force appealed for witnesses to her murder to come forward. All three people they've arrested so far have been released.Where Lyra's murder took place, on the Catholic Creggan estate in Derry, her killers seem safe. Despite local outrage at their actions, the New IRA terror group holds sway through intimidation.Lyra's post-peace process generation is now victim and killer in a reimagined war.The police are dogged by lack of trust in them and fear of the terrorists. They've offered £10,000 ($13,000) for information to try to break the old cycle.It's going to take more than that. And no, I don't mean more money, more time, more trust. I mean that sideways shift. It's going to need political capital and brave leadership.But who has that capital? As chastened as May might have been at Lyra's funeral, she is running on the fumes of leadership, there is nothing in her tank.Varadkar has some reserves in the bank, but he can't tango alone. It's not his country so he needs a partner in Westminster.Northern Ireland's politicians are on the front line of this, but they've failed until now. Without Dublin and London doubling down, they seem stuck.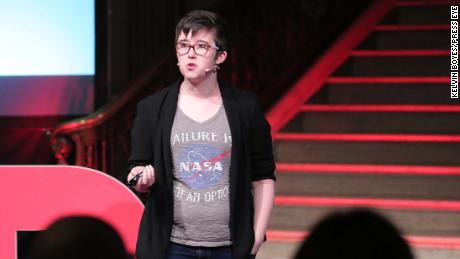 My friend Lyra McKee lost her life seeking the truthIt would be encouraging to believe they could be nudged sideways. But local council elections are due soon. By the time they are done, Lyra's murder will be in the rear-view mirror and, with it, the political pressure it has created.Still there is hope that what is lost can be refound.In the arc of a political career, who knows what may be at the end of its downward slope?Should compassion and legacy get the better of May, then maybe then Northern Ireland's question be answered.When things are gone, are they really gone?Her replacement might try and tackle the lack of peace and stalled politics problems. But that's a long way off, and the sense of urgency could have evaporated by then.May has witnessed first-hand the violence of the past reaching forward, gobbling up bright lights of the future. The question is, did it nudge her to have that sideways shift?
Source Link:
https://www.cnn.com/2019/04/26/opinions/nic-robertson-lyra-mckee-opinion-intl/index.html
[-0.712127]
Comments
comments