New York (CNN Business)Louis Vuitton's logo is known the world over, and now its luxury products are finding their way inside video games. The French designer is making virtual items in a game called "League of Legends" that people can buy with real money.
It's part of a new deal announced Monday, the latest in a growing trend of luxury brands teaming up with video games as they seek to find new digital audiences.Louis Vuitton and "League of Legends" developer Riot Games' partnership extends beyond virtual clothes. The French fashion house will also release a "League of Legends" inspired fashion collection and a custom-made trophy case for the League's annual esports finals to be held in Paris this November. The partnership will last for three years to encompass the 2020 finals in China and 2021 finals in North America, according to Riot.Although this is Louis Vuitton's first foray into video games and esports, the company has previously designed a trophy case for the FIFA World Cup. Esports are starting to challenge traditional sports, Riot Games' head of partnerships Naz Aletaha said.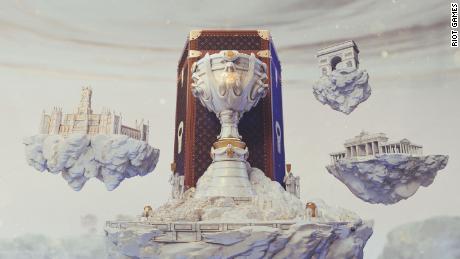 The League of Legends World Championship trophy is shown here beside a custom Louis Vuitton trophy case."The size and scale of [our Worlds championships] have really reached a point where it's starting to rival traditional sports," she said. Read MoreIn a statement, Louis Vuitton CEO and chairman Michael Burke said the company liked to be "associated with the world's most coveted trophies" and that "we are thrilled to be part of such an iconic event." "League," a game where two teams battle to ultimately destroy one team's nexus, is on the rise due to recent successful game updates. The company just announced it is currently the largest game on the PC platform with a peak of 8 million daily users, making it almost as popular as teen favorite "Fortnite."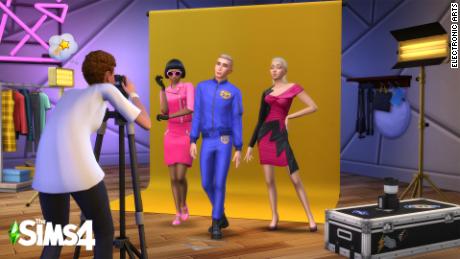 Sims characters in the game "Sims 4″ pose in their Moschino outfits.While more luxury brands are now looking to video games as potential partners, it's still a recent trend."It's a special type of marketer who wants to devote that much time, resources and money to attach themselves to a video game," said Ross Benes, an analyst at research firm eMarketer. But in a digital age when ad-blocking software is prevalent and platforms like Netflix and Amazon Prime Video stream content without ads, brands have had to get more creative to reach audiences, he said. "It's like on Netflix when you're watching 'Stranger Things' and you can't block the Coke ad when the kid is drinking Coke."There's been an uptick in interest from "really big global world class brands" over the last two years, Riot's Aletaha said. "We're not looking to just put a logo somewhere and call it a day," she said of the "League of Legends" brand deals. Riot declined to share financial details of its Louis Vuitton deal.In April, Moschino partnered with "Sims 4," a video game published by Electronic Arts. Reaction to the luxury Italian brand appearing in-game was mixed, said EA's general manager for "Sims" Lyndsay Pearson."We had some folks who were super excited about the brand and love Moschino… And then some players were a little more skeptical because it's a high end fashion brand that's not for everybody. It's a bit polarizing," said Pearson.But while Moschino clothes and accessories inspired by "Sims" cost anywhere from $85 for a phone case to $1,295 for a pixelated backpack, the virtual items that resemble the real-life versions cost around $10 for a set.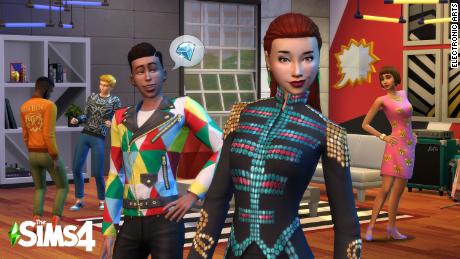 Sims characters in the game "Sims 4″ pose in their Moschino outfits."That was another piece I was excited about as well, [the Moschino products] may not be attainable for everyone, it is high fashion, that's hard to buy all the time," said Pearson. "Being able to digitally recreate pieces of it meant that I got to feel like I owned a part of it."EA declined to share how profits would be split and financial details of its deal with Moschino.Pricing is still unannounced for Riot Games in-game items and real-life Louis Vuitton clothes, but they could potentially fall in the ballpark of regular Riot Games in-game cosmetics (about $20) and luxury Louis Vuitton clothes (several hundred to thousands of dollars), respectively.Will price variation tarnish luxury brands' image of exclusivity?"I don't think the rich people who normally buy Louis Vuitton are going to be outraged their merchandise is cheap in a game," said Benes. "I'd be more concerned with tarnishing the video game brand, if you consider the video game to be a brand. Gamers can be a feisty crowd sometimes."
Source Link:
https://www.cnn.com/2019/09/23/tech/luxury-brands-video-games/index.html
[0.571919]
Comments
comments