With Sen. John McCain's death on Saturday, political observers have turned their attention to a replacement in the Senate.
Arizona law requires Gov. Doug Ducey to select the person to fill McCain's seat. Whomever Ducey selects will face re-election in a November 2020 special election and again for the seat's regularly scheduled election in 2022. Arizona law requires that the governor appoint someone who belongs to the same party as the person who vacated the seat, meaning a Republican in this case. (Technically, the law specifies the party the person belonged to when they were elected.)
The GOP also faces the prospect of losing the state's other Senate seat being vacated by retiring Sen. Jeff Flake.
Arizona will have two new senators come January 2019, a marked departure from the state's outsized influence only a few years ago when it was represented by McCain and Jon Kyl, the majority whip.
Speculation around McCain's replacement was renewed earlier this week when McCain's office announced he was discontinuing medical treatment for an aggressive glioblastoma.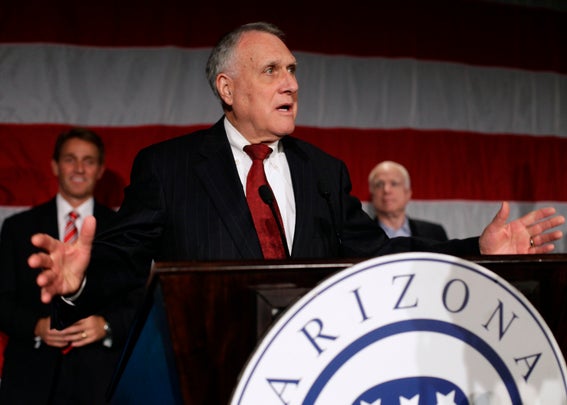 Joshua Lott / Reuters Former Sen. Jon Kyl Jon Kyl, who represented Arizona in the upper chamber from 1995 to 2013 — ultimately becoming the party's number two in the Senate — has been reported to be a leading contender for the seat. At 76, Kyl would be nearly 80 when required to stand for re-election, and though there have certainly been senators who have served well beyond their 80th birthday, Kyl would likely be seen as a placeholder until the next election. His selection would be pleasing to most of the Senate Republicans. As whip, it was Kyl's job to cultivate relationships and keep up with the Republican conference, and many current Republican members were serving in the upper chamber when Kyl left office in 2013. One reason Kyl might say no? He's having quite the retirement. In addition to joining top K Street firm Covington & Burling shortly after his retirement in 2013, Kyl was recently retained by Facebook to help the social media network combat partisan bias in its news distribution.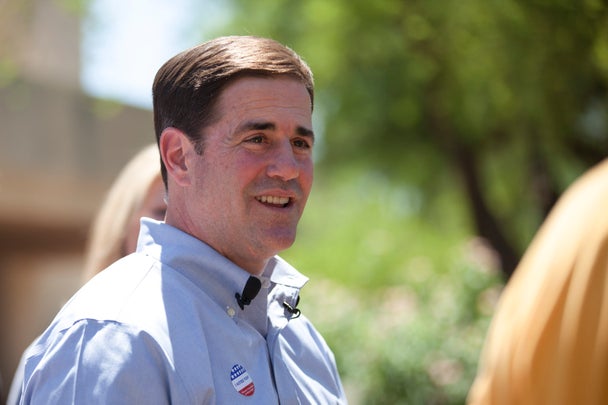 Samantha Sais / Reuters Gov. Doug Ducey Gov. Doug Ducey is said to harbor political ambitions beyond a stint in the governor's mansion, and he is legally allowed to appoint himself as McCain's replacement if he so chooses. However, reports indicate that Ducey is uninterested in leaving his current gig. As a border governor, he is well-positioned to capitalize on the anti-immigrant rhetoric of President Donald Trump that has been so favorably received by Republican voters. Ducey has been a vocal supporter of the president's plan for a border wall and deployment of National Guard troops along the U.S.-Mexico border.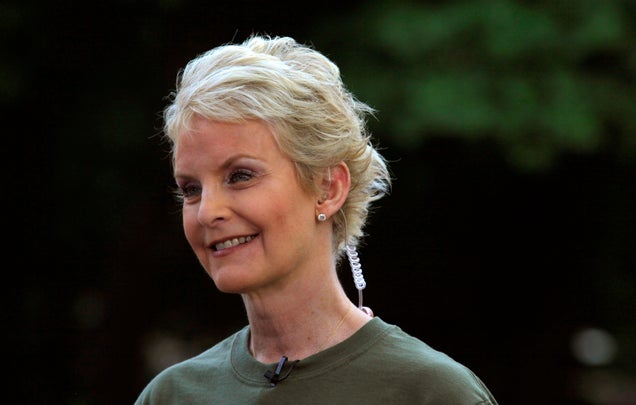 ERIC THAYER / Reuters Cindy McCain A beloved figure in Republican circles, McCain's widow has been mentioned in Washington and Arizona political circles as a possible replacement. A fixture in Arizona politics, Cindy McCain knows the state's power players as well as anyone. In addition to witnessing up close her husband's 35-plus years representing Arizona in Congress, McCain could be a formidable candidate in her own right.At 63, she would be poised to serve in the Senate for several terms, if she and the electorate so wished. And as heiress to her family's considerable wealth, she would bring her own considerable political war chest.
Jonathan Ernst / Reuters Congressional Republicans With Arizona Rep. Martha McSally already running for the Arizona Senate seat being vacated by Jeff Flake, there still remains four other Republican House members from Arizona who could suddenly find themselves as McCain replacements. Though newly sworn-in Rep. Debbie Lesko has only served in the House since April, having won the seat in a special election to replace Rep. Trent Franks, who resigned amid sexual harassment allegations, she is a proven Trump ally, vocally supporting his anti-immigration agenda during the special election. She also served in the Arizona House of Representatives from 2009 to 2015, and then in the Arizona Senate until earlier this year.Arizona's other Republican House members — Paul Gosar, Andy Biggs and David Schweikert — are all well-liked by conservatives. Former Arizona Rep. John Shadegg has also been floated as a replacement.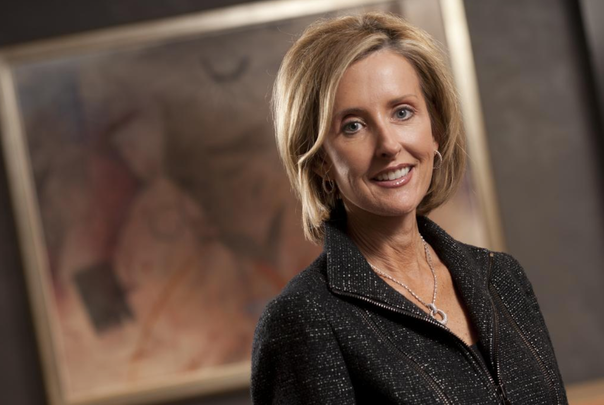 Arizona Business Journals Karrin Taylor Robson Karrin Taylor Robson's name only emerged as a potential replacement for McCain this month, when the Arizona Capitol Times reported on her emergence as a leading contender for his seat. A comparatively unknown figure, Robson was appointed to the state Board of Regents last year. Previously, Robson was the founder and president of Arizona Strategies, a real-estate development company. With comparatively low name recognition, an appointee with Robson's standing in the state could be seen as a safe choice for Ducey, who may wish to run for the seat himself at a later date but not against a candidate with comparatively strong political standing like Cindy McCain.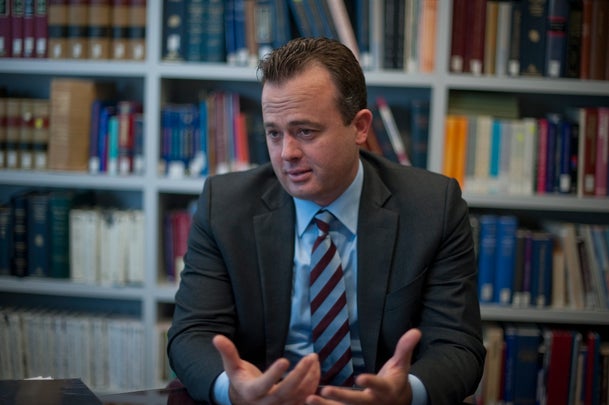 Douglas Graham via Getty Images Kirk Adams Ducey's chief of staff, Kirk Adams has been mentioned by multiple outlets as a contender for the seat. He is known to conservatives in the state, both through his work for Ducey and as a former speaker of the Arizona House of Representatives. He also has experience on the campaign trail, having campaigned unsuccessfully for the House in 2012.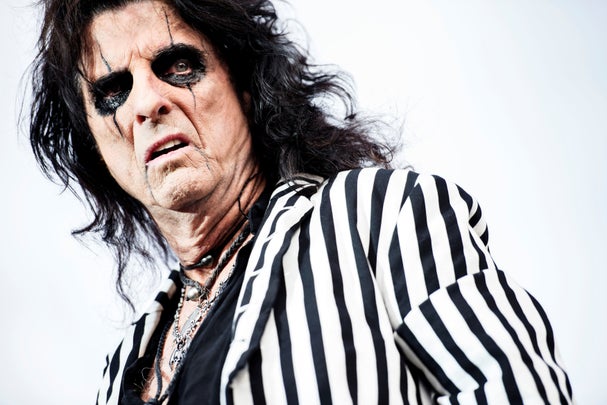 Scanpix Denmark / Reuters Wild Card: Alice Cooper At first blush, placing a rock star with Satanic vibes in the U.S. Senate would seem like an odd decision, particularly by a Republican governor. However, one person's Satanic rocker is another person's Republican small-business owner with strong conservative bona fides who, not for nothing, was friendly with McCain. Cooper, 70, moved to Phoenix when he was a child and is a fixture in the city, where he owned a restaurant for 18 years, regularly appears at Suns games and even founded a local Christian teen center. Cooper has long described himself as a Republican but has mostly kept his politics to himself, telling the Spotify show, "Metal Hammer" in 2016 that he didn't view musical fame as a good political experience. "First of all, why do people think rock stars know more than they do?" said Cooper. "That is the biggest fallacy in the world — if anything, we're dumber. We're not smarter than anybody else. I mean, why do you think we're rock stars?" While Cooper may have sold himself short with such comments, there exists a potentially bigger roadblock to his appointment: Cooper is not the biggest fan of Trump, who has a tendency not to forgive past slights. While such independence might make Cooper a spiritual (if unconventional) successor to McCain, his appointment could alienate Trump supporters. Cooper told Rolling Stone in 2016 that he couldn't bring himself to vote for Trump and, perhaps even more damningly, he implied that Trump cheats at golf. Cooper could not be reached for comment. Download
Source Link:
https://www.huffingtonpost.com/entry/john-mccain-replacement-senator_us_5af5e0b7e4b0e57cd9f950c7
[-0.21087]
Comments
comments