(CNN)It is the sale for horse racing royalty, aptly held in the gardens of Kensington Palace, home to an array of royals including Prince William and the Duchess of Cambridge.
Billionaires rub shoulders with bloodstock agents, trainers and jockeys all jostling to find the perfect racehorse from the 22 lots at the Goffs London Sale.At stake is the potential to buy a runner for Royal Ascot later in the week, and it lures buyers from 33 countries ranging from China to the United States and Australia to India.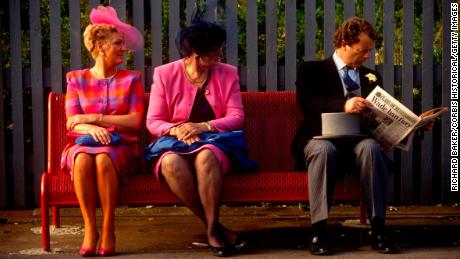 Royal Ascot: How dress codes and fashion evolved from the 1700s to nowThe auctioneer's voice rattles along breathlessly, urging those with seemingly bottomless pockets to dig deeper. The till for the evening eventually hits $4 million in sales.It is a place where any sudden move can prove costly. One guest apparently indicates a bid of nearly $1 million for Maven, the offspring of Triple Crown winner American Pharoah, before realizing the error of their ways and waving it off.Read More"Someone call security," jokes one of the two auctioneers Nick Nugget.For the other auctioneer, Henry Beeby, who also doubles up as the chief executive for Goffs, it is about whipping up the crowd to spend big."We hope for a lively atmosphere and lively trading," he tells CNN before taking to the stage. "You never know what will happen but, when you get into an auction and two people have the wherewithal to do it, anything can happen. It helps if the sun is shining as, on a wet, damp day people aren't in the same frame of mind."READ: Ascot gripped by Frankie fever as Dettori lands Gold CupREAD: Female jockey lands historic win at Royal Ascot READ: Royal Ascot: A day in the life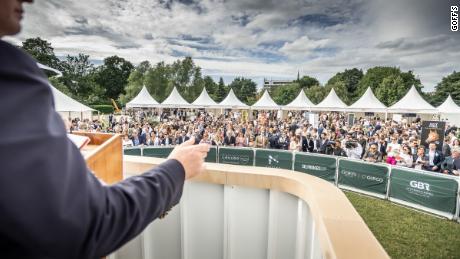 An auctioneer encourages guests to bid amid a garden party atmosphere.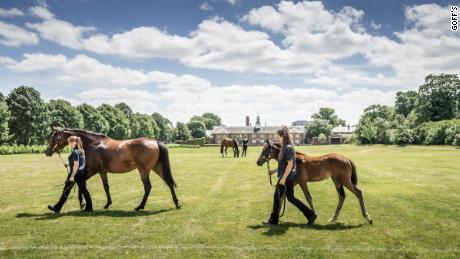 Some horses with entries at Royal Ascot are up for sale. $1.66m recordIn the midst of an otherwise dismal London summer, the sun peaks through pockets of clouds and reflects off the Orangery of Kensington Palace, home for the first four years of Goffs London sale, before relocating to the lawns last year because of renovations.
JUST WATCHEDRoyal Ascot's glamour and appealReplayMore Videos …MUST WATCH
Royal Ascot's glamour and appeal 01:35The garden party atmosphere amid some of London's most expensive real estate gives it a unique aura. Select VIP guests are even flown in by private jet and offered behind-closed-doors tours of the nearby luxury department store Selfridges on the morning of the event."The Goffs London sale is different to any other sale," says Beeby. The prospect of buying a horse with an entry at Royal Ascot the following day adds to the allure.A few years ago, one potential buyer from Japan was running late for the auction and only arrived for the final lot, which he effectively bought blind for $200,000.But it is a fraction of the price paid for some four-legged offerings. It was at Goffs' first London sale that the first offspring of the legendary thoroughbred Frankel – unbeaten in 14 career races – was put up for sale. It sold for $1.25m, although the record at Goffs is the $1.66m paid for Jett Setting, which was bought by the China Horse Club.READ: How champion trainer defied his mom to become $288M Hall of FamerVisit CNN.com/Sport for more news, features and videos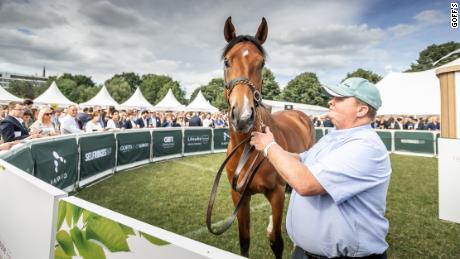 Lots are paraded in front of elegant crowds.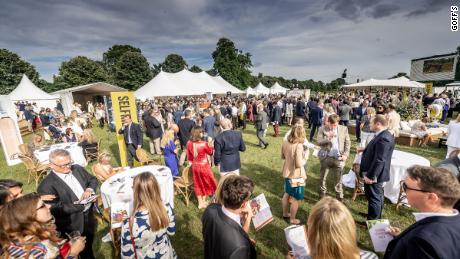 The Goffs Sale is a boutique event for horse racing's glitterati. 'Boutique event'The biggest seller at this year's sale is Mohican Heights, the two-year-old son of Australia, for which trainer David Simcock bid $654,315 on behalf of one of his clients. Others past the half-a-million-dollar mark include Pure Zen ($629,149), bought by bloodstock agent Federico Barberini, and Le Don Vie ($578,817) by Aziz "Ozzie" Their, the Australian businessman who owned the 2014 Melbourne Cup winner Protectionist.In all, 10 of the 22 lots sell on, with Beeby admitting he would have hoped to sell more. But the wider aim is to get more buyers and interested parties into horse racing.And there's evidence it works. The Phoenix Ladies Syndicate — a female-only collective aimed at increasing the participation of women in racing across the United Arab Emirates — paid £430,00 (about $545,000) for a horse called Forever in Dreams. Four days later the grey filly — a 20-1 shot — came second in the Group 1 Commonwealth Cup at Royal Ascot.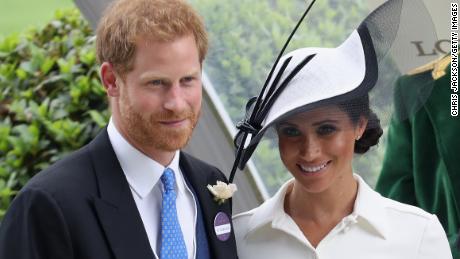 Royal Ascot: Tracking Britain's most famous family at the racesBecause of its philanthropic goals, Goffs is widely supported around the industry, including by former jockey and two-time Derby winner Joseph O'Brien, who turned trainer to guide Rekindling to 2017 Melbourne Cup glory."This absolutely gets everyone in the mood for Ascot, which is like the Olympics of our sport," O'Brien told CNN. "There's a number of high-class horses for sale, and a lot of my clients and other people's clients are here. We're in the market to buy horses all the time, it just depends on how much they make and what the owners let them go for."Sometimes bidding doesn't reach the reserve price — the $900,000-plus offered for Maven, for example, resulted in no sale. "Kevin Blake works with me and helps me go through the catalogues and future prospects then we identify the horses of note," added O'Brien."You make an evaluation on every horse in the race and, if we think it's good value, we'll take a chance. But this is a boutique event so it often increases their value."READ: Is Chantilly the world's most elegant garden party?READ: Meet the trainer to royals, rulers and billionaires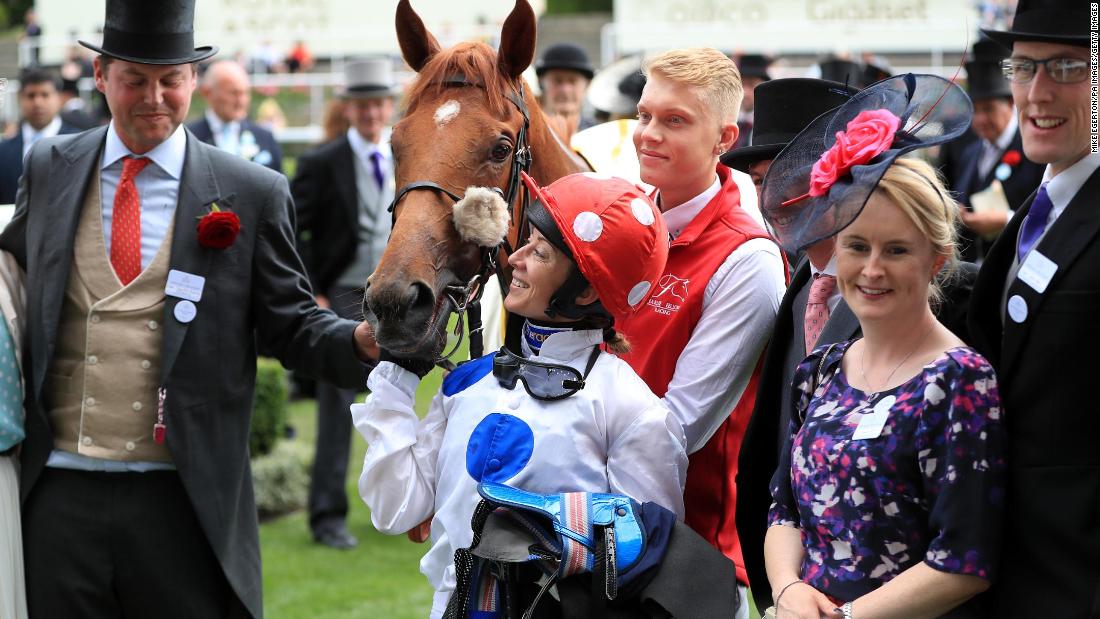 Photos: Royal Ascot imagesDay four – Hayley Turner becomes only the second female jockey to ride a winner at Royal Ascot and the first in 32 years after Gay Kelleway.Hide Caption 1 of 36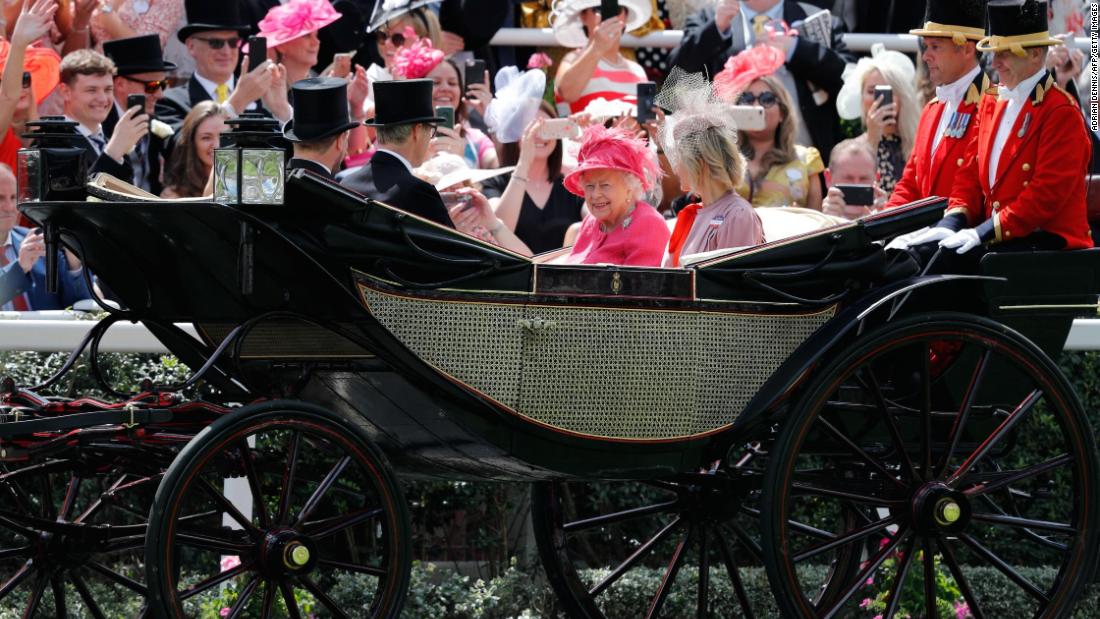 Photos: Royal Ascot imagesAs is tradition, Britain's Queen Elizabeth II leads the royal procession at Royal Ascot.Hide Caption 2 of 36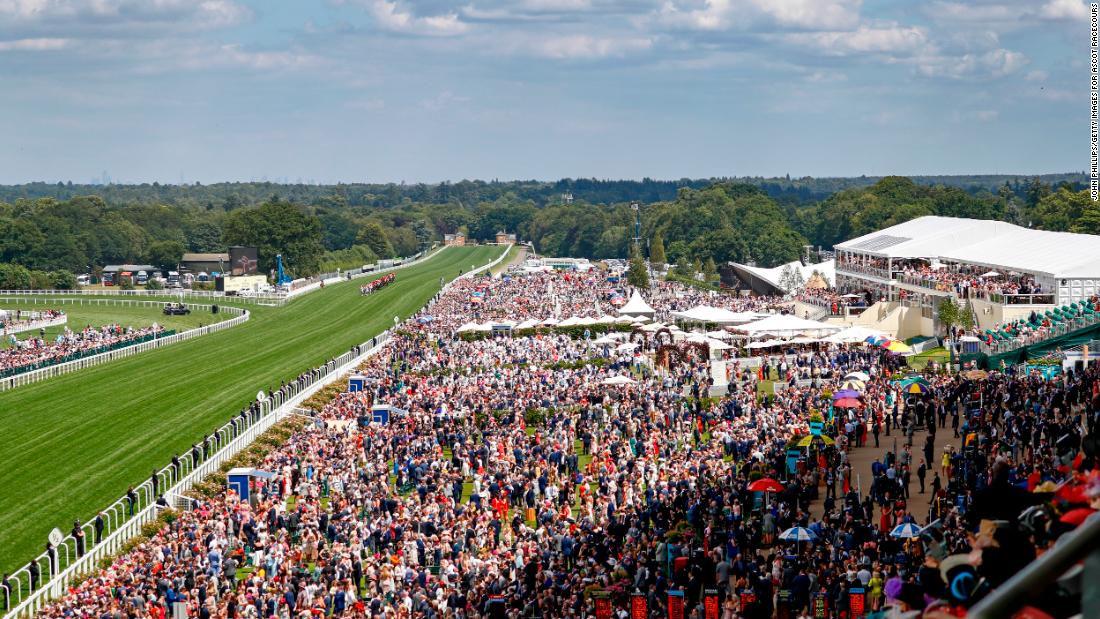 Photos: Royal Ascot imagesHuge crowds once again pack the historic race course in Berkshire, west of London. Hide Caption 3 of 36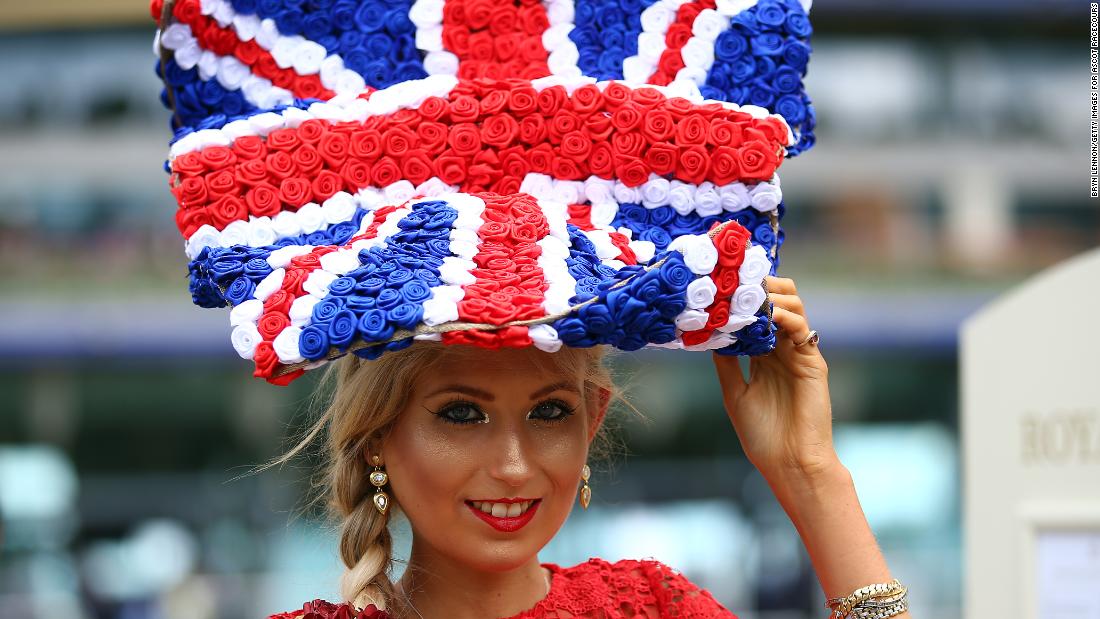 Photos: Royal Ascot imagesSpectacular hats are very much in vogue at Royal Ascot.Hide Caption 4 of 36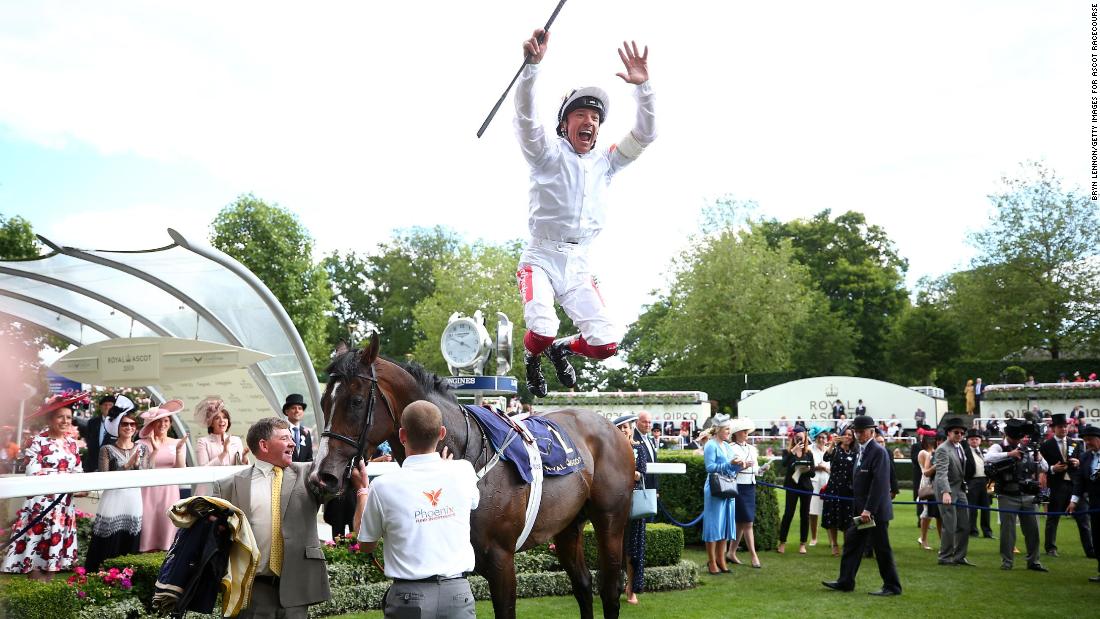 Photos: Royal Ascot imagesAnd Dettori adds another winner to his fabulous four from day three, including the Ascot Gold Cup. Hide Caption 5 of 36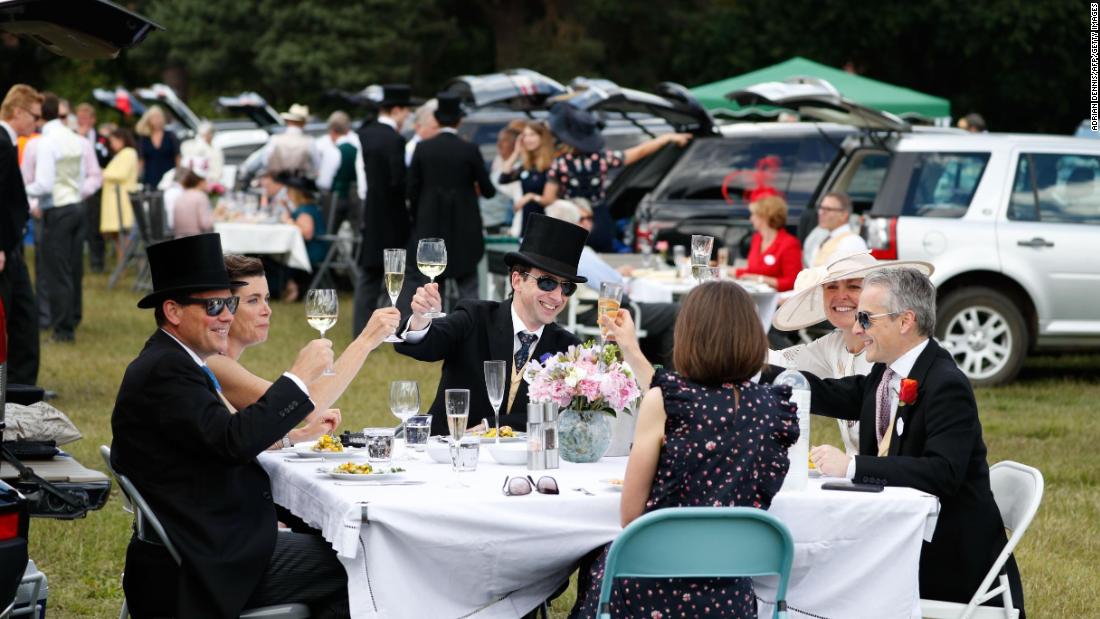 Photos: Royal Ascot imagesAfter a wet week, the sun is out at Ascot and racegoers are able to enjoy picnics in the car park.Hide Caption 6 of 36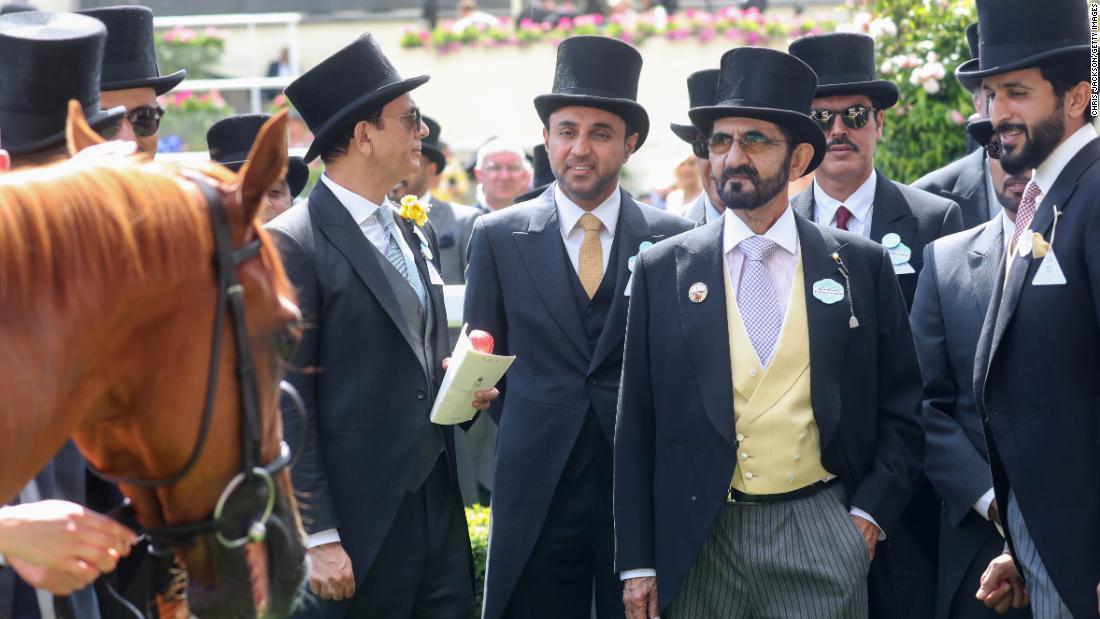 Photos: Royal Ascot imagesDubai ruler Sheikh Mohammed bin Rashid Al Maktoum (yellow waistcoat) is head of the Godolphin racing operation and a familiar face at British horse racing tracks. Hide Caption 7 of 36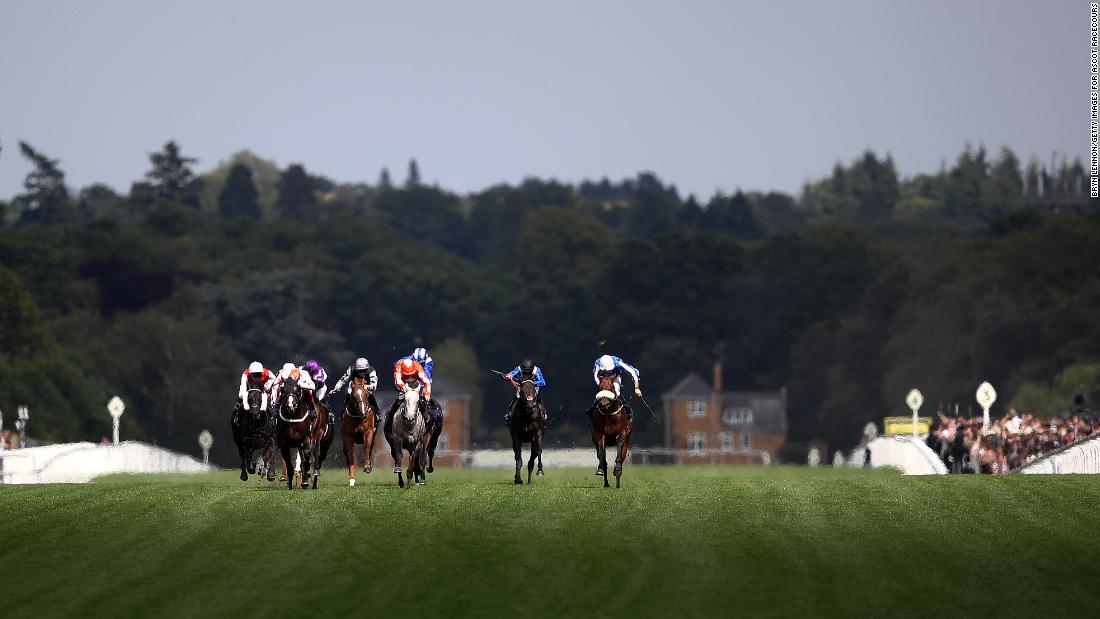 Photos: Royal Ascot imagesFrankie Dettori riding Advertise leads the field on the run-in in the Commonwealth Cup.Hide Caption 8 of 36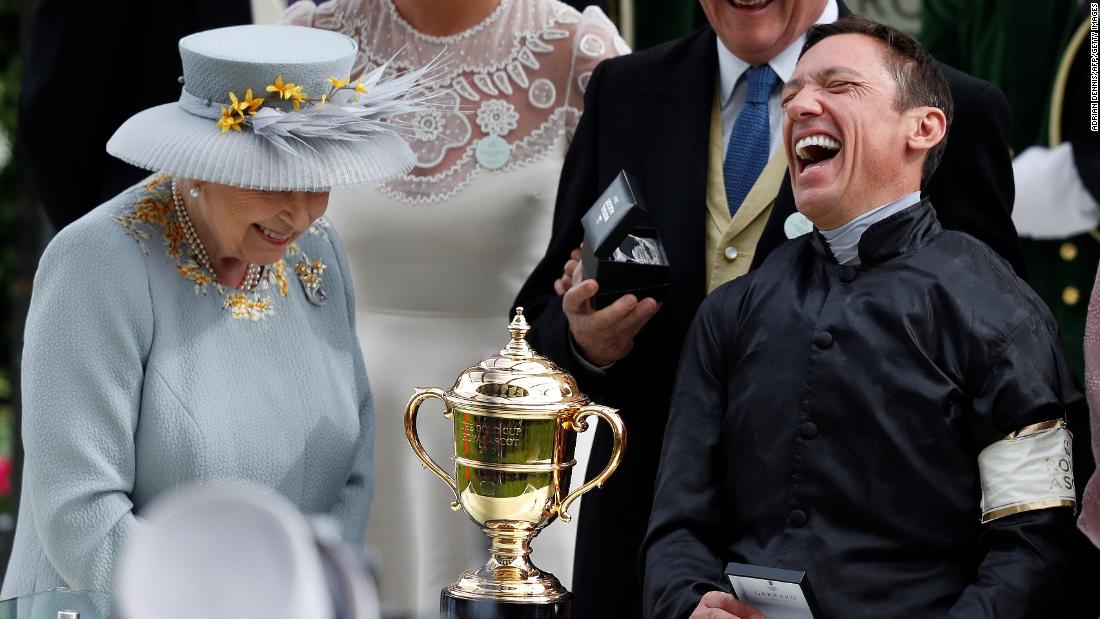 Photos: Royal Ascot imagesDay three – Britain's Queen Elizabeth II presents jockey Frankie Dettori with the Gold Cup after his second straight win on Stradivarius.Hide Caption 9 of 36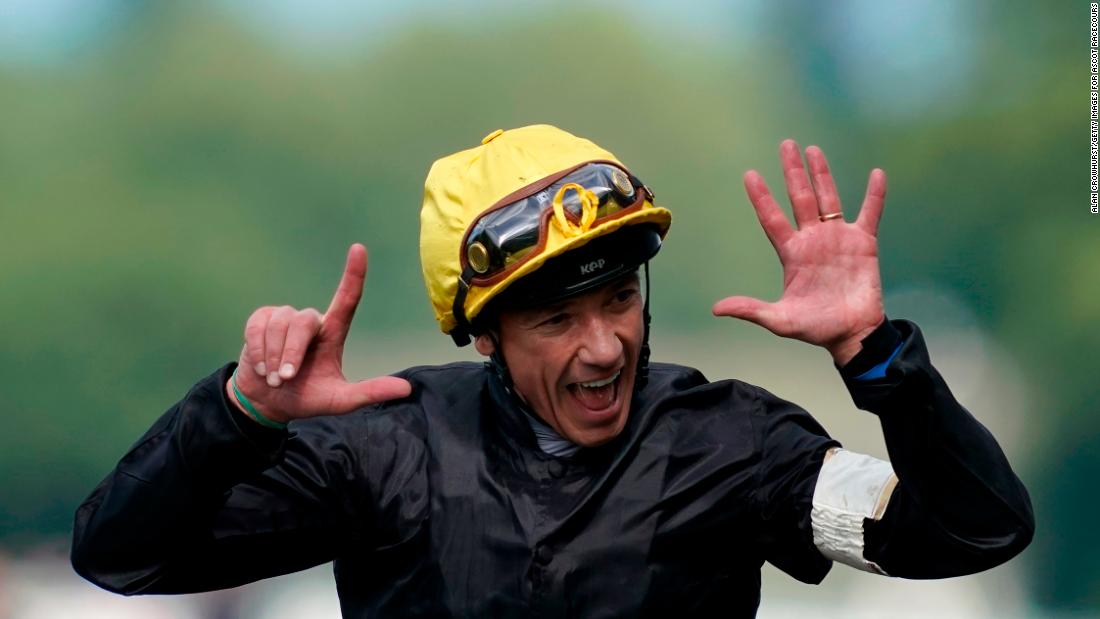 Photos: Royal Ascot imagesThe win marks Dettori's fourth straight victory of the day and a seventh Gold Cup in all.Hide Caption 10 of 36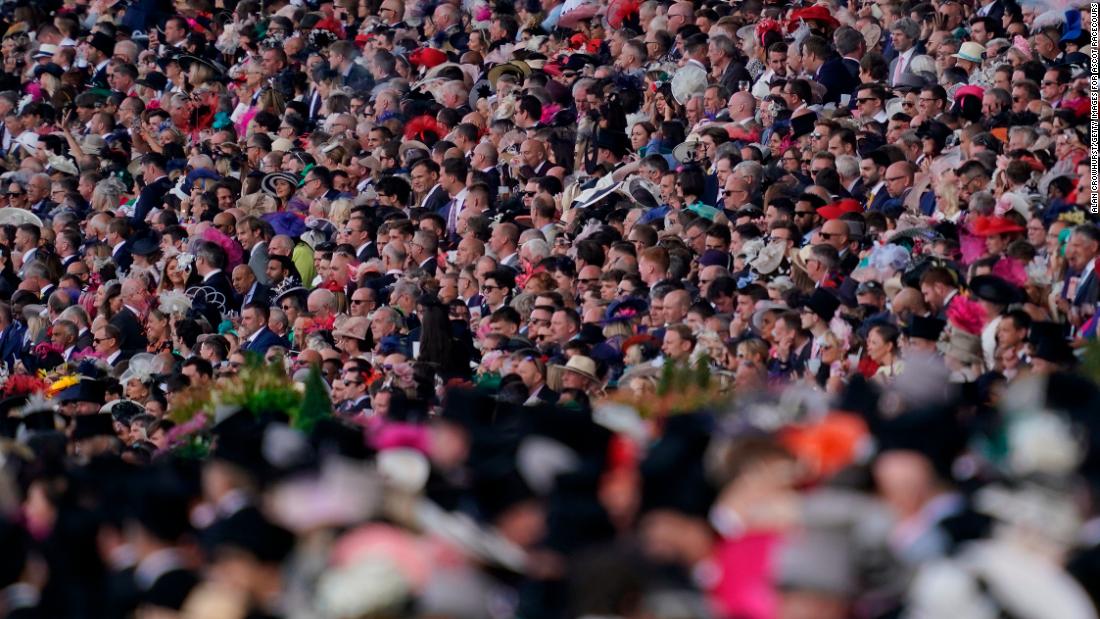 Photos: Royal Ascot imagesThe huge crowd is gripped to the action as the Gold Cup unfolded. Hide Caption 11 of 36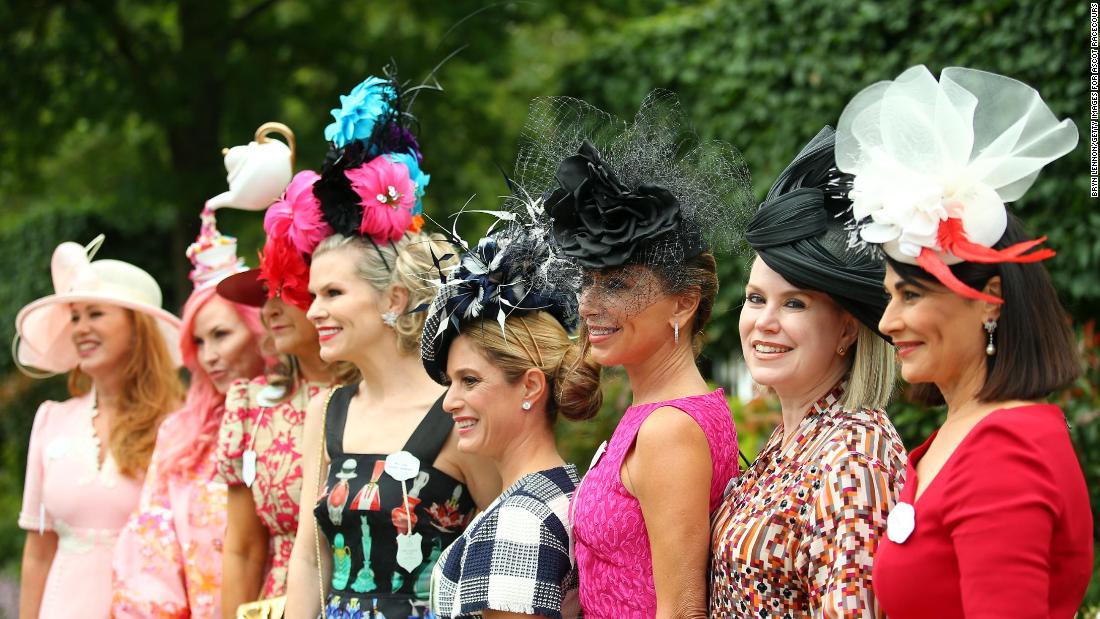 Photos: Royal Ascot imagesLadies' Day at Royal Ascot is when the extra special outfits are on display.Hide Caption 12 of 36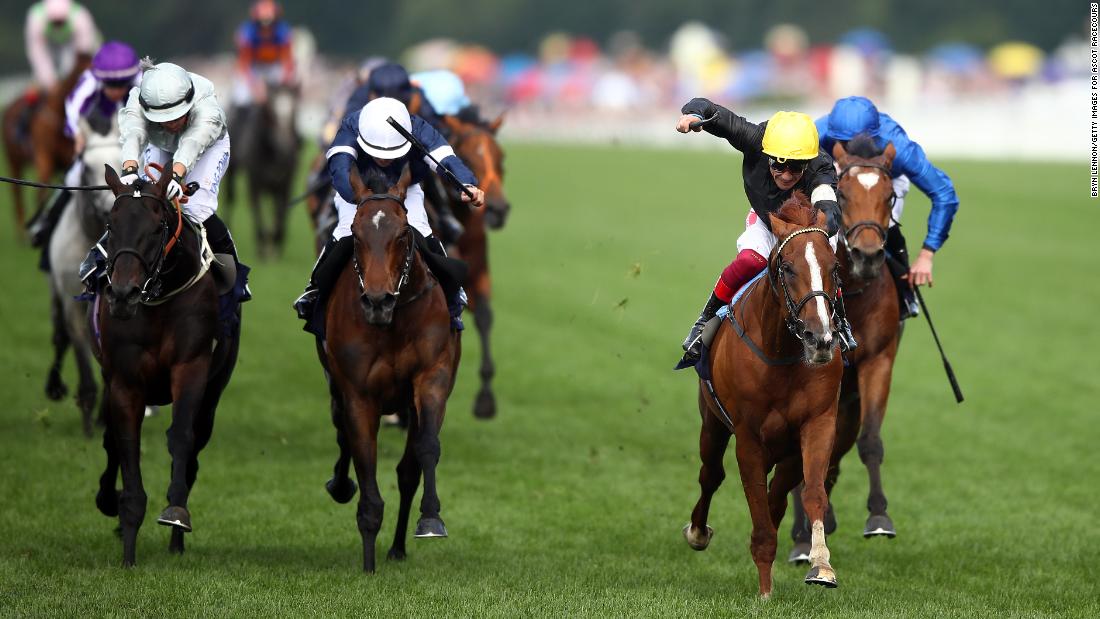 Photos: Royal Ascot imagesDay three – Frankie Dettori (yellow cap) and Stradivarius hold off Dee Ex Bee and Master of Reality to clinch a famous win on Ladies' Day at Royal Ascot.Hide Caption 13 of 36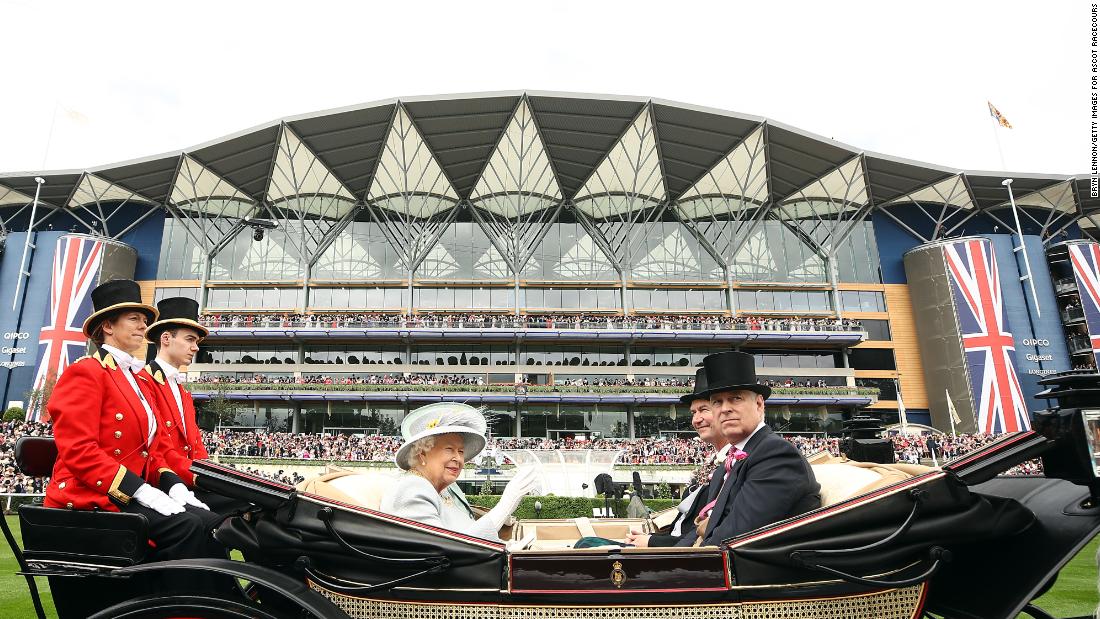 Photos: Royal Ascot imagesBritain's Queen Elizabeth II arrives in the Royal Enclosure ahead of Ladies' Day at Royal Ascot.Hide Caption 14 of 36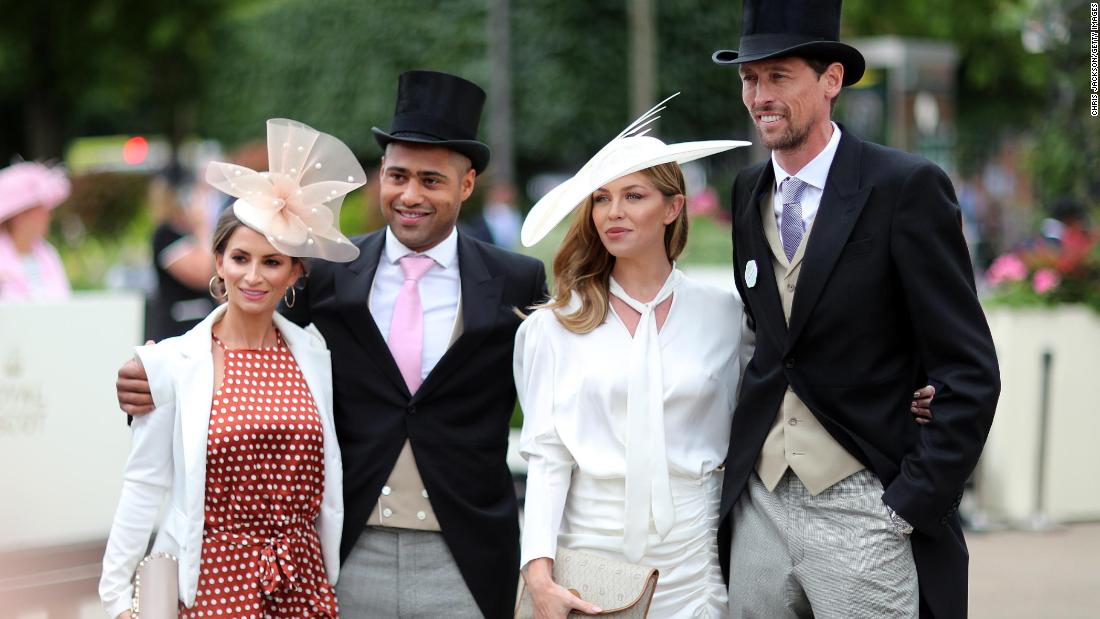 Photos: Royal Ascot imagesPremier League footballers Peter Crouch (right) and Glen Johnson with their wives on Ladies' Day.Hide Caption 15 of 36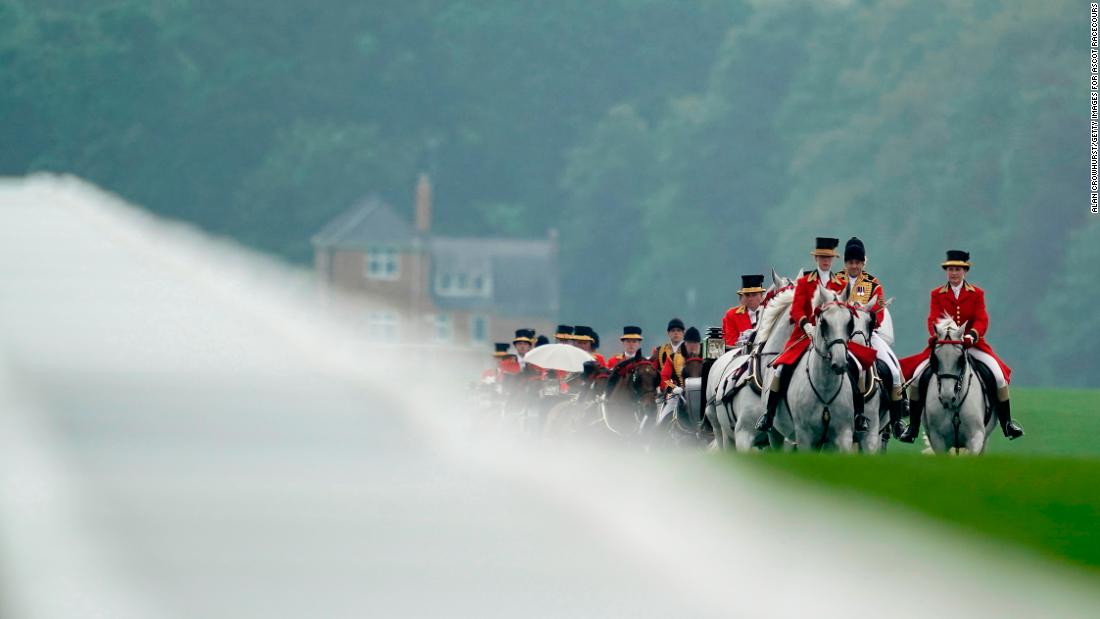 Photos: Royal Ascot imagesDay two: – The Royal Procession makes its way down the Straight Mile at Royal Ascot ahead of racing.Hide Caption 16 of 36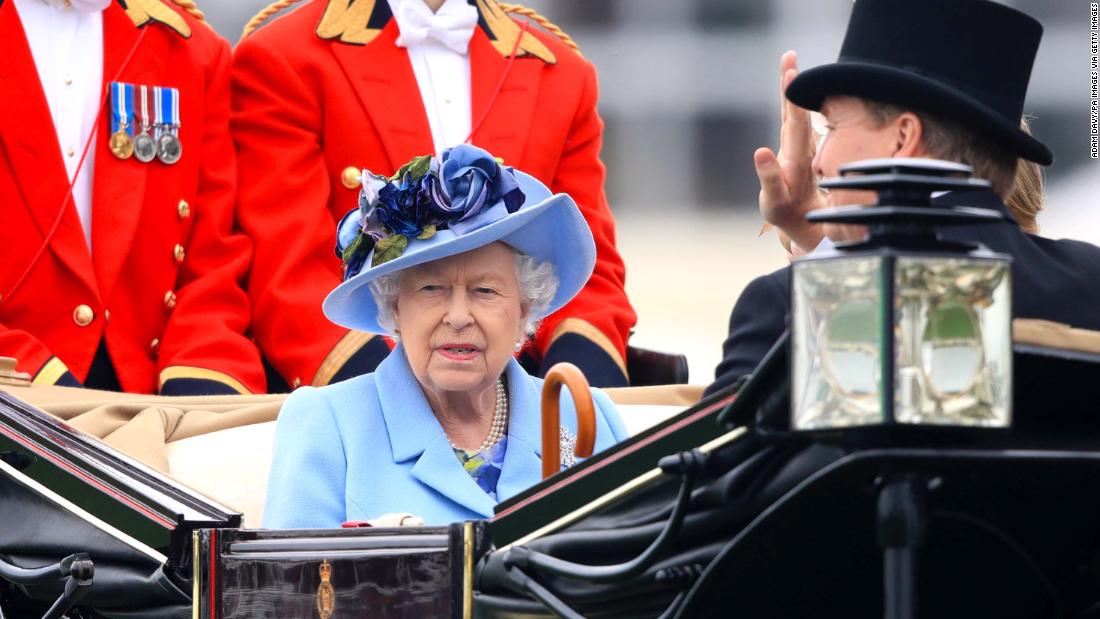 Photos: Royal Ascot imagesDay one: – Britain's Queen Elizabeth II riding in the leading carriage during the Royal Procession to open Royal Ascot 2019. Hide Caption 17 of 36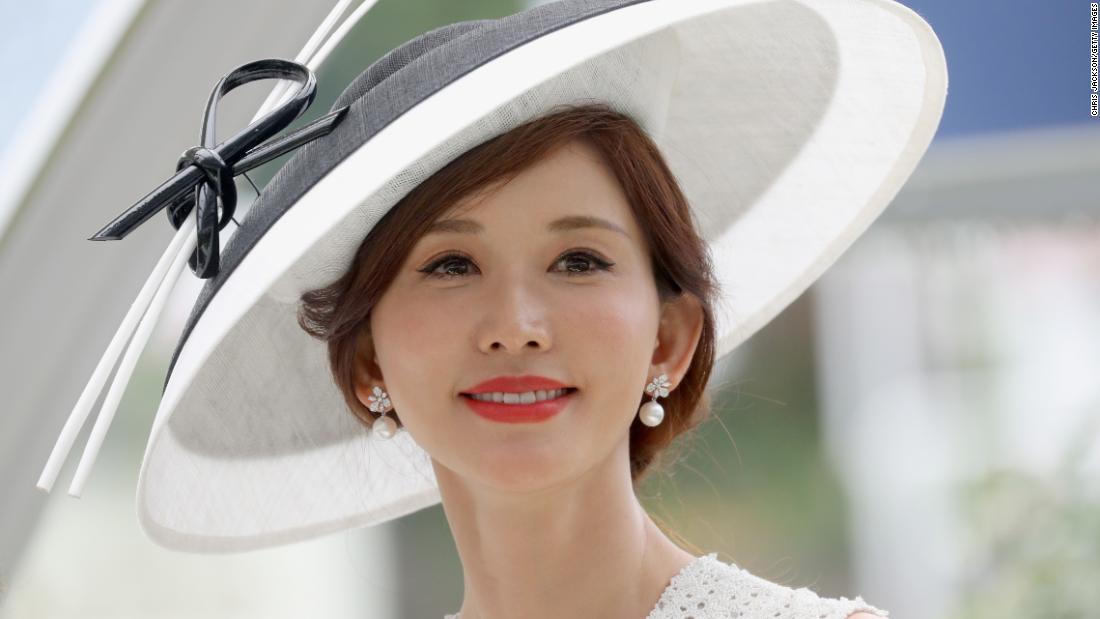 Photos: Royal Ascot imagesTaiwanese model, actress and singer Lin Chi-ling is one of a host of celebrities at Royal Ascot Wednesday.Hide Caption 18 of 36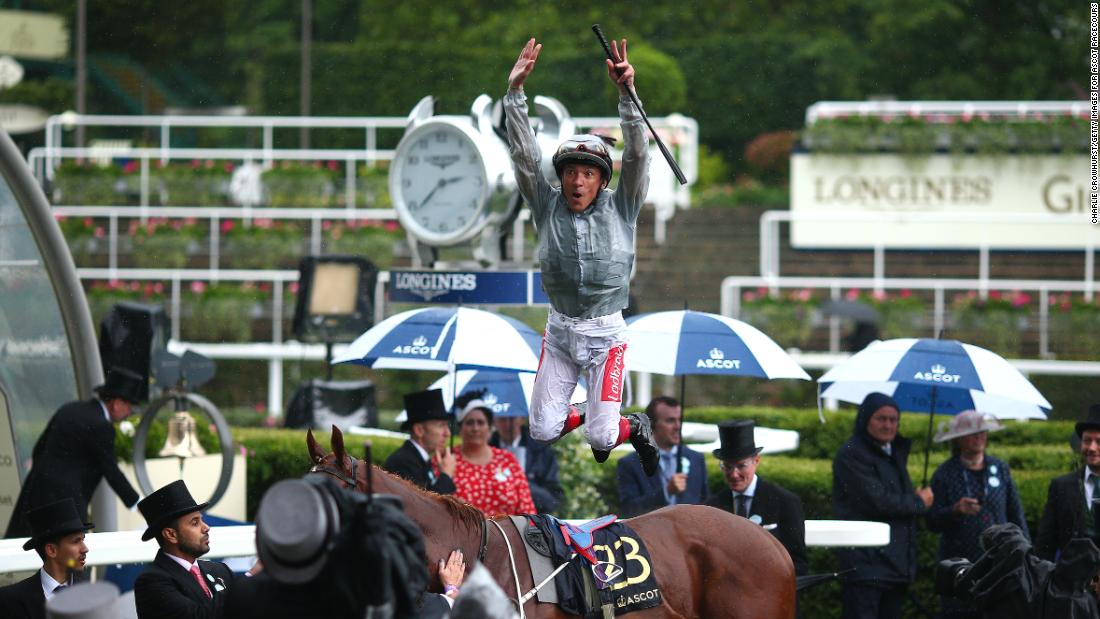 Photos: Royal Ascot imagesVeteran Italian jockey Frankie Dettori treats the crowd to his trademark flying dismount after clinching his 61st winner at Royal Ascot in the opener.Hide Caption 19 of 36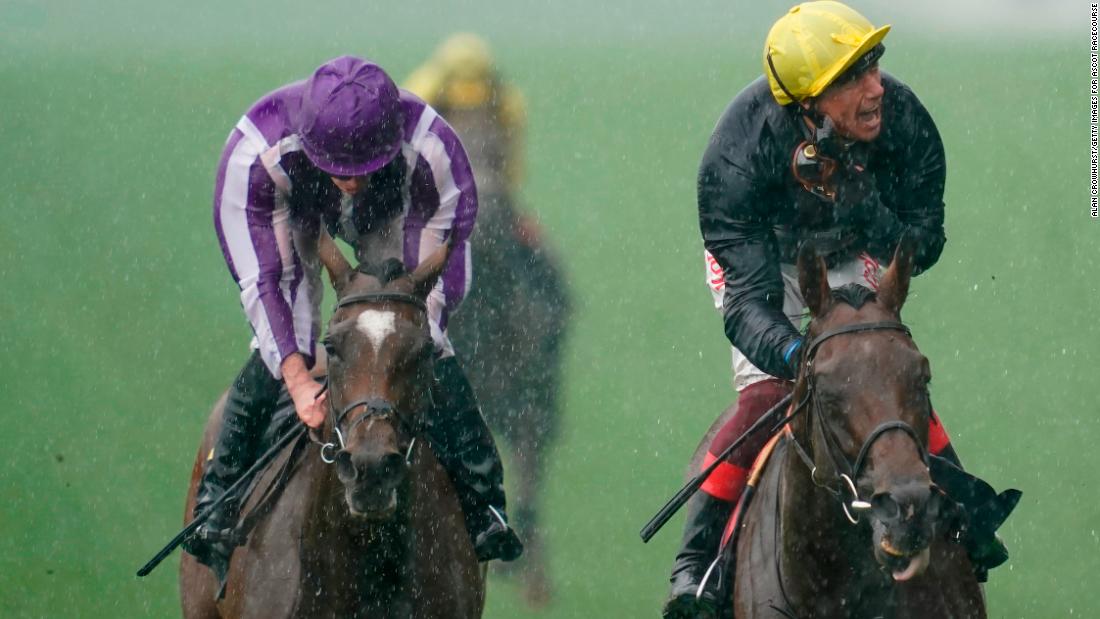 Photos: Royal Ascot imagesThe heavens opened later Wednesday as Frankie Dettori rode Crystal Ocean (right) to victory in the showpiece Prince Of Wales's Stakes.Hide Caption 20 of 36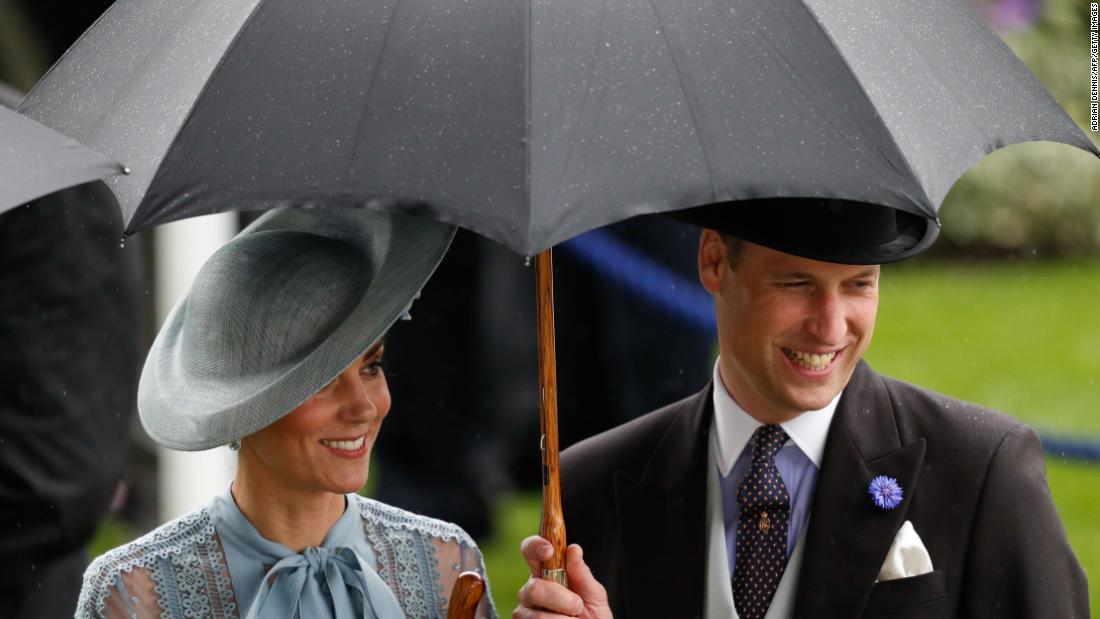 Photos: Royal Ascot imagesBritain's Catherine, Duchess of Cambridge and Prince William enjoy the occasion despite the rain. Hide Caption 21 of 36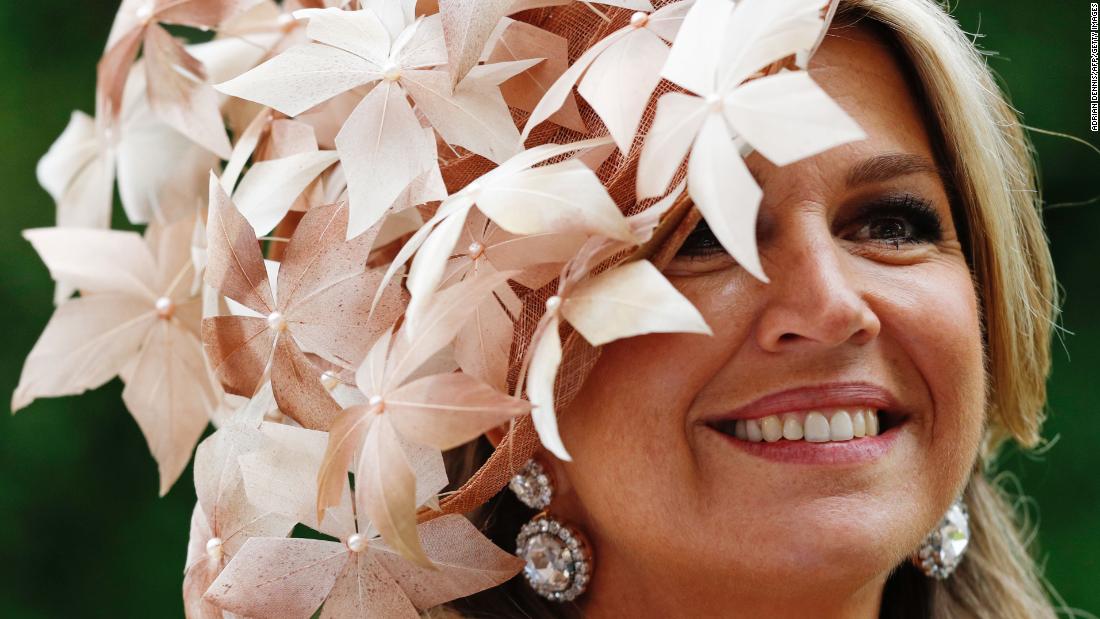 Photos: Royal Ascot imagesQueen Maxima is full of smiles as she waved to racegoers.Hide Caption 22 of 36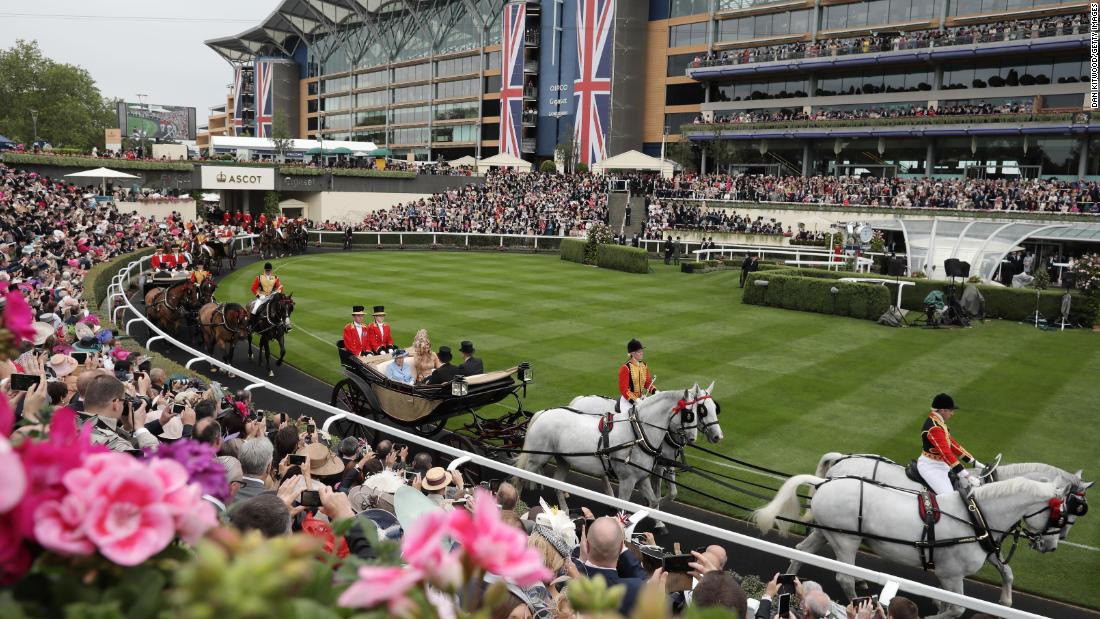 Photos: Royal Ascot imagesRoyal Ascot is a highlight of the British sporting and cultural calendar. Hide Caption 23 of 36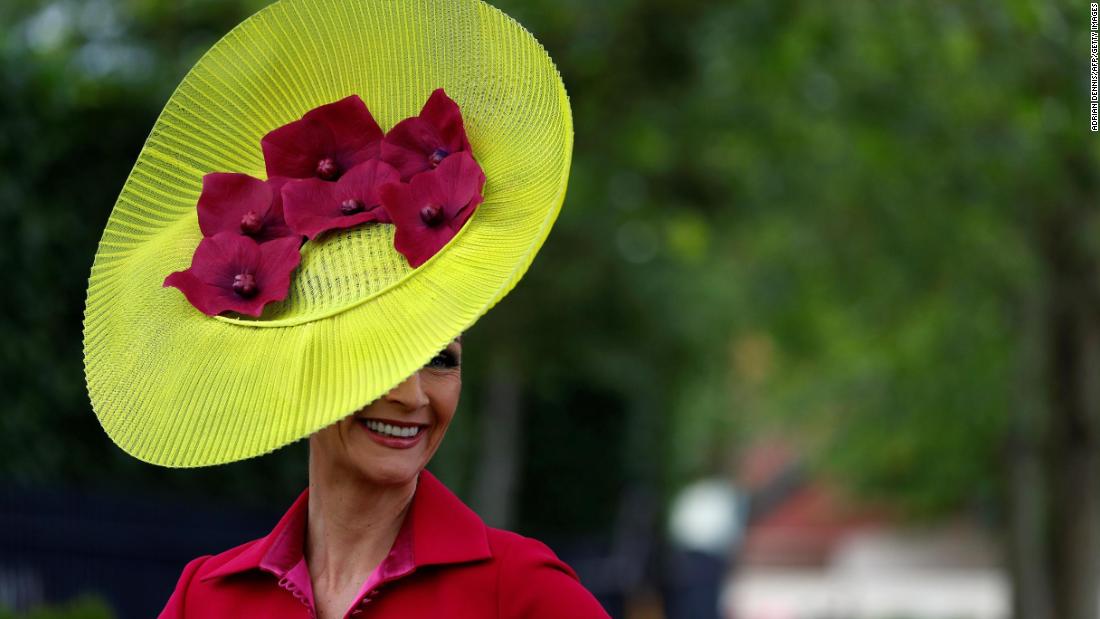 Photos: Royal Ascot imagesThe event features five days of world-class horse racing and high fashion. Hide Caption 24 of 36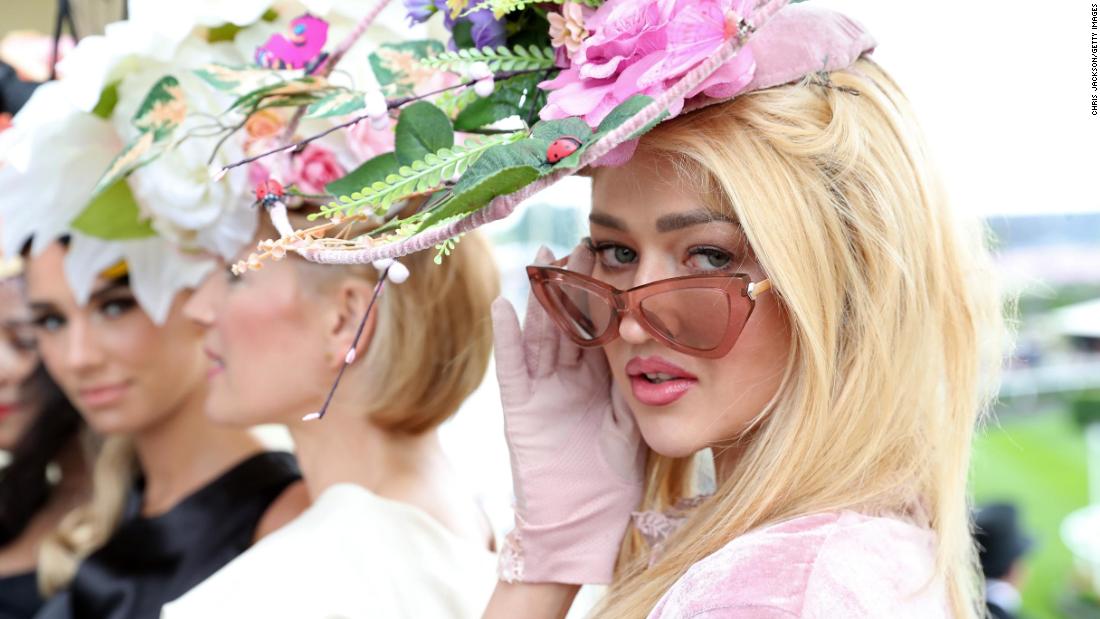 Photos: Royal Ascot imagesRacegoers are encouraged to express themselves within the confines of a strict dress code. Hide Caption 25 of 36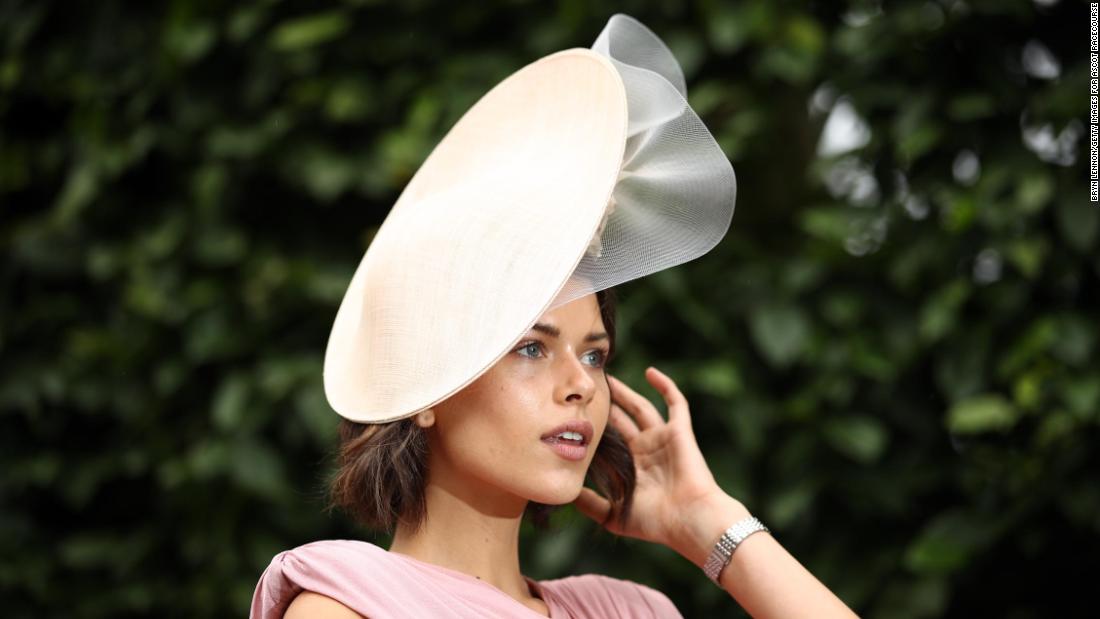 Photos: Royal Ascot imagesNew Zealand model Georgia Fowler is among a host of celebrities in attendance on day one. Hide Caption 26 of 36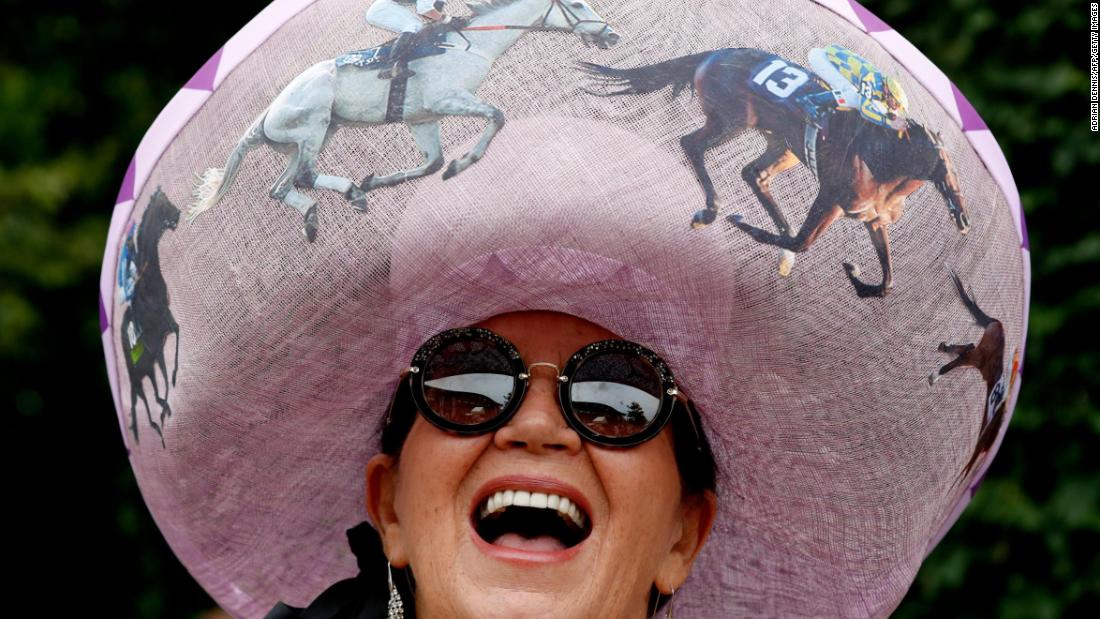 Photos: Royal Ascot imagesHats are an essential Royal Ascot accessory. Hide Caption 27 of 36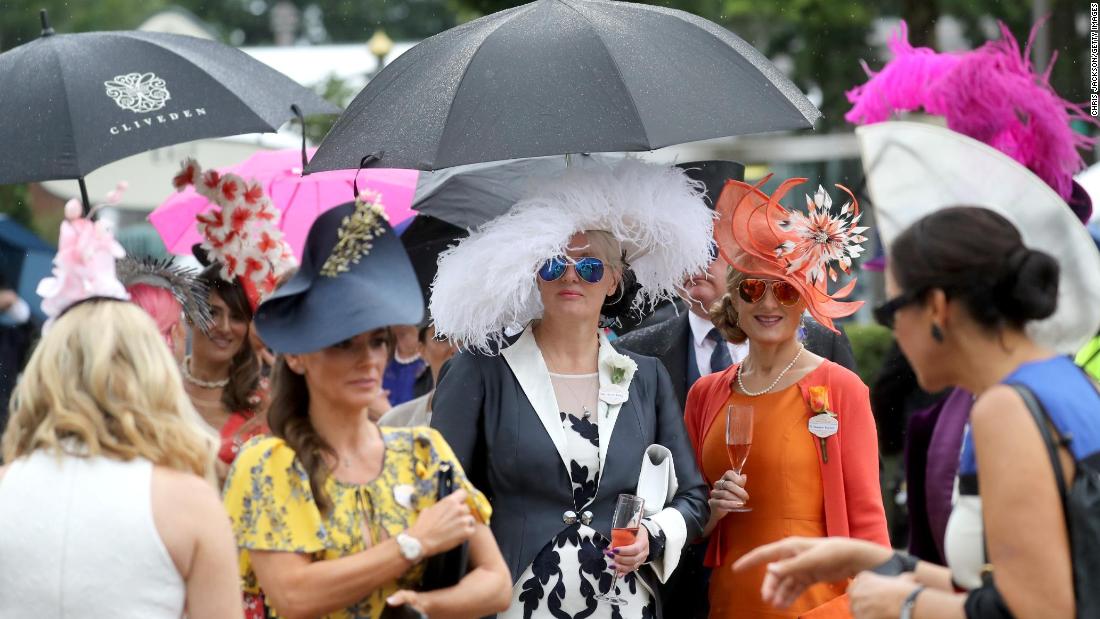 Photos: Royal Ascot imagesLight rain Tuesday couldn't dampen spirits at Royal Ascot in Berkshire, west of London. Hide Caption 28 of 36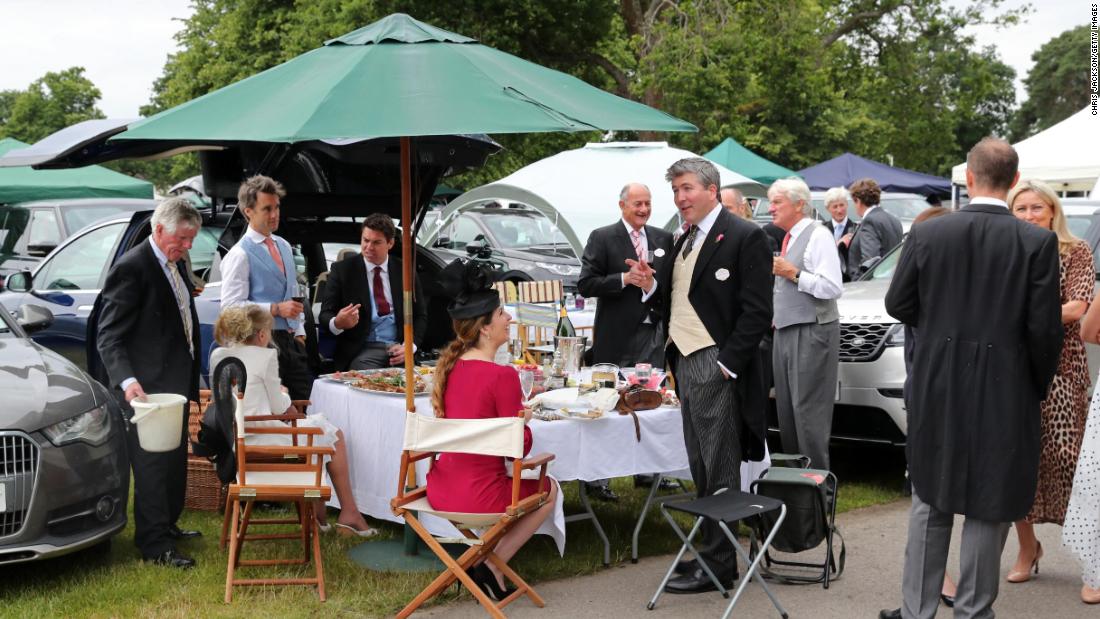 Photos: Royal Ascot imagesUpmarket picnics in the car park are a Royal Ascot tradition for some. Hide Caption 29 of 36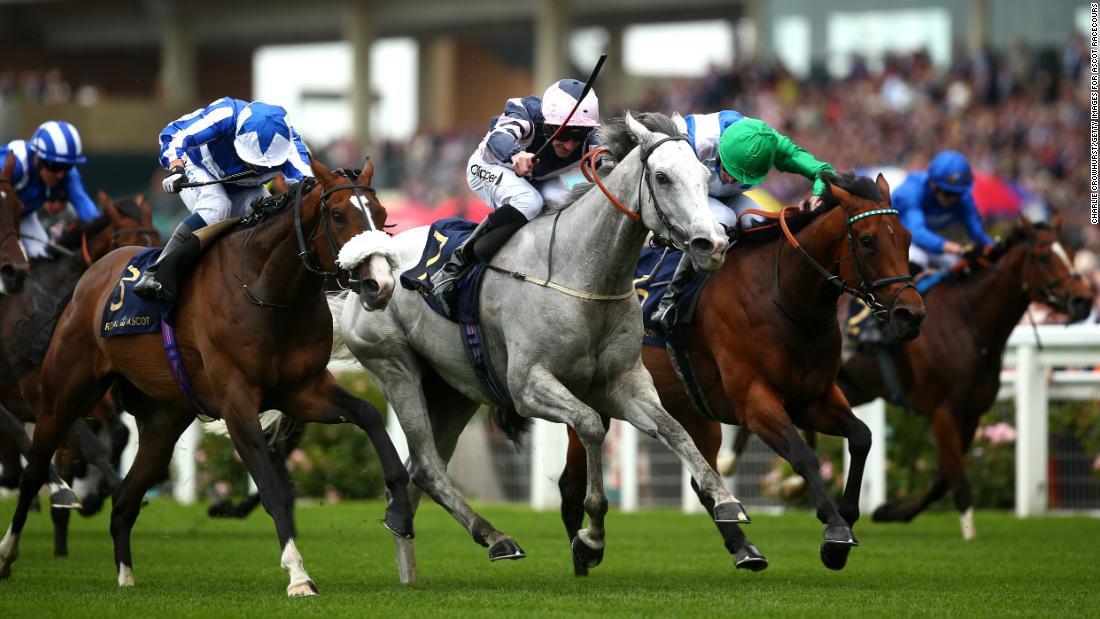 Photos: Royal Ascot imagesDaniel Tudhope rode Lord Glitters (grey) to victory in the opening Queen Anne Stakes on day one.Hide Caption 30 of 36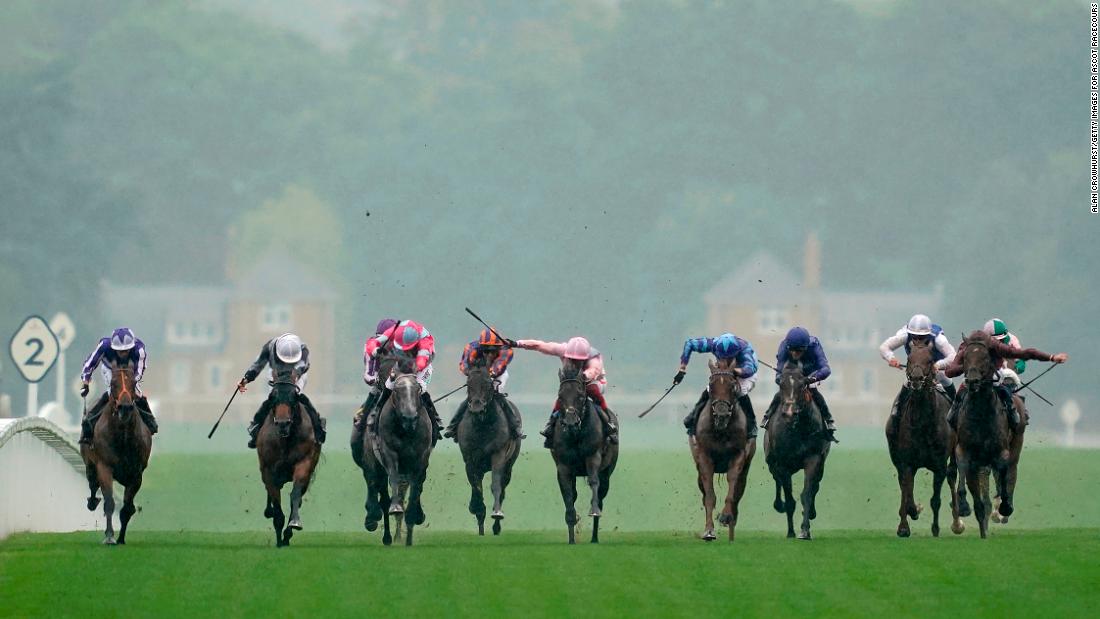 Photos: Royal Ascot imagesRyan Moore rode Circus Maximus (second left, white cap) to victory in the showpiece St James's Palace Stakes ahead of the third-placed Frankie Dettori-trained favorite Too Darn Hot (in pink, center).Hide Caption 31 of 36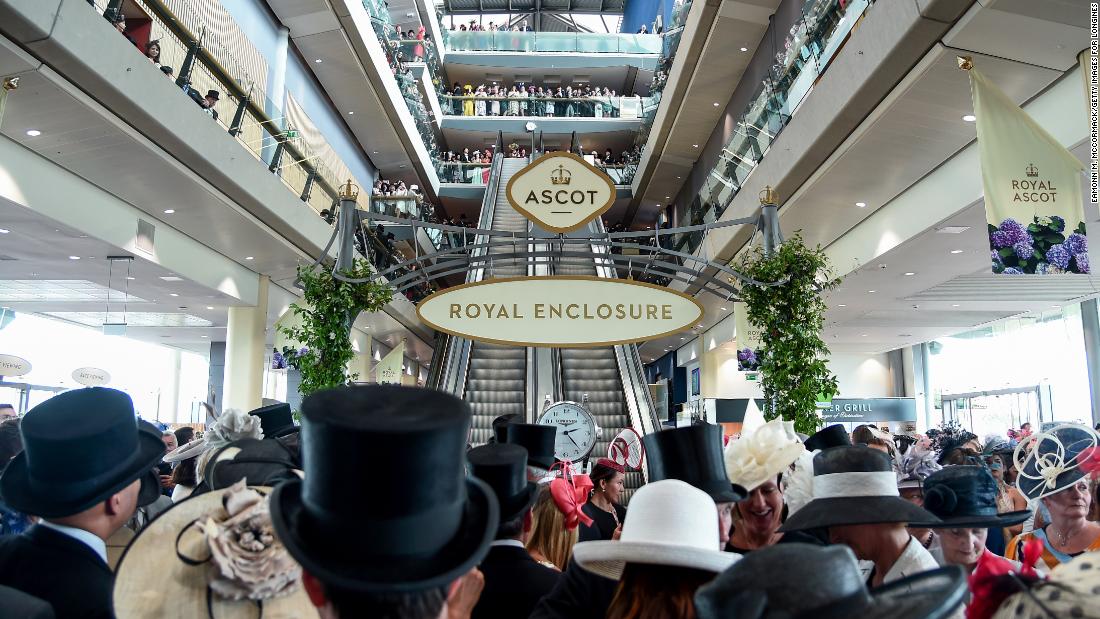 Photos: Royal Ascot imagesThe Royal Enclosure is the high-society place to be seen at Ascot. Hide Caption 32 of 36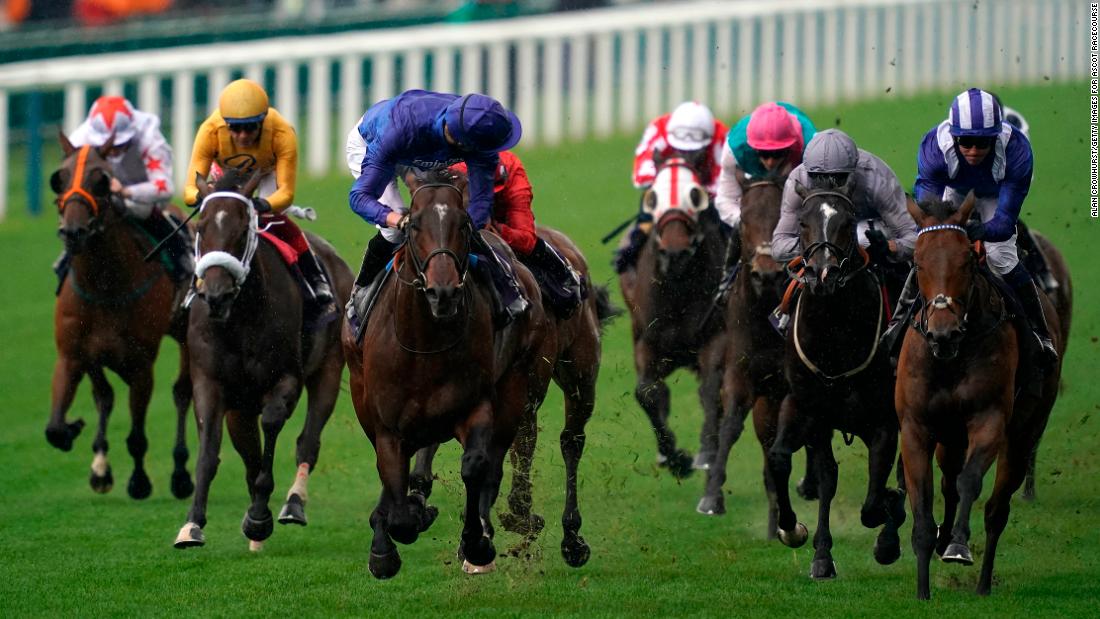 Photos: Royal Ascot imagesJames Doyle rode Blue Point (blue) to win the Group 1 King's Stand Stakes.Hide Caption 33 of 36
Photos: Royal Ascot imagesPunters can bet on the color of the Queen's hat every day.Hide Caption 34 of 36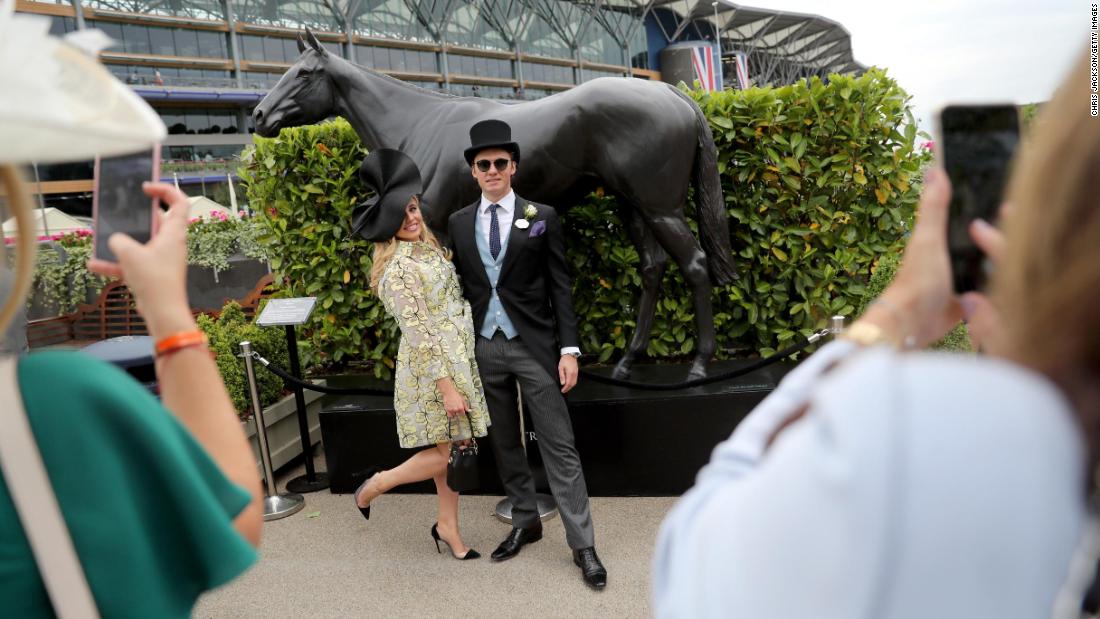 Photos: Royal Ascot imagesAttendees dress up for the occasion. Hide Caption 35 of 36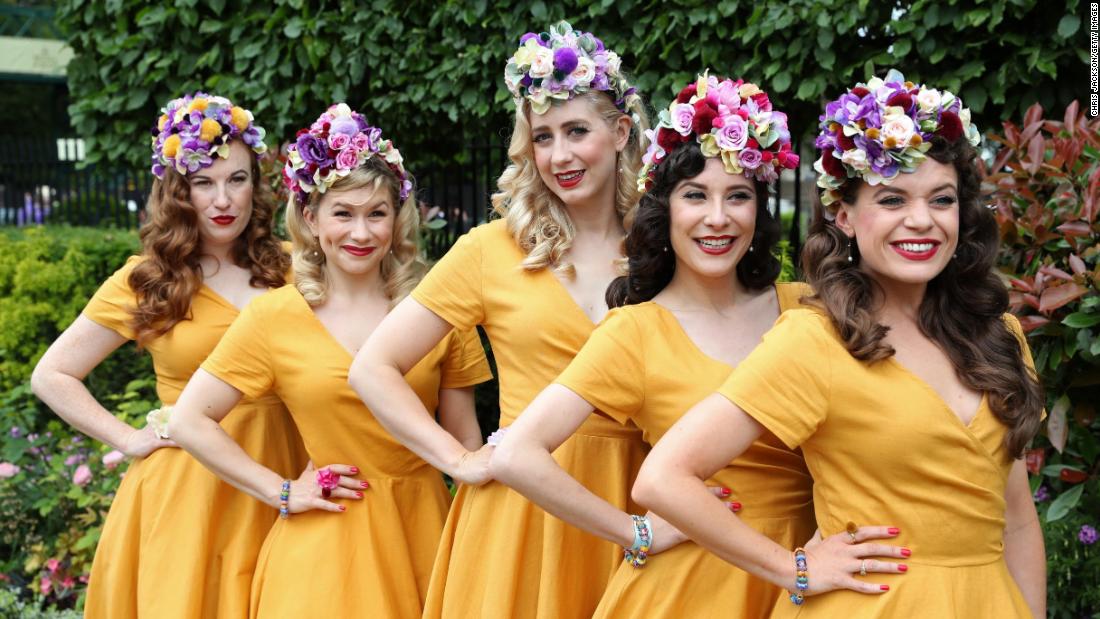 Photos: Royal Ascot imagesMembers of the band 'The Tootsie Rollers' pose ahead of day on at Royal AScot.Hide Caption 36 of 36



































'No buzz to match it'It is, in essence, a sale for those for whom money is no object.Indian billionaire Cyrus Poonawalla has his wealth estimated at about $9 billion, according to Forbes, predominantly through his biotech Serum Institute of India business. But even for him, the secret is not to fall for what he calls "auction fever," an affliction he has repeatedly seen in his five years attending Goffs, fueled by the atmosphere and occasion.The drinks – from fine rose to Pimm's – flow freely and are served by attentive male waiters, most akin to models in their looks, while a band jollies along in the background.
Day three of #RoyalAscot was one for the ages… 🙌 pic.twitter.com/YgZQ1FOuPG
— Ascot Racecourse (@Ascot) June 20, 2019 "The atmosphere is magnificent and the hospitality is excellent," said Poonawalla, the son of a race horse breeder. "We do our homework every year. I'm a professional breeder so I don't get quite so much auction fever. I'm a bit more professional and calm, that's the trick."This time, the Indian leaves without making a purchase, As for Beeby, the buzz is all about the next sale. "I worked at my first sale in 1978 and went full time in 1982 and onto the auction stand in 1985," he said. "I've sold thousands of horses around the world at all levels. Of course, each time here you get nerves but, if I didn't, I'm not doing my job properly. "I enjoy it and it's what I live for. And there's no buzz that matches it."Of course you remember the big wins but also the horse you sold for $15,000 when you expected 10. It's about exceeding expectations."In the luxury stakes alone, Goffs London sale does just that.
Source Link:
https://www.cnn.com/2019/06/26/sport/horse-racing-goffs-sale-london-spt-intl-gbr/index.html
[0.385039]
Comments
comments