(CNN)Last year on the Coachella stage, Beyoncé, the first woman of color to headline the iconic festival, gave a two-hour performance of a lifetime, complete with a marching band and a Destiny's Child reunion. It was so incredible, there's even going to be a Netflix documentary about it.
This weekend, Ariana Grande will become the youngest artist to ever headline the festival. She's also only the fourth woman to do so. Comparisons to her fellow female headliners — and to Beyoncé in particular — will be inevitable. But let's hope not. Look, comparisons can be fun. They're cause for friendly debate, make for clickable blog posts and are easy fodder for online polls. But doing so minimizes the unique contributions of each of these strong women. They represent a trope that has proven as unkillable as some cheesy horror movie villain: that successful women are incapable of supporting and sharing a space with other successful women. "Beyoncé is incredible and so is Ariana Grande," says Enongo Lumumba-Kasongo, a Philadelphia-based rapper best known as Sammus. "So I hope that folks will be smart enough to not buy into [comparisons]."Read MoreEven in this sisterhood-forward culture, there are still corners of society that have yet to get the memo that women don't like and don't want to be pit against each other. Fanning the flamesIt happened to Britney Spears and Christina Aguilera because they were both pretty, belly-baring girls who went from Disney child stars to pop stars vying for "TRL" votes in the late '90s and early '00s. It happened to Kelly Clarkson and Carrie Underwood because they both faced the critiques of Simon Cowell at the start of their careers. And continues to happen to others. Back in the day, Aguilera and Spears tried to stomp out the feud rumors.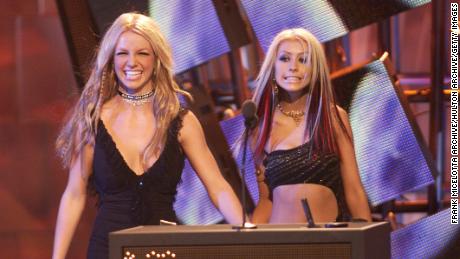 Britney Spears and Christina Aguilera at the 2000 MTV Video Music Awards"It's really sad to see that some tabloid magazines still have to manufacture ill will between Britney and me," Aguilera said in a post on her website in 2005. "If certain journalists want to throw their integrity out the window by spreading false information, then so be it. But I'm not falling for their lies and neither should my fans or Britney's."Still, one tabloid blazed on its cover, "Britney vs Christina: Why they're still trying to be the sexiest!" This was in 2011. Times are changing. Last year, country singer Kelsea Ballerini lambasted an online poll that asked people to vote for the female artist they were most looking forward to seeing perform at an award show, saying the "simple and seemingly harmless" question actually does female artists a disservice. "It makes us feel like there's only one spot available," she said in a lengthy Instagram post. "This isn't 'Mean Girls,' this is country music. Where you actually CAN sit with us."With her statement, Ballerini also hit on an idea that women everywhere are increasingly subscribing to: You don't have to cutdown one women in order to compliment another.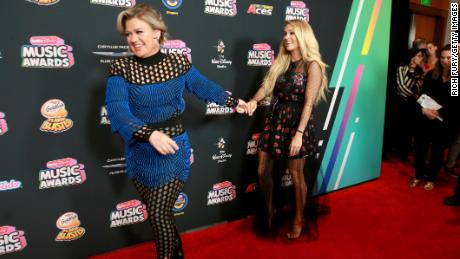 Kelly Clarkson and Carrie Underwood at an event in 2018Clarkson and Underwood similarly stood their ground when a Twitter poll asked which former "American Idol" winner was "most iconic." "I think we're both winning in life and pretty blessed," Clarkson said on Twitter. Underwood added: "I do wish more publications would just celebrate women's success without pitting them against each other…Just my thoughts." Not all feuds are inventions of the media or fueled by fans. Take, for instance, the seemingly real animosity between Cardi B and Nicki Minaj, which came to blows at a New York Fashion Week party last year. Before the women made peace, the exploitation of their conflict didn't sit well with writer El Hunt at NME, who wrote, "when we see high-profile 'beef' unfolding between female stars, the most common cause, we're told, must be envy."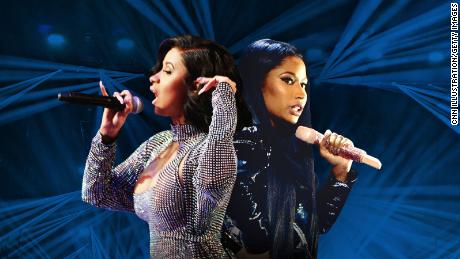 "While their male counterparts trade blows and quips as part of a wider tradition, we're told that women bitch about one another, and get into petty scraps," she wrote. "We decide they must just hate each other, and look on with glee to see who will triumph."In the hip-hop genre, Lumumba-Kasongo, who is also a PhD student at Cornell, says healthy competition can "drive innovation in the art form." However, when female hip-hop artists are seen as competitive or possess a healthy ego about their skills, "it's always framed as kind of cattiness."Different stakesMale artists get compared to one another, too — as boy bands and every "white guy with a guitar" who's ever competed on "American Idol" can attest. But the challenges facing male artists are vastly different than those facing women in the music industry.Male musicians aren't being told to "step up" so they can have the honor of being recognized by their industry. Their magazine profiles don't start with descriptions of their bodies and go on to demean their peers. They're not looking at festival lineups and noticing a stark imbalance. "This idea that only one woman can exist in a space is something that's institutionalized," Lumumba-Kasongo says. "We wouldn't have this pitting of women against each other if there were multitudes of slots for women to be parts of these spaces." If women had equal representation at, for example, festivals, she says, the tendency to make female artists feel like they're vying for a precious few slots "wouldn't become an automatic part of the conversation.""It's continuously, 'well, we've got our women artists, so check.' So, of course, every year, whoever is in that position is going to be compared to the person who was in that position the year prior," she said. Lumumba-Kasongo, who will release a new album later this year, says she finds social media and general camaraderie to be a useful tools in fighting false narratives about her and her fellow female artists."[It] might not work in a way that's easy to quantify, but I do feel like it pushes the culture forward when people see, you know, an Ariana Grande and a Nicki Minaj hanging out or Beyoncé and a Rihanna being in the same area," she says. "That changes the conversation."
BEYONCE
— Ariana Grande (@ArianaGrande) February 4, 2013 Grande and Beyoncé seem to share admiration for each other. Grande pointed to Destiny's Child as a musical inspiration in a V magazine article in 2014, saying "That's where I discovered my range. I grew up listening to Destiny's Child. I would try so hard to mimic all Beyoncé's little runs and ad-lib things. They are so precise. It's like math….Thank you, Destiny's Child!"Beyoncé, meanwhile, once included Grande on a curated playlist in honor of her own birthday, comprised of what Queen B called "some of the great musical talents born in the month of June."Accomplished in her own right, Grande is Billboard's Woman of the Year and notched her fourth No. 1 album in February, but it didn't take long for a competition between the two to be teed up when she was announced as the 2019 headliner for Coachella.There's no denying that on stage last year, Beyoncé gave a spectacle of sound, a layered masterclass on black culture and a show that some will say cannot possibly be topped in our lifetimes. The beauty is, whatever Grande decides to do when she takes the stage at Coachella will be a creation all her own, truly comparable only against her other performances. It's past time for a notable change in how women are written and talked about as performers. Enough with fostering animosity between powerful, successful women. It leaves a bitter taste — you know, something akin to lemonade without sweetener.
Source Link:
https://www.cnn.com/2019/04/13/entertainment/ariana-grande-coachella/index.html
[0.370399]
Comments
comments