(CNN)The US Olympic Committee is once again being accused of ignoring reports of sexual assault at the expense of female athletes. This time, two American taekwondo legends are at the center of the lawsuit.
Four women who trained with Olympic gold medalist Steven Lopez and his brother, former Team USA coach Jean Lopez, accused the pair of assault, rape and other misconduct in a federal lawsuit filed Friday in Denver, Colorado.The class-action lawsuit accuses USOC and USA Taekwondo of knowingly participating in sex trafficking by allowing the Lopez brothers to sexually abuse the plaintiffs and numerous other young women as they traveled around the world — representing and enriching the two organizations in the process. "Much like a pimp who traffics women for money, the USOC was trafficking its athletes to known sexual abusers for money and medals," said attorney Rex Sharp, one of three lawyers representing the four women named in the lawsuit, along with 44 similarly situated Jane Does who have yet to be identified.In response to the lawsuit, the US Olympic Committee said that it is "aggressively exploring and implementing new ways to enhance athlete safety, and prevent and respond to abuse." Read MoreThe Lopez brothers did not respond to CNN's request for comment. They denied allegations of sexual abuse in 2017 when USA Today reported on the allegations, leading the plaintiffs to also sue them for defamation. The women are seeking damages to be determined at trial.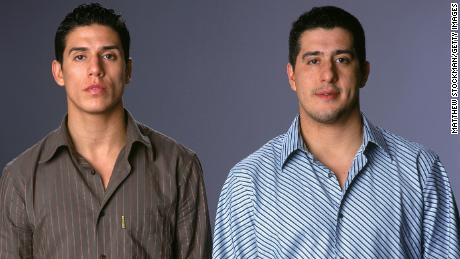 Taekwondo star Steven Lopez, left, poses with his brother and coach Jean Lopez in 2004.Fears of retaliationWith the lawsuit, USA Taekwondo joins a growing list of USOC-controlled national sports teams accused of giving a pass to suspected serial predators, along with gymnastics and swimming. USA Taewkondo said it is reviewing the claims and that it would be "inappropriate" to comment on a pending legal matter. The complaint comes a month after the USOC permanently banned Jean Lopez from participating in USOC-related events after an investigation found him responsible for sexual misconduct. The investigation was conducted by an independent nonprofit chartered by the USOC, the US Center for SafeSport.Three plaintiffs in the lawsuit, Mandy Meloon, Heidi Gilbert and Gabriela Joslin, participated in the investigation that led to Jean Lopez's ban. Gilbert and Joslin said they made those reports in 2015, before the 2016 Rio Olympics Games. Both brothers were allowed to participate in the games while the investigation was pending, the lawsuit said.
Aly Raisman sues US Olympic Committee and USA Gymnastics"By shielding Jean while simultaneously attacking his accusers, the USOC and USA TKD ratified Jean's criminal acts and signaled to all female athletes that the rape culture of Team USA was acceptable behavior to which all female athletes had to submit."As a sign of its good faith efforts, the USOC pointed to its creation of the group that completed the investigation, US Center for SafeSport.But the plaintiffs allege that Jean Lopez's sanction came only after a new law took effect this year that gives survivors more latitude to file trafficking lawsuits.The lawsuit alleges that the Lopez brothers were known in the taekwondo community to take a sexual interest in young athletes. But complaints about the brothers to USOC and USA Taekwondo went nowhere, the lawsuit claims. Meanwhile, their accusers said they suffered career consequences for raising concerns, such as being dropped from the USOC roster or losing the opportunity to train with "the first family of taekwondo," as the Lopez family is known. "Anything or anyone that gets in the way of this commercial quest for 'medals and money' is silenced, obstructed, defamed, or intimidated into keeping quiet."'The sexual exploitation … was not a secret'Plaintiff Mandy Meloon was 13 in 1994 when she moved to the USOC-owned Olympic training center in Colorado Springs, Colorado, at the committee's invitation, the lawsuit says. In fall 1994, while Jean Lopez was captain of the Men's National taekwondo team, he traveled with Mandy and the team to Korea. On this trip, he insisted Mandy sit on his lap and give him massages, the lawsuit says. He would massage her and referred to her as his "girlfriend" in front of members of the national team. He told other team members that she was pregnant with his child, the lawsuit says.During the 1997 World Cup in Cairo, Egypt, when Meloon was 15, he climbed into her bed and digitally penetrated her while she pretended to be asleep, the lawsuit says. Another athlete, Kay Poe, was in the room with Meloon at the time. In 1996, at age 14, Poe became the youngest-ever member of the United States National Taekwondo team.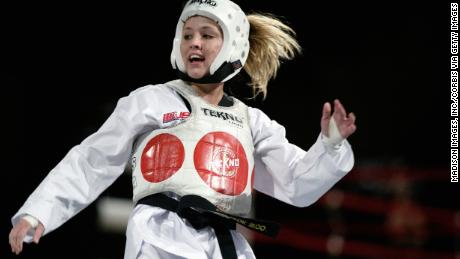 Kay Poe competes in the 2003 Titan Games. The lawsuit claims that Jean Lopez forced a sexual relationship with Poe while she was still a minor. When she was 17, he allegedly had sex with her at the 1999 World Championships in Alberta, Canada — conduct that qualifies as rape under Canadian law, which holds a 17-year-old cannot consent to sexual activity with a partner in a position of trust or authority."The sexual exploitation of Kay by Jean was not a secret and became common knowledge in the USA TKD community," the lawsuit claims. Poe is not listed as a main plaintiff but her account is included as part of the class-action complaint.Allegations of drugging and assaultPlaintiff Heidi Gilbert was an adult when she competed on Team USA at the 2003 World Championships in Germany. After competing, she attended a party where Jean Lopez was sexually aggressive — "grabbing her, grinding his body into hers, and making inappropriate sexual comments," the lawsuit says. At some point, she believes he drugged her and she nearly passed out.Jean Lopez got in a taxi alone with her and began to touch her through her clothing, the lawsuit says. When they reached a hotel, she recalls him pulling down her pants, digitally penetrating her vagina and performing oral sex on her. She recalled waking up on the floor of a common area with her pants unfastened.On the plane ride back to the United States, he told Gilbert that he regretted marrying his wife and wanted to have "Olympic babies" with her, the lawsuit says.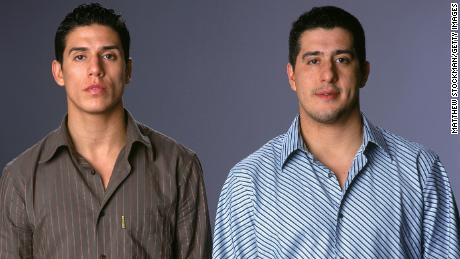 Taekwondo star Steven Lopez, left, poses with his brother and coach Jean Lopez in 2004.Gilbert had at least one encounter involving Steven Lopez, the lawsuit says. In April 2003, when he met her at the Houston airport, he refused to drive her home until she performed oral sex, the lawsuit claims.The lawsuit claims that Gilbert suffered a variety of physical and mental symptoms as a result of her experiences with Lopez brothers during events sponsored by USOC and USA Taekwondo. Complaints dismissedA few years after the alleged incident in Cairo, Meloon moved to Texas to train at the Lopezes' club, Elite Taekwondo, in Texas. In 2000, starting when she was 18, she began to have a sexual relationship with Jean's brother, Steven Lopez, the lawsuit says.According to the lawsuit, Steven Lopez started to physically abuse Meloon in early 2002, and rape her in 2004. In April 2005, while they were traveling as part of the USOC Taekwondo delegation at the World Championships in Madrid, Spain, he assaulted and battered Meloon in their hotel, breaking her ribs, the lawsuit claims. Jean Lopez was aware of the incident, the lawsuit states. Shortly afterward, she began to date other men. "As a result, at the direction of Jean Lopez, Mandy was dropped from the national team," the lawsuit states.In 2006, she submitted an official written grievance to the USOC and USA Taekwondo detailing her allegations against the brothers, including the case number of a police report accusing Steven Lopez of breaking into her home, the lawsuit claims. She tried to get on the USOC roster for the 2007 Taekwondo World Championships.According to the lawsuit, David Askinas, then CEO of USA Taekwondo, concluded that her allegations "weren't credible," and that there was no reason to interfere with the decision to keep Meloon off the team roster. Askinas did not respond to CNN's request for comment.Meloon pursued arbitration in an attempt to be reinstated to the national team, but she was unsuccessful. Askinas told her she could be a member of the 2008 Olympic team if she withdrew her complaint against Jean Lopez, the civil suit says. In retaliation, Jean Lopez selected another athlete for the USOC Taekwondo team in the 2008 Olympics in Beijing, the lawsuit says. Shortly after USA Taekwondo submitted its proposed athletes to the USOC for the 2008 Olympics, USA Taekwondo expelled Meloon from USA Taekwondo, the plaintiffs claim.She quit the sport and, like Gilbert, suffered a range of mental and physical symptoms, including post-traumatic stress disorder, the lawsuit claims. 'Groomed, conditioned, and trained to trust her coaches'Plaintiff Gabriela Joslin started training with Jean Lopez in 2006 when she was in her early 20s. She planned to attend the 2006 German Open as an Olympic hopeful, the lawsuit claims.The night before her first match, Steven Lopez visited her hotel room under the pretext of discussing the match and sexually assaulted her, the lawsuit claims. "Gaby then continued to allow Steven to have sexual intercourse with her for the remainder of her career in taekwondo, out of fear of the Lopez brothers and in particular, to Jean, who made it clear to her that she was to 'cater to Steven,'" the lawsuit says. "Gaby was groomed, conditioned, and trained to trust her coaches and, in particular, Steven Lopez, who was a 'demigod' in taekwondo; Gaby felt she could "not say 'no' to him."As an adult, she began a sexual relationship with Jean Lopez, the lawsuit says. He told her he was separating from his wife, and she paid for furnishings for his apartment, as well as some of his business and travel expenses.Then, in late 2011, he violently raped her, the lawsuit claims. The rape led to an ectopic pregnancy, and she decided to have an abortion. Allegations of trafficking for 'money and medals'The lawsuit seeks relief under Protecting Young Victims from Sexual Abuse and Safe Sport Authorization Act, which includes the Trafficking Victims Protection Act. Violations of TVPA include forcing someone into labor or sexual services and knowingly benefiting from such forced labor or services.Each of the defendants benefited financially or otherwise from exploiting the women and forcing them into sexual acts, the lawsuit claims."As a condition of representing the United States on the US Olympic team, the USOC forced athletes to participate in competitions, giving predator coaches like Jean Lopez and athletes like Steve Lopez an opportunity to sexually assault these young females," said the plaintiffs' lawyer, Jon Little. "The USOC knowingly trafficked these girls to obtain medals and money, time and again."
Source Link:
https://www.cnn.com/2018/05/07/us/taekwondo-lopez-brothers-lawsuit/index.html
[-0.546739]
Comments
comments