(CNN)A crippling drought in the western US is dropping the water level at Lake Mead and the Hoover Dam to a historically low level, putting pressure on the region's drinking water supply and the dam's electric capacity.
By Thursday, Lake Mead's water level is expected to sink to the lowest it's been since it began filling during construction of the Hoover Dam, according to Bureau of Reclamation spokeswoman Patricia Aaron.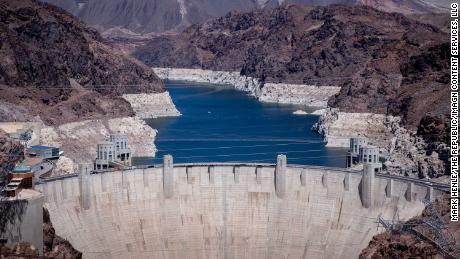 First-ever Colorado River water shortage is now almost certain, new projections show"Lake Mead will most likely hit elevation 1,071.61 (feet) on Thursday, June 10. That will match the previous lowest elevation on record since the 1930s," Aaron said.Lake Mead and the Hoover Dam straddle the Arizona-Nevada state line along the Colorado River, about 35 miles southeast of Las Vegas. The river provides drinking water to Arizona, Nevada, and part of Mexico. The dam generates electricity for parts of Arizona, California and Nevada.While the lake's water level is expected to reach a new low this week, it won't be the bottom. "We anticipate the elevation of Lake Mead to continue to decline until November 2021," Aaron said.Read More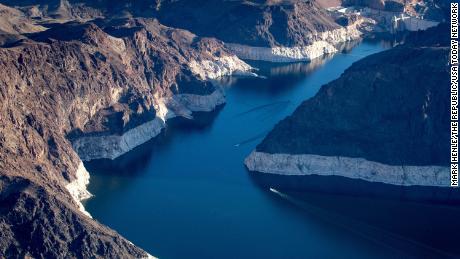 Hoover Dam and Lake Mead on Tuesday, May 11. A high-water mark or bathtub ring is visible on the shoreline.Parts of the West and the Intermountain West have been in near continual drought conditions for decades. The Intermountain West is the area between the Rocky Mountains and Cascade Mountains in the Pacific Northwest and the Sierra Nevada Mountains in California. "Some years are better than others and not in all places at all times, but the region has never fully recovered with enough rainfall and snowfall to erase the deficit," CNN meteorologist Brandon Miller said. Miller described the drought as a "vicious cycle" in which dry land leads to less evaporation, which leads to fewer clouds and more sun, which equals more heat and evaporation. "Climate change is clearly playing a role, as recent years have all been among the hottest in history. The warmer temperatures are driving that vicious cycle, and making it harder for normal or even above average rainfall years to make a dent in the drought," Miller said. "When one or two below average rainfall/snowfall years occur, as we have just seen, the results are disastrous."As the water in Lake Mead drops, so does the dam's electrical output. Hoover Dam usually produces about 2,074 megawatts, according to the Western Area Power Administration. That's about enough electricity for nearly 8 million people. Tuesday's capacity is 1,567 megawatts, a drop of about 25%. "Every foot of lake level decline means about 6 (megawatt) of lost capacity," Aaron said.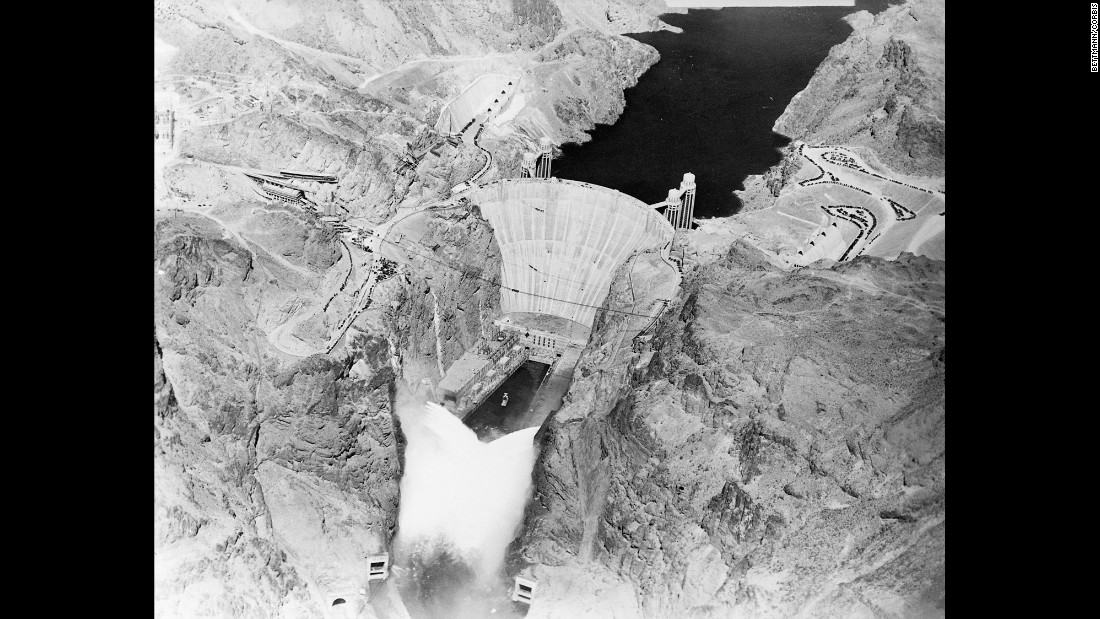 Photos: Building Hoover Dam: A wonder of engineeringIt was September 1935 when President Franklin D. Roosevelt dedicated the massive Hoover Dam, a marvel of modern engineering when it was completed in a remote, unforgiving desert during the Great Depression. By harnessing the mighty Colorado River, the concrete structure on the Arizona-Nevada border provided electricity to the Southwest, helped irrigate 2 million acres and fueled the development of Los Angeles, Las Vegas and Phoenix. Here's a look at the dam and its construction.Hide Caption 1 of 11
Photos: Building Hoover Dam: A wonder of engineeringThis image shows Black Canyon on the Colorado River before work started. During construction, the water was diverted around the dam site through four 50 feet in diameter tunnels, drilled through the canyon walls on each side of the river. Damming of the river created Lake Mead, now a popular recreation spot for boaters.Hide Caption 2 of 11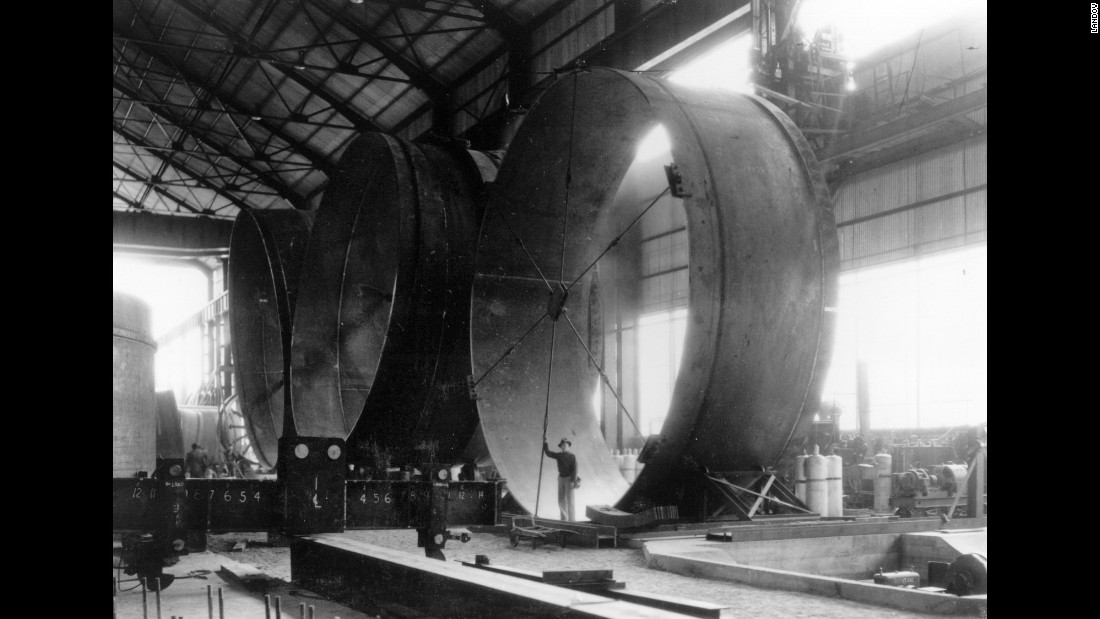 Photos: Building Hoover Dam: A wonder of engineeringA man stands inside part of one of the dam's enormous turbines. Construction of the dam took less than five years and was completed in 1936. The American Society of Civil Engineers named Hoover Dam one of "Seven Modern Civil Engineering Wonders" in 1955, along with such landmarks as the Empire State Building and the Panama Canal.Hide Caption 3 of 11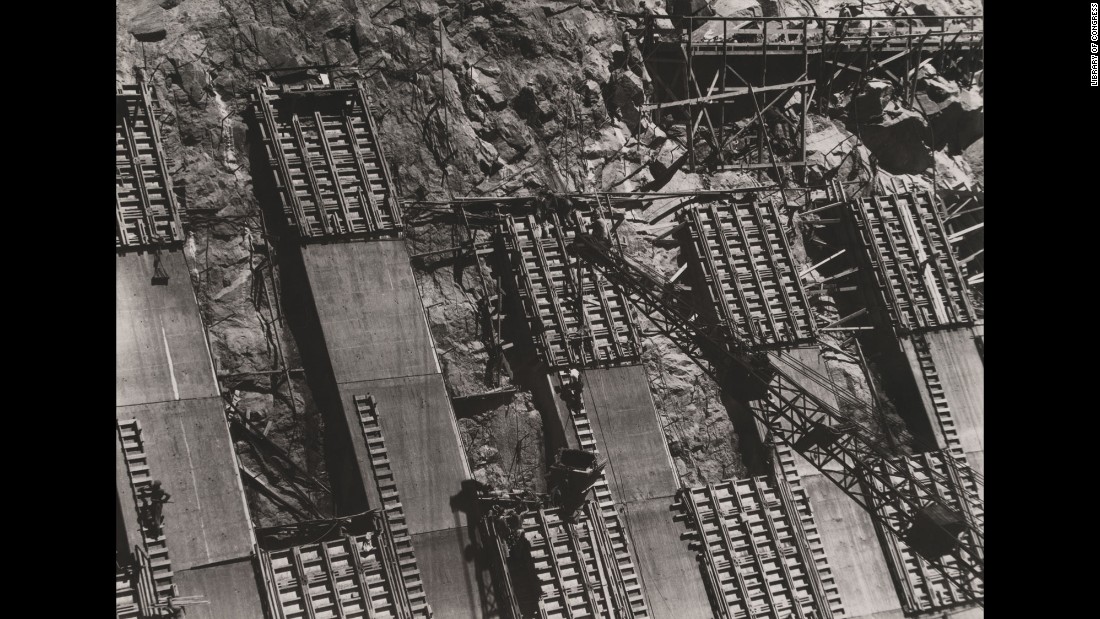 Photos: Building Hoover Dam: A wonder of engineeringThe dam was built in vertical columns of blocks that varied in size from about 60 feet square at the upstream face of the dam to about 25 feet square at the downstream face. An estimated 215 blocks make up the dam. Adjacent columns were locked together, like a giant Lego set, by a system of keys.Hide Caption 4 of 11
Photos: Building Hoover Dam: A wonder of engineeringA Union Pacific Railroad train, carrying sections of the dam's steel gates, pulls out of Los Angeles en route to the dam site. Each gate section weighed about 36 tons, and when an entire gate was assembled it weighed 2,880 tons. Hide Caption 5 of 11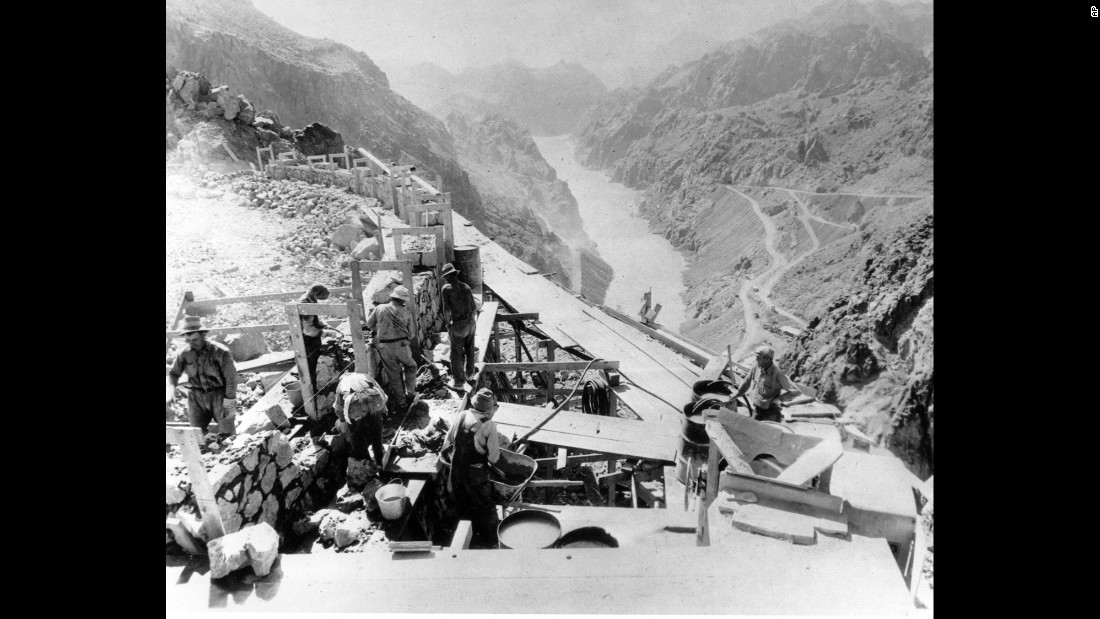 Photos: Building Hoover Dam: A wonder of engineeringWorkers in 1932 construct a retaining wall to support the road leading over the top of the dam. Before the dam could be built, the government had to create a town, Boulder City, to house construction workers; build a seven-mile paved highway from Boulder City to the dam site; and construct 33 miles of railroad from the Union Pacific main line in Las Vegas.Hide Caption 6 of 11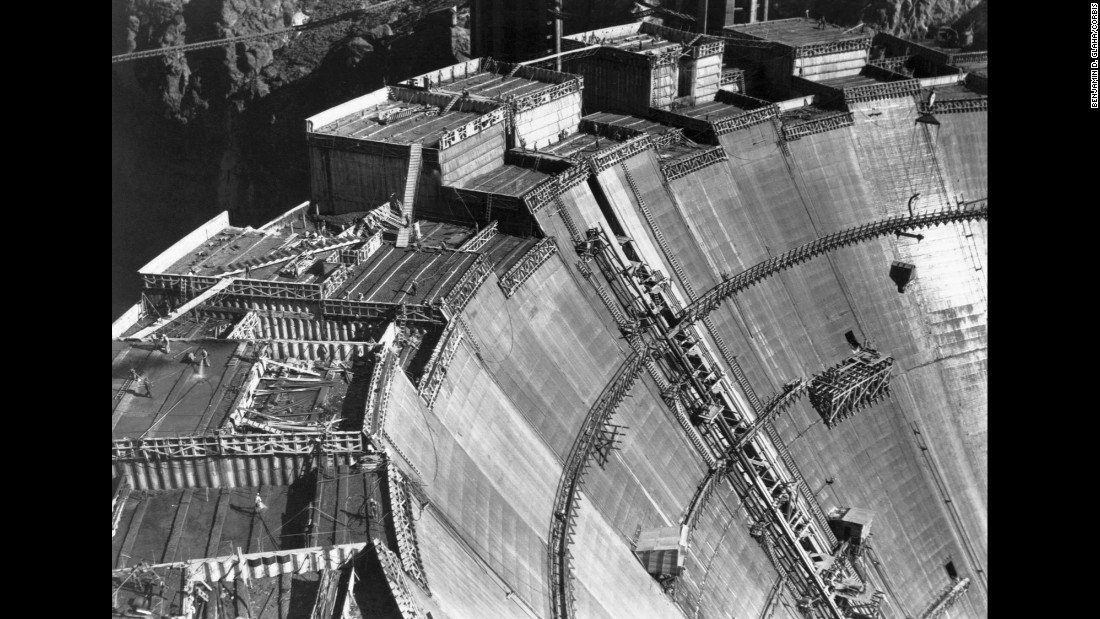 Photos: Building Hoover Dam: A wonder of engineeringWhen Hoover Dam was finished, it was the tallest dam in the world at 726 feet, although that record has since been eclipsed. The dam weighs more than 6.6 million tons and contains enough concrete to build a two-lane road from Seattle to Miami.Hide Caption 7 of 11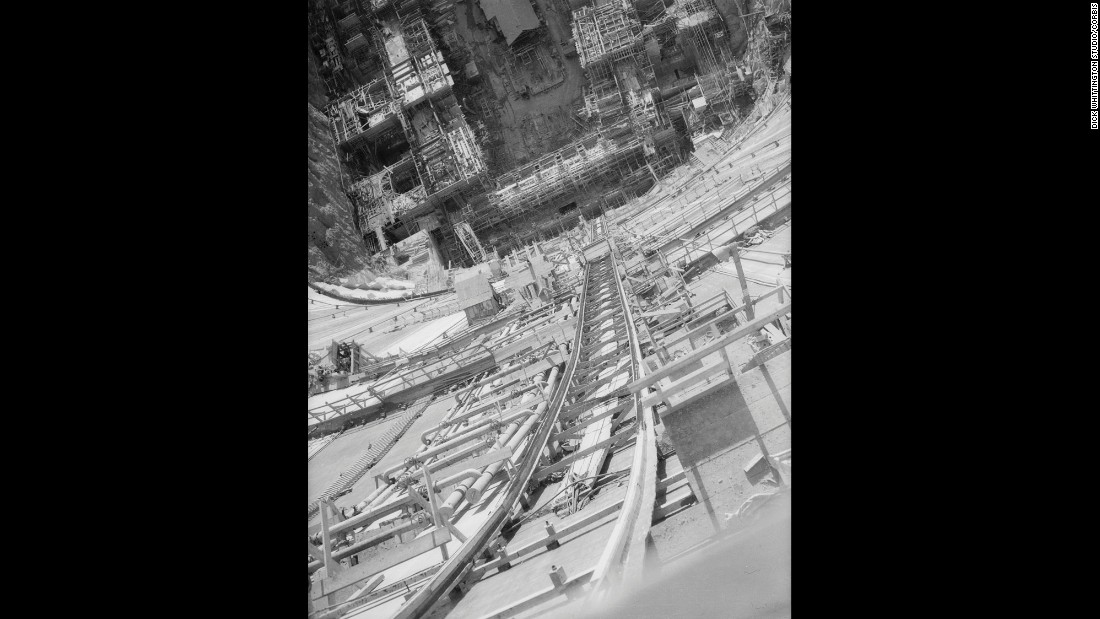 Photos: Building Hoover Dam: A wonder of engineeringIn its planning stages the dam was known as Boulder Dam after its original location, Boulder Canyon. But at a ceremony in 1930, Secretary of the Interior Ray Wilbur called it Hoover Dam, citing a tradition of naming dams after US presidents. Many Americans used both names interchangeably until 1947, when Congress passed legislation officially restoring the name to Hoover Dam.Hide Caption 8 of 11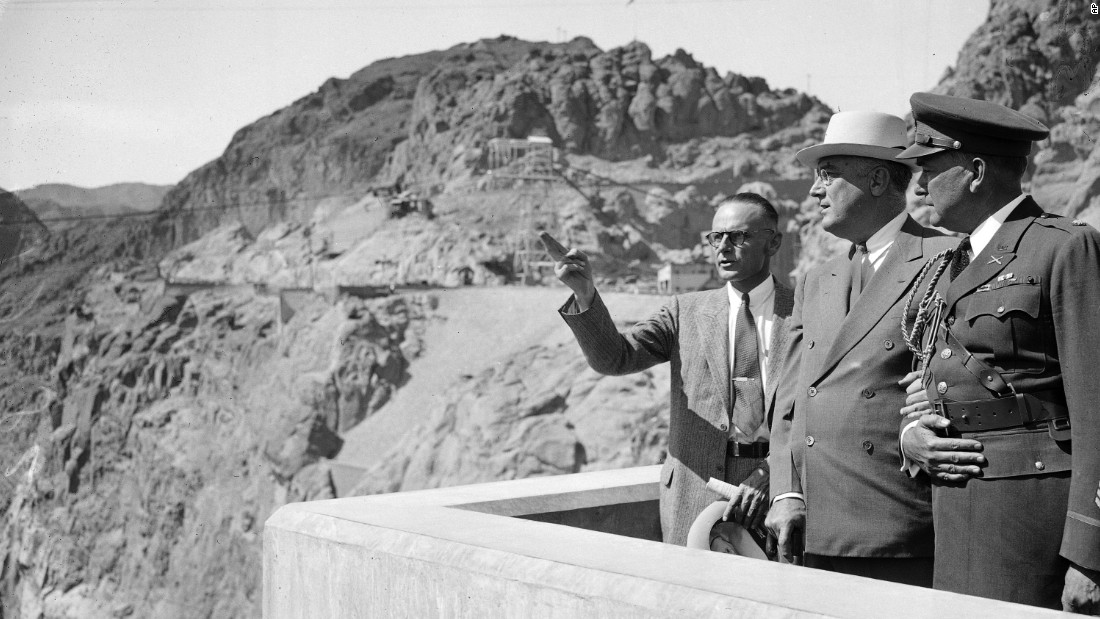 Photos: Building Hoover Dam: A wonder of engineeringPresident Franklin D. Roosevelt views the dam for the first time at its dedication on September 30, 1935. At left is Walker Young, who was in charge of the project for the US Bureau of Reclamation. At right is a military aide to the President.Hide Caption 9 of 11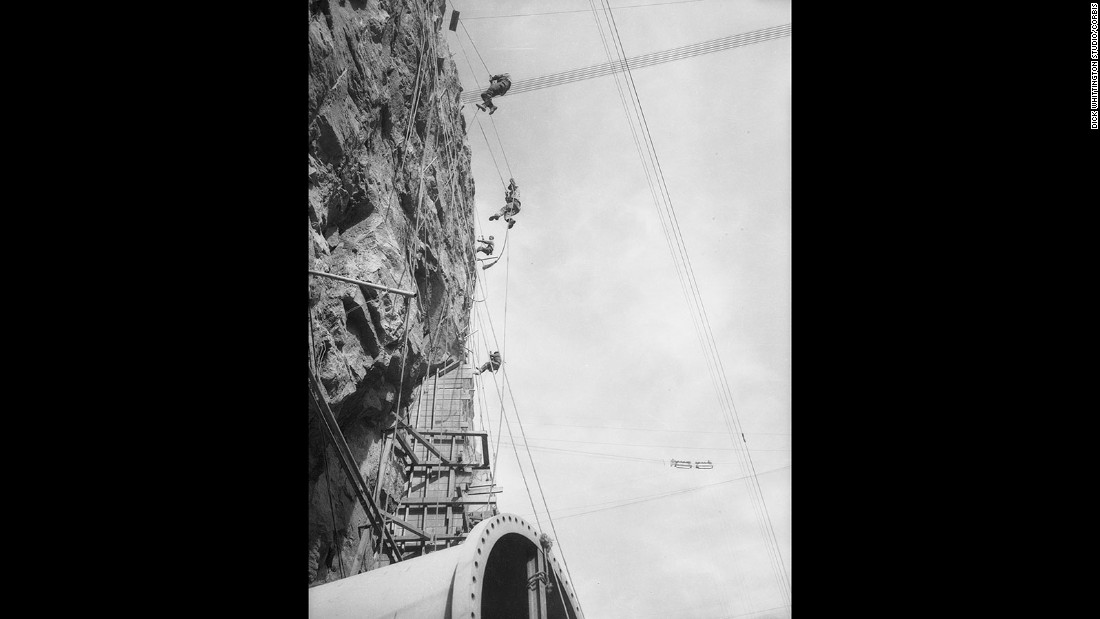 Photos: Building Hoover Dam: A wonder of engineeringWorkers rappel down a rock face during construction, which was often hazardous. A total of 21,000 men worked on the dam. Of those, 96 died at the dam site from falls, drowning, blasting, falling rocks, being struck by heavy equipment, truck accidents and other causes, according to the Bureau of Reclamation.Hide Caption 10 of 11
Photos: Building Hoover Dam: A wonder of engineeringHoover Dam's water-intake towers rise 395 feet in the air. Through these towers flows the water that operates the dam's huge generators. The dam generates, on average, about 4 billion kilowatt-hours of hydroelectric power each year for use in Nevada, Arizona and California — enough to serve 1.3 million people. The dam itself is a major tourist attraction, attracting nearly 1 million people for tours each year.Hide Caption 11 of 11











With no relief in sight, officials are planning for another unprecedented declaration in August, which is when operating conditions are set for the following year. It's likely a Level 1 Shortage Condition will be declared for 2022 for Lake Mead, Aaron said, meaning surrounding states will have to implement water-saving measures.Arizona Department of Water Resources Director Tom Buschatzke said the planned drop in water coming from Lake Mead next year will be "painful," but the department is already working on contingency plans."While we may have less water coming to Arizona from the Colorado River in 2022, Arizona's water managers and suppliers have been taking measures to prepare and will continue to work to ensure the river remains stable for generations to come," Buschatzke said.CNN has reached out to the Nevada Department of Conservation and Natural Resources about its planning for future water needs.
Source Link:
https://www.cnn.com/2021/06/08/weather/hoover-dam-lake-mead-water-level-drought/index.html
Bad Request
Your browser sent a request that this server could not understand.
Size of a request header field exceeds server limit.
Comments
comments