(CNN)In 2017, the idea of Kim Jong Un meeting with US President Donald Trump and South Korea's Moon Jae-in would've been unthinkable.
North Korea test-fired more than 20 missiles, including three it claimed were capable of reaching the United States, and their most powerful nuclear weapon to date. Experts said the Kim regime was dangerously close to developing the capability to hit major US cities with a nuclear weapon, if it didn't have it already. However, the winds shifted in 2018 beginning with Kim's New Year speech, in which he wished his southern neighbors good luck in hosting the Winter Olympics in Pyeongchang.President Moon took that olive branch and ran with it, inviting North Korea to attend and participate in the Games.Here's how the diplomatic rapprochement unfolded. Jan-1 January 1, 2018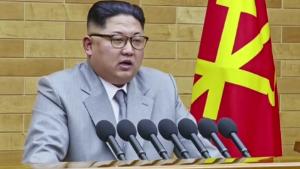 North Korea's Kim Jong Un offers talks over sending a delegation to the Winter Olympics in New Year address
Jan-3 January 3, 2018
North Korea calls South Korea via a hotline on the DMZ for the first time in almost two years
Jan-9 January 9, 2018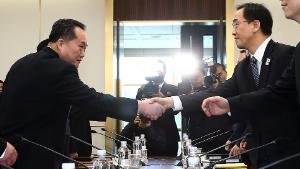 North Korea agrees to send a delegation to the Winter Olympics in first bilateral talks since December 2015
Feb-11 February 11, 2018
Kim's sister, Kim Yo Jong, meets South Korea's Moon Jae-in during the Olympics and issues a formal invitation to Moon from her brother to travel to North Korea
Feb-23 February 23, 2018
President Trump announces new sanctions against North Korea that target the country's shipping, trading companies and vessels
Mar-6 March 6, 2018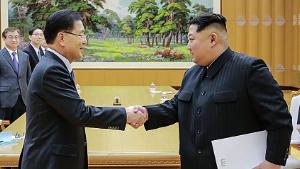 South Korean officials visit Pyongyang, where leader Kim says the regime is willing to talk to the US about giving up nuclear weapons.
Mar-8 March 8, 2018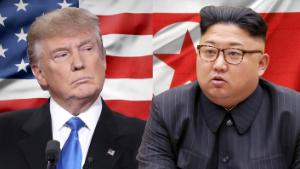 US President Donald Trump agrees to meet with Kim after South Korean officials deliver invitation in wake of their visit to Pyongyang
Mar-27 March 27, 2018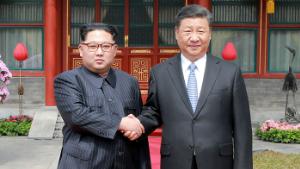 Kim makes first foreign visit to Beijing to meet with President Xi Jinping, Chinese and North Korean state media report
Apr-17 April 17, 2018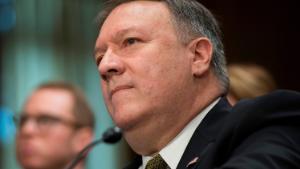 CIA Director Mike Pompeo made a secret trip to North Korea and met with Kim over Easter, sources tell CNN
Source Link:
https://www.cnn.com/2018/04/26/asia/north-korea-summit-how-we-got-here-intl/index.html
[-0.17103]
Comments
comments