What do New York City Mayor Bill de Blasio and Sen. Kirsten Gillibrand (D-N.Y.) have in common with nearly 20 U.S. Immigration and Customs Enforcement (ICE) special agents?
They all think ICE should be disbanded and its work handled by a different, more capable agency.
"ICE's time has come and gone," de Blasio told WNYC's Brian Lehrer in an interview Friday morning.
"We should abolish ICE," he added. "We should create something better, something different."
Last week, a group of 19 special agents who oversee ICE's Homeland Security Investigations unit sent a letter to Homeland Security Secretary Kirstjen Nielsen, requesting she spin HSI off from ICE and establish "two separate and independent agencies."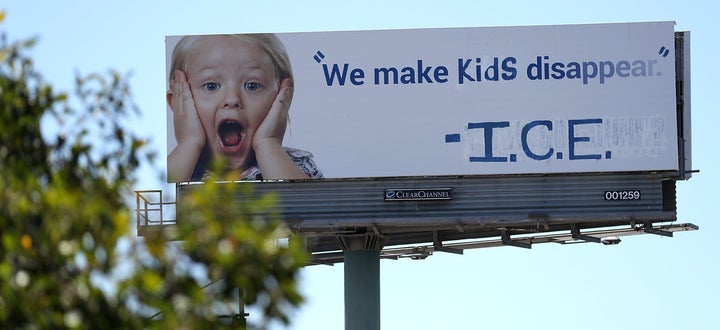 Justin Sullivan via Getty Images A vandalized billboard in Emeryville, California, shows a message protesting ICE's forcible separation of children from their parents if they're caught trying to enter the U.S. from Mexico.
De Blasio joins a small, yet rapidly growing contingent of lawmakers, including Sen. Kirsten Gillibrand (D-N.Y.), who on Thursday became the first sitting senator to call for the end of ICE.
On Monday, Rep. Mark Pocan (D-Wis.) said he'll introduce a bill that would abolish the agency. Pocan reached the conclusion after visiting a child detention center in Brownsville, Texas, late last week.
"ICE is tearing apart families and ripping at the moral fabric of our nation," Pocan said in a statement explaining the impetus for his bill. "Unfortunately, President Trump and his team of white nationalists, including Stephen Miller, have so misused ICE that the agency can no longer accomplish its goals effectively."
Source Link:
https://www.huffingtonpost.com/entry/bill-deblasio-kirsten-gillibrand-abolish-ice_us_5b3640e4e4b08c3a8f69b33f
[-0.516403]
Comments
comments