Ilsan, near the DMZ, South Korea (CNN)Kim Jong Un has declared "a new history begins now" after shaking hands with South Korean President Moon Jae-in at the start of a landmark peace summit.
Kim became the first North Korean leader to step into South Korean territory since 1953 on Friday morning, crossing the line that separates the two Koreas at the demilitarized zone (DMZ) in a highly choreographed moment that was beamed live to the world. He was greeted by President Moon before walking along a red carpet to the Peace House for the first meeting between the leaders of the divided Koreas since 2007.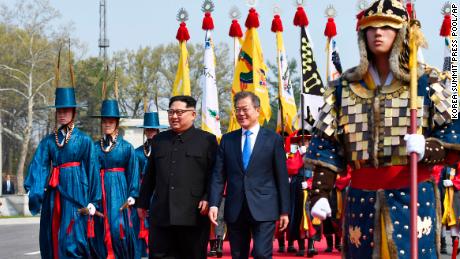 North Korean leader Kim Jong Un, left, and South Korean President Moon Jae-in walk together at the border village of Panmunjom Friday.The two leaders appeared at ease, smiling and talking, and on entering the Peace House Kim signed a guest book, where he wrote "a new history begins now" and "an age of peace, at the starting point of history."Kim and Moon have a full day of talks that are expected to focus on three subjects with worldwide implications — the denuclearization of the Korean Peninsula, a peace settlement and the improvement of bilateral relations.Read MoreThe pair ended the first session of talks at about midday local time, with Kim Jong Un returning to the North side of the border to eat lunch, driven in a limousine surrounded by a dozen security guards. Negotiations will resume in the afternoon.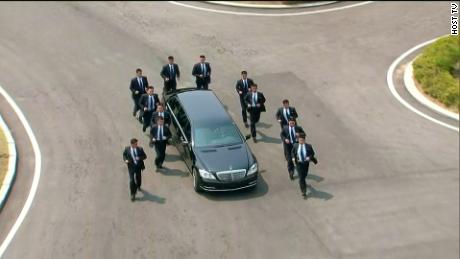 A black vehicles surrounded by security guards shuttles Kim Jong Un back to the North Korea side of the DMZ for lunch .Kim: Why was it so difficult to get here?Sitting at the oval table before the talks began, Kim said he wanted to write a new chapter in Korean relations.
Source Link:
https://www.cnn.com/2018/04/26/asia/kim-jong-un-moon-jae-in-korea-summit-intl/index.html
[0]