Julián Castro is one of 10 presidential candidates taking part in a Democratic debate at 8 p.m. ET Wednesday, July 31, on CNN. Ten others will debate on Tuesday evening. Castro is the former secretary of housing and urban development under President Obama and mayor of San Antonio, Texas. The views expressed are his own. View more opinion articles on CNN.
(CNN)"Look around," the school official said in a stern voice, almost daring the assembled crowd of incoming sixth-grade students and parents. It was the summer of 1986, and I was sitting in a hot auditorium with my mother and my brother, Joaquin, nervously waiting to start the new school year. "Statistically, the chances are that up to half of you won't be here when it's time to graduate from the eighth grade." Those were infamous last words.
Mom announced the next morning that we would attend another school, a foreign-language magnet program two miles away. My mom, a Chicana activist and hell-raiser, had higher aspirations for us.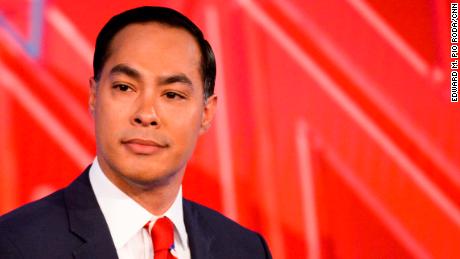 Julián CastroLater I reflected on how profound this lesson was; low expectations were a tragic reality in the segregated schools on the west side of San Antonio where Joaquin and I grew up. At our new school, the teachers were supportive, mom encouraged us, and we excelled. But I kept thinking about our friends who stayed behind. I remembered that statistic that eventually proved true for too many of our former classmates.And I never stopped believing that there was nothing fundamentally different about them and us, except for opportunity. April 3, 1992, is another date I'll never forget. Two identical 8½-by-11-inch white envelopes arrived with a special message: "Welcome to the Stanford Class of 1996." Brief euphoria erupted, and then a few weeks later, the bill arrived, and that was a less joyous occasion. Mom's salary was less than half of the cost of tuition for us twins. But bridging the gap between means and expense was an investment by the federal government: Pell grants, Perkins loans and work-study would make this educational opportunity a real possibility. Generations of hard work and sacrifice had led to this moment. Read MoreMy grandmother never made it past the third grade — and she worked her entire life as a maid, a cook and a babysitter. Mom's decision to dream big for Joaquin and me led to an unlikely journey, a story possible only in this great nation. Just two generations after my grandma moved here as an orphan, one grandson is a member of Congress, and I am a candidate for President of the United States.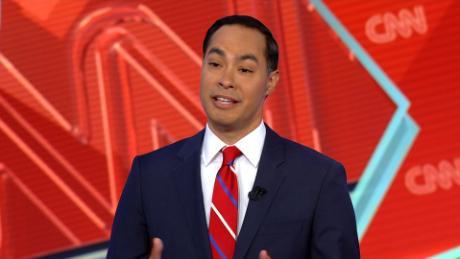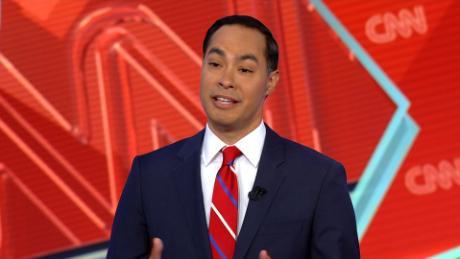 JUST WATCHEDCastro: We need to restore integrity to the White HouseReplayMore Videos …MUST WATCH
Castro: We need to restore integrity to the White House 01:35I learned an important lesson while studying at some of America's best schools and some of its most underserved: Talent is universal, but opportunity is not. The students I shared the library with at Tafolla Middle School were not any less capable than those I competed with at Stanford and Harvard. Our mission must be to expand educational opportunity to everybody. I believe in the power of education to transform lives not only because of my own experience but because of the strong evidence that it's the best return on investment.As mayor of San Antonio, I asked the voters to raise the sales tax, ignoring the polls and political consultants, in order to invest in high-quality full-day prekindergarten education. The pitch was simple: Research suggests that for every $1 invested in early education, society benefits $9 in the long run, due to lower crime and higher wages. And it's working. Pre-K 4 SA students score above average on third-grade reading assessments, a key metric for future success, with stronger math skills and better attendance. Early education helps students start off right and prevents them from falling behind. As a candidate for president, I'm proposing Pre-K for USA: universal early childhood education for every 3- and 4-year-old in America, funded by grants to state and local governments. I believe that pre-K is the best investment we can make as a nation in order to prosper in this 21st-century global economy.Stay up to date…
Sign up for our new newsletter.
Join us on Twitter and Facebook
We need a new commitment by the federal government to ensure that every student has quality educational opportunities, from pre-K through college and beyond. My People First education plan is both comprehensive and transformative, and aggressively combats historic disparities and inequities: nationwide pre-K, modernization of school infrastructure, tuition-free public college, student debt reform, $3 billion to support historically black colleges and universities and minority-serving institutions, smaller class sizes, higher teacher pay and tax credits, and incentives to teach in marginalized communities. I encourage you to explore all the details in full. For me, the power of education is personal, and as President, I will do everything I can to expand educational opportunity to all. I'm convinced that the United States can be the smartest, the healthiest, the fairest and the most prosperous nation on Earth in the 21st century. That vision starts with universal pre-K education and an unprecedented investment in America's youth. Now is the time to be bold and fearless in our ambition for our children and grandchildren, and for our future.
Source Link:
https://www.cnn.com/2019/07/28/opinions/julian-castro-2020-prek-for-usa-education/index.html
[0.595772]
Comments
comments