John Delaney is one of 10 presidential candidates taking part in a Democratic debate Tuesday, July 30, at 8:00 p.m. ET, on CNN. Ten others will debate on Wednesday evening. Delaney is a former congressman from Maryland and an entrepreneur. The views expressed in this commentary are his own. View more opinion articles at CNN.
(CNN)My grandfather came to this country in 1923, landing at Ellis Island with his mother and seven brothers and sisters. While his siblings were allowed into the country, he was detained, separated from his family and set for deportation because he only had one arm (a result of a childhood injury). People with disabilities were not allowed entry at that time.
His family appealed, and as fate would have it, his case was heard by a judge who also only had one arm. He always said that as soon as he saw the judge he knew that was the day that he would become an American.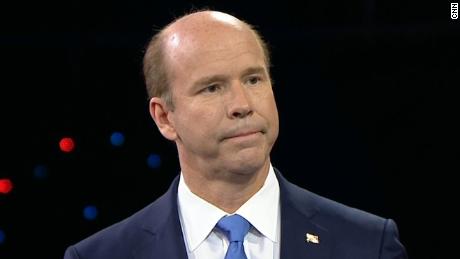 John DelaneyA sense of compassion and shared humanity created opportunity for him, and he made the best of it by working in a pencil factory his whole life. His daughter, my mom, married my dad — a union electrician who had served in the Army between Korea and Vietman. We grew up a blue-collar family in a blue-collar neighborhood. Our family had health care because of my dad's union, and a scholarship from the International Brotherhood of Election Workers helped me go to college — something my grandparents and parents never had the opportunity to do. It allowed me to become an entrepreneur, a CEO and then a member of Congress. I've thought about my grandfather's story a lot in the last few weeks, because we have a White House that isn't showing compassion or shared humanity — particularly on the issue of immigration. Even worse, the President is going out of his way to divide the country. Right now, we're divided by partisanship, by race, by religion, by class, etc. These divisions are weakening us and killing the American Dream. Read MoreIronically, this is just about the only thing we can agree upon. An NBC/Wall Street Journal poll conducted last year found that 80% of Americans believe that our country is divided. Another poll, conducted by The Atlantic and the Public Religion Research Institute, found that "Americans are nearly unanimous in their belief that the country is divided over politics," with 91% believing that to be the case.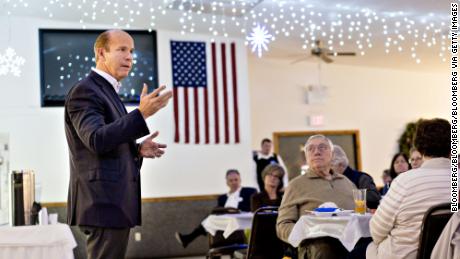 Democrats should restore capitalism's promise, not abandon it for socialismAnd it makes sense. We spend so much time isolated from each other. Our communities remain racially and economically segregated. Our social media feeds are full of people who take our political side, and our unequal society often barely gives us any perspective on how people in other communities live. We need a big, transformational change to stop America from dividing any further. We need mandatory national service. It's time to bring the country together, to restore our sense of shared purpose and rebuild a common and inclusive national destiny.Earlier this year, when I announced my national service plan, I called for expanding the programs we have and creating new incentives to serve. But voters kept telling me we needed to go further. A voluntary program might succeed in making it more attractive for people who already want to serve to do so, but it won't be the kind of large-scale solution that we truly need. Under my new plan, all Americans would be required to serve their country for at least one year. This requirement would apply to everyone upon turning 18, no exceptions. I believe that every American has value and every American can and should serve. I also believe that we have to get away from the notion that different rules apply to different people, that those with means or connections won't serve like everyone else. So, let's be very clear: national service will be mandatory for all.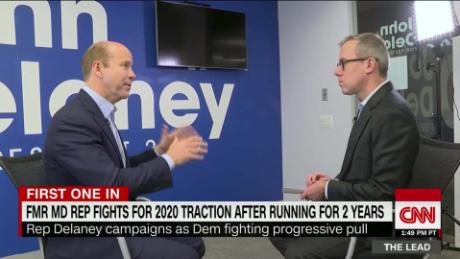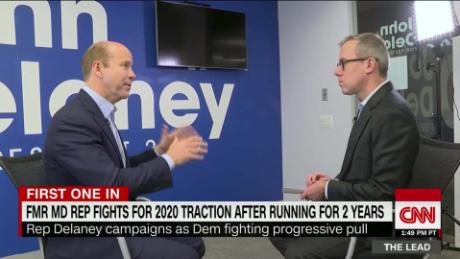 JUST WATCHEDThe Dem presidential hopeful running for 2 years, whose name you probably don't knowReplayMore Videos …MUST WATCH
The Dem presidential hopeful running for 2 years, whose name you probably don't know 02:54While serving their country, participants will be paid, and in exchange they will receive two years of free tuition at a public college or university. This benefit can also be used for vocational or technical training. If they serve for two years, they will receive three years of in-state tuition, fully paid for. In addition to this educational benefit, participants will also get work experience and learn new skills, better preparing them for the rest of their careers. There are four components of my national service program. The first two build off of what we already have in place. First, serving in the military would meet the requirement. The details and specifics around military service wouldn't change, but with a renewed emphasis on national service we can expect that more people, from a wider spectrum of backgrounds, would consider serving in our armed forces — and I think that's a good thing. Second, we would scale up and expand our existing community service programs like AmeriCorps.My national service program also includes two exciting new components: a National Infrastructure Apprenticeship program and a National Climate Corps. After decades of underinvestment in infrastructure and in the face of the new challenge of climate change, we need to rebuild, reboot and reinvent our local infrastructure. For these new initiatives, we will work closely with state governments. For infrastructure, the government would enter into public-private partnerships with businesses and unions to offer apprenticeships. Upon completion, participants would receive a professional certificate. For the Climate Corps, participants would assist in clean energy projects, including solar installation, improving building efficiency, developing community gardens and increasing awareness about sustainability. Stay up to date…
Sign up for our new newsletter.
Join us on Twitter and Facebook
My grandfather was so proud of the country that welcomed him, and I believe a new universal national service program would make millions of people feel a similar pride in their country — a country they'd see in an entirely new way because of their service to it. By mandating national service, we create a future where young people begin their adult lives spending time serving their country and working alongside people from across the country. Where people from California, Kentucky and Maine work alongside each other, tutoring students in Baltimore, where people who grew up in the suburbs, in farm towns, in coal country, in urban communities get to know each other, get to learn from each other and get to see firsthand that we still have a lot in common.There's a lot of work to be done in America and a lot of places where people need help. We should all play a role in lifting each other up. And, in the process, we will think differently about our responsibilities to each other.
Source Link:
https://www.cnn.com/2019/07/28/opinions/john-delaney-2020-mandatory-national-service/index.html
[0.606445]
Comments
comments