(CNN)Joe Biden is (finally) running for president. And while he is a clear top-tier candidate, he's got issues to deal with from his age (he's 76) to his centrist approach to policy. But it's possible that none of those things are the biggest immediate problem facing the early days of his campaign.
What might that problem be? Money.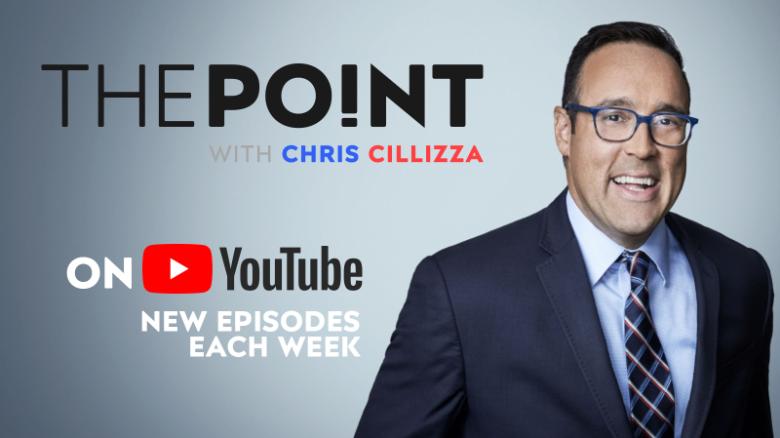 THE POINT — NOW ON YOUTUBE!
In each episode of his weekly YouTube show, Chris Cillizza will delve a little deeper into the surreal world of politics. Click to subscribe!
Yes, on its face, it seems ridiculous. After all, Biden spent eight years as Barack Obama's vice president. And more than four decades in the Senate before that. If anyone should be able to raise money, you would think it would be someone with a resume like Biden's. But that assumption overlooks two very important problems built into Biden and his fundraising operation: 1) He's never been a prolific fundraiser in past campaigns, largely because he makes no secret that he loathes asking for money and 2) The model of fundraising for presidential campaigns has radically changed in the last 10 years.On the first issue: Biden was first elected in 1972 with 51%. But in all of his reelection races he never won with less than 58% of the vote — and wasn't seriously challenged. In his last Senate race in 2008, Biden raised just north of $7 million — not an insignificant sum but not the tens of millions that other Senate candidates — Elizabeth Warren and Beto O'Rourke, to name two — have collected in previous runs. When Biden ran for president in 2008, he collected $14 million total — well off the frontrunners. He was never seen as a serious candidate in that contest. Twenty years before, in the 1988 presidential race, Biden collected $4 million. He was considered one of the race's frontrunners before being run out of the contest due to allegations of plagiarism.Read MoreOf course, Biden did spend eight years beside the single most prodigious fundraiser in Democratic political history in Obama. And the VP did raise a fair amount of money for the ticket. But the donors there were, largely, Obama donors first and, maybe Biden donors second. They were giving to either elect or re-elect Obama. Biden was part of the deal, sure, but he wasn't the big selling point.On the second issue: Fundraising — especially for Democrats at the national level — has changed dramatically over the past decade. Even as recently as 2008, the model was simple: Build your fundraising operation from the top down. Find wealthy and well connected people who could bundle thousands of $2,800 checks to your campaign. Then find more. And more. Anything you get in smaller donations and online is gravy but not the main thrust of your cash push.Obama's focus on online, small-dollar donors began changing that dynamic. But Bernie Sanders' 2016 challenge to Hillary Clinton was the watershed moment. While Clinton used the traditional top-down fundraising model, Sanders built a fundraising operation around small-dollar donations solicited and contributed online. He wound up raising $237 million for his primary race, a stunning testament to the power of online donations. (Another side benefit: Raising money online has very few related overhead costs and don't require the candidate to carve time out of his or her schedule to give a series of speeches in front of well-heeled donors who are being separated from their checkbooks.)O'Rourke's 2018 campaign against Texas Sen. Ted Cruz (R) built on the Sanders model, raising more than $80 million — a previously unheard-of sum. And now, with Democratic base voters souring on corporations and their influence on politics, Sanders is leading the charge among 2020 Democratic candidate to focus on small dollar donors rather than the on the uber-rich bundlers. Biden's problem is that he doesn't have the sort of national, small dollar fundraising list that Sanders, Warren and O'Rourke do. And to build that sort of thing while also running for president — and doing so as the establishment candidate — is no easy task.Now. Biden is one of the frontrunners. And if past is prologue, there's some segment of donors who will give to candidate who they think have the best chance of winning. (We all like a winner!) But there's no question that Biden could well struggle to keep up with the fundraising pace of the likes of Sanders, O'Rourke and California Sen. Kamala Harris — a fact he himself acknowledged in a conference call with top supporters and donors on Wednesday night."The money's important. We're going to be judged by what we can do in the first 24 hours, the first week," said Biden on the call, according to Politico. "People think Iowa and New Hampshire are the first test. It's not. The first 24 hours. That's the first test."
Source Link:
https://www.cnn.com/2019/04/25/politics/joe-biden-2020-campaign-money/index.html
[0.262223]
Comments
comments