Washington (CNN)Former Vice President Joe Biden said it's "totally appropriate" for people to consider his age when evaluating him as presidential candidate.
"Just like when I was 29, was I old enough? And now, am I fit enough? I'll completely disclose everything about my health. I'm in good shape," Biden said in a Friday interview with a New Hampshire newspaper, The Laconia Daily Sun. Since officially launching his presidential bid in April, Biden has polled above the rest of the crowded Democratic primary field. But he would be the oldest president to be sworn in for their first term, raising questions about whether the 76-year-old statesman can beat his Democratic challengers — many of whom are much younger than he is — and handle a grueling presidential campaign with his admitted propensity for gaffes in order to beat President Donald Trump in 2020.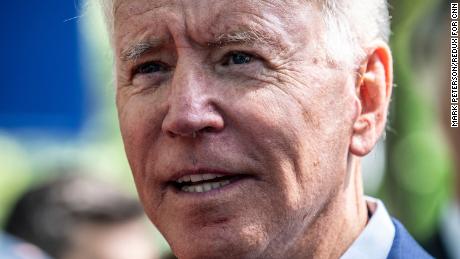 New Biden gaffe raises question of truth in Trump's post-fact eraIf he were to win the White House, Biden would be 78 years old when he's sworn into office in 2021 -— which would make him the oldest president at the beginning of his first term in American history. Biden also addressed a moment during the CNN climate crisis town hall Wednesday when his left eye appeared bloodshot, chalking it up to an issue with his contact lens.Read More"It was my contact lens," he told the Laconia Daily Sun. "I think I, you know when you're taking it out, I think bruised my eye." Last month, when the question about his age came up, Biden had replied, "I say if they're concerned, don't vote for me."Among the other Democrats running for president, Vermont Sen. Bernie Sanders is 77 and Massachusetts Sen. Elizabeth Warren in 70. Trump,73, was the oldest president at the beginning of his first term in 2017.
Source Link:
https://www.cnn.com/2019/09/07/politics/joe-biden-age-2020-race/index.html
[0.269789]
Comments
comments