(CNN)Democratic former Vice President Joe Biden unveiled a plan Friday that aims to protect workers' rights and to strengthen unions and collective bargaining efforts as he tries to persuade voters he's the best presidential candidate to fight for the labor community.
The 11-page proposal hits President Donald Trump as engaging in a "war on organizing, collective bargaining, unions, and workers" and seeks to "check the abuse of corporate power over labor." It calls for legislation enacting stricter penalties on corporations and holding corporate executives personally accountable for violating labor laws or interfering with organizing efforts.The plan aims to implement policies to encourage unionization, guard workers' pay and benefits, and provide workplace protections, including a $15 federal minimum wage and eliminating non-compete agreements.RELATED: Your guide to where the 2020 Democrats stand on the issues"It is core to who [Biden] is and who he's been since the beginning of his career, so for him it's a no-brainer that a fundamental part of his campaign is that we are protecting workers and unions," said Stef Feldman, policy director for the Biden campaign. "Strong unions are an essential element to building a strong middle class."Read MoreThe policy, which was crafted with input from a number of unions, comes as the former vice president is looking to shore up support among the labor community. Biden earned an early endorsement from the International Association of Fire Fighters, but most union associations have refrained from endorsing single candidates at this point in the campaign. "What Biden's plan understands, just like others', is that it's not just rhetorically 'We need more unions' or 'We need people to have more access to unions.' It is creating the structures and the policy that enable that," said Randi Weingarten, president of the American Federation of Teachers, which has yet to endorse a candidate. "It understands the power that working people need to actually have an ability to change their economic standing, to bargain for higher wages, for better benefits, for a better standard of living."The plan, which builds on some Obama-era initiatives and current legislative proposals, was rolled out days after Biden visited his hometown of Scranton, Pennsylvania, where he argued that Trump has come up short on his campaign promises to the middle class.
In a shift, Biden campaign signals openness to a super PAC "And most of all we don't deserve a President who goes out of his way to make life in America harder, crueler, pettier," Biden told supporters at a rally on Wednesday. "He said he's working for the forgotten American. Well, he forgot about the forgotten American."Under his policy, Biden promises to enact legislation that would make classifying workers as independent contractors a violation of the law. This comes after California approved a bill that will make it more difficult for employers in the state to classify workers as independent contractors.Biden would also bar employers who illegally oppose unions from bidding for federal contracts for a set period — a policy enacted during the Obama administration. To encourage union organizing and collective bargaining, he promises to create a Cabinet-level working group that includes representatives from labor. He also promises to repeal "right to work" laws.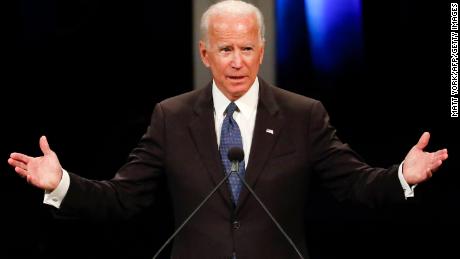 Biden says his children 'are not going to have offices in the White House' if he's electedBiden joins his competitors in the Democratic field in ensuring protections for workers to strike without fear of reprisal. On his first day in office, he promises to restore federal employees' right to organize, a right he accuses Trump of "gutting."Two of Biden's rivals, Sens. Elizabeth Warren of Massachusetts and Bernie Sanders of Vermont, have also presented themselves as champions of the working class. Biden's proposal mirrors those of his competitors to the left in many ways, including increasing the minimum wage to $15 and making it easier for workers to strike. Biden's plan also looks to protect workers' overtime pay and to eliminate no-poaching agreements — initiatives he has frequently discussed on the campaign trail.The former vice president has long portrayed himself as a partner of unions, often saying the labor community "brung me to the dance."Standing atop a flatbed truck last month speaking to striking United Auto Workers workers outside a GM facility in Kansas City, Biden said, "Whether I was running for president or not, I'd be standing with you. I always have."
Source Link:
https://www.cnn.com/2019/10/25/politics/joe-biden-labor-plan/index.html
[0.370111]
Comments
comments