(CNN)Joe Biden said in a 1981 CNN interview that he opposed busing to desegregate schools and that he supported efforts to cut back on courts' ability to order busing.
Biden's opposition to busing in the 1970s is facing renewed scrutiny after California Sen. Kamala Harris criticized him for his position at the 2020 Democratic debate on Thursday. In response, Biden said he "did not oppose busing in America" and only opposed busing ordered by the Department of Education. On Friday, Biden again tried to qualify his opposition, saying he "never ever opposed voluntary busing."But the 1981 CNN interview illustrates that Biden's objections to busing to end segregation in schools were much broader than he casts them today."I happen to be one of those so-called people that are labeled as a liberal on civil rights, but oppose busing," Biden said. "And I support the effort to curtail the ability of courts to bus.""What I have argued as one who grew up in the civil rights movement and ran for office as a public defender and a member of an active participant in civil rights cases, I have argued that the least effective remedy to be imposed is the busing remedy," Biden said at another point in the interview. Read More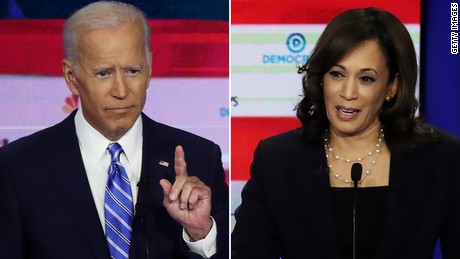 Joe Biden throws own campaign into turmoil after Harris attacks his record on raceIn a statement to CNN, Biden campaign spokesman Andrew Bates reiterated that the former vice president always supported voluntary busing and federally mandated busing to end "de jure" segregation. "He has also always been an advocate for integration, but saw that the forced busing being discussed in these statements was not the right mechanism for achieving integration in Delaware because it put an undue burden on African-American families and children," Bates said.Bates pointed to efforts Biden took locally and, in the Senate, to fight for civil rights, including pushing for the extension of the Voting Rights Act, housing integration and backing the Equal Right Amendment.Biden's comments on the CNN program Newsmaker occurred in July 1981 as the Senate debated a proposal to limit the power of courts to impose busing, which the senator said he supported. Liberal senators filibustered the bill, and although Biden was against busing, he opposed efforts to end the filibuster because doing so would have stripped anti-busing provisions from the bill.The filibuster ended in September, with Biden voting in support of the efforts to ban the court's ability to use busing as a remedy for segregation. (The legislation eventually died after opponents were able to further delay it and the House did not vote on it.)"I don't like filibusters, I have not been supportive of filibusters in my nine years in the Senate, used by either liberals or conservatives," Biden said at the time. "And on the issue that the argument is about and that is whether or not busing serves — is A, required constitutionally and B has a utilitarian value for desegregation. I come down on the side of A, it is not constitutionally required and B, it is not a useful tool."Biden indicated that he supported the courts finding remedies to correct instances of school districts intentionally attempting to block black Americans from attending, such as altering school district lines, ordering the construction of new schools, and changing laws that prevented black students from moving to a white school district.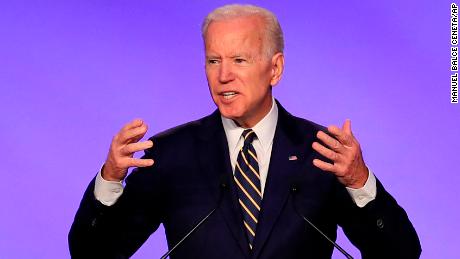 Biden 2020 candidacy confronts Democratic Party with its pastBiden also said in the interview that busing became a problem when the courts began to apply the rationale they used to solve segregation in southern states to states in the northern region of the country, where Biden said there was "integrated facilities" but segregated living areas due to "migratory patterns." "That is when blacks moved north, they were either pushed into or moved into black ghettos. Just like when Irish moved, they went into Irish ghettos and Jews into Jewish ghettos et cetera. In the south, after the Emancipation Proclamation, the slaves didn't move off the plantation," Biden said."The point I was trying to make is when you're trying to remedy the situation, what happened was the system whereby you could impose a busing remedy in an area where you had black, white, black, white living on the same block, it made a great deal of sense," Biden added. "But where you ended up with disparate neighborhoods long distances apart but were segregated and you tried to integrate the facilities, it created a number of mechanical problems that are significant."At the Democratic debate Thursday, Harris slammed Biden for opposing desegregation busing by invoking her own personal story."It was not only that… there was a little girl in California who was part of the second class to integrate her public schools and she was bused to school every day," Harris said. "That little girl was me."Biden responded, saying Harris mischaracterized his position. "I did not oppose busing in America, what I opposed is busing ordered by the Department of Education," Biden said, making an argument for state's rights. "That's what I opposed."
Source Link:
https://www.cnn.com/2019/06/30/politics/kfile-joe-biden-cnn-interview-busing-desegregate-schools/index.html
[-0.692833]
Comments
comments