(CNN)A Japanese pop star who was stabbed dozens of times by an obsessed fan-turned-stalker is suing the government for not doing enough to protect her.
Mayu Tomita filed a lawsuit at the Tokyo District Court on Wednesday, demanding 76 million yen ($701,400) in damages from three parties: the Tokyo Metropolitan Government, her former agent, and her attacker.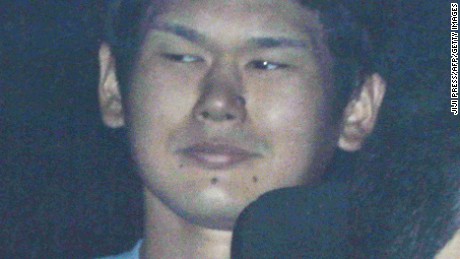 Tomohiro Iwazaki, 20, is seen inside a police vehicle in Tokyo, Japan, on Monday, May 23, after being arrested for a knife attack on Japanese pop star Mayu Tomita as she was waiting to appear for a concert.In 2016, Tomita was stabbed 61 times outside a building where she was to hold a live performance. She has since suffered from poor eyesight and post-traumatic stress disorder, according to her lawyer, Masato Takahashi.Before the attack, Tomita told police she had received 140 comments from Tomohiro Iwazaki, including death threats, after she rejected his marriage proposal and returned his gifts including a watch and books.Takahashi said the crime could have "easily been stopped" if Tokyo Metropolitan Police had taken sufficient action.Read More"There are no days since the attack that I do not think about the incident," Tomita said in a statement, in which she called the police's attitude "careless." "I will continue my fight in the hopes that this court case will help prevent potential future incidents and save potential future victims," she added.Tokyo Metropolitan Police said Friday it could not comment as it had not received the legal document about the case.Iwazaki, who was aged 27 at the time of the attack, was convicted of attempted murder and sentenced in February 2017 to 14-and-a-half-years in jail.A broader problemAfter Tomita's assault, Japan tightened its laws to classify threatening text messages and online comments as stalking — a growing problem in Japan.In 2011, police received 14,618 complaints about stalking and made 351 arrests. In 2017, the number of complaints rose to 23,079, and arrests climbed to 926, according to official statistics. The county is also battling a rise in reports of domestic violence, which reached an all-time high last year, according to official data. Of the 77,480 calls police received, they took action in 9,088 cases.Both issues tap into the bigger problem of gender equality in Japan. In the World Economic Forum's 2018 report on gender parity, Japan ranked 110 out of 149 countries, making it one of the lowest-ranked countries in the East Asia and Pacific region.
Executives of the AKS, who manages pop group NGT48, attend a press conference after Maho Yamaguchi of NGT48 was attacked by fans in front of her house on January 14, 2019 in Tokyo, Japan. But pop idols speaking out on the issue of stalking and assaults could raise awareness. Earlier this year, Maho Yamaguchi — who was a member of idol group NGT48 — claimed she had been assaulted by two male fans in December 2018 after her address was leaked online. Two men were arrested but later released. In 2014, a saw-wielding man attacked two members of AKB48, the sister group of NGT48. In January, Kukhee Choo, a cultural studies expert at Sophia University in Tokyo, said Yamaguchi's decision to talk about her assault could empower other victims of female violence to come forward."If someone powerful has a hard time coming out, the average woman in Japan thinks, what chance do I have?" she said. "But idols are very relatable. This incident could help other young women to think, if she came out, then I can come out too."
Source Link:
https://www.cnn.com/2019/07/12/asia/japan-mayu-tomita-sues-stalking-intl-hnk/index.html
[-0.384351]
Comments
comments