Story highlightsSuzuka first held F1 race in 1987Prost and Senna clashed at circuitJapanese GP takes place on Oct 8
(CNN)Revered by drivers, loved by fans, the Japanese Grand Prix at Suzuka has hosted some of Formula One's most dramatic moments down the years.
With its mix of flat-out speed, sweeping corners and tight technical turns, the former Honda test track provides F1's elite with a forensic examination of their driving skills. Follow @cnnsport "Suzuka is definitely one of my favourite tracks on the calendar," McLaren driver Fernando Alonso told Formula1.com ahead of Sunday's race."It's one of the classics and its configuration is completely unique. It has a bit of everything — it's demanding, fast, and a big challenge for a driver and for the engineers, so it's the perfect racer's circuit."There have been many heroic drives at Suzuka, none greater than Kimi Raikkonen's astonishing victory in 2005 when the Finn took the lead on the final lap after starting the race down in 17th place.Read MoreBut it is the high-speed duels for championship glory that has cemented Suzuka's reputation as one of the must-see races on the F1 calendar. 1988, 1989 & 1990: Prost vs. Senna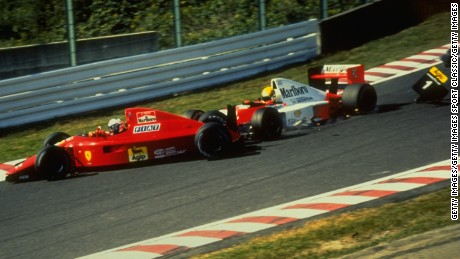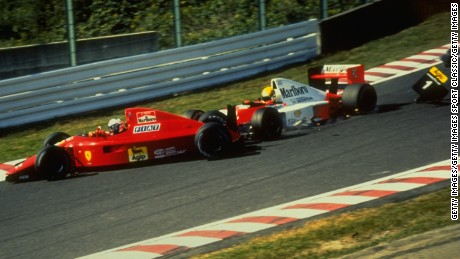 JUST WATCHEDProst vs. Senna: The Battles of SuzukaReplayMore Videos …MUST WATCH
Prost vs. Senna: The Battles of Suzuka 02:50 Few F1 rivalries have matched the intensity between France's Alain Prost and Brazilian Ayrton Senna.A three-act drama began in 1988 when the two were teammates at McLaren. It was first blood to Senna who despite stalling his car at the start recovered to win the race, before going on to seal a first world title at the final race in Australia. Twelve months later it was Prost in the driving seat at Suzuka. The Frenchman had a 16-point advantage going into the season's penultimate race and led the Japanese GP with six laps to go when Senna, desperate for the win, dived down the inside at the Casio Triangle chicane.
Most wins at Suzuka
6 Schumacher (M)
4 Vettel
2 Berger, Senna, Hill (D), Hakkinen, Hamilton
Prost shut the door, the pair clashed and rolled to a halt at the side of the track. The Frenchman hopped out of his car, but Senna got going again and took the checkered flag only to be disqualified for using an escape road to rejoin the track. READ: How crashing out helps win racesThe Brazilian was also hit with a $100,000 fine by world motorsport's governing body, the FIA, for dangerous driving.Senna was incensed by the FIA's decision and it would light the touch paper for one final explosive title showdown at Suzuka.The 1990 race turned out to be pair's shortest duel as Senna plowed into the back of Prost — who was now at Ferrari — as they sped down to the first corner at lights out. Both cars slewed into the gravel trap and out of the race before Senna and Prost trudged back to the pits. With a now unassailable championship lead, Senna was crowned champion for the second time of his career. 1998: Hakkinen storms to maiden title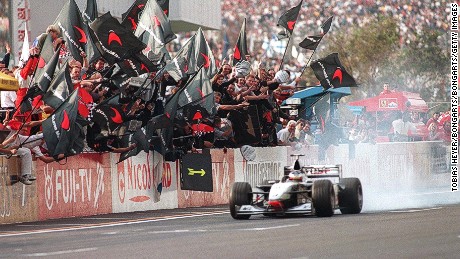 Mika Hakkinen is saluted by his McLaren team after winning the world title at Suzuka in 1998Hunting down a first world title, Mika Hakkinen arrived at Suzuka with a slender four-point championship lead, and Michael Schumacher breathing down his neck. And when the German stuck his car on pole, Hakkinen could have been forgiven for cracking under the pressure, but it was Schumacher who blinked first, stalling his car before lights out. GALLERY: F1's 2017 title battle in pictures The mistake meant Schumacher was sent to the back of the grid and with a mountain to climb. Ever the fighter, Schumacher set off in search of the summit and by the middle of the race was up to third.But on Lap 31 disaster struck as a puncture ended his race and Schumacher's championship hopes. Hakkinen was free to speed away towards the checkered flag and clinch Finland's first world title since Keke Rosberg's in 1982.Hakkinen would repeat the trick 12 months later — this time fending off Schumacher's teammate Eddie Irvine. 2000: Schumacher's red-letter day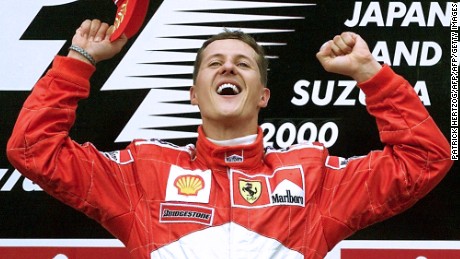 Michael Schumacher celebrates on the podium after winning the 2000 Japanese GPAfter three near misses, Schumacher finally clinched his first title in the red of Ferrari at the penultimate grand prix of the season. Hakkinen was once again his nemesis but this time the German had the upper hand going into the race.Protecting an eight-point lead, Schumacher was made to work all the way to the line with Hakkinen finishing just two seconds behind. Schumacher's relief was palpable."We have been working for this for five years and three times we got close," an emotional Schumacher said after opening up an unassailable 12-point championship lead over Hakkinen. "This is simply outstanding and special because it is with Ferrari and means much more to me than my other titles."2006: A final agony for Schumacher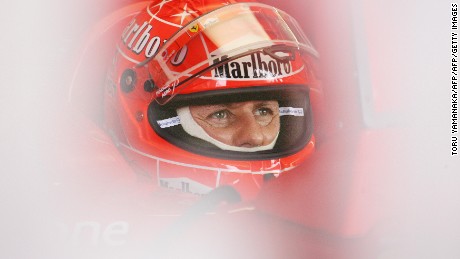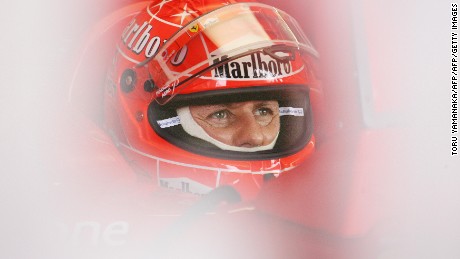 JUST WATCHEDRoss Brawn on Schumacher's winning mentalityReplayMore Videos …MUST WATCH
Ross Brawn on Schumacher's winning mentality 01:17Schumacher gave notice of his plans to retire at the end of the 2006 season after winning at Monza that year, but there would be no fairytale ending to the first part of his F1 career. WATCH: 104-year old camera snaps F1 starsHis dreams of an eighth world title went up in a puff of engine smoke at Suzuka.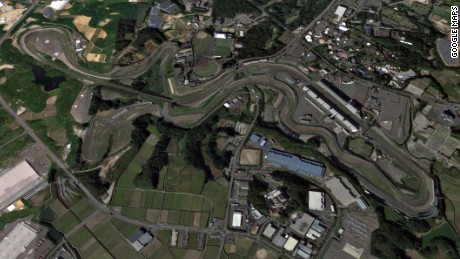 Suzuka is the only figure-of-eight track on the F1 calendarSchumacher was tied for the championship lead with Alonso — then driving for Renault — heading into the Japanese Grand Prix but an engine failure all but ended the German driver's title hopes, as the Spaniard took the checkered flag and ultimately his second title. If Schumacher was disappointed he didn't let it show too much, preferring to act as comforter to distraught Ferrari mechanics in the pit garage. Visit CNN.com/motorsport for more news and features"He was a great team player, Michael," Ross Brawn, Ferrari team boss at that time, told CNN last year. "He loved the team environment. He loved being part of the team, he loved spending time with the mechanics and engineers. All of those things are part of the process of creating a team."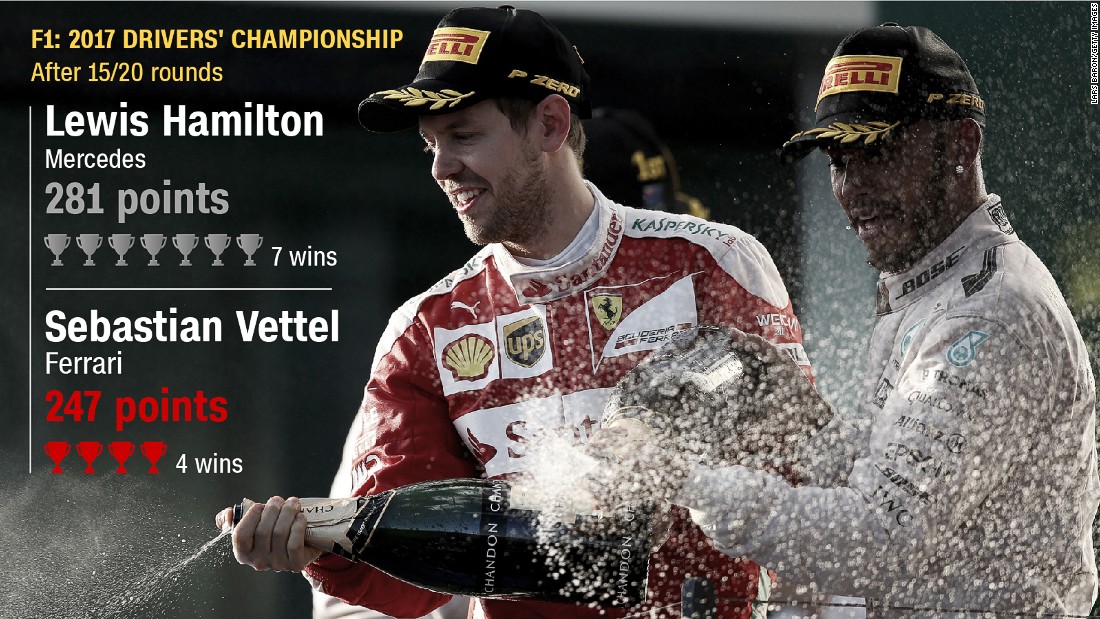 Photos: The story of the season so far …Lewis Hamilton (right) and Sebastian Vettel have been engaged in one of most exciting championship battles of recent years. Click through the gallery to see how the 2017 Formula One season has unfolded. Hide Caption 1 of 17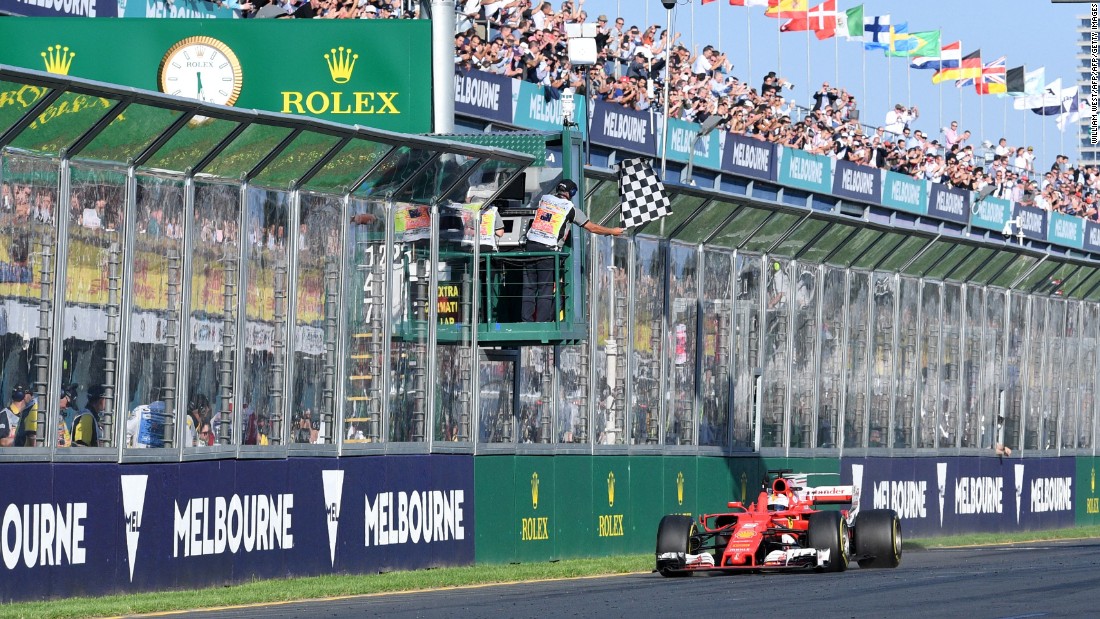 Photos: The story of the season so far …Melbourne: First blood to Vettel – The German took the checkered flag at the season opener in Melbourne leaving Hamilton and the Briton's new Mercedes teammate — Valtteri Bottas — trailing in his wake.Drivers' title race after round 1 Vettel 25 pointsHamilton 18 pointsBottas 15 pointsHide Caption 2 of 17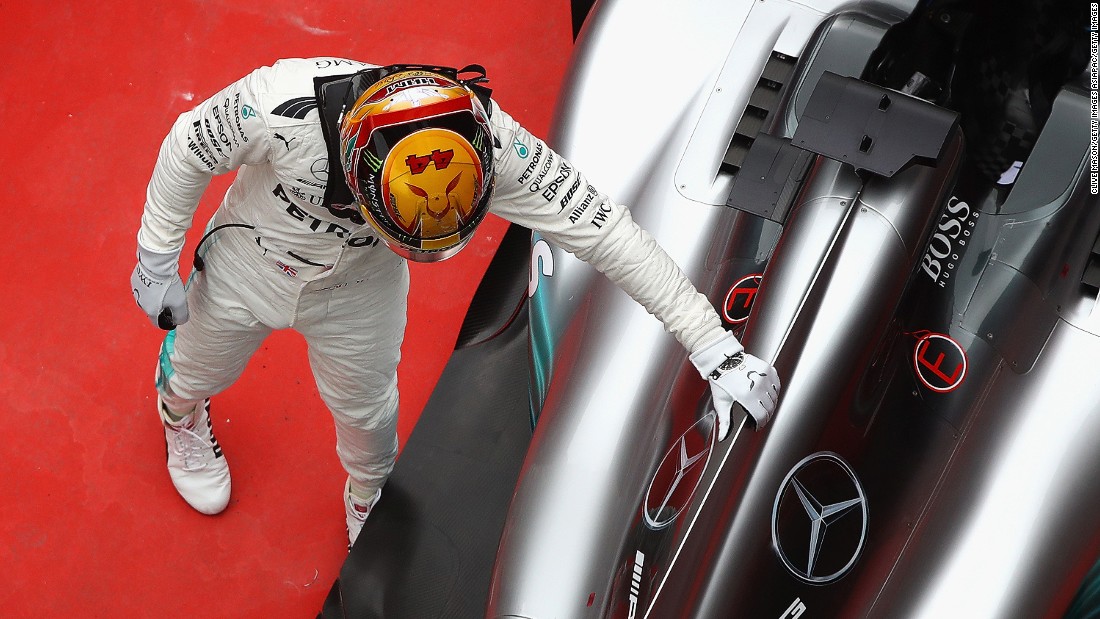 Photos: The story of the season so far …Shanghai: Hamilton fights back – Hamilton pats his Mercedes car after it propelled him to victory at the Shanghai International Circuit. It was his fifth career win in China and saw the Briton draw level on points with Vettel who came home second. Red Bull's Max Verstappen was third. Drivers' title race after round 2Vettel 43 pointsHamilton 43 pointsBottas 23 pointsHide Caption 3 of 17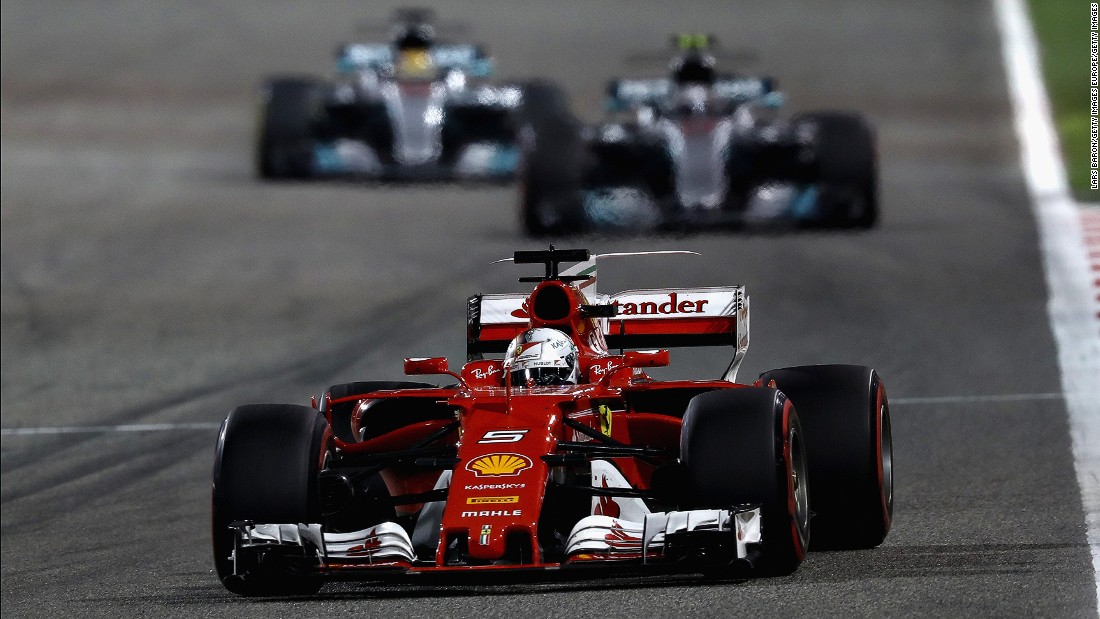 Photos: The story of the season so far …Sakhir: Vettel shines under the lights – Vettel prevailed in Bahrain after Bottas had claimed a maiden pole in qualifying. During the race Hamilton was handed a five-second stop-go penalty for holding up Red Bull's Daniel Ricciardo in the pit lane. Vettel took full advantage eventually cruising to a comfortable win. Drivers' title race after round 3 Vettel 68 pointsHamilton 61 pointsBottas 38 points Hide Caption 4 of 17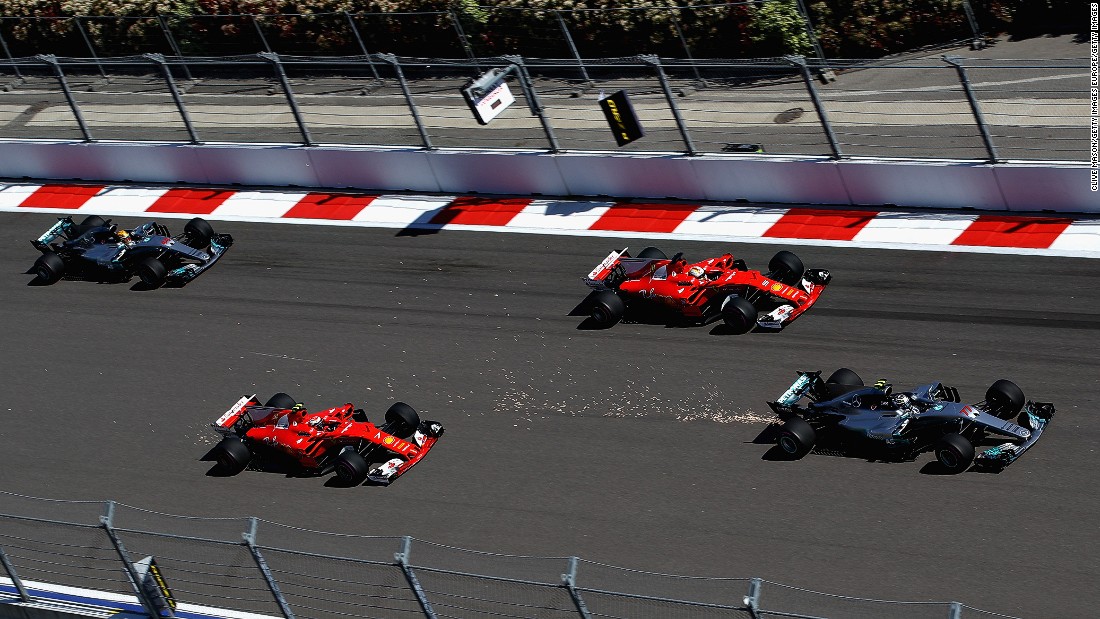 Photos: The story of the season so far …Sochi: Bottas scores maiden win – After claiming a first-ever pole in Bahrain, Bottas (far right) soared to a maiden F1 victory at the Russian Grand Prix. A fast start enabled the Finn to overtake the two Ferraris at the front of the grid. Vettel chased Bottas hard all the way to the line to claim second. Hamilton finished fourth. Drivers' title race after round 4 Vettel 86 pointsHamilton 73 pointsBottas 63 pointsHide Caption 5 of 17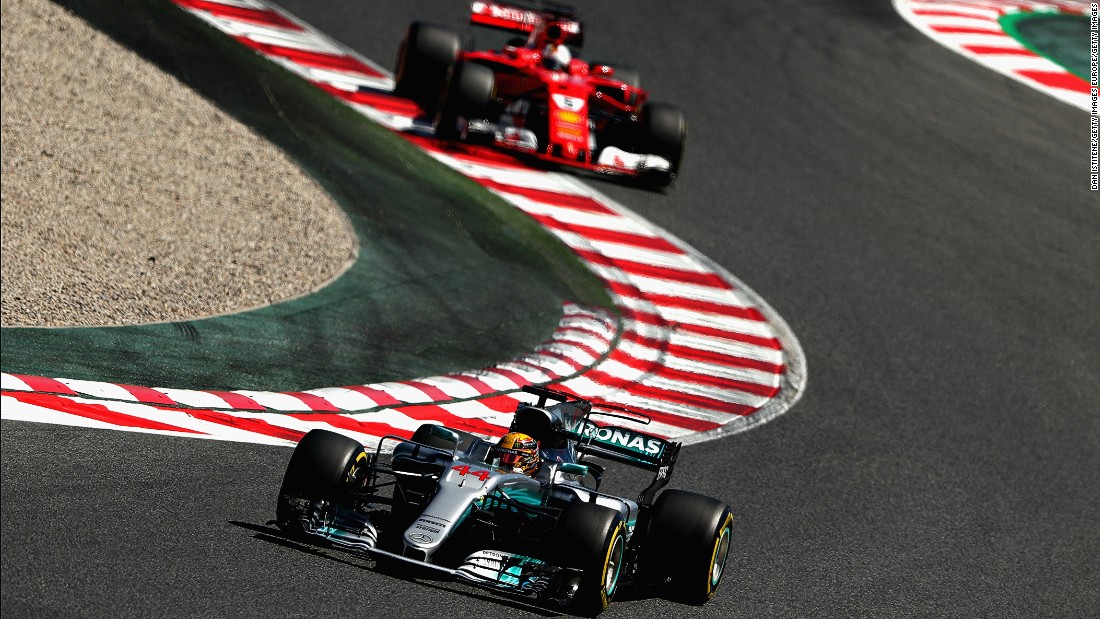 Photos: The story of the season so far …Barcelona: Hamilton reigns in Spain – After missing out on a podium in Russia, Hamilton roared back to the top step at the Spanish Grand Prix. The Briton was overtaken by Vettel at the start but Hamilton fought back, dramatically overtaking his title rival later in the race to take the checkered flag. Red Bull's Ricciardo took third — his first podium of the season after Bottas suffered an engine failure.Drivers' title race after round 5Vettel 104 pointsHamilton 98 pointsBottas 63 pointsHide Caption 6 of 17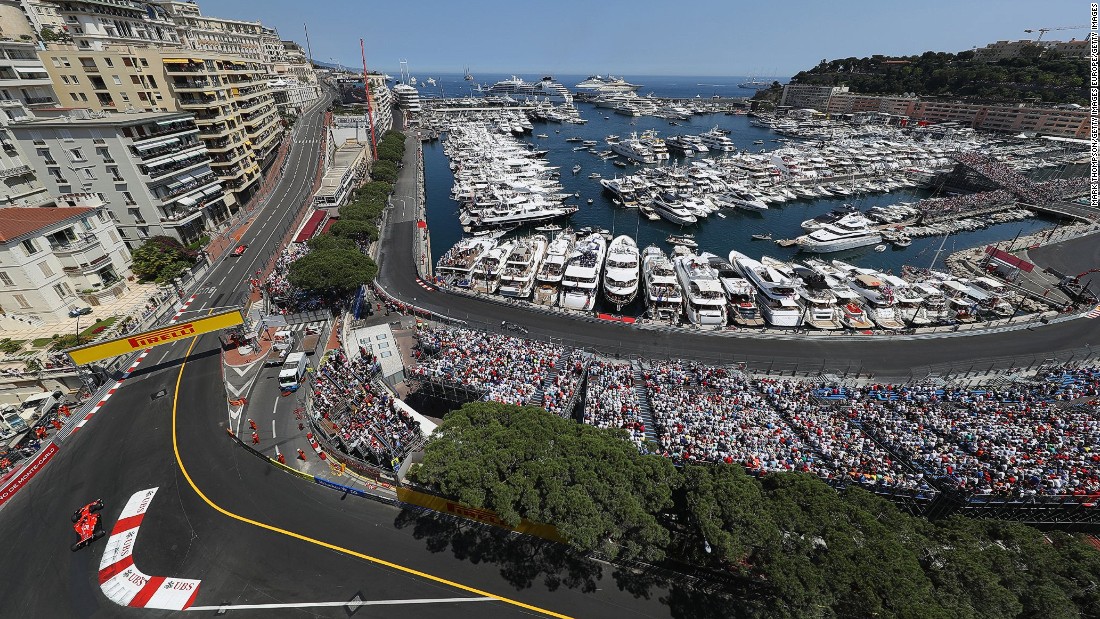 Photos: The story of the season so far …Monte Carlo: Vettel takes third win of season – Vettel's teammate Kimi Raikkonen claimed his first pole in nine years at Saturday's qualifying for the Monaco Grand Prix but it was the German who prevailed in the race after the Finn had led in the early stages. Vettel assumed the lead after pitting slightly later than the Finn and never looked back. Ricciardo finished third with Bottas fourth. Hamilton, meanwhile, who had started 13th on the grid, finished the race in sixth. Drivers' title race after round 6Vettel 129 pointsHamilton 104 pointsBottas 75 pointsHide Caption 7 of 17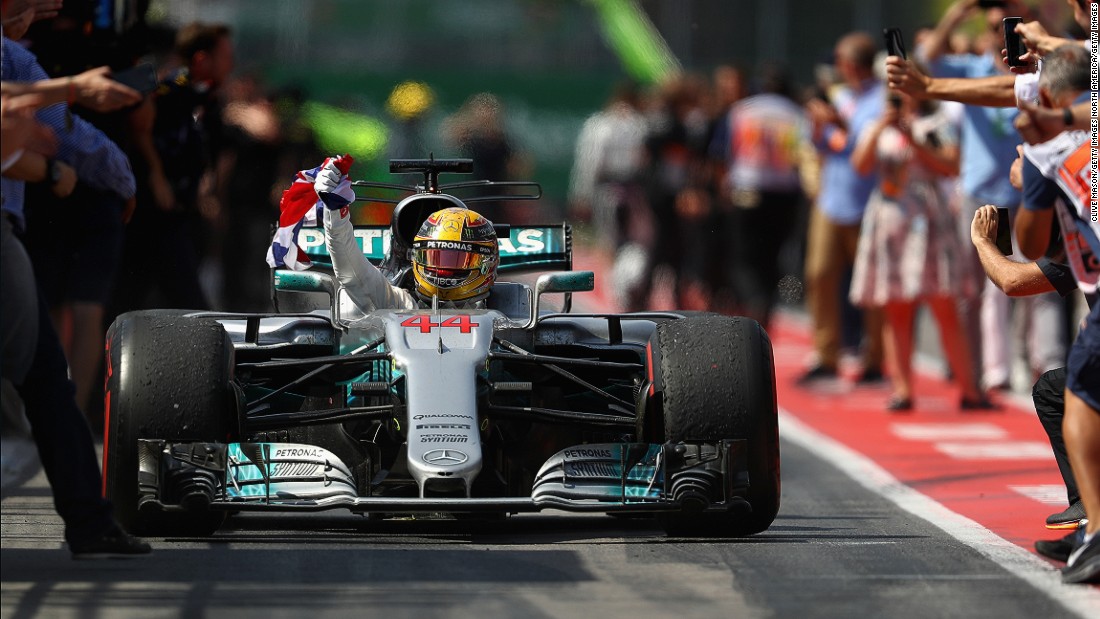 Photos: The story of the season so far …Montreal: Hamilton cuts Vettel's lead – After a disappointing showing at Monaco, Hamilton produced a driving masterclass in Montreal. In qualifying, he took his 65th career pole — equaling Ayrton Senna's mark — before bossing the race, crossing the line 20 seconds ahead of teammate Bottas while Ricciardo pipped Vettel to third. Drivers' title race after round 7Vettel 141 pointsHamilton 129 pointsBottas 93 pointsHide Caption 8 of 17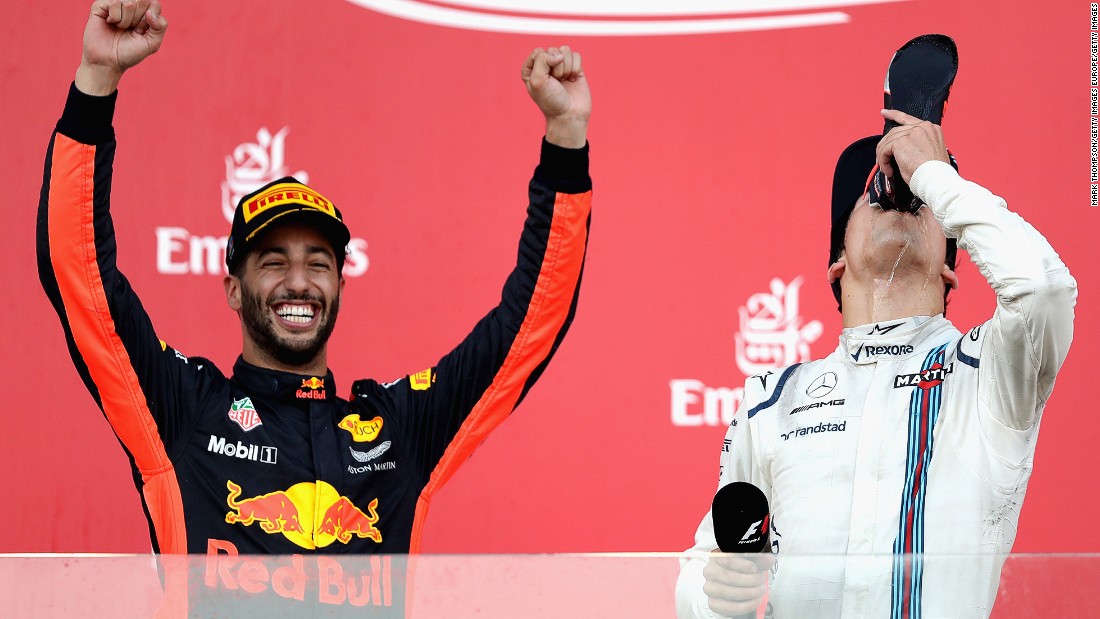 Photos: The story of the season so far …Baku: Stroll makes history as title rivals clash – A chaotic race in Azerbaijan saw both Vettel and Hamilton miss the podium for the first time in 2017. The pair clashed on track during a Safety Car period from which Ricciardo ultimately profited. The Aussie's unlikely win was the fifth of his career, while Williams' teenager driver Lance Stroll (right) took third to become the youngest F1 rookie ever to make the podium.Drivers' title race after round 8Vettel 153 pointsHamilton 139 pointsBottas 111 pointsHide Caption 9 of 17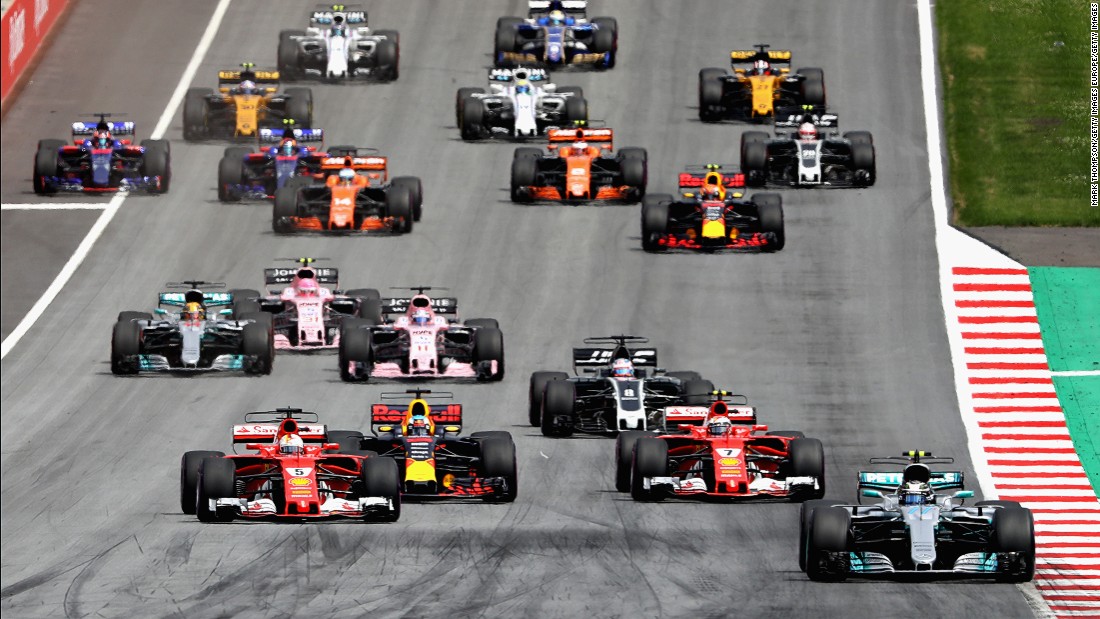 Photos: The story of the season so far …Spielberg: Bottas scores second win – Bottas gave another example of why Mercedes chose him to replace Nico Rosberg at the German team. The Finn dominated the Austrian Grand Prix weekend — qualifying in pole before keeping Vettel at bay in the race. Hamilton who started from eighth on the grid battled back to fourth. Drivers' title race after round 9Vettel 171 pointsHamilton 151 pointsBottas 136 pointsHide Caption 10 of 17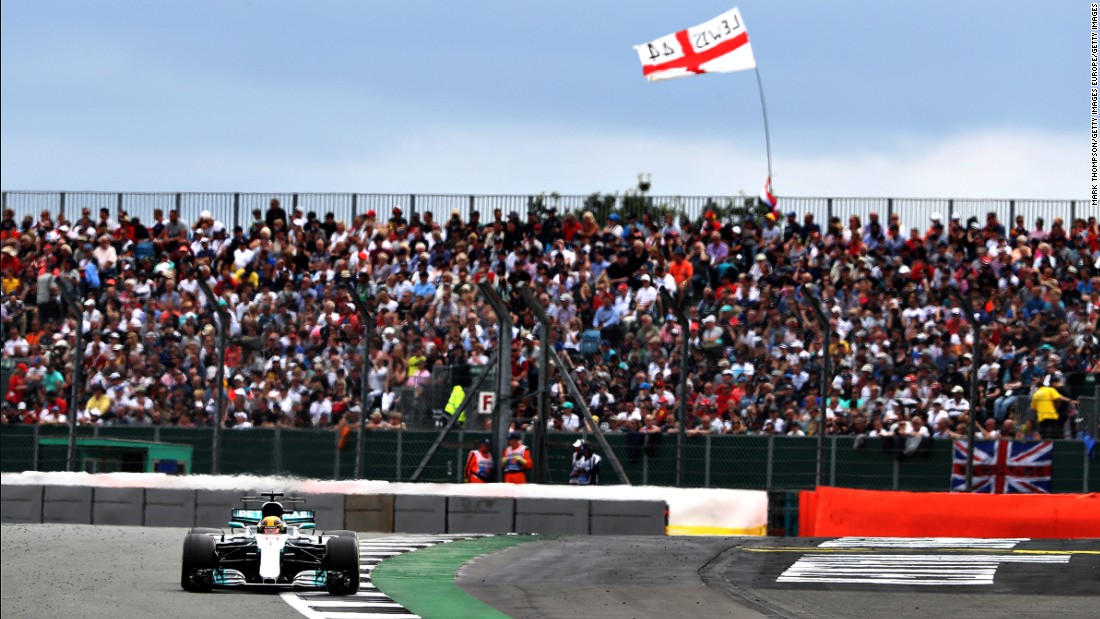 Photos: The story of the season so far …Silverstone: Hamilton dominates home race – Hamilton was simply unstoppable at the British Grand Prix, qualifying more than half-a-second quicker than the Ferraris before delighting home fans with a commanding win. Both Vettel and teammate Raikkonen suffered punctures late in the race. Raikkonen recovered to finish third, but Vettel could only manage seventh, slashing his championship lead over Hamilton to a single point.Drivers' title race after round 10Vettel 177 pointsHamilton 176 pointsBottas 154 pointsHide Caption 11 of 17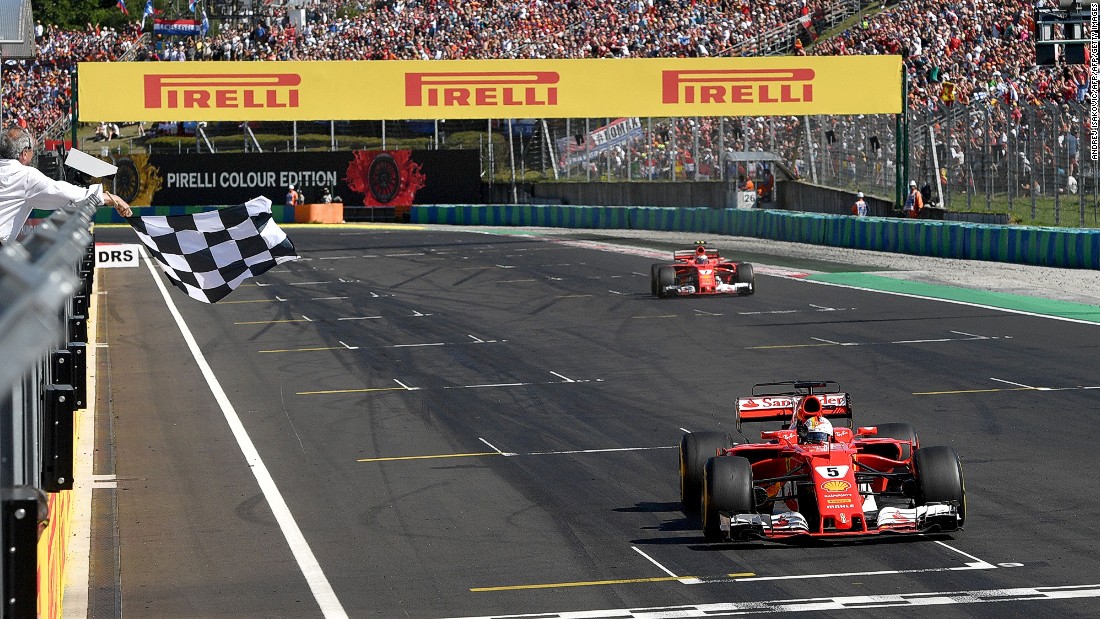 Photos: The story of the season so far …Budapest: Vettel bounces back – Another race, another twist as this time Ferrari took the honors with Vettel leading teammate Raikkonen home, followed by the two Mercedes. Hamilton finished fourth after letting Bottas through for the final podium spot — the Finn had let the Brit past earlier in what turned out to be an unsuccessful bid to chase down the two Ferraris.Drivers' title race after round 11Vettel 202 pointsHamilton 188 pointsBottas 169 pointsHide Caption 12 of 17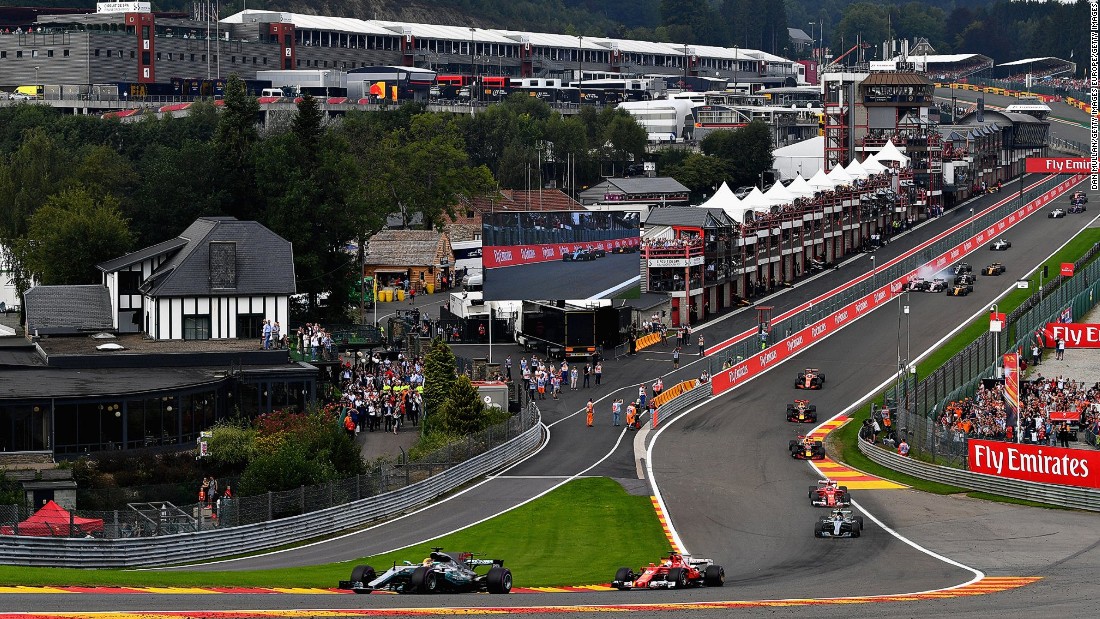 Photos: The story of the season so far …Spa: Hamilton makes F1 history – Hamilton equaled Michael Schumacher's all-time pole record of 68 at the Belgian Grand Prix and then fended off a challenge from Vettel in the final 10 laps to take the checkered flag and his third career victory at Spa Francorchamps.Drivers' title race after round 12Vettel 220 pointsHamilton 213 pointsBottas 179 pointsHide Caption 13 of 17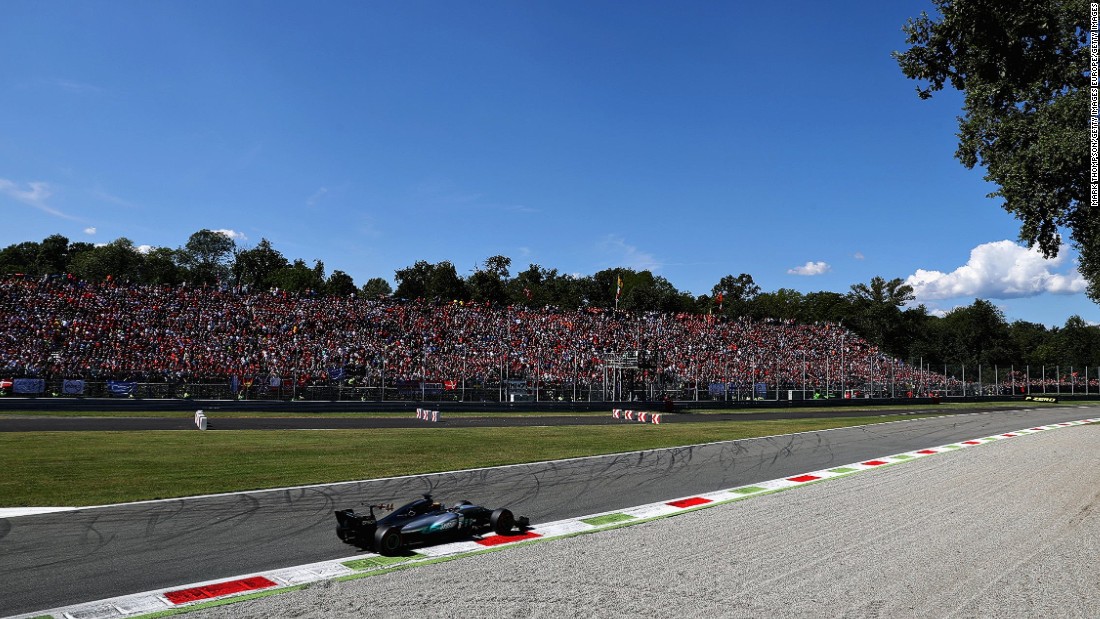 Photos: The story of the season so far …Monza: Hamilton wins in Ferrari's back yard – After trailing Vettel all season, Hamilton finally got his nose in front in the drivers' championship showing a zen-like composure at the Italian Grand Prix. Ferrari, however, had a weekend to forget on home soil. A poor qualifying in wet conditions was followed by a frustrating race. Vettel did squeak onto the podium behind the Mercedes duo, but his title lead had slipped away. Drivers' title race after round 13Hamilton 238 pointsVettel 235 pointsBottas 197 pointsHide Caption 14 of 17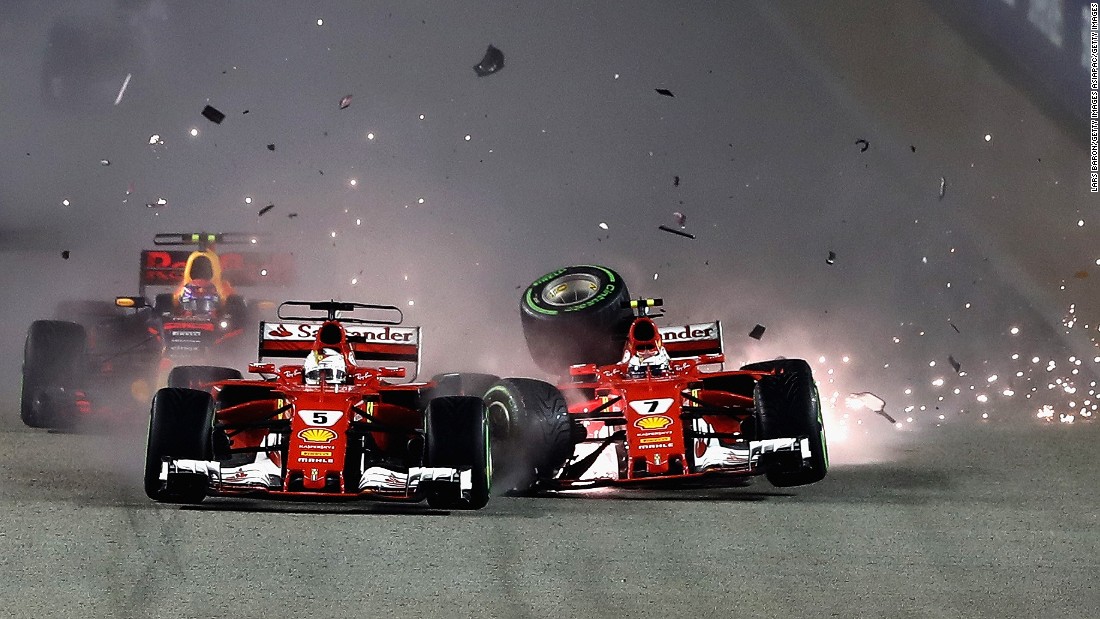 Photos: The story of the season so far …Marina Bay Street Circuit: Ferrari crashes out – Disaster strikes for Ferrari in Singapore as both Vettel and Raikkonen crash out on the opening lap — Raikkonen hit his teammate after colliding with Max Verstappen at the start. Lewis Hamilton, who started from fifth, avoids trouble and quickly assumes the lead which he holds to the checkered flag. The win, his third at the Singapore GP extends the Briton's lead over Vettel to 28 points. Drivers' title race after round 14Hamilton 263 pointsVettel 235 pointsBottas 212 pointsHide Caption 15 of 17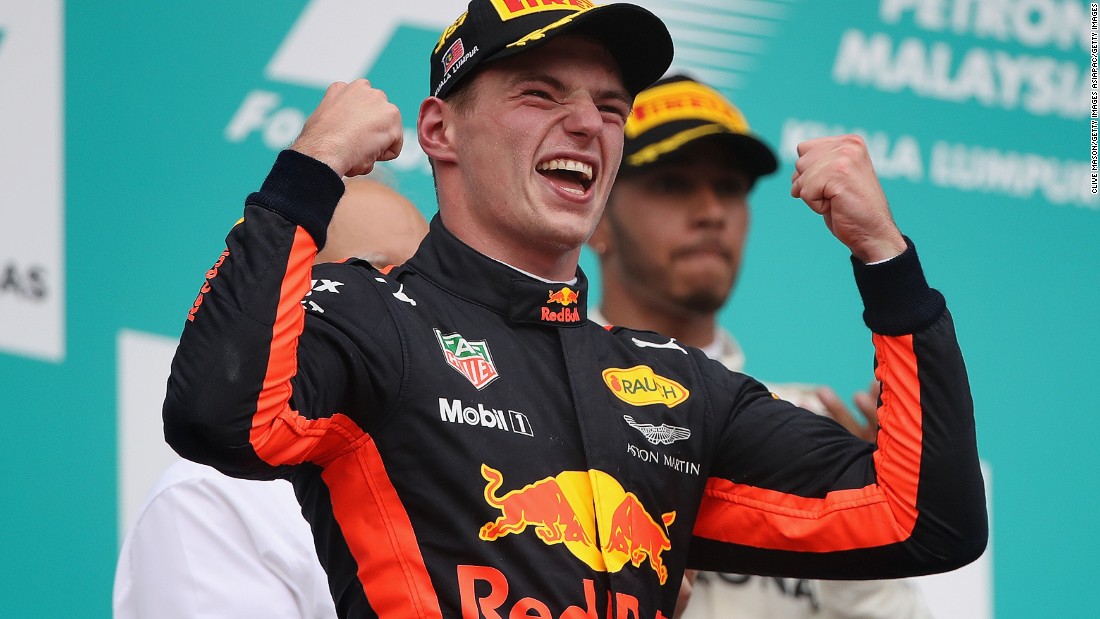 Photos: The story of the season so far …Sepang International Circuit: Verstappen makes more history – Max Verstappen celebrates after a superb victory at the Malaysian Grand Prix. The Red Bull driver had endured a miserable run of luck in 2017 with seven retirements in the 14 previous grands prix. But any disappointment was banished in Malaysia as he sped to a second career F1 win. The Dutchman, who turned 20 on September 30, was already the youngest-ever F1 race winner. With victory in Malaysia he is now the second youngest winner too. Lewis Hamilton was a distant second to Verstappen with Daniel Ricciardo finishing third. Sebastian Vettel crossed the line in fourth after starting in last place, which all means that Hamilton extends his championship lead over Vettel to 34 points. Drivers' title race after round 15Hamilton 281 pointsVettel 247 pointsBottas 222 pointsHide Caption 16 of 17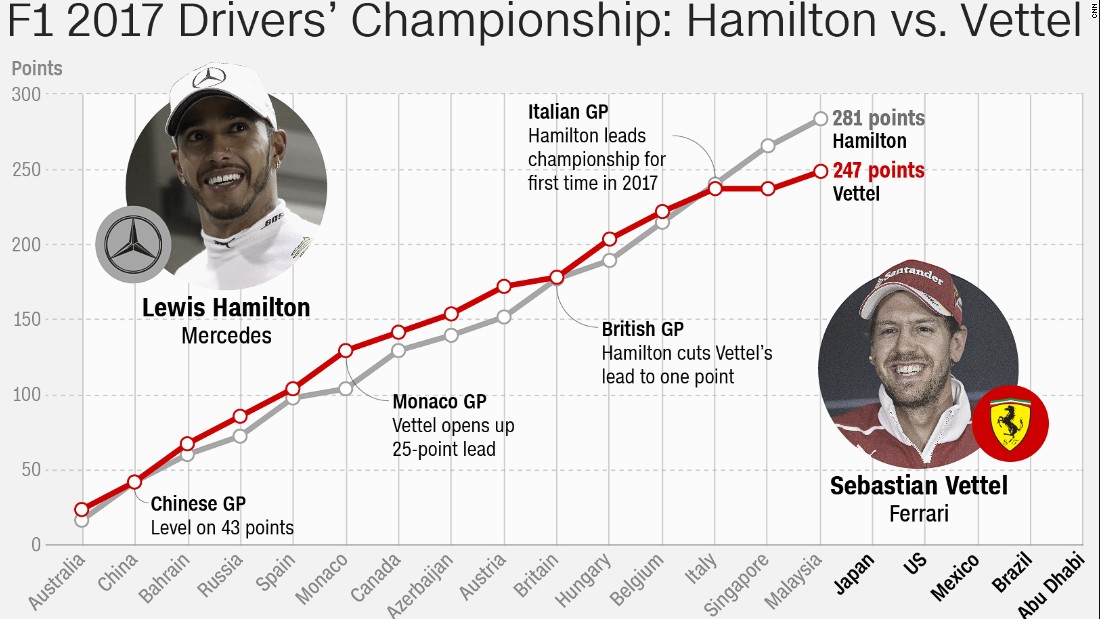 Photos: The story of the season so far …Hide Caption 17 of 17

















This year's Japanese Grand Prix takes place on Sunday October 8
Source Link:
http://www.cnn.com/2017/10/06/motorsport/japan-suzuka-f1-senna-prost-schumacher-hakkinen/index.html
[-0.163085]
Comments
comments