(CNN)Two Italian soccer players have been given one-match bans for blasphemy after being filmed taking God's name in vain while out on the field of play.
Sassuolo's Francesco Magnanelli and Parma's Matteo Scozzarella were handed their punishment Tuesday after league officials examined television pictures of the incidents that took place last weekend.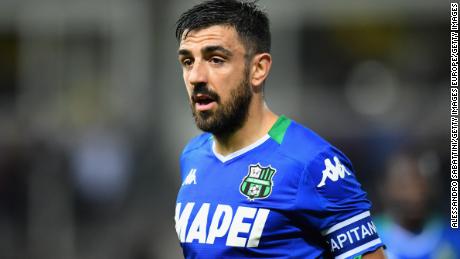 Francesco Magnanelli of Sassuolo looks on during the Serie A match between Parma Calcio and US Sassuolo on September 25.Magnanelli played in his team's 1-0 win over Verona while Scozzarella appeared in Parma's 2-2 draw with Inter Milan.Blasphemy is hugely frowned upon in Italy and the country's soccer authorities have sought to crack down on it over the past decade.
Parma's Italian midfielder Matteo Scozzarella (L) and Inter Milan's Argentinian forward Lautaro Martinez go for the ball.In August 2018, Rolando Mandragora was banned for one-game in August 2018 after taking God's name in vain while playing for Udinese against Sampdoria.Read MoreLast season, Atalanta coach Gian Piero Gasperini was suspended after making blasphemous remarks during his side's game with SPAL.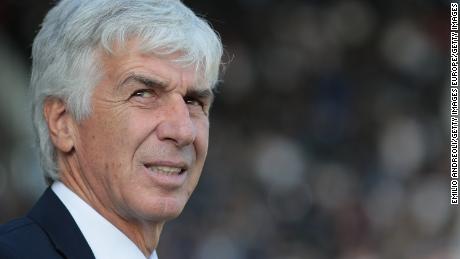 Atalanta coach Gian Piero Gasperin led his side into the 2019 Champions League for the first time in its history.Italy's soccer authorities have come in for criticism for their disciplinary judgments this season, particularly on racism.Just last month the Italian Football Federeation (FIGC) said Cagliari would not be punished for the racist monkey chants directed towards Inter Milan striker Romelu Lukaku by its fans, while no punishment has been handed to Hellas Verona for its fans racially abusing AC Milan midfielder Franck Kessie.
JUST WATCHEDJuventus: Season preview 2019/20ReplayMore Videos …MUST WATCH
Juventus: Season preview 2019/20 04:17FIFA President Gianni Infantino has urged the FIGC to take a stronger stance against racism."Racism is combated with education, condemnation and discussion," Infantino said on a program aired by Italian state broadcaster RAI. "You can't have racism in society or in football. In Italy the situation hasn't improved and this is serious."You need to identify those responsible and throw them out of the stadiums. You need, as in England, the certainty of the penalty. You can't be afraid to condemn racists, we need to combat them until they stop."
Source Link:
https://www.cnn.com/2019/10/29/football/italy-soccer-blasphemy-magnanelli-scozzarella-spt-intl/index.html
[-0.514689]
Comments
comments