(CNN)If all the world had seen of Kim Jong Un until now was the smiling, tactile, affectionate young man who strolled nonchalantly through the wooded glades of the demilitarized zone on Friday, it could be forgiven for thinking a brutal tyrant had been deeply misunderstood.
Friday's historic encounter between North and South Korea gave a world leader who has hitherto shunned the foreign media more camera time than ever before. Every mannerism, every lift of an eyebrow was studied and speculated upon.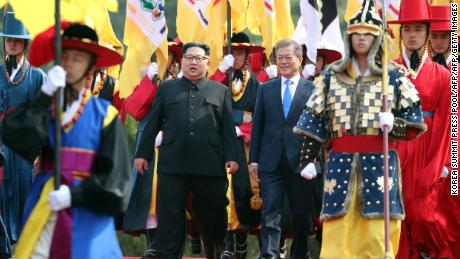 When Kim met Moon: All the key moments from a historic dayFor most of the day, Kim and South Korean President Moon Jae-in were followed around by television cameras and photographers as they picked their way through a series of intricately choreographed scenes in Panmunjom, the "peace village" in the DMZ that was the venue for their talks. There was the moment when Kim stepped into the South, across the demarcation line that separates the two Koreas (and Moon briefly stepped over into the North). Then they held almost two hours of talks in the morning, planted a symbolic tree, and strolled alone in a wooded area of the DMZ where they spoke without officials for 30 minutes. They embraced, held hands, and traded pleasantries. Kim even thanked the media for coming.Read More
North Korean leader Kim Jong Un (L) and South Korean President Moon Jae-in hold hands as they cross the Military Demarcation Line at the DMZ on April 27.Finally, in the late afternoon, the substance: The Panmunjom Declaration for Peace, Prosperity and Unification on the Korean Peninsula, which commits the two countries to denuclearization and talks to bring a formal end to conflict between the two nations.So can it really be possible that, after decades of mutual distrust that recently appeared to bring the two nations to the brink of war, a complete reversal is on the cards and that peace is a realistic prospect?The big players who loom large over the Korean conflict appear deeply skeptical. Notwithstanding President Donald Trump's enthusiastic tweets ("Good things are happening, but only time will tell!") the White House statement was decidedly cool. "On the occasion of Republic of Korea President Moon Jae-in's historic meeting with North Korean leader Kim Jong Un, we wish the Korean people well," it said. "We are hopeful that talks will achieve progress toward a future of peace and prosperity for the entire Korean Peninsula."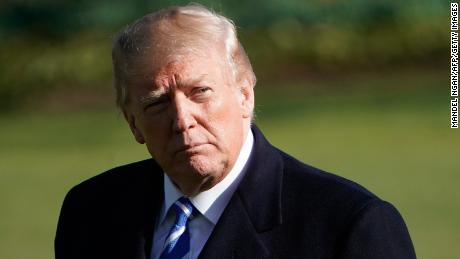 Trump deserves credit for Korean thawJapan's Prime Minister Shinzo Abe could barely conceal his doubts. "I strongly … hope that North Korea will take concrete actions. I will keep close eyes on North Korea's actions from now," he said. In other words, I'll believe denuclearization when I see it.Some longtime North Korea watchers harbor significant doubts that there could have been any real transformation of the man who just under a year ago spoke of intercontinental ballistic missiles that could reach the US mainland as a "gift package to the Yankees.""How many pictures of him are there where he's at a nuclear facility at a missile test and he's smiling and happy?" asked Catherine Dill, a Senior Research Associate at the James Martin Center for Nonproliferation Studies at the Middlebury Institute of International Studies at Monterey."Just because he seems like a jolly man doesn't mean that his intentions are pure, or that he's unable to launch a missile again," she told CNN. "A lot of the summit, even if the true intention of President Moon Jae-in and Kim Jong Un was to work towards peace at some point, there's a lot of pageantry involved. So in some sense, he was acting."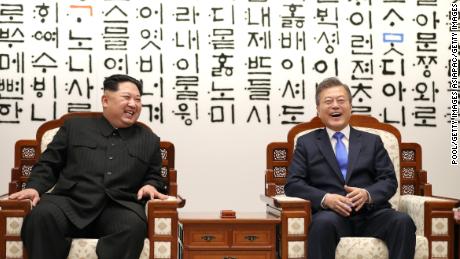 North Korean leader Kim Jong Un (L) and South Korean President Moon Jae-in at the Inter-Korean Summit on Friday in Panmunjom. Security and nonproliferation experts nevertheless welcomed Friday's historic meeting as a significant achievement for Moon and his policy of engagement with North Korea. But while some progress may occur, some see the chances of denuclearization, at least in the sense that the West would understand it, as slim."The prospects of North Korea dismantling its nuclear and ballistic missile arsenals remain as dim as ever," said Miha Hribenik, a senior Asia analyst at global risk consultancy Verisk Maplecroft."Once the cameras are switched off and the enthusiasm over Friday's summit declaration — which promises a peaceful and nuclear-free Korean peninsula — subsides, both sides will need to roll up their sleeves and get to work," Hribenik said. "We continue to maintain our long-standing view that North Korea under Kim Jong Un has no intention of unilaterally denuclearizing without the kind of security guarantees South Korea and the US cannot realistically provide."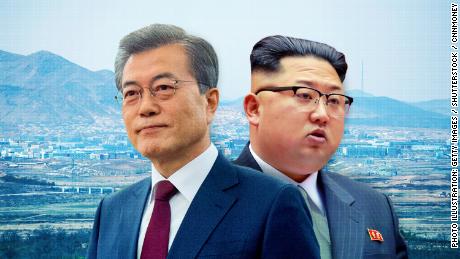 Kim Jong Un is a tyrant. Talk of peace in Korea doesn't change thatHribenik wrote that the North Korean "sudden charm offensive" was designed to "extract as many economic and security concessions as possible while sacrificing as little as it can in return."The devil is certainly in the details, agrees Catherine Dill. "It's a very overused term but in this case it's absolutely true, if denuclearization is on the table — which in fact I'm skeptical it is even though it's mentioned in the joint declaration — that is a very complex process that requires agreement on the tiniest of details and I'm skeptical we'll get to that point anytime soon.""I think we should keep in mind that there have been a number of agreements in the past that have never been successfully implemented," said David Maxwell, retired US Army Special Forces colonel and a fellow at the Institute of Korean American Studies.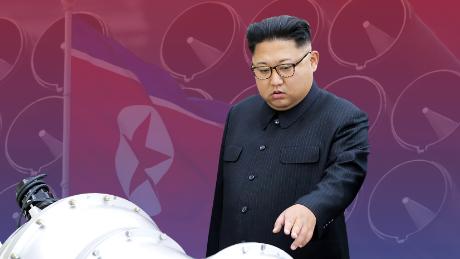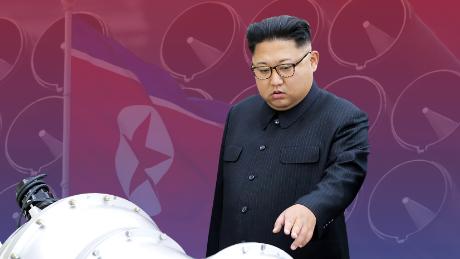 JUST WATCHEDWho is Kim Jong Un?ReplayMore Videos …MUST WATCH
Who is Kim Jong Un? 02:25″We should be hopeful and encouraged by the events in Panmunjom (inside the DMZ), but we also need to keep a clear-eyed view of the nature of the Kim family regime, and the history of its aggression, threats and provocations, stated claim to unify the peninsula under the North's control, and the documented human rights atrocities that are being committed against some 25 million Koreans living in the North," he said to CNN."Can a one-day event change the nature of the brutal Kim family regime that has existed for some seven decades? We should never forget the people living in severe oppression in the north while we admire the charm offensive conducted by Kim Jong Un," Maxwell said.For any future meeting with US President Donald Trump, a major takeaway from Friday's events was in the ease with which Kim Jong Un comported himself. He joked about the state of North Korean streets, and apologized beforehand to President Moon that he would need to come by plane when he should come visit the capital because the roads were so bad.That self-assurance speaks to a larger challenge for Trump and Moon, said Catherine Dill. "To me, Kim Jong Un's confidence is much more indicative of his own confidence as a de facto nuclear power, it's much more indicative of that to me than a sincere desire for peace," she told CNN.
Why Kim Jong Un came in from the cold: 3 theories"Every day I watch North Korean TV and I read the newspapers and media, but actually, the propaganda work of North Korea is saying quite different things to its citizens," Thae Yong-ho, North Korea former deputy ambassador to the UK told CNN. "It's saying that the current, this kind of peaceful atmosphere around North Korea is the direct achievement and outcome of the completion of nuclear weapons development."It's unlikely the US will do anything to help Kim resolve economic challenges at home before North Korea shows is actively dismantling its nuclear program and allows inspectors in to carry out tests and verifications.President Trump evinced his own continued skepticism even after Friday's momentous events. "After a furious year of missile launches and nuclear testing, a historic meeting between North and South Korea is now taking place," he tweeted later Friday. Historic Koreas summit
Live: Kim, Moon hold landmark talksHere's what Kim and Moon first saidFull report: Kim calls for 'new history'Watch: Kim's guards run by limo
Source Link:
https://www.cnn.com/2018/04/27/asia/kim-jong-un-north-south-korea-summit-intl/index.html
[0.692531]
Comments
comments