Jerusalem (CNN)A quarter of a century ago, Israelis were stunned when Benjamin Netanyahu narrowly beat Shimon Peres to become Israel's youngest-ever Prime Minister.
On Sunday, the anniversary of that first win in 1996, Netanyahu addressed the country as he faced the possibility of the end of his political career after his former lieutenant, Naftali Bennett, announced he would work with opposition leader Yair Lapid to form a new government. Blasting Bennett, leader of the small right-wing party Yamina, for committing what he called the "fraud of the century," Netanyahu portrayed him as a power hungry politician who "only cares about himself." It was a statement that some Israeli political watchers found to be more than ironic considering Netanyahu's past political maneuvers.The announcement came after Bennett had already once announced he was working with Lapid, only to backtrack two days into Israel's latest conflict with Hamas-led militants in Gaza. But a few days after the ceasefire was announced, Bennett was back at the negotiating table with Lapid.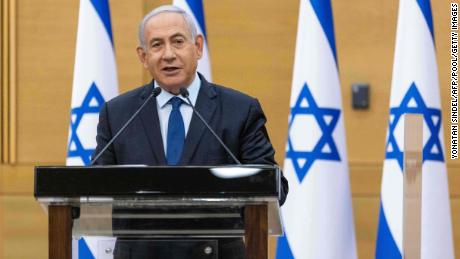 Benjamin Netanyahu, the longest-running Israeli prime minister, could be ousted in days after rivals agree to work on unity governmentBennett and Lapid, who heads the centrist party Yesh Atid, will try to form a coalition with at least eight political parties that run the political spectrum; from the left wing Meretz, to Bennett's right wing Yamina party. They will also likely need the outside support of a small Islamist party called United Arab List in order to be able to have a governing majority in Israel's parliament, the Knesset.Read MoreThe new coalition will not see eye-to-eye on many of the most pressing issues facing Israel, especially on Israeli relations with Palestinians. But in his speech Sunday, Bennett said he's willing to sit with parties with opposing ideological views as his in order to prevent Israel from going through a fifth round of elections in just over two years. It is widely believed that as part of the deal, Bennett will serve first as prime minister, followed by Lapid. Now Lapid needs to formally sign coalition agreements with the various parties before presenting his new government to Israeli President Reuven Rivlin. Then the Knesset needs to vote and approve the new government before it can be formally sworn in. Beyond losing his role as leader of Israel's government, Netanyahu faces perhaps an even greater threat if the new government is sworn in: an ongoing trial on charges of bribery, fraud and breach of trust.
Photos: Netanyahu's life in picturesIsraeli Prime Minister Benjamin Netanyahu chairs the weekly cabinet meeting at his office in Jerusalem on October 27.Hide Caption 1 of 54
Photos: Netanyahu's life in picturesNetanyahu, right, sits with a friend at the entrance to his family home in Jerusalem on July 1, 1967. The Israeli prime minister was born October 21, 1949.Hide Caption 2 of 54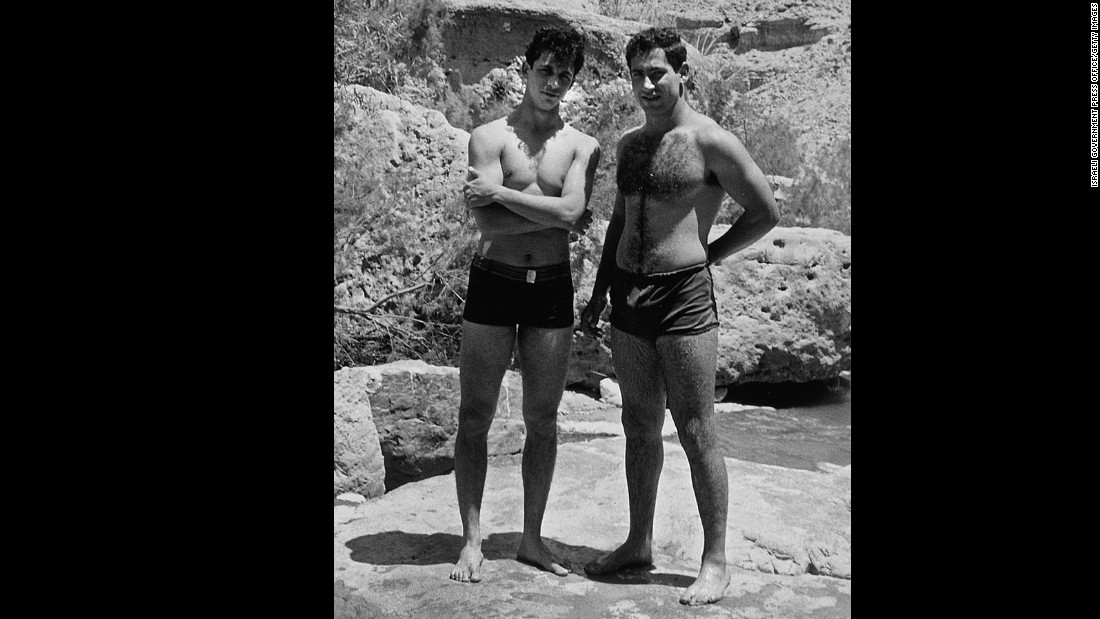 Photos: Netanyahu's life in picturesNetanyahu, right, with a friend in the Judean Desert on May 1, 1968.Hide Caption 3 of 54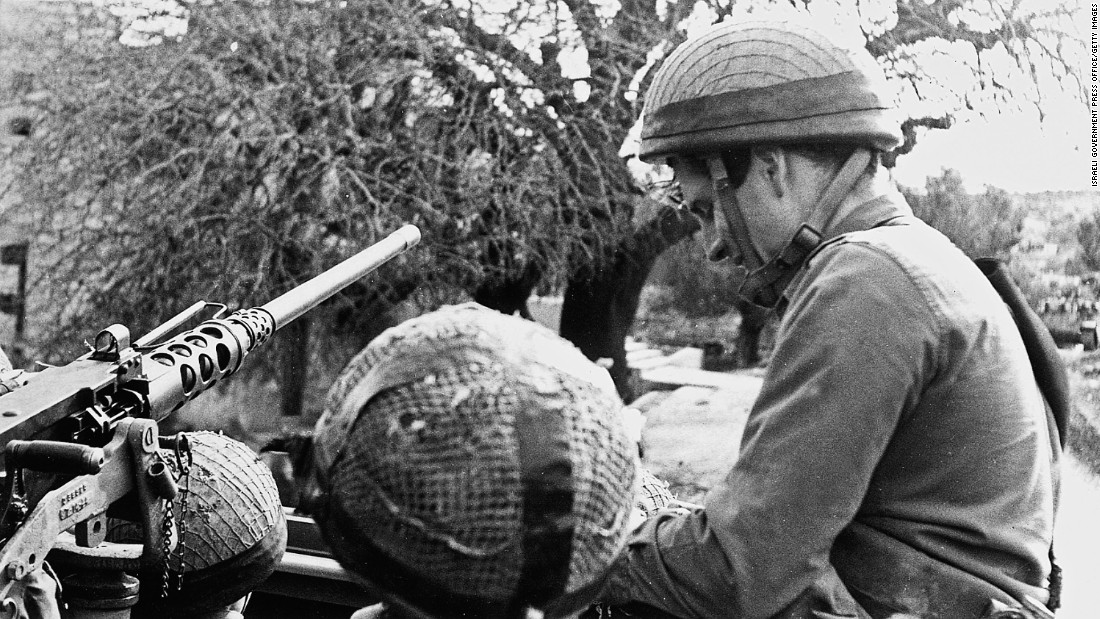 Photos: Netanyahu's life in picturesNetanyahu serves in the Sayeret Matkal, an elite commando unit of the Israeli army, in 1971. He spent five years in the unit.Hide Caption 4 of 54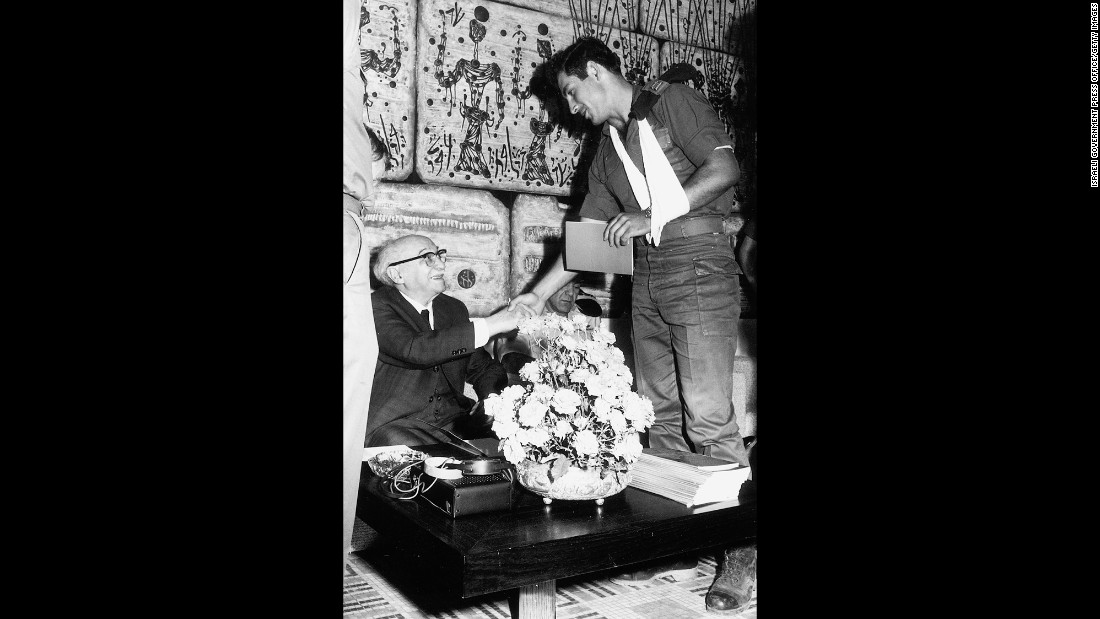 Photos: Netanyahu's life in picturesNetanyahu shakes hands with Israeli President Zalman Shazar during a November 1972 ceremony honoring the Sayeret Matkal soldiers who freed hostages in a hijacking earlier that year.Hide Caption 5 of 54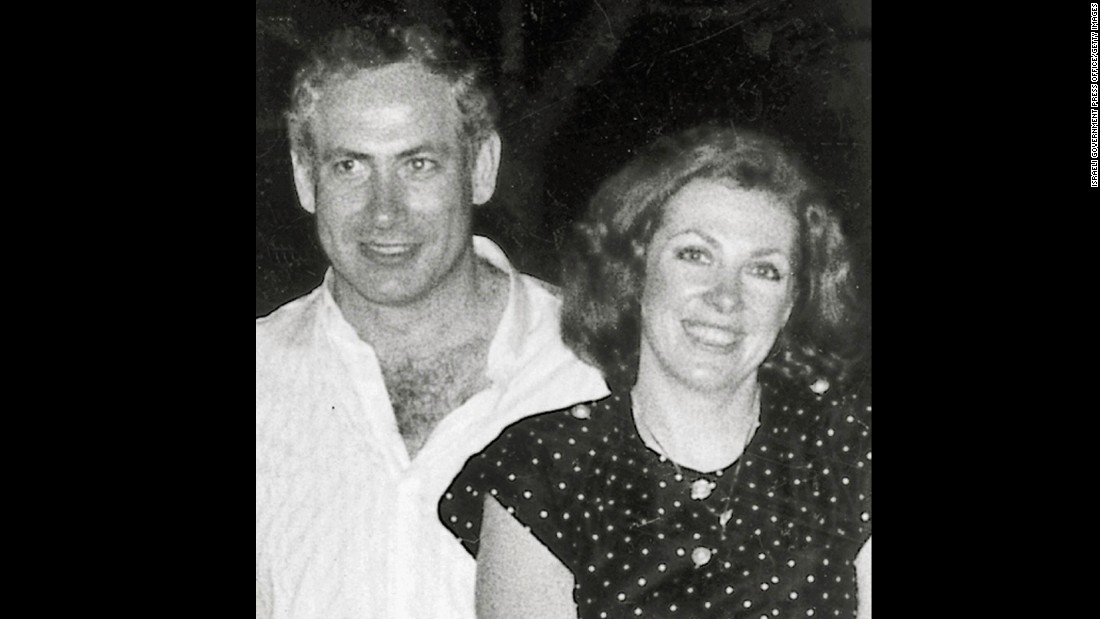 Photos: Netanyahu's life in picturesNetanyahu and his first wife, Miriam, in June 1980.Hide Caption 6 of 54
Photos: Netanyahu's life in picturesNetanyahu and his daughter, Noa, in June 1980.Hide Caption 7 of 54
Photos: Netanyahu's life in picturesNetanyahu speaks in July 1986 with Sorin Hershko, one of the Israeli soldiers wounded in Operation Entebbe. It was the 10th anniversary of Operation Entebbe, a dramatic rescue of Jewish hostages at Uganda's Entebbe Airport. Netanyahu's brother, Yonatan, was killed leading Operation Entebbe in 1976. Affected by his brother's death, Netanyahu organized two international conferences on ways to combat terrorism, one in 1979 and another in 1984.Hide Caption 8 of 54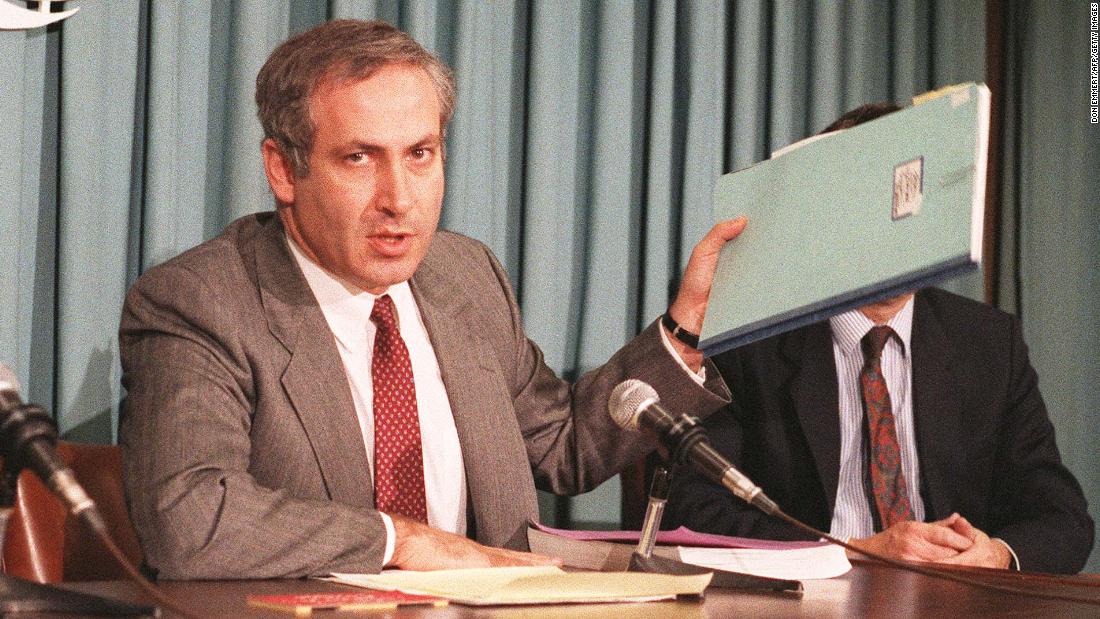 Photos: Netanyahu's life in picturesFrom 1984 to 1988, Netanyahu was Israel's ambassador to the United Nations.Hide Caption 9 of 54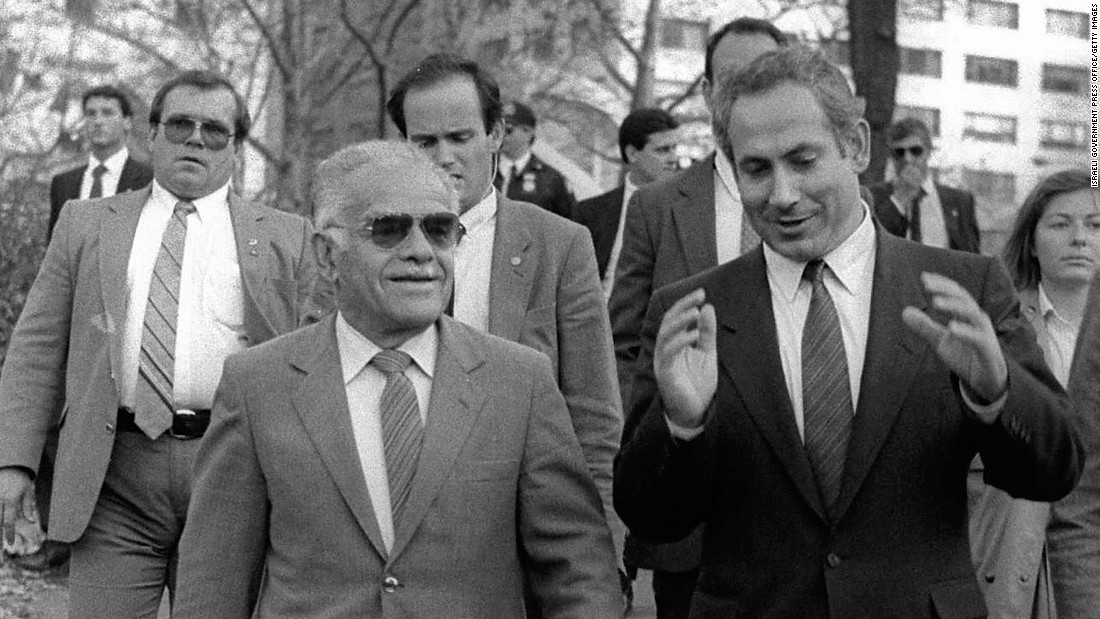 Photos: Netanyahu's life in picturesNetanyahu talks to Israeli Prime Minister Yitzhak Shamir on a stroll in New York's Central Park in November 1987.Hide Caption 10 of 54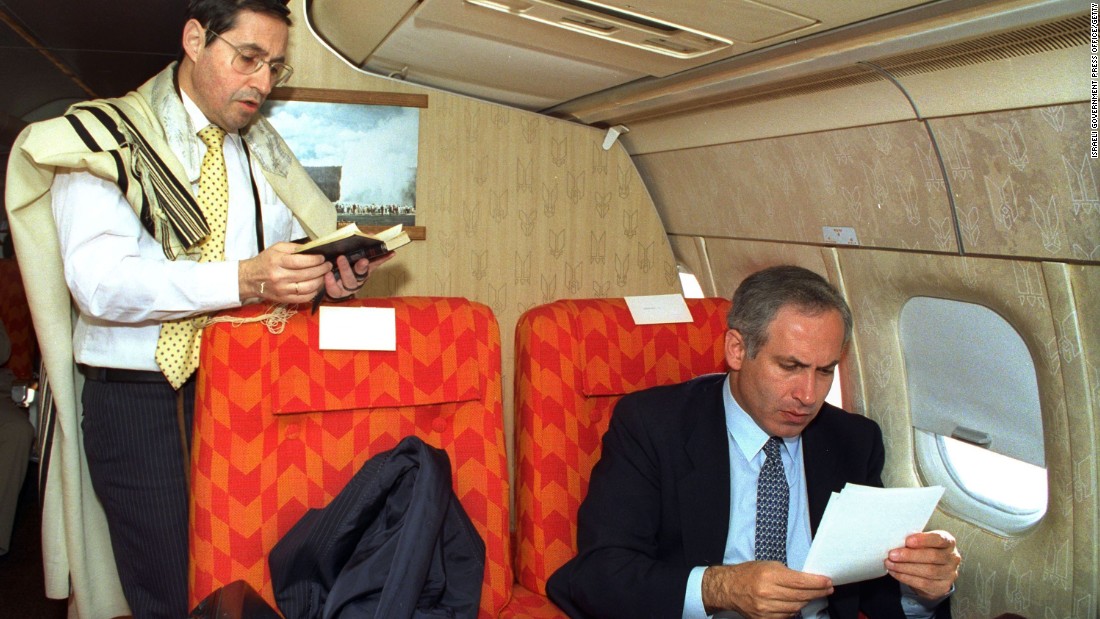 Photos: Netanyahu's life in picturesNetanyahu, as Israel's deputy foreign minister, goes through some papers as Government Secretary Elyakim Rubinstein recites morning prayers on a flight from New York to Washington in April 1989.Hide Caption 11 of 54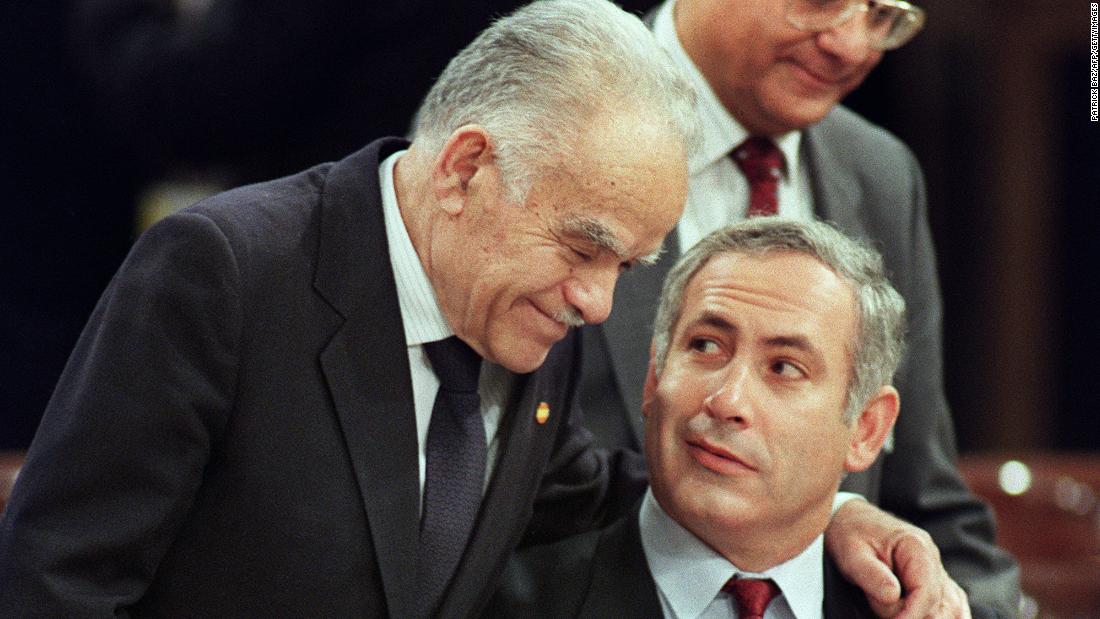 Photos: Netanyahu's life in picturesShamir speaks with Netanyahu at a Middle East peace conference in Madrid in October 1991.Hide Caption 12 of 54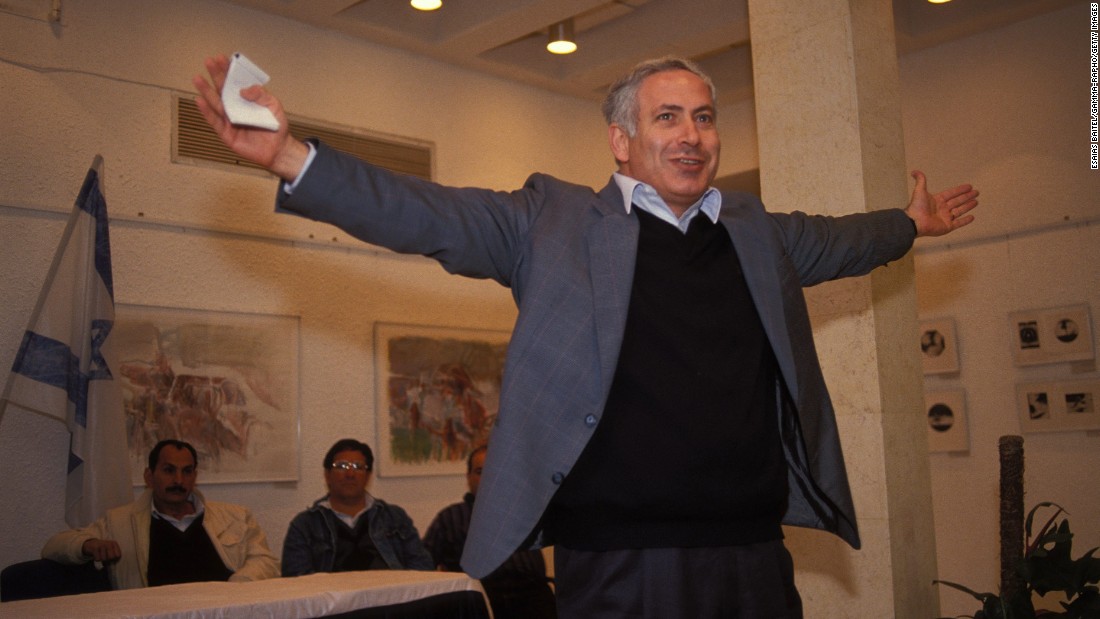 Photos: Netanyahu's life in picturesNetanyahu celebrates after being elected chairman of the right-wing Likud party on March 21, 1993.Hide Caption 13 of 54
Photos: Netanyahu's life in picturesNetanyahu and former foreign minister David Levy sit in the Knesset during the vote for a new Israeli President on March 24, 1993.Hide Caption 14 of 54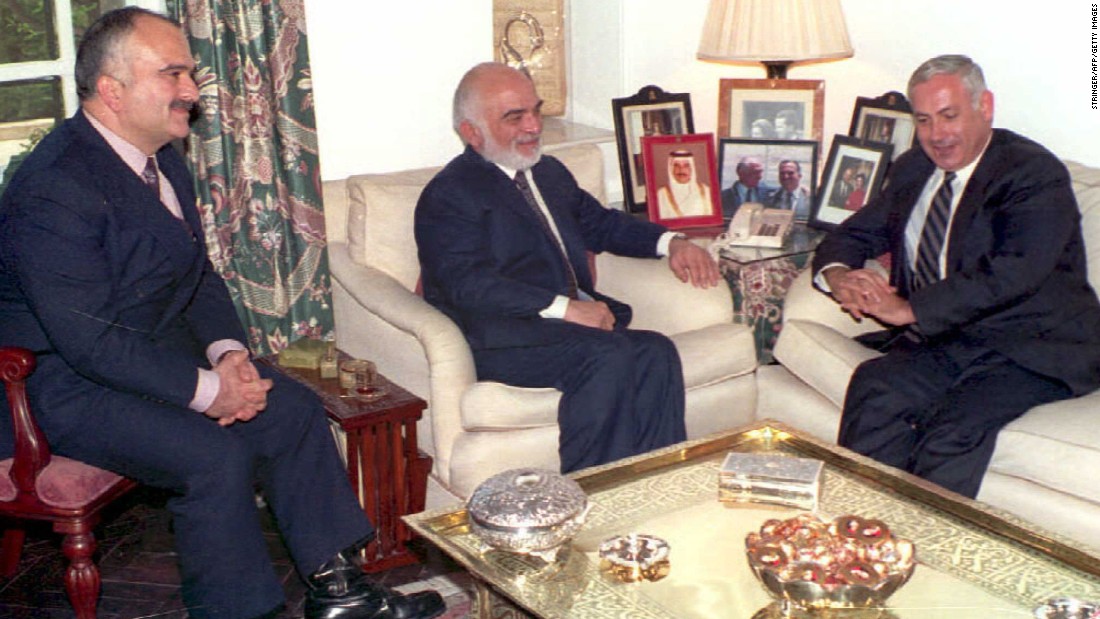 Photos: Netanyahu's life in picturesNetanyahu meets with King Hussein of Jordan, center, and Crown Prince Hassan in December 1994. It was Netanyahu's first visit to Jordan.Hide Caption 15 of 54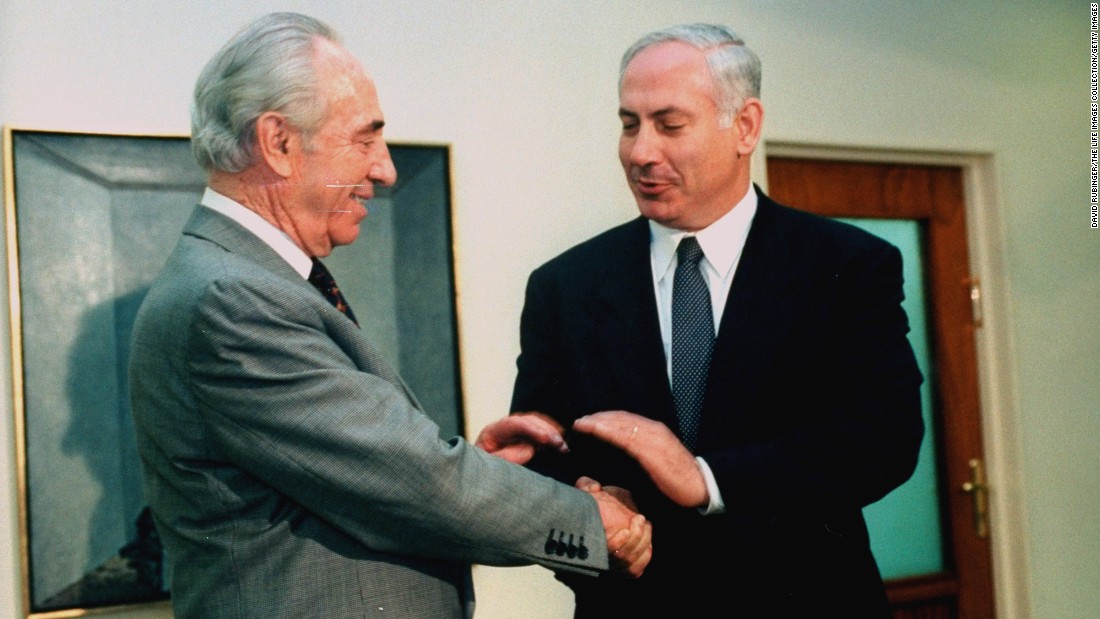 Photos: Netanyahu's life in picturesNetanyahu shakes hands with outgoing Israeli Prime Minister Shimon Peres before taking the office himself in June 1996.Hide Caption 16 of 54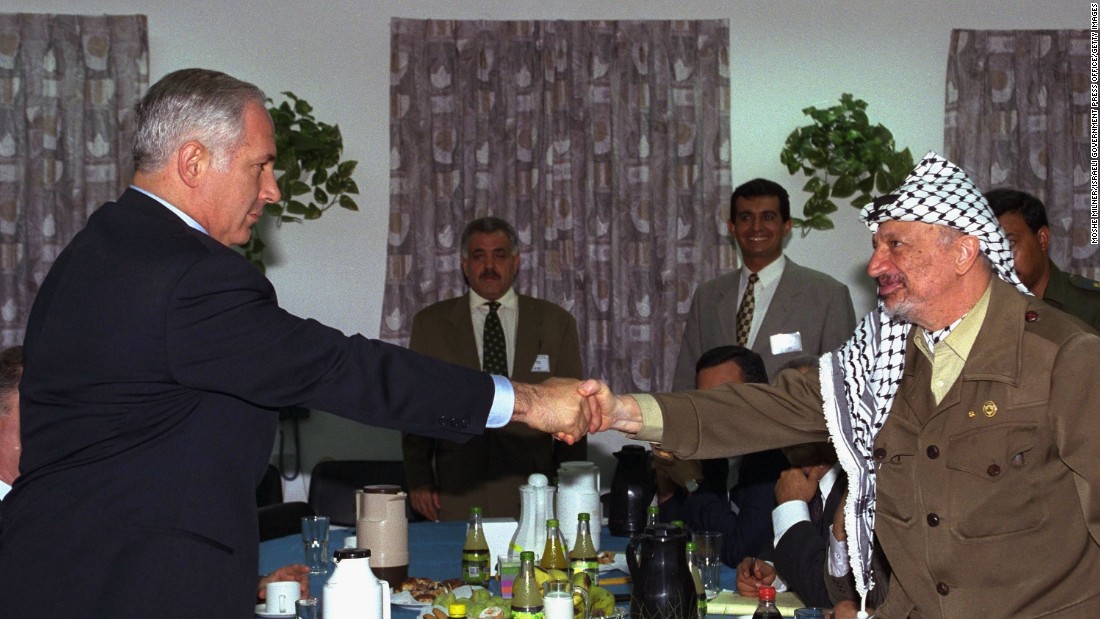 Photos: Netanyahu's life in picturesNetanyahu meets with Palestinian leader Yasser Arafat for the first time on September 4, 1996, at an Israeli army base at the Erez Checkpoint in Gaza.Hide Caption 17 of 54
Photos: Netanyahu's life in picturesNetanyahu meets with US Secretary of State Madeleine Albright in Washington in February 1997.Hide Caption 18 of 54
Photos: Netanyahu's life in picturesNetanyahu spends the day on the beach with his wife, Sara, and son Avner in Caesarea, Israel, on August 16, 1997. Hide Caption 19 of 54
Photos: Netanyahu's life in picturesActor Kirk Douglas holds the King David Award, presented to him by the Jerusalem Fund of Aish HaTorah during a dinner in Beverly Hills, California, on November 17, 1997. Douglas was honored for his inspirational commitment to Israel and the Jewish people and in recognition of his new book "Climbing the Mountain." Netanyahu is on the left. To the right is Rabbi Nachum Braverman, director of the Jerusalem Fund of Aish HaTorah.Hide Caption 20 of 54
Photos: Netanyahu's life in picturesNetanyahu looks through binoculars during a tour of the West Bank with the Israeli Cabinet on December 28, 1997. Hide Caption 21 of 54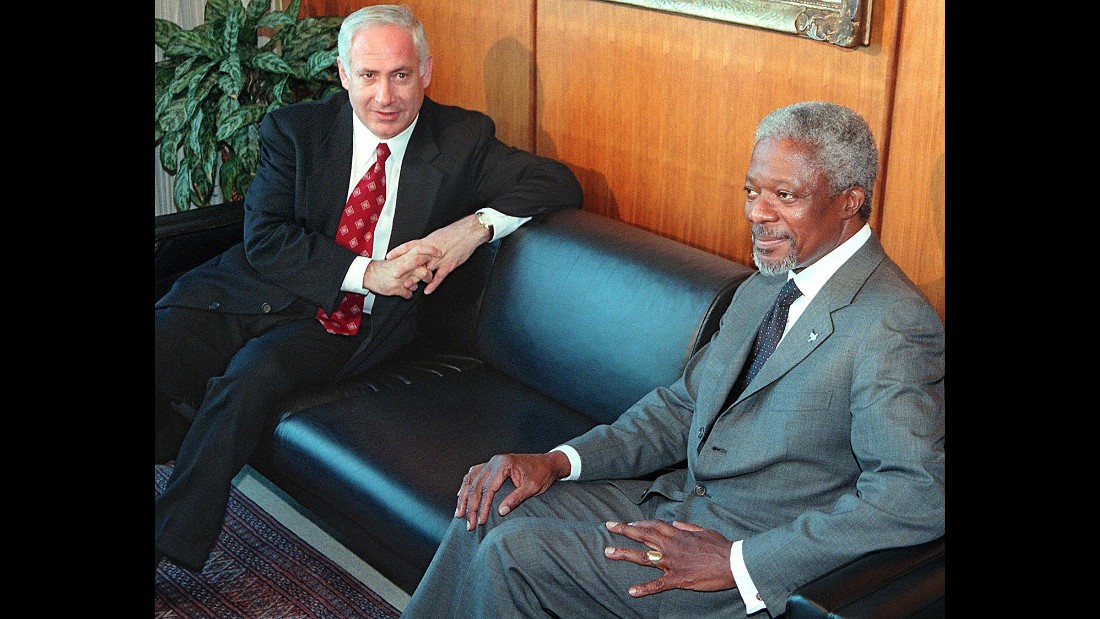 Photos: Netanyahu's life in picturesNetanyahu and UN Secretary-General Kofi Annan meet in Annan's office in New York on May 15, 1998. Hide Caption 22 of 54
Photos: Netanyahu's life in picturesFrom left, Arafat, King Hussein, US President Bill Clinton and Netanyahu sign an interim Middle East peace agreement in October 1998.Hide Caption 23 of 54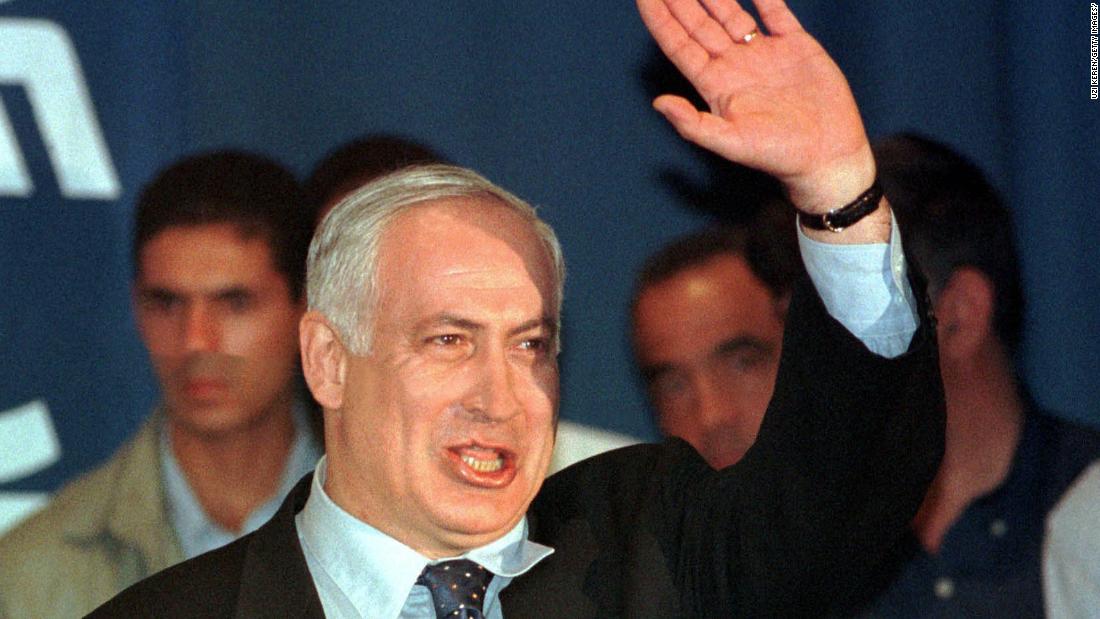 Photos: Netanyahu's life in picturesNetanyahu thanks a crowd of supporters in Tel Aviv, Israel, at a Likud party meeting in May 1999. The outgoing Prime Minister announced that he was quitting the Knesset and stepping down as party leader 10 days after being defeated in elections. Hide Caption 24 of 54
Photos: Netanyahu's life in picturesNetanyahu testifies before the US House Government Reform Committee on September 20, 2001. The committee was conducting hearings on terrorism following the September 11 attacks.Hide Caption 25 of 54
Photos: Netanyahu's life in picturesNetanyahu, as Israel's foreign minister, laughs with Israeli Prime Minister Ariel Sharon at the start of a Likud convention in Tel Aviv on November 12, 2002.Hide Caption 26 of 54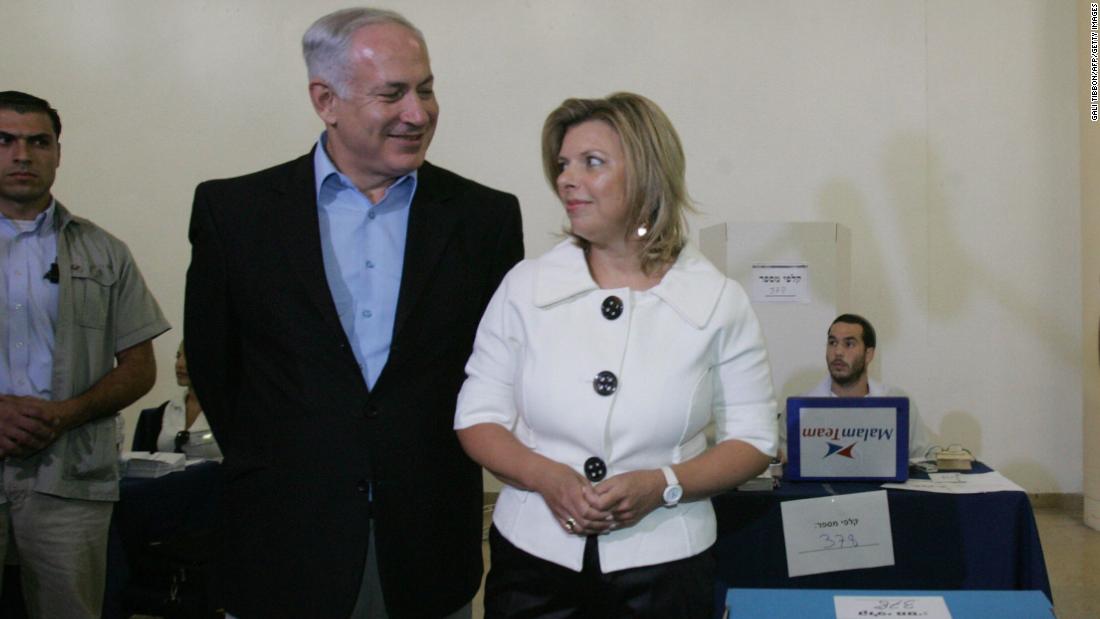 Photos: Netanyahu's life in picturesNetanyahu and his wife, Sara, are seen at a polling station in Jerusalem on August 14, 2007. He was re-elected as head of the Likud party.Hide Caption 27 of 54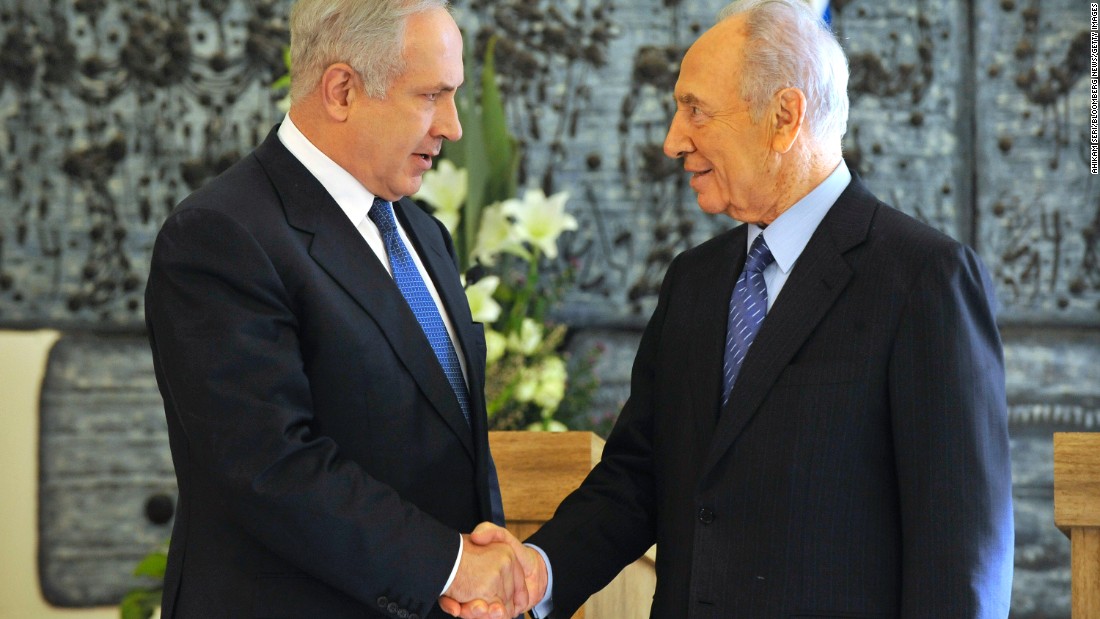 Photos: Netanyahu's life in picturesNetanyahu shakes hands with Israeli President Shimon Peres in February 2009 after Netanyahu won backing from the Israeli parliament to become Prime Minister again. A close election between Netanyahu and rival Tzipi Livni had left the results unclear until the parliament's decision. Hide Caption 28 of 54
Photos: Netanyahu's life in picturesFrom left, Egyptian President Hosni Mubarak, Netanyahu, US President Barack Obama, Palestinian President Mahmoud Abbas and Jordan's King Abdullah II walk to the East Room of the White House to make statements on the Middle East peace process on September 1, 2010.Hide Caption 29 of 54
Photos: Netanyahu's life in picturesObama meets with Netanyahu at the White House in September 2010.Hide Caption 30 of 54
Photos: Netanyahu's life in picturesUS Secretary of State Hillary Clinton looks on as Abbas and Netanyahu shake hands in Sharm El-Sheikh, Egypt, on September 14, 2010, during a second round of Middle East peace talks.Hide Caption 31 of 54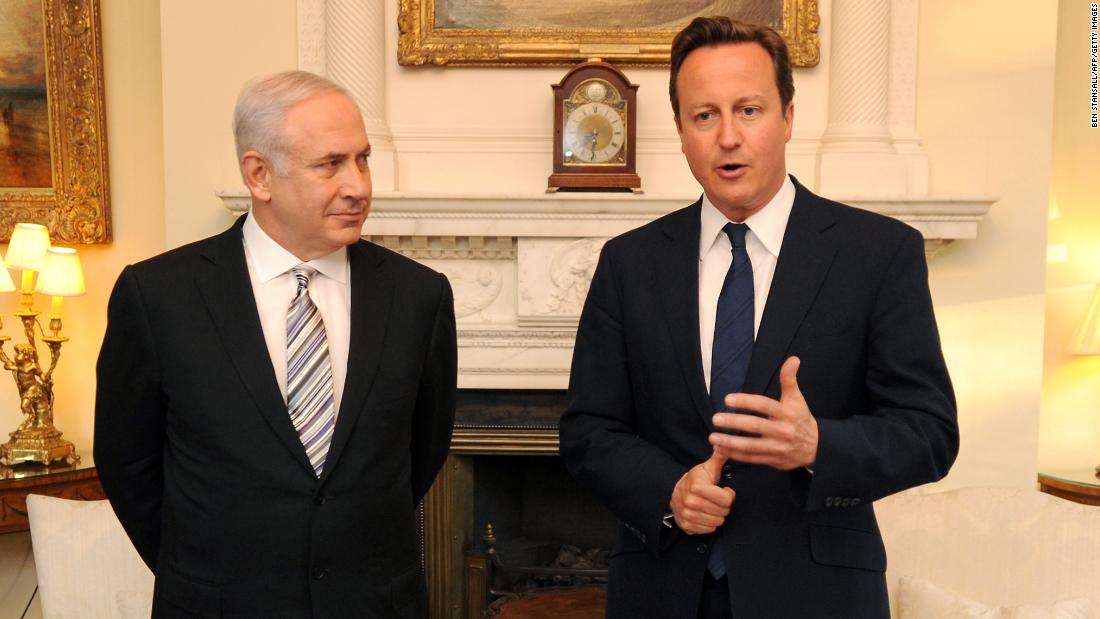 Photos: Netanyahu's life in picturesBritish Prime Minister David Cameron welcomes Netanyahu to 10 Downing Street in London on May 4, 2011.Hide Caption 32 of 54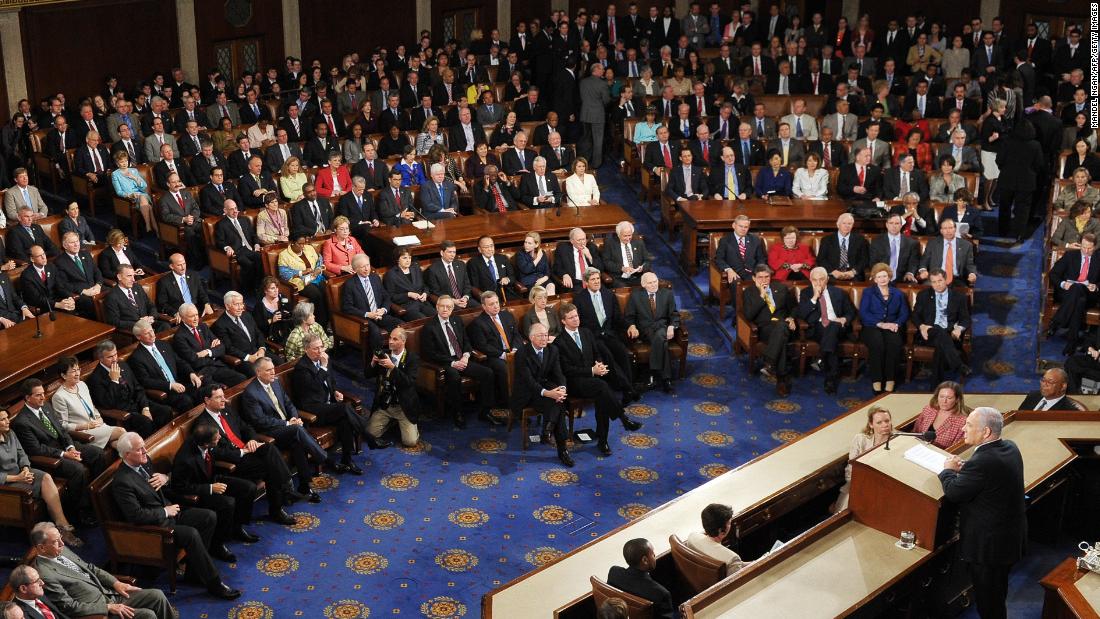 Photos: Netanyahu's life in picturesNetanyahu address a joint session of the US Congress on May 24, 2011. He said that he was prepared to make "painful compromises" for a peace settlement with the Palestinians, but he repeated that Israel will not accept a return to its pre-1967 boundaries.Hide Caption 33 of 54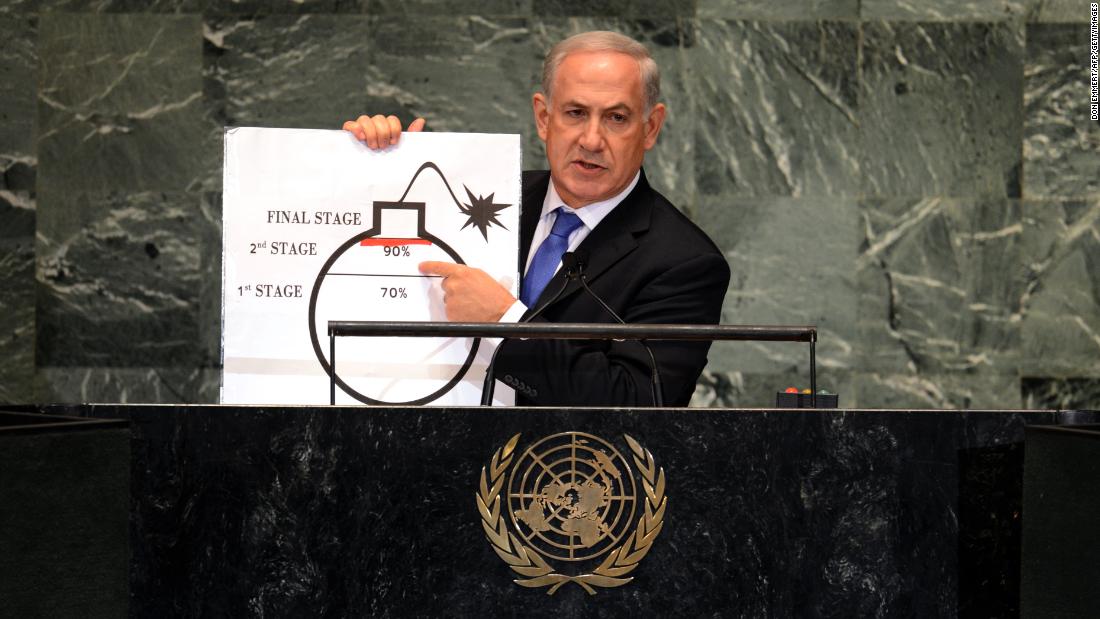 Photos: Netanyahu's life in picturesNetanyahu uses a diagram of a bomb to describe Iran's nuclear program while delivering an address to the UN General Assembly on September 27, 2012. Netanyahu exhorted the General Assembly to draw "a clear red line" to stop Iran from developing nuclear weapons. Hide Caption 34 of 54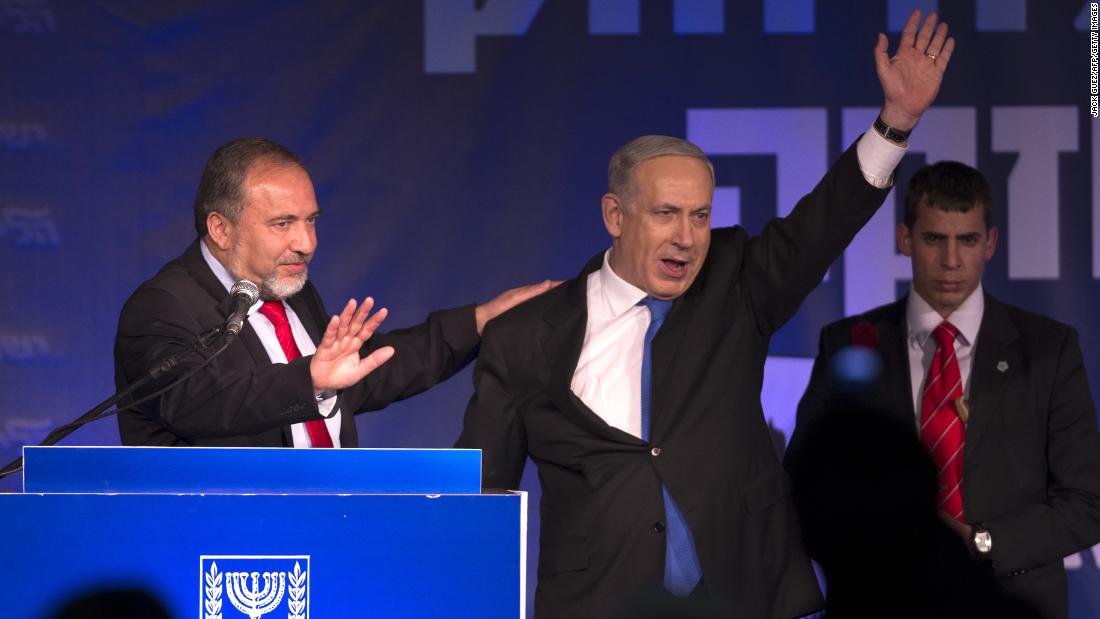 Photos: Netanyahu's life in picturesNetanyahu and Avigdor Lieberman of the Likud-Beiteinu coalition party greet supporters as they arrive onstage on election night in January 2013. The Likud-Beiteinu won 31 seats in the Knesset. Hide Caption 35 of 54
Photos: Netanyahu's life in picturesNetanyahu speaks at the UN General Assembly on October 1, 2013. He accused Iranian President Hassan Rouhani of seeking to obtain a nuclear weapon and described him as "a wolf in sheep's clothing, a wolf who thinks he can pull the wool over the eyes of the international community."Hide Caption 36 of 54
Photos: Netanyahu's life in picturesIn December 2014, Netanyahu called for early elections as he fired two key ministers for opposing government policy. Hide Caption 37 of 54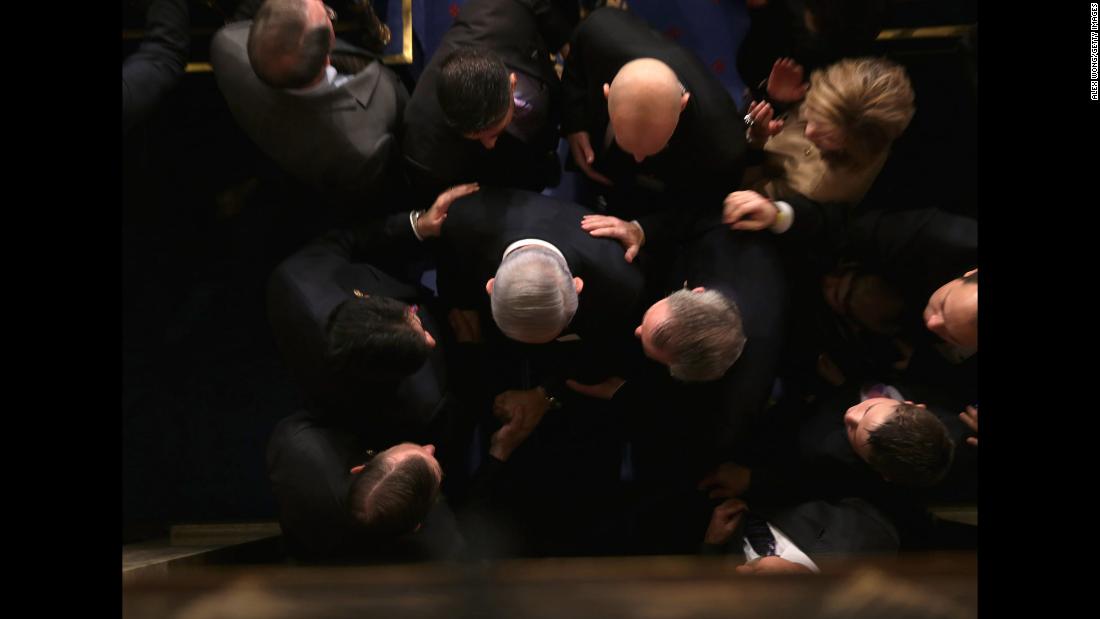 Photos: Netanyahu's life in picturesNetanyahu is greeted by members of US Congress as he arrives to speak in the House chamber in March 2015. He warned that a proposed agreement between world powers and Iran was "a bad deal" that would not stop Tehran from getting nuclear weapons — but would rather pave its way to getting lots of them and leave the Jewish State in grave peril.Hide Caption 38 of 54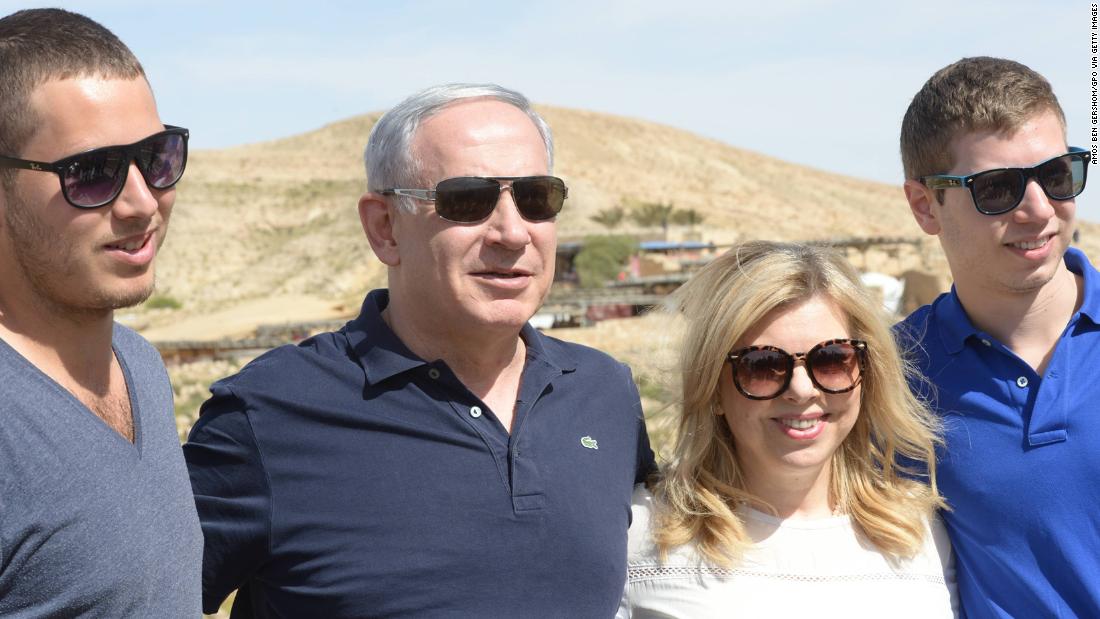 Photos: Netanyahu's life in picturesNetanyahu and his family take a vacation in southern Israel in April 2015.Hide Caption 39 of 54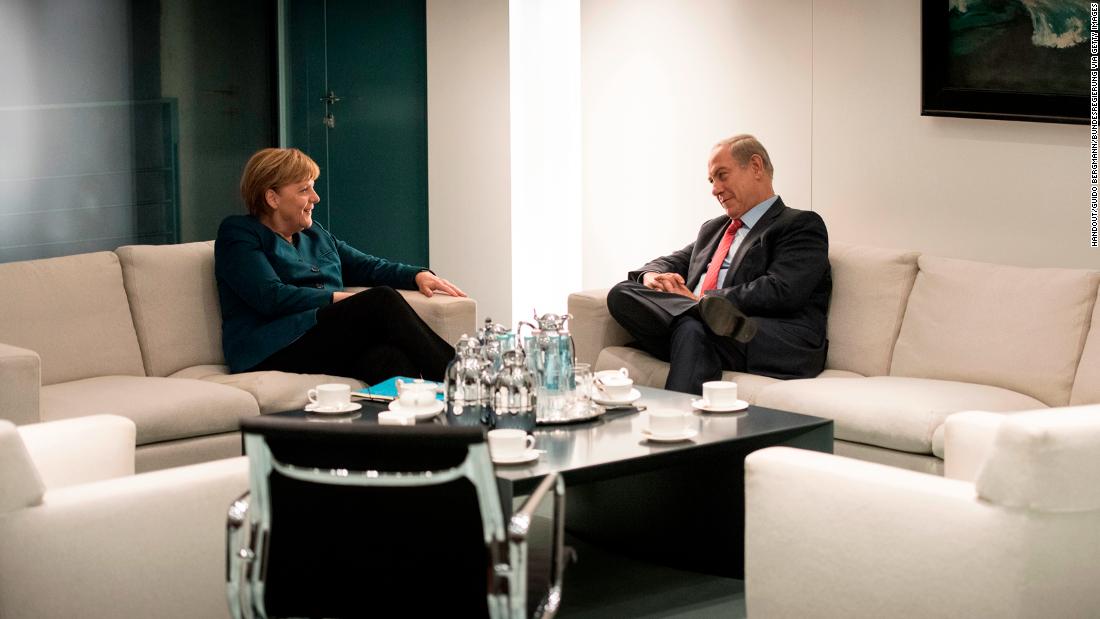 Photos: Netanyahu's life in picturesNetanyahu and German Chancellor Angela Merkel talk in Berlin in October 2015.Hide Caption 40 of 54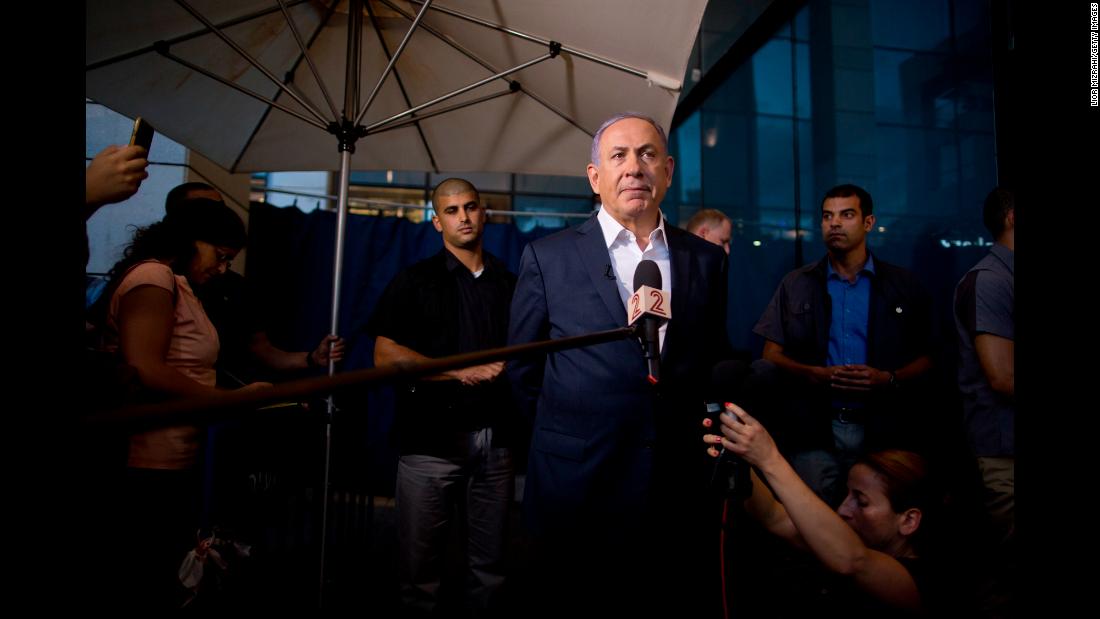 Photos: Netanyahu's life in picturesNetanyahu speaks to the press in Tel Aviv, Israel, in June 2016. A day earlier, two attackers identified as Palestinians opened fire at a popular food and shopping complex near the Israeli Defense Ministry in Tel Aviv, killing four Israelis and sending other patrons scrambling to safety.Hide Caption 41 of 54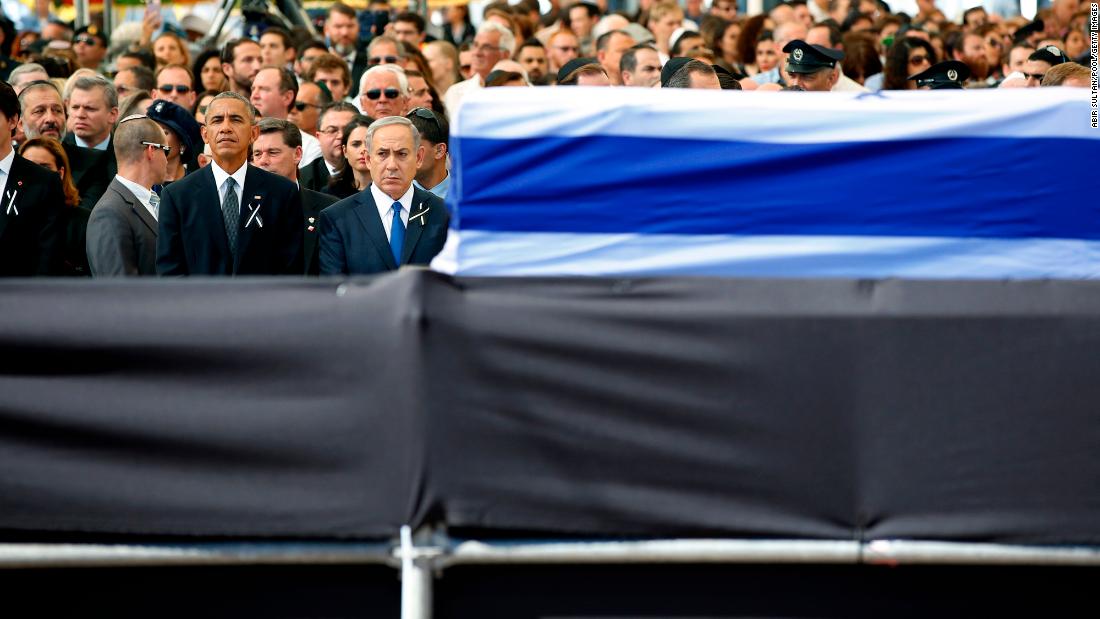 Photos: Netanyahu's life in picturesNetanyahu stands next to US President Barack Obama as they attend the funeral of former Israeli President Shimon Peres in September 2016.Hide Caption 42 of 54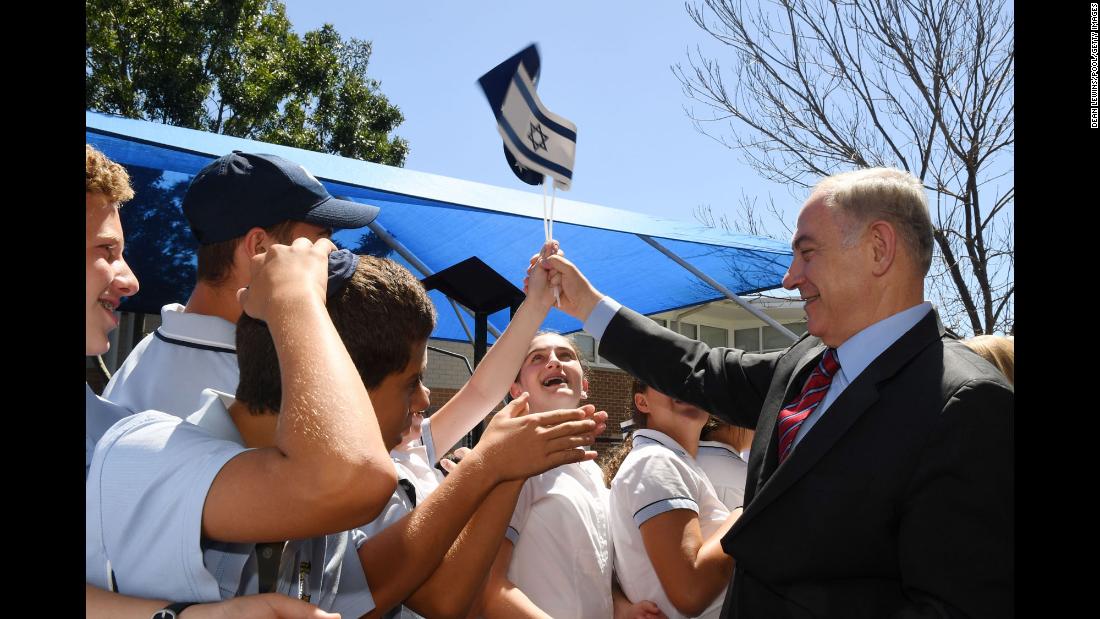 Photos: Netanyahu's life in picturesNetanyahu visits Moriah College in Sydney in February 2017. It was the first time an Israeli prime minister had visited Australia.Hide Caption 43 of 54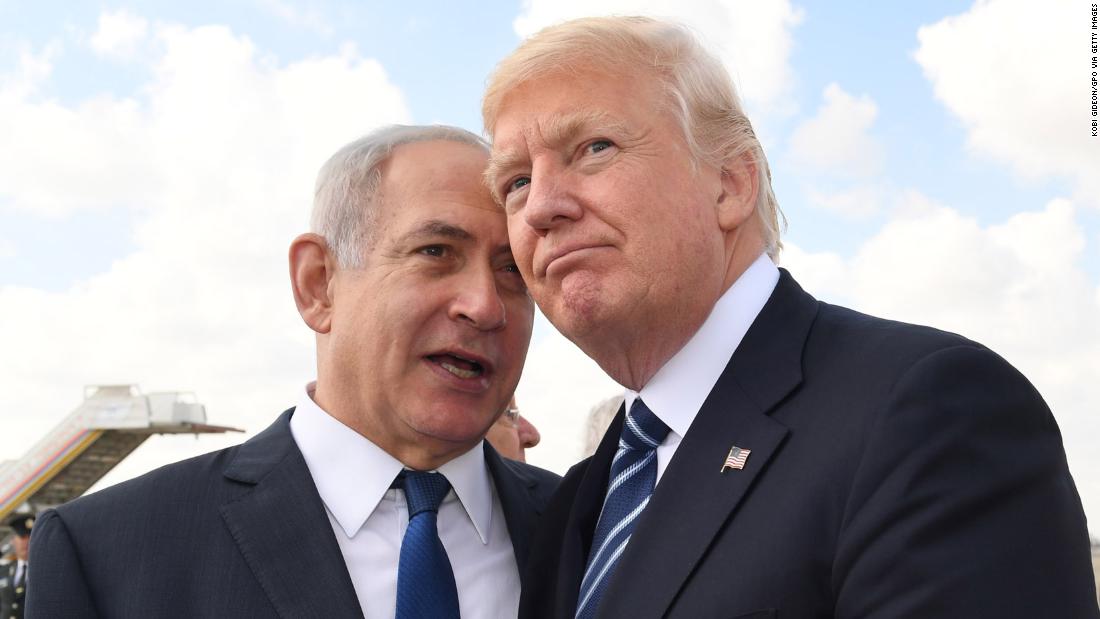 Photos: Netanyahu's life in picturesNetanyahu speaks to US President Donald Trump in May 2017. Trump visited Israel and the West Bank during his first foreign trip as President.Hide Caption 44 of 54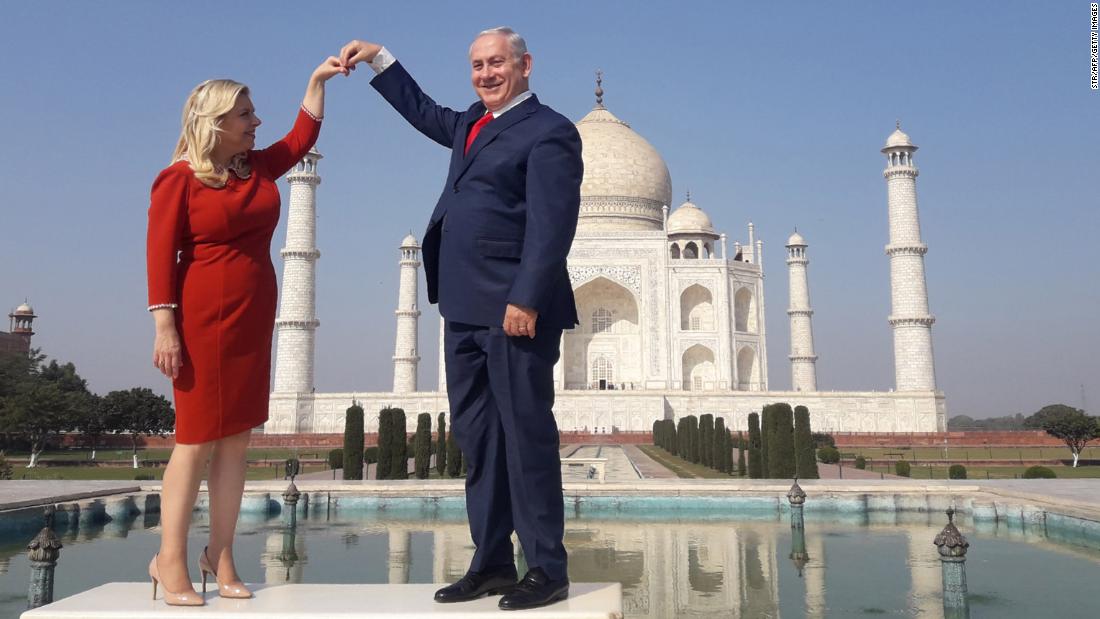 Photos: Netanyahu's life in picturesNetanyahu and his wife, Sara, pose for a photo at the Taj Mahal in Agra, India, in January 2018.Hide Caption 45 of 54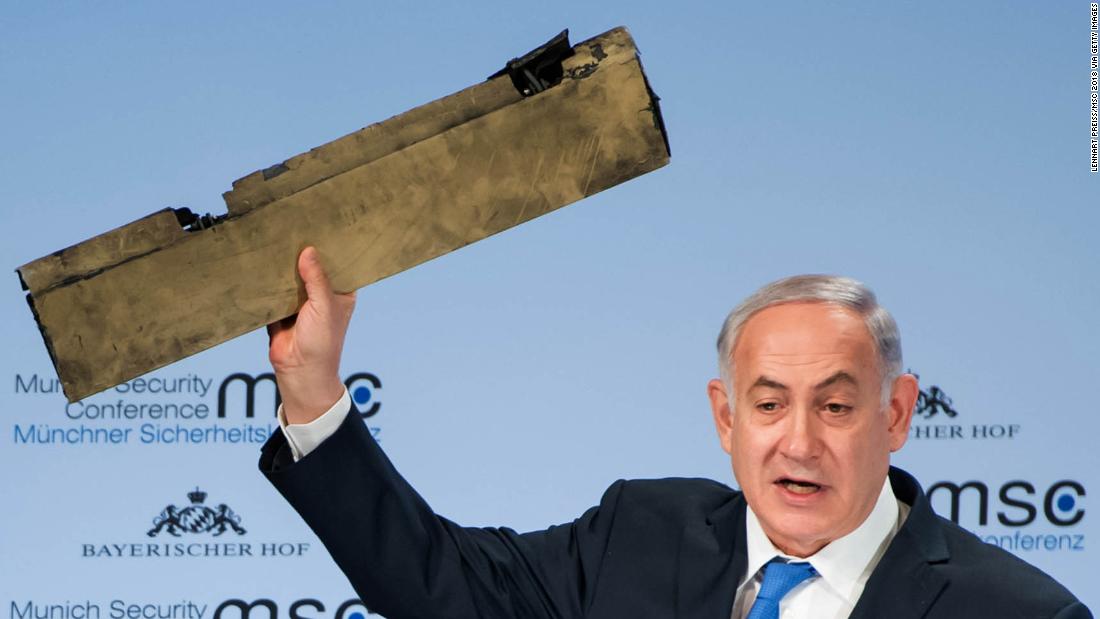 Photos: Netanyahu's life in picturesNetanyahu, speaking at a security conference in Germany in February 2018, holds up what he claimed is a piece of an Iranian drone that was shot down after it flew over Israeli territory.Hide Caption 46 of 54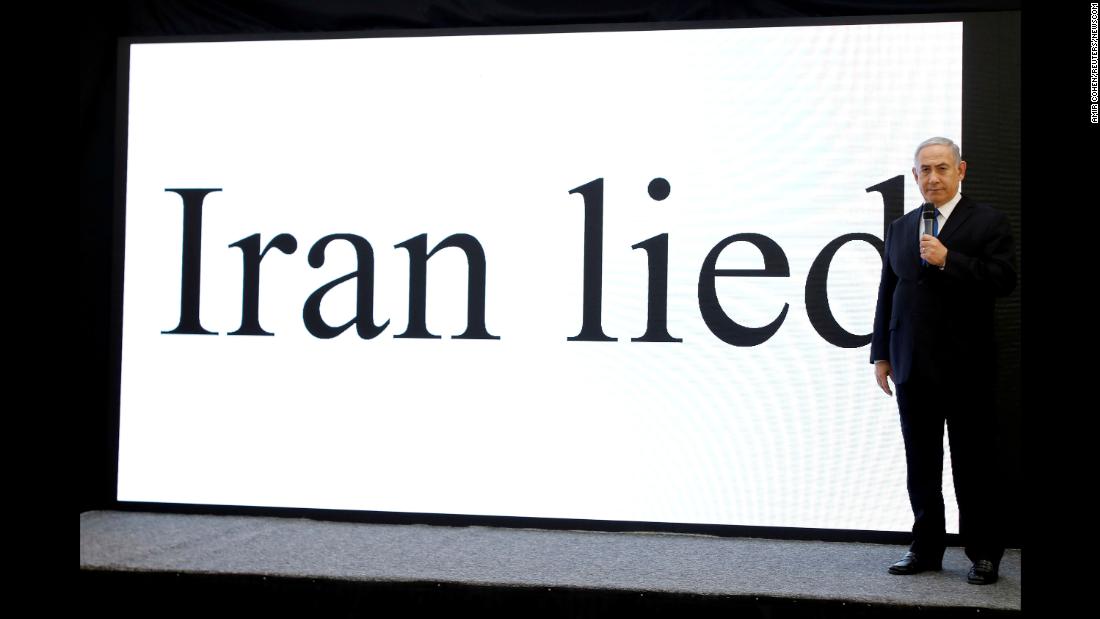 Photos: Netanyahu's life in picturesNetanyahu, giving a speech at the Ministry of Defense in April 2018, accused Iran of "brazenly lying" over its nuclear ambitions. He said Israel had uncovered files that prove his allegation and that the Islamic republic is keeping an "atomic archive" at a secret compound. Iranian Deputy Foreign Minister Abbas Araghchi called Netanyahu's comments "childish" and "laughable."Hide Caption 47 of 54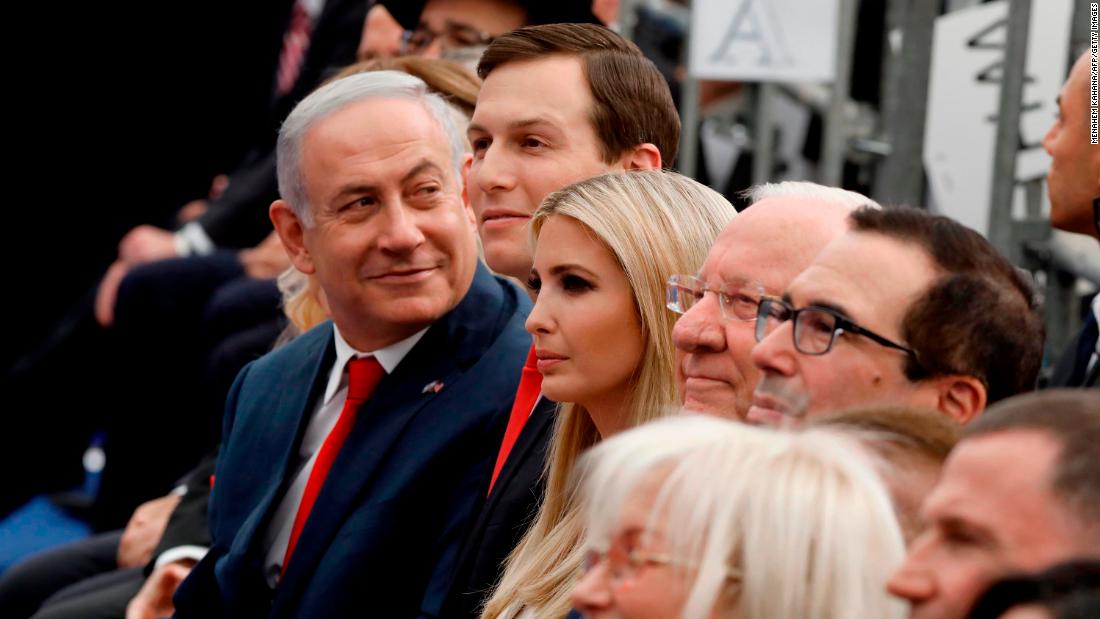 Photos: Netanyahu's life in picturesFrom left, Netanyahu sits beside senior White House adviser Jared Kushner; President Trump's daughter, Ivanka; Israeli President Reuven Rivlin; and US Treasury Secretary Steve Mnuchin during the opening of the new US Embassy in Jerusalem in May 2018.Hide Caption 48 of 54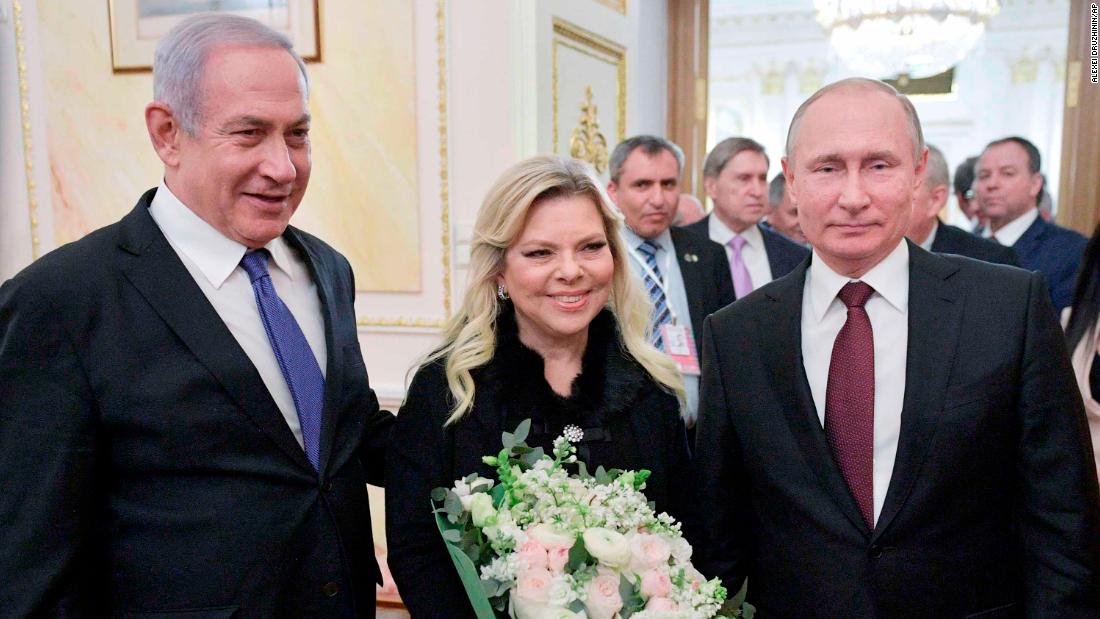 Photos: Netanyahu's life in picturesNetanyahu and his wife, Sara, pose for a photo with Russian President Vladimir Putin after talks in Moscow in February 2019.Hide Caption 49 of 54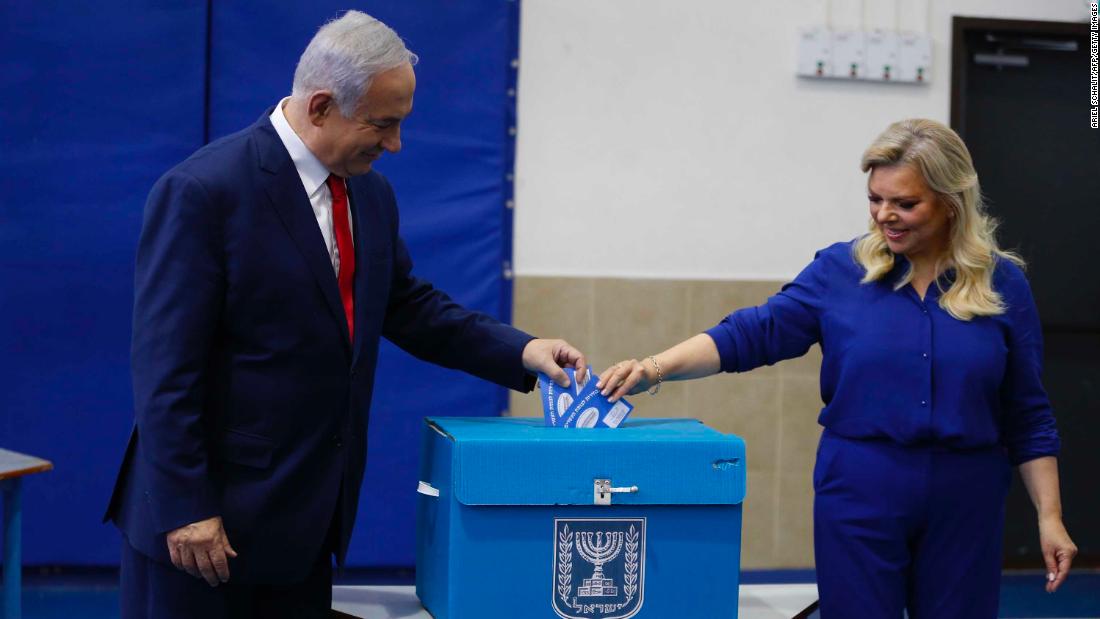 Photos: Netanyahu's life in picturesThe Netanyahus cast their votes during Israel's parliamentary elections in April 2019. The election was seen as a referendum on Netanyahu's long tenure as prime minister.Hide Caption 50 of 54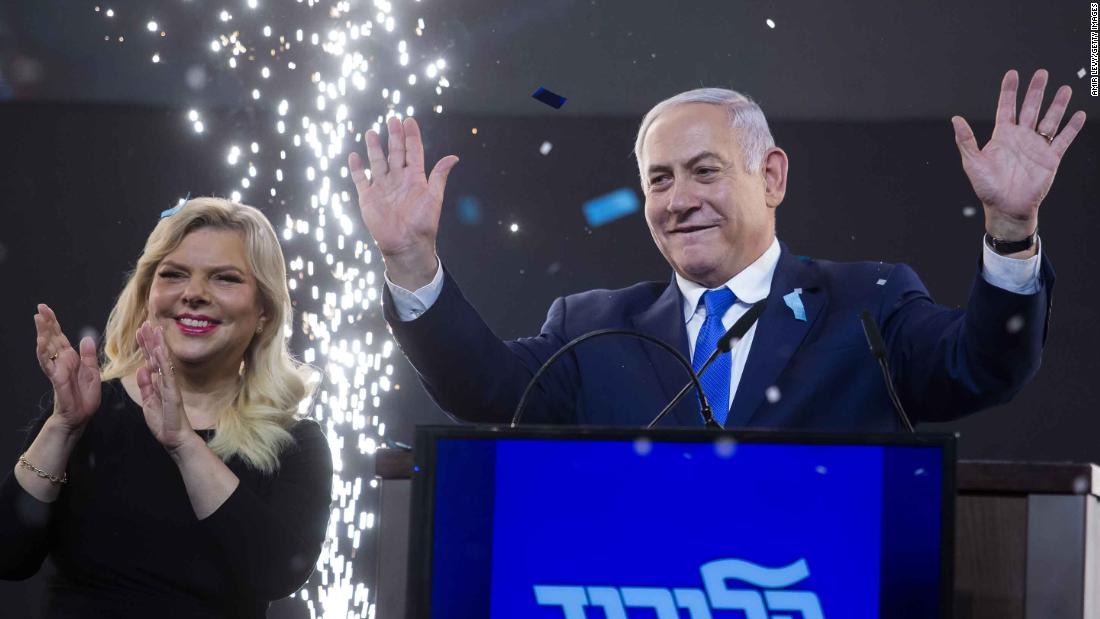 Photos: Netanyahu's life in picturesNetanyahu greets supporters in April 2019.Hide Caption 51 of 54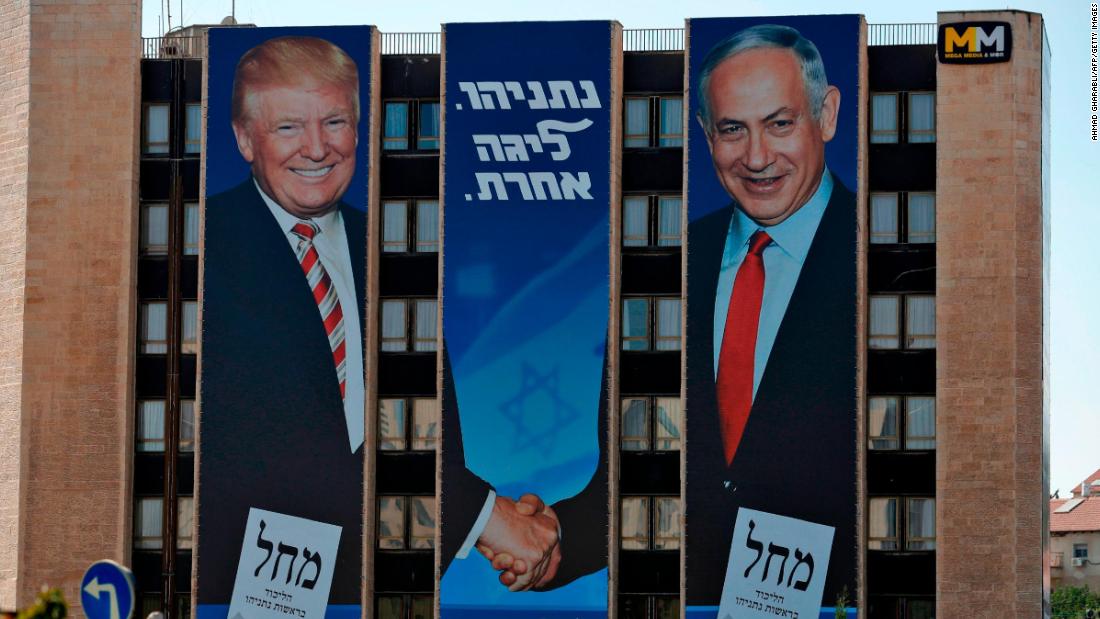 Photos: Netanyahu's life in picturesAn election banner on a Jerusalem building shows Netanyahu shaking hands with US President Donald Trump. Trump remains incredibly popular in Israel — far more popular than he is in the United States.Hide Caption 52 of 54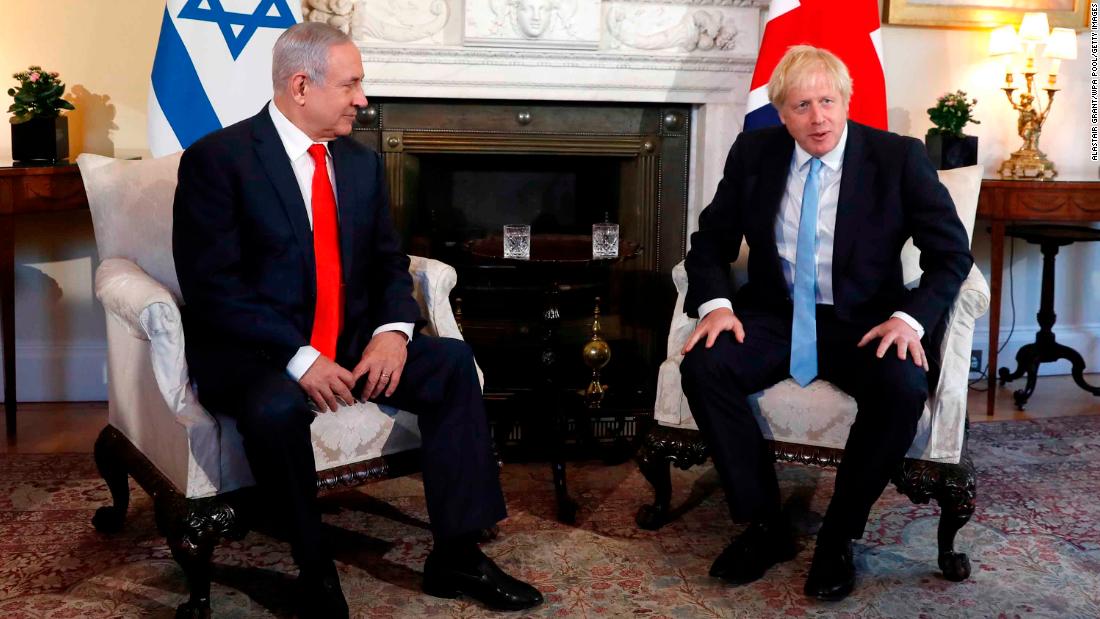 Photos: Netanyahu's life in picturesNetanyahu meets with British Prime Minister Boris Johnson in London in September 2019.Hide Caption 53 of 54
Photos: Netanyahu's life in picturesNetanyahu and Israeli Blue and White party chief Benny Gantz reach to shake hands during a state memorial ceremony for former Israeli Prime Minister Yitzhak Rabin and his wife Leah in Jerusalem on November 10. Exit polls for a repeat general election in September failed to give either of the political rivals a majority in the new parliament.Hide Caption 54 of 54




































Netanyahu has denied all the charges, describing them as a media-fueled witch hunt against him. He insists he wants the case to run its course, confident it will crumble. But political analysts say that by staying in power, Netanyahu could avoid prosecution and possible jail time by appointing a new attorney general, or by influencing the appointment of certain judges who could affect his trial. Other critics of the Israeli leader say he wants to pass a new immunity law that would protect a sitting prime minister from being indicted.While it appears that Bennett and Lapid have enough support to be able to form a new government and oust Netanyahu after 12 consecutive years in power, their new government is still several steps away. And if Israeli political history is a guide, things can change quickly and dramatically. The new government is sitting on a thin margin, just a few defections could topple their chances. A collapse of the ceasefire with Hamas-led militants in Gaza, or a terrorist attack could also completely change the calculations. As The Times of Israel's editor David Horovitz observed on the news outlet's podcast on Sunday, Netanyahu has been written off so many times before, only to survive. "The time to say it's for real will only be when that vote is cast and the votes have been counted and Netanyahu is no longer leading the coalition," Horovitz said. "We're not there yet, we're apparently very close to it but we're not there yet." ​
Source Link:
https://www.cnn.com/2021/05/31/middleeast/netanyahu-great-survivor-israeli-politics-analysis-cmd-intl/index.html
400 Bad Request
Request Header Or Cookie Too Large
Comments
comments