Congressman Ted Deutch represents Florida's 22nd District in Congress. He is a senior member of the House Judiciary Committee and the Chairman of the House Foreign Affairs Subcommittee on the Middle East, North Africa, and International Terrorism. The opinions expressed in this commentary are solely those of the author. View more opinion articles on CNN.
(CNN)Last December, six families penned an impassioned open letter to the world pleading for assistance in securing the release of their loved ones unjustly detained in Iran. Many of these families are still waiting for the world to heed their call for the safe return of their fathers, mothers, sons, daughters, brothers, and sisters.
This week, as world leaders gather at the United Nations General Assembly, they must use this opportunity to bring up their cases with Iranian officials and call for their immediate release.
Ted Deutch For many years, Republicans and Democrats in Congress have joined together in bipartisan calls for the return of these Americans and others. That unity is necessary to bring the full weight of the United States, and the power of the entire world, behind the release of these hostages. We must continue the fight until our fellow Americans are home safe. Read More Since 2010, I have had the honor of representing Robert Levinson, the longest-held hostage in American history. Bob went missing from Iran's Kish Island in March 2007. In the years since his disappearance, his family has missed him through celebrations and milestones, with only a "proof of life" video and pictures to sustain their hope for his homecoming. When Bob was imprisoned in 2007, the international community had just concluded failed negotiations with Iran over its nuclear program. In the years following, Iran unjustly and arbitrarily detained more and more foreign and dual nationals.
Wife of American 'languishing' in Iranian prison calls for Trump to do moreAfter the election of Hassan Rouhani in 2013, President Barack Obama pursued negotiations with Iran that granted the United States a chance to raise the issue of detained Americans. Many of my colleagues in Congress and I repeatedly implored the administration to focus on this issue.The world breathed a collective sigh of relief in January 2016, when five Americans were released from Iran. Unfortunately, too many, including Bob, were left behind. He, and others — like Baquer and Siamak Namazi, and Xiyue Wang — have suffered harrowing conditions and punishment at the hands of Iranian leaders. Nizar Zakka, a Lebanese citizen with legal permanent resident status in the United States, endured four long years in detention in Iran's notorious Evin Prison. In an interview with The Atlantic after his release in June 2019, he said, "When you are a hostage, you need to know that the world is talking about you." But the Levinsons and other families cannot continue to wait on the world to act. This week more than 100 international leaders have taken the stage at the UN to speak about their country's priorities and attend countless bilateral and multilateral meetings. They will walk the halls alongside the Iranian delegation. Some will meet face to face with Iran.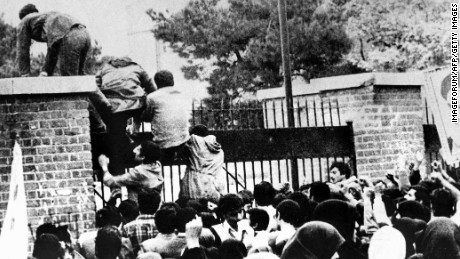 Iran Hostage Crisis Fast Facts The Joint Comprehensive Plan of Action (JCPOA or Iran nuclear deal), Iran's support for terrorism, and recent acts of aggression in the Gulf will be on the agenda. American hostages must be on the agenda as well. Every world leader must bring up Bob and the others detained. In every speech, in every meeting, and in every interaction, every leader, especially United States officials and even President Trump, must demand the release of foreign nationals from Iran. They must say their names so there can be no mistake that the world demands their release.We cannot allow these individuals to continue to be used as pawns in a dangerous game with Iran. The United Nations' own Working Group on Arbitrary Detention (UNWGAD) has ruled on many of these cases. In November 2016, UNWGAD found Iran responsible for the arbitrary detention of Robert Levinson. Get our weekly newsletter
Sign up for CNN Opinion's new newsletter.
Join us on Twitter and Facebook
This July, Bob missed the birth of his ninth grandchild. He has missed too much. He, and the rest of those unjustly detained by Iran, must be released on humanitarian grounds.The world is watching what happens in New York. Do not let this year's General Assembly session go to waste. The United States must lead the international effort to bring our fellow Americans home.
Source Link:
https://www.cnn.com/2019/09/25/opinions/americans-detained-in-iran-opinion-deutch/index.html
[-0.555081]
Comments
comments