Havana, Cuba (CNN)The sign on the door was written by hand and the lights were turned off to save electricity, but inside the clinic Cuban doctors were administering what they say is a cutting-edge vaccine against the coronavirus.
Despite a worsening economy and increased US sanctions, the communist-run island has pulled off a feat no other Latin American country can claim to date: the development of five Covid-19 vaccine candidates, two of which that are in their final phase three trials.As the number of coronavirus cases on the island continue to rise, its vaccine candidates and the island's aspirations to be a biomedical powerhouse will be put to the test. On Wednesday, Cuba hit a grim new record in Covid-19 infections — 1,051 new cases diagnosed in 24 hours. Cuban officials in March announced they were expanding the vaccine trials already underway to include hundreds of thousands more people. First up in the expanded trials are 150,000 front line workers, including Ida Martínez Hernández, a dentist who early on in the pandemic was sent by the government to help fight the spread of the virus.
As the world vies for vaccines, Cuba's making its own"We have been working this whole time. In testing, at the airport, in isolation centers. We are people who are at high risk, this will give us more protection," Martínez told CNN as she received her first shot of Cuba's home-grown Soberana-02 vaccine, which means "sovereign" in Spanish.Read MoreIn times of crisis, the Cuban government has often marshaled its people to carry out seemingly quixotic undertakings, from attempting to cut a record sugar cane harvest to massive demonstrations demanding the return of Elían González.Now, at the same time Cuba endures shortages of food and basic medicines, the island's government has set its sights on developing the kind of sophisticated Covid-19 vaccines that have eluded far richer countries.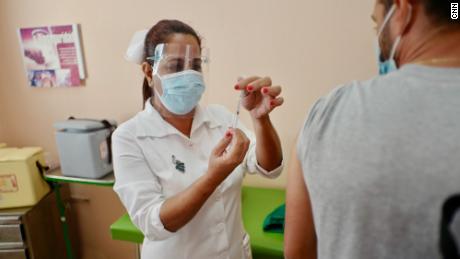 Cuban frontline health care workers in Havana received on Wednesday their first shot of the island's Soberana-02 Covid-19 vaccine candidate as part of Phase III trials that began on March 3. While the results of the final trials for the two most advanced vaccines are not expected for months, already some in the island are taking an early victory lap. A slickly produced video tweeted out by Cuban President Miguel Díaz-Canel proclaimed that that Cubans were producing "more than a vaccine, it's a country."The superstar Cuban musical duo Buena Fe penned a song about the vaccines, crooning the drugs were like "brave David confronting the bully Goliath." Chest thumping and politics aside, some researchers say that Cuba's approach of making their own vaccines that could go in the arms of every Cuban and millions of others across the region is badly needed right now."Latin America unfortunately lacks some of this ecosystem of being self-sufficient and Cuba is ideal because they have their own production capacity and they also are very well recognized and have a good reputation," said Dr. Maria Elena Bottazzi, the associate dean of the National School of Tropical Medicine at the Baylor College of Medicine in Houston. Long cut off from much of the rest of the world, Cuba for decades has made many of the medicines the island needs and increasingly exports Cuban-made vaccines abroad. When the pandemic hit, Cuba was one of the few developing countries that was well positioned to produce their own vaccines.Other countries, particularly those that can't afford the vaccine — or for political reasons don't want to accept vaccines from Western countries — are hoping Cuba's promised cheap and easy to store vaccines can make up the difference.Iran, where the Supreme Leader Ayatollah Ali Khamanei banned the use of American and British vaccines, is currently carrying out large-scale trials with 100,000 doses of Soberana-02 and could begin producing the Cuban vaccines in the Islamic Republic.In March, Cuba announced it was sending 30,000 doses of the Soberana-02 and Abdala vaccine candidates to socialist ally Venezuela and that Cuban and Chinese scientists would co-develop a new vaccine against emerging strains of the coronavirus. Cuba has gambled their entire response to the pandemic on making their own homegrown vaccines and now the island is doubling down on that bet by vastly expanding the testing of those drugs.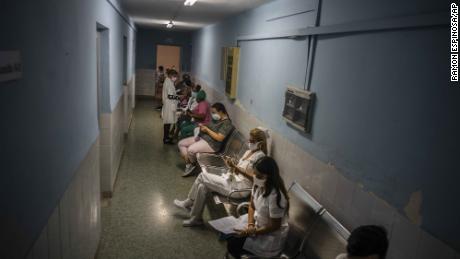 Healthcare workers sit in hallway as they wait to be injected with a dose of the Soberana-02 Covid-19 vaccine, in Havana, Cuba, March 24.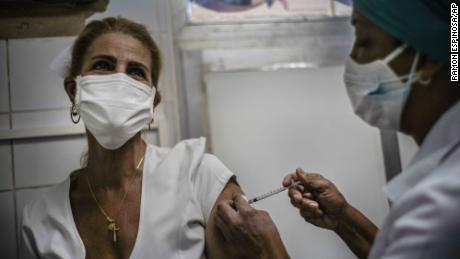 A nurse inoculates a healthcare worker with a dose of the Soberana-02 COVID-19 vaccine, in Havana, Cuba, March 24.In March, Cuban officials said wider interventional trials would include the entire adult population of Havana, nearly two million people, and the epicenter of the virus on the island. By August, half the island's population, about six million, would receive the vaccines officials said. But moving so quickly to mass vaccination is a risky strategy that could backfire if the vaccine candidates prove be less effective than what Cuban scientists predicted. While previous testing showed the vaccines' safety, Cuban researchers have yet to determine exactly how well the vaccines will work."The Cuban vaccines haven't even completed the plan of vaccination for volunteers in phase three and we don't know their efficacy," wrote in a Facebook posting Amílcar Pérez Riverol, a former University of Havana professor of Microbiology and Virology, who closely follows Cuba's vaccine efforts.But at a Havana clinic, where doctors and nurses are administering about 100 doses of Soberana-02 to frontline workers each day, administrators said they had observed no serious side effects during the expanded trials and were positive the increased vaccination would help turn the tide of the pandemic on the island. "We are all convinced," said nurse Norma Olivares, "The vaccine works and the vaccine gives immunity."
Source Link:
https://www.cnn.com/2021/03/31/americas/cuba-vaccines-covid-phase-three-intl-latam/index.html
Bad Request
Your browser sent a request that this server could not understand.
Size of a request header field exceeds server limit.
Comments
comments