(CNN)Indonesians head to the polls Wednesday to vote in the world's biggest single-day elections that will see incumbent President Joko "Jokowi" Widodo face off against longtime rival and former army general Prabowo Subianto.
Some 192.8 million people are eligible to vote across the archipelago's 17,000 islands in what is the world's biggest direct presidential election.It's been billed as one of the most complicated single-day ballots ever under taken. For the first time, Indonesia is holding its presidential and legislative elections on the same day, with more than 245,000 candidates running for over 20,000 seats. Indonesia will need more than 800,000 polling stations and six million election workers to pull it off.
Joko Widodo: Has the shine worn off Indonesia's Obama?Only the Indian elections are bigger (with 900 million people eligible to vote) and they are held over a period of almost six weeks. Indonesia's elections take place over just six hours. Unofficial early results are expected to be announced later on Wednesday, but the final official results will be made clear by May 22.Read MoreA logistical feat spanning mountains and jungles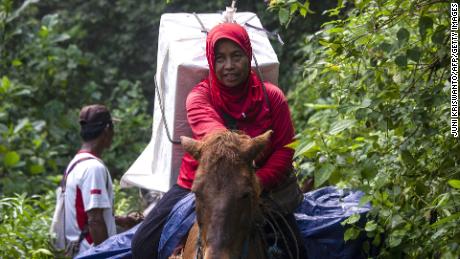 An Indonesian election worker on horseback transports ballot boxes and election material to a remote village in Jember, East Java on April 15, 2019. Indonesians are actually casting five ballots — for the president and vice-president, for members of the 575-seat House of Representatives, for the Regional Representative Council (or Senate), provincial legislators, and district and city councils. Polling begins at 7 a.m. local time and voters have until 1 p.m. to cast their ballots before polls close and the counting begins. Ensuring this mega-poll in the world's third largest democracy goes off without a hitch will be a logistical feat, with election workers traveling by boat to remote islands, scaling mountains to reach hill-top villages and trekking through jungles — sometimes on horses — to bring ballot boxes within range of every voter. "The logistics of this election are fiendishly complicated," said Ben Bland, director of the Southeast Asia Project at the Lowy Institute. "Indonesians are spread over hundreds if not thousands of islands, many of these places are very remote and mountain villages, you have to access some places by small boats, on foot in some cases. And remember that many different areas have different ballots because they're voting for different local candidates," said Bland."So for the election commission to get all these thousands of different kinds of ballot paper to 800,000 polling stations across Indonesia is a real geographical and logistical feat."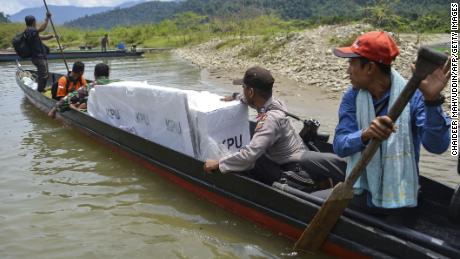 Indonesian election officials transport ballot boxes to a remote village by boat along a river in Manggamat, Southern Aceh province on April 16, 2019.But there has also been reported allegations of voting irregularities, with Prabowo and his team claiming there were voter lists that included names of the dead and those not eligible to vote. The Election Commission is investigating the claims.Indonesia's election watchdog has also reportedly called for a revote for more than 300,000 Indonesians living in neighboring Malaysia after video purportedly showed pre-marked ballot papers for Jokowi.While Indonesia is a relatively new democracy following the fall of the Suharto regime in 1998, Bland said the nation has a "pretty good track record" of keeping the election free and fair."Its important to understand just how hard it is for countries transitioning from authoritarianism to democracy to do so successfully, and how hard it is in a big developing country to hold successful elections," he said, citing Nigeria and Afghanistan which have delayed their elections because of logistical problems."Meanwhile in Thailand there's an impasse at the moment because of uncertainties of the counting process and the role of the military government in that so I think Indonesia deserves credit for the way its built up a pretty resilient election system," he said. The challengersPolls suggest that Jokowi, 57, is likely to win a second term. A former furniture salesman, Jokowi became mayor of Surakarta in 2005 and then Jakarta governor in 2012. In 2014, he campaigned on a promise of creating jobs, bolstering human rights and cracking down on corruption. The public was sold and swept in the self-styled man-of-the-people over his military strongman opponent, Prabowo, now 67.But Jokowi's shine may have dimmed over his five-year tenure. Analysts and former supporters say he has failed to deliver on issues such as human rights — and compromised his values of pluralism to score political points.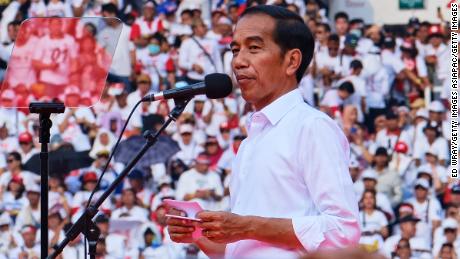 Indonesian President Joko Widodo at a rally at Jakarta's main stadium on April 13, 2019 in Jakarta.His choice of Ma'ruf Amin, a hardline Muslim cleric for his running mate, for example, may have bolstered his religious credentials by appealing to Islamic hardliners that have traditionally supported Prabowo. But it could also turn off those who voted for him in 2014 for his commitment to religious freedom.Once again, Jokowi is competing against Prabowo, a retired army general and son-in-law of former president and authoritarian dictator Suharto. His running mate is Sandiaga Uno, a businessman and vice governor of Jakarta who was named by Forbes in 2013 as Indonesia's 47th richest man, with an estimated net worth of $460 million.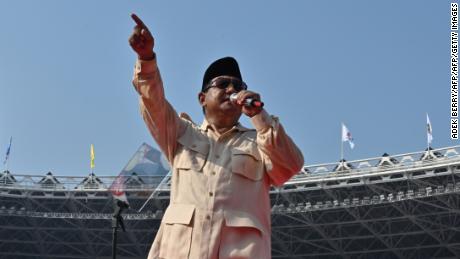 Indonesian presidential candidate Prabowo Subianto during a campaign rally at the Gelora Bung Karno stadium in Jakarta on April 7, 2019. Youth voteThere are 80 million 18-35 year-olds — about 40% of the electorate — eligible to cast a ballot this year and both candidates have made efforts to appeal to them.Jokowi has beamed a hologram of himself around the nation, featured his pet goat on social media, and made references to the television show "Game of Thrones."Prabowo, meanwhile, has focused on issues such as unemployment which are likely to appeal to younger voters who are struggling with an unemployment rate of about 15.8%, according to World Bank figures."Millennials are very important to the two candidates," said Hasanuddin Ali, chief executive of research company Alvara Research Center. "Millennial voters are also a key success factor in the Indonesian election."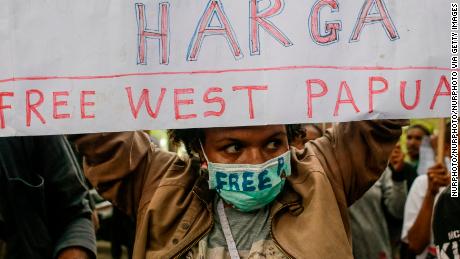 Indonesia election: violence-wracked province calls for independence But it could prove a hard sell. Analysts say there is widespread disengagement from young people towards politics and they are put off by high levels of corruption and distrust in the system."Some don't feel like they're being equally represented," said Ella Prihatini, an academic with the Center for Muslim States and Societies at the University of Western Australia. Others are concerned that minority rights continue to be eroded — over the past few years police raids and vigilante attacks on members of the LGBT community have increased and last year the country made moves to criminalize homosexual sex. "I think it's unfair to expect LGBT Indonesians to vote when we're not even considered a part of this nation," said Amahl Sharif Azwar, a 32-year-old gay Indonesian freelance writer who lives in Thailand.
Source Link:
https://www.cnn.com/2019/04/16/asia/indonesia-election-2019-polls-open-intl/index.html
[-0.546364]
Comments
comments