Tess Taylor is the author of the poetry collections "Work & Days," "The Forage House" and most recently, "Rift Zone" and "Last West: Roadsongs for Dorothea Lange." Views expressed in this commentary are solely hers. Read more opinion articles on CNN.
(CNN)Wednesday, it was as if the sun never rose. Dawn was murky, and by 8 a.m., it seemed to get darker. A moldering reddish-bronze haze rose around us but also made no light. Inside the house, we re-lit our lamps against the gloaming. The windows swam black, and outside, all morning, above the trees, the sky glowed grisly red. Where we had left the windows open to the night breezes, our papers, clothes, combs and brushes were coated in a fine layer of ash. The air hung, gritty and oddly cold. It was hard not to feel a deep foreboding.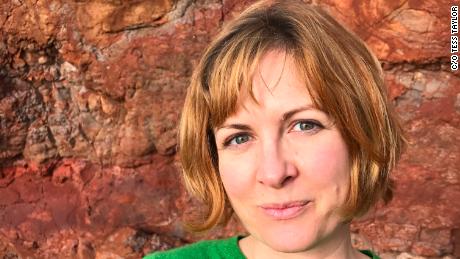 Tess TaylorI wish I were writing a fantasy novel. I am not. This was just Wednesday's air in the Bay Area, Wednesday's weather, three weeks into this year's fire season. Tuesday's air was pretty good, but on Wednesday we had fog and smoke and ash and no light. Where we are, ash aside, the air metrics are actually not hugely terrible—maybe 70 on the air quality index (AQI), which we rate as OK, since for our family (no asthma, thank heavens, reasonable health) the air only starts to be really terrible at 150, depending on which web site you check. Wednesday, even though it looked terrible and scary and bleak, we tried to keep going. These are the kinds of judgment calls you learn to make when there's at least one fire season a year, and when, every year, that fire season seems to get longer. It's the kind of thing you know well when you're in your fourth consecutive fire-and-smoke season in California. To be clear: since the LNU Lightning Fires started on August 17, the air has been dangerously bad on and off.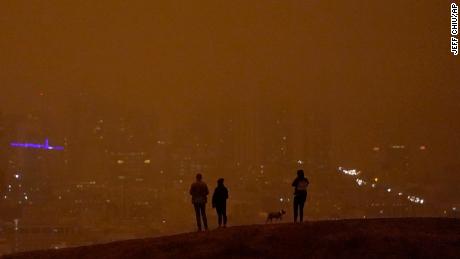 People look toward the skyline obscured by wildfire smoke in daytime from Kite Hill Open Space in San Francisco on September 9.In case you're wondering, the decision tree when the sky resembles Mordor during a fire and smoke storm that also happens to be during a pandemic looks like this: Check the air, send the kids to carefully chosen pods where rotating masked parents trade off watching masked kids learn outdoors. Go home. Try to get some work done. If the air quality gets too bad, get the kids. Juggle again. Feel lucky even to have these options. Be grateful that everyone is still safe enough.We are lucky. We are privileged. Still, can we just pause and ask, what is the enough here? What is safe anymore? Can I also just note: not one thing about this is OK? Systems — social and natural and governmental and ecological — which we all desperately need to have a hope of civic life and life on the planet are collapsing at an alarming rate.Read More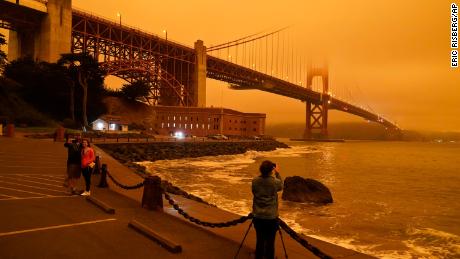 This is what the Bay Area's skies looked like today during the wildfires Here's the other truth: in this collapse, I have no time to write a fantasy novel. I barely have time to think or grieve or plan what's next. It's almost dangerous to feel: to be sad might be to capsize, to be angry would be to lose hours to rage. I do what I can. I like to joke that each day feels like "Iron Chef" — you wake up and check the air and your temperature and cheerfully try to make something sort of decent out of the bizarre set of choices that are left of the world as we knew it. Right now my daughter is doing a puzzle about unicorns. The air got a little better so we let our son play outdoors with his friend. That feels OK. Again, I'm grateful, grateful, grateful.But where is this all going? How much weirder or more terrifying will it get? Last week, it was super-hot with terrible air so we hunkered in the cool garage by the air purifier, trying to stay cool and also to breathe. I directed the day like we were on a long flight, making everyone get up and stretch, handing out snacks, taking a joke break. We did some yoga. We played a goofy game of telephone. We even laughed.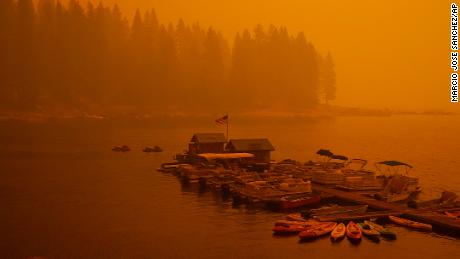 Smoke from the Creek Fire fills the air over a boating dock in Shaver Lake, California, on September 6.But somebody, please tell me, where, oh where, is this flight we're on headed? It is a scary, harrowing flight, and I want all of us to be able to get off. I would like us all to disembark, and get some snacks, and maybe a good drink at the bar, and then have a chance to figure out how to live as humans together on this earth again. When I am not handing out peanuts at the right time, I work for climate justice and electoral change. I am sure as heck ready to vote. Whether any of this is even remotely enough, I do not know. A scientist I talked to recently said that the temperature of western old growth forest she's been monitoring since the 1970s has been rising one degree centigrade per decade now for 50 years. It is a lot to ask all these hills and trees and grasses to absorb that change. It is a lot to ask us humans, too. I grew up in the Bay Area, and I know that these fire seasons didn't happen in my childhood. We feared earthquakes then. Now, all fall, each fall we live downwind of fire. I do not know what is beyond this. Get our free weekly newsletter
Sign up for CNN Opinion's new newsletter.
Join us on Twitter and Facebook
Every year, I've written a little essay from the fire season. If you like, you can read them here. Every year for four years, we've packed our go bags, put on movies, prayed, waited, hoped, grieved and sung songs. This year, we're three weeks into it, into bad smoky air and I haven't even written a word about it until now, partly because it's just laid on top of every other 2020 catastrophe, every other form of improvisation and waiting and hoping and trying to get by. I don't have an easy way to end this essay, other than to say, I know that for so many people it's much, much worse. Because it's not the worst it could be does not mean I can't say: this is bad. I grieve for all of us. The sky hangs low. This present is more than enough.
Source Link:
https://www.cnn.com/2020/09/09/opinions/california-wildfire-orange-skies-taylor/index.html
Bad Request
Your browser sent a request that this server could not understand.
Size of a request header field exceeds server limit.
Comments
comments