(CNN)Hawaii may have a hurricane on its horizon next week — though it's far too early to tell how close it will get.
Hurricane Lane, a devastatingly strong Category 4 storm now, is heading west-northwest over the Pacific, and is forecast to weaken and pass south of the Aloha State around Wednesday.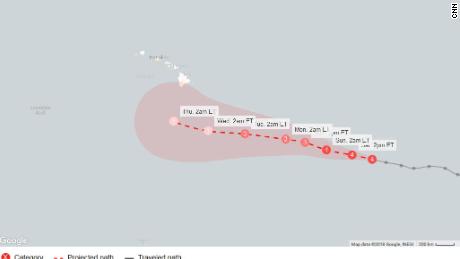 This forecast cone, created at 5 a.m. ET Saturday (11 p.m. HT Friday), shows the probable range of Hurricane Lane's center for five days.But the track is uncertain this early, and there's a chance Lane by Tuesday night could bring winds of at least tropical-storm strength (39 mph and higher) to Hawaii's Big Island, the Central Pacific Hurricane Center says.Early Saturday, the storm was more than 1,200 miles east-southeast of Hilo, Hawaii, with maximum sustained winds of 130 mph — the lowest threshold for a Category 4.The storm could strengthen Saturday and Sunday, but it is expected to weaken to a Category 1 (sustained winds of 74-95 mph) by Tuesday or Wednesday, the National Hurricane Center says.Read More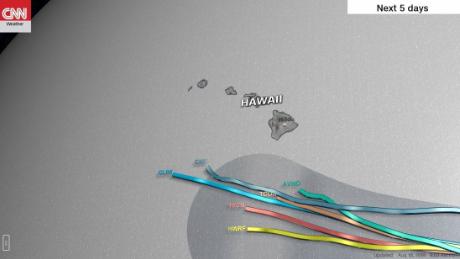 Forecast models for Hurricane Lane, as of 8 a.m. ET (2 a.m. HT) SaturdaySix computer forecast models predict Lane's center will pass south of Hawaii next week, but the outer bands still could bring strong winds to the islands if the center gets close enough.Lane's approach comes more than a week after Hawaii watched Hurricane Hector pass well to the south.
Source Link:
https://www.cnn.com/2018/08/18/us/hurricane-lane-hawaii/index.html
[-0.707699]
Comments
comments