(CNN)More than 19 inches of rain fell on a northeastern section of Hawaii's Big Island during a 24-hour period, as Hurricane Lane drew nearer to the Aloha State.
The outer bands of the Category 4 cyclone pummeled the Big Island on Thursday, triggering landslides and causing flooding that forced officials to close some roads.The center of the storm — which could become the first major cyclone to make landfall in the state in 26 years — is expected to move very close to the main islands or cross land through Friday, the Central Pacific Hurricane Center said. For live updates on the storm, click hereIt could be so devastating Gov. David Ige has urged residents to set aside two weeks' worth of food and water. Read More"Hawaii is going to be impacted by Hurricane Lane. The question is, how bad?" Federal Emergency Management Agency Administrator Brock Long told reporters.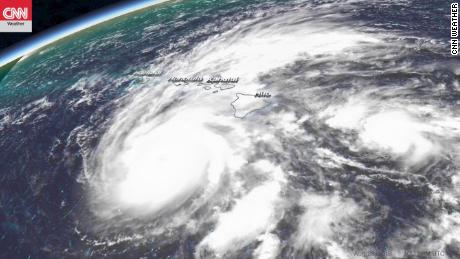 Hurricane Lane is shown in a satellite image from just after 11 a.m. HT Thursday.Track the storm hereThe storm's center, with maximum sustained winds near 130 mph, was in the Pacific about 205 miles southwest of the Big Island town of Kailua-Kona around 8 a.m. HT (2 p.m. ET).Landslides are a concern, with 10-30 inches of rain forecast through the weekend — and slides were already happening on the Big Island as the storm's outer bands hit Thursday morning.On the Big Island's northern tip, landslides were blocking parts of Route 19, the county civil defense agency said.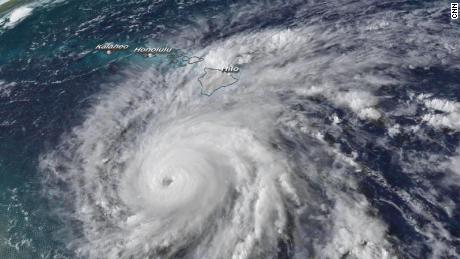 Hawaii braces for Hurricane LaneAbout 3 to 19.15 inches of rain had already fallen on parts of the Big Island in the period from 9 a.m. Wednesday to 9 a.m. Thursday, the National Weather Service office in Honolulu said.Buses around Honolulu have been picking up some residents and taking them to shelters. All public schools canceled classes until further notice, and many state employees have been asked to stay home.Tropical storm force winds (39-73 mph) stretch out to 140 miles, so even if the hurricane doesn't make landfall, it could have widespread impact. Lane threatens to bring dangerous winds, landslides, rough surf and major flooding.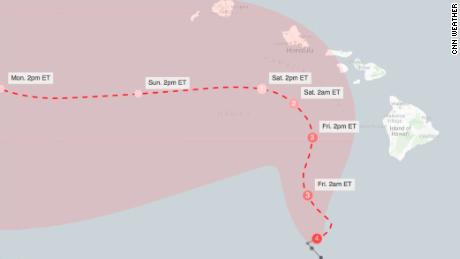 This forecast cone, created 5 p.m. ET Thursday (11 a.m. in Hawaii), shows the probable range of Hurricane Lane's center for five days.All islands are under weather alerts.A hurricane warning is in effect for the Big Island as well as Maui County and Oahu — meaning hurricane conditions are expected there. Kauai and Niihau are under a hurricane watch, meaning hurricane conditions are possible and that winds of at least 39 mph are anticipated in the comings days.Why is Hurricane Lane so rare?The Central Pacific gets few hurricanes and tropical storms; the Atlantic or Eastern Pacific usually see many more named storms.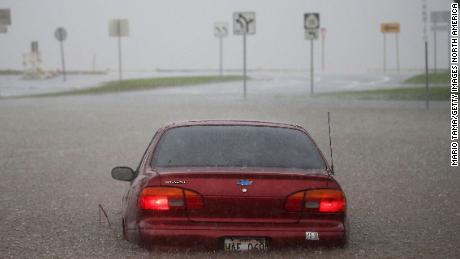 A car is partially submerged in water from Hurricane Lane rainfall on the Big Island on Thursday. Hawaii is a small target in a vast ocean, and isn't often threatened. Hawaii gets a named storm within 60 miles of its coastline about once every four years on average, forecasters say.Lane could become a further rarity if its center crosses land. Only two hurricanes have made landfall in Hawaii since the 1950s: Hurricane Dot in 1959, and Hurricane Iniki in 1992.How are people reacting?People have been rushing to stores for supplies and are stocking up on canned foods, ramen, water and toilet paper. Some were going for plywood to board their windows and for generators. Others have been filling up propane tanks and waiting in lines that circle around the block to get gas for their cars.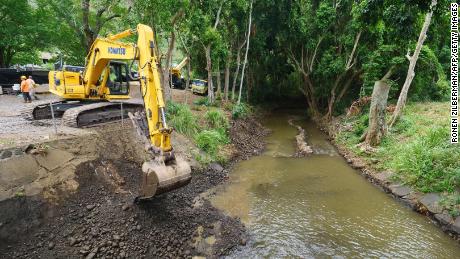 Workers clean debris from a stream near Honolulu, trying to get ahead of water from the hurricane.On the Big Island, cafe owner Eugene Yi shut down his business Wednesday. He and others put tape and boards over the business' windows, and lined the exterior with sandbags."A couple days ago, we were like, 'Oh, it's just going to blow over.' Then … we saw people at the stores panicking and wiping out all the water," Yi, owner of Kona Wave Cafe in Kailua-Kona, told CNN affiliate KHON on Wednesday.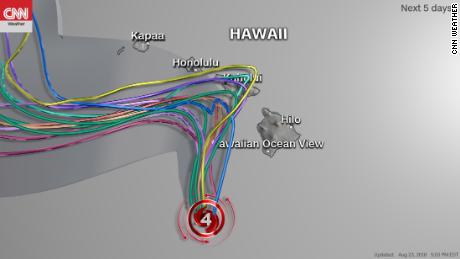 "So now we're in a rush to get super safe, (and) try to get this as secure as possible."Authorities are asking people to seek shelter before it's too late or to stay in their homes if they believe those structures can withstand hurricane winds. Many others are leaving. Long lines were seen at airports in Honolulu as hundreds of people tried to catch flights out of the islands before the storm comes closer.The 15 airports throughout the state will remain open as long they don't suffer damage to their infrastructure or the debris "makes flight operations unsafe," the Hawaii Department of Transportation said in a statement.
Rain, rain, and more rain! Animation of forecast precipitation totals Wed-Sat afternoon. Flooding & landslides a big concern with #HurricaneLane. #HIwx pic.twitter.com/HQCnyBkH40
— NWSHonolulu (@NWSHonolulu) August 23, 2018 The US Coast Guard ordered Honolulu County ports closed Thursday. Hawaii and Maui County ports had already been closed.President Donald Trump approved a disaster declaration ahead of the storm.In a statement announcing Trump's approval, Gov. Ige said Hawaii had submitted the request for a Presidential Major Disaster Declaration to help with the impact the hurricane may have in the islands.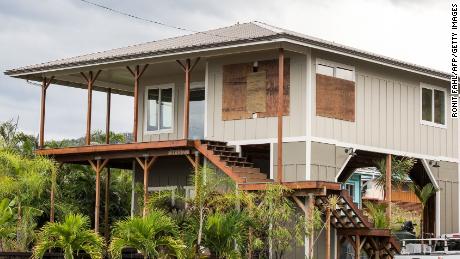 Some windows on a home in Milolii, Hawaii, are boarded up as residents await the full brunt of Hurricane Lane. "The approval of the Presidential Disaster Declaration means that Hawai'i will have quick and efficient access to federal resources in the wake of Hurricane Lane, as our communities and residents recover from any damage and losses caused by the storm. We are grateful to the President and FEMA for the swift approval of our request as our state braces for the severe weather ahead," the governor said.Another important threat is storm surge, accompanied by large and destructive waves."The combination of a dangerous storm surge and large breaking waves will raise water levels by as much as 2 to 4 feet above normal tide levels along south and west facing shores near the center of Lane," the hurricane center said.
Source Link:
https://www.cnn.com/2018/08/23/us/hurricane-lane-hawaii-wxc/index.html
[-0.579427]
Comments
comments