How are you preparing for Hurricane Florence? Text, iMessage or WhatsApp your videos, photos and stories to CNN: 347-322-0415
Wilmington, North Carolina (CNN)The southern East Coast of the United States is bracing for the arrival of Hurricane Florence as the storm — already packing winds of up to 140 mph — neared Category 5 strength Tuesday.
More than 1 million people face mandatory evacuation orders in coastal areas of North Carolina, South Carolina and Virginia, where Florence could begin delivering tropical storm force winds late Wednesday.One year after major storms ravaged the Gulf Coast and Puerto Rico, officials warned those in Florence's path not to underestimate the threat the storm poses.Residents boarded up their homes, formed long lines at gas stations and emptied the shelves of hardware stores and supermarkets Monday.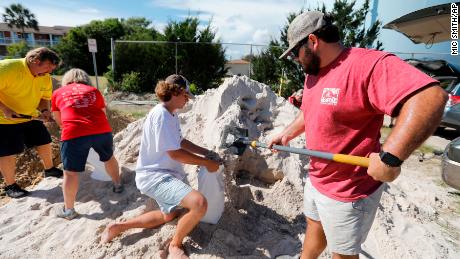 Residents of the Isle of Palms, South Carolina, fill sandbags in preparation for Hurricane Florence.As of 11 p.m. ET Monday, Florence had maximum sustained winds of 140 mph, the National Hurricane Center (NHC) said. Read More"Some strengthening is expected during the next 36 hours, and Florence is expected to be an extremely dangerous major hurricane through Thursday," the NHC said. The storm is forecast to strengthen to near Category 5 and "there remains high confidence that Florence will be a large and extremely dangerous hurricane, regardless of its exact intensity," the National Hurricane Center said. A Category 5 storm has sustained winds of 157 mph or more.
Here is the latest forecast track and key messages for Hurricane Florence from the @NHC_Atlantic. Florence is maintaining its strength and Hurricane and Storm Surge Watches will likely be issued on Tuesday. #HurricaneFlorence #HurricanePreparedness #HurricanePrep pic.twitter.com/EbMVucjk54
— NWS (@NWS) September 11, 2018 More counties placed under mandatory evacuationsNational Guard soldiers are being mobilized in the affected states. President Donald Trump declared an emergency in North Carolina, allowing it to access federal funds. Six more North Carolina counties were placed under mandatory evacuation Monday night, hours after the first order in Hatteras Island. Certain areas of Brunswick, Currituck, Dare, Hyde, New Hanover, and Onslow counties are affected, and more orders are expected Tuesday.In South Carolina, mandatory evacuation orders take effect Tuesday at noon in eight counties along the state's 187-mile coastline. Starting then, all roads on I-26 and Route 501 will be directed away from the coast, South Carolina Gov. Henry McMaster said."This is a real hurricane we have coming," McMaster said Monday. "We don't want to risk one South Carolina life."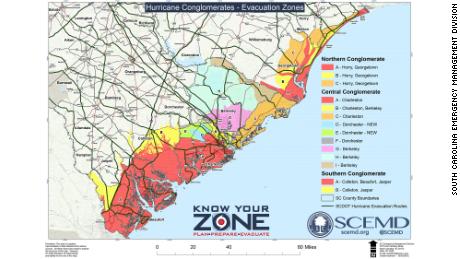 Mandatory evacuations start in coastal South Carolina Tuesday at noon.State government offices, including schools and medical facilities, will be closed in 26 counties, McMaster said. He estimated that about 1 million people will be affected by the order, including residents and visitors. In Virginia, mandatory evacuations begin 8 a.m. Tuesday for about 245,000 residents in a portion of Hampton Roads and the Eastern Shore area, Gov. Ralph Northam said Monday. "Everyone in Virginia needs to prepare," he said. "This is a serious storm and it's going to affect the entire state of Virginia." Residents prepare to flee and hunker downResidents of coastal areas boarded up homes and packed their bags as they braced for Florence's arrival. Lines formed at gas stations as people heeded warnings to gas up in case they're ordered to leave.
Source Link:
https://www.cnn.com/2018/09/11/us/hurricane-florence-south-east-coast-wxc/index.html
[-0.700241]
Comments
comments