(CNN)It used to be commonplace for kids to write essays entitled "How I spent my summer."
Like so much else, even imagining that ritual seems out of place in this forever altered landscape we're still calling 2020. Americans are saying goodbye to a summer season that even as it draws to a close still seems inconceivable. They are doing it while teetering along the sharp edges of a series of grim benchmarks: nearing 200,000 deaths and over 10 million jobs lost after six months spent enduring the grinding effects of the Covid-19 pandemic.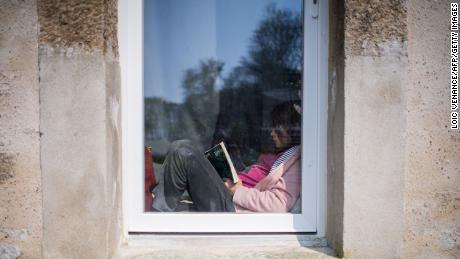 The summer of staying putWe wanted to hear the stories of how you've gotten through it, what you're holding onto and what these months spent largely indoors and in place have taught you, helped you appreciate or made you long for. We opened the floor to our readers, and you didn't hold back. The hundreds of stories you shared with us were fashioned from words that arranged themselves into recurring patterns and refrains, from mundane to gut-wrenching: Guilt over good fortune while so many offers have suffered cruelly. Praise for the small details of life and things — people, parts of yourself, the natural world — never noticed before. Home improvement (the above-ground pool is definitely having a renaissance, apparently). New traditions with people close to you. A sense of anxiety and loss. Tears for what you had lost, mourning for dreams or desires that no longer fit your reality. "These last months have been what I never saw for myself," wrote Caitlin B. of Greensboro, North Carolina. "I miss me," reflected Melissa T. of Charlevoix, Michigan, "I used to be a more vibrant, outgoing and enthusiastic person." For some, the summer of 2020 was unyielding; as Jennifer G. from Houston, Texas, put it, it was "abrupt and brutal," and included a terrifying journey to care for her sick college-aged child. A number asked some version of: What summer? What summer is and has always been still hasn't happened – and may never happen again for some people. Read More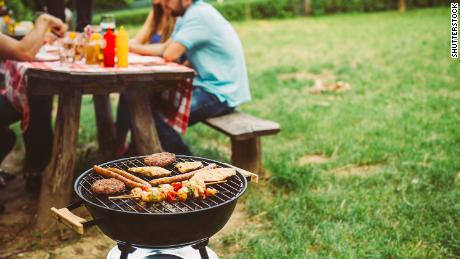 If you plan to be social for Labor Day weekend, here's how to lower your risk of Covid-19 infectionWhitney in Westfield, Indiana, works for an international humanitarian relief organization and typically spends summers traveling around the world to places like Syria, India and Uganda. She won't get to keep a promise she made in January to some women and kids in Ghana that she would return in September. She wrote to us: "I miss the places that feel as if they have become a second home because I have been there so many times. This is my job, but it's so much more than that. It's my heart and it's broken." Thankfully, the summer of 2020 hasn't only been a season of loss: People started businesses and launched podcasts. You took your time. You found love. David B. of Durham, North Carolina, made one last dating-app match before lockdown and ended up hitting it off with a woman who, like him, has kids — together they have made a "pandemic pod full of love." Says David: "I feel like one of the lucky ones. If I'd had to do the last six months on my own I surely would have cracked. I'm not a stay at home and be alone person." Liz Angstadt of Egg Harbor Township is still waiting to get to have her "real wedding" (it's been put on hold by Covid); in the meantime, she said, "Maybe the new normal is just making the best of it."Get our free weekly newsletter
Sign up for CNN Opinion's new newsletter.
Join us on Twitter and Facebook
You also gave thanks for boredom, compared to its alternatives. Bruce Allen of Carmel, Indiana, explained it this way: "In a word, for us the last six months have been dull — which, in 2020, could be a lot worse." Carol Roberts of Montgomery, Alabama, hasn't lost her sense of humor as she contends with life in a pandemic, thinking of her daughter off at college. She quipped: "As a big science fiction fan some of my favorite books and movies are about post-apocalyptic survivors. But no one told me the Apocalypse would require so much patience and sitting around and watching Netflix. Sometimes I feel like we're the only people left in the world sitting at home waiting for it to get better. But then I reach out on Facebook and ask my friends what they are doing and most are doing the same."How has America spent the summer? I think we've spent it learning a lesson best described by Michael Roys, a retired pastor from Winnebago, Minnesota: "We all like to think that we're in control of our days…2020 has simply made us more aware that often, we are not. We live by faith…not by sight."Here is a further sampling of responses. Some have been lightly edited for clarity and flow. As temperatures rose, so did the pressures of being alone Covid brought on more changes than the world could have imagined. For me — it brought the summer of silence within four walls. As a single woman who lives in a studio apartment, most of the time I had no trouble socializing and seeing people before Covid. I traveled to visit friends and family. I enjoyed seeing my co-workers. With Covid that all stopped. As winter turned into spring, my hopes of reclaiming life after emotional recovery from my divorce wilted while the flowers bloomed. But I tried to stay positive — I was lucky. I still had a job and I knew it was important to isolate in place. I still had friends to talk to and video chat with. I would be OK. But spring turned into summer — and as the temperatures rose, so did the pressure from being alone. Most of my friends stopped answering the phone. Texts went without any responses. I knew all my friends were going through their own struggles. I tried to stay positive — but some days I would make up reasons to call my boss just to talk to a person. I knew I was lucky to still have a boss — I would say it out loud and the walls in my studio would echo back. After four months of self-isolation I called my parents and asked if I could come stay with them. I packed up my Ford Fiesta (that my ex-husband hated) and drove to my parents. I'm no longer within four walls and instead of silence the faint echo of the Game Show Network can be heard from the next room. I haven't ever loved the Game Show Network as much as I do right now. — Colleen Forsyth, Tucson, ArizonaWho would have thought we'd be here? Quarantine was scary as hell. I am a full-time wedding photographer, usually taking on 30+ weddings a year and having a completely booked schedule after April. This summer stopped me in my tracks, for good. I had anxiety that turned into ideas that turned into new dreams. I had more time with my dogs, my husband, and my plants. I started building stuff in my garage, tried outdoor vegetable gardening, and eventually started making plant pots after running out of them. Fast forward four months, I'm still a photographer, but I'm also running a very successful plant pot business on Etsy. Over those months of staying home, I made over 800 pots that have been sold all over the US. Quarantine forced me to slow down and think about what I love and what I do during the day. It made me a better entrepreneur and a more creative person. It made me learn new skills and have new failures, but also gave me the time to figure out how to succeed in this new normal. Who would have thought six months ago we'd be here? — Allison Kuhlman, Akron, Ohio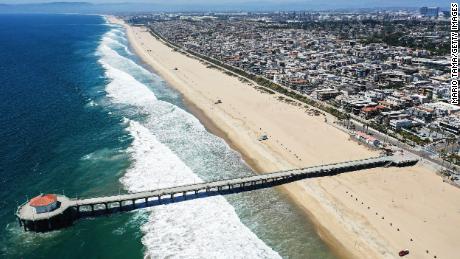 An aerial view of the pier and beach that are deserted on Independence Day afternoon amid the Covid-19 pandemic in Manhattan Beach, California. I know nothing will ever be the same2020 was supposed to be the best year of my life. I was finally done with the prerequisites to apply for my nursing program and to my delight was accepted and due to start in the fall of 2020. August 2020 was supposed to be a big month. My firstborn was going to start kindergarten and my younger child would turn one year old on August 8. I'm 28 with two kids — getting to this point in my education has been a struggle, to say the least. But 2020 was going to be my year. The year I finally made it to the nursing program. The year my family would be proud of me. The year I would be proud of me. On March 13 I was at my college campus taking my second to last test of the short eight-week Nursing Skills course. In the middle of my test a campus police officer told us we had to leave, that they were locking down the campus in 10 minutes. I could feel the palpable anxiety and confusion in the room.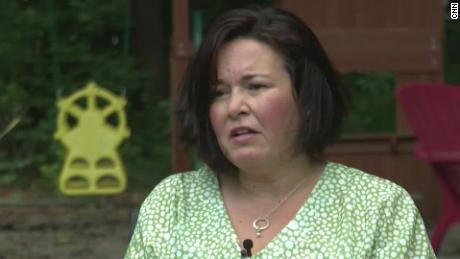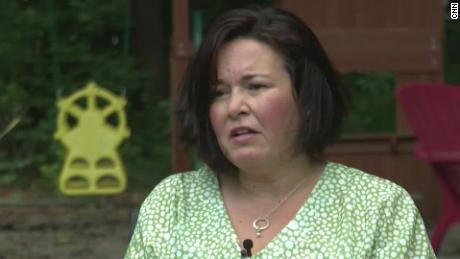 JUST WATCHEDWorking parents desperate to find childcare amid pandemicReplayMore Videos …MUST WATCH
Working parents desperate to find childcare amid pandemic 03:38What really got to me was the shock on the professors' faces. They had no idea what was going on and didn't pretend to. That was the last time I saw any of my classmates or professors. That was the last morning I drove somewhere to meet a group of people. It was the last morning my daughter would see any of her friends at her daycare. The days turned to weeks then months. I realized in June that I had to give up my place in the nursing program because I had to stay home with my kids. In late July my grandmother, who was more like a second mother to me, died. She was sick for a while from heart disease. I miss her so much. Her service was beautiful even though it was socially distant and we were all masked. Time since then has sped up, it seems. At the beginning of quarantine I couldn't wait until things would go back to "normal." Today I know nothing will ever be the same. I will never be the same. — Gabrielle, Austin, Texas How I fell in love with a park I'd never noticed I never thought much about local parks, green spaces, until the spring of 2020. Picnics and green tables were the territory of ants and mothers of small children desperate to get to a playground. Not my hot spot at all, until this summer. But now, I could write a Northern Kentucky park blog. I know the shadiest breeziest spots, hidden tables surrounded by trees that have lived longer than the neighborhoods around them. Then there are parks taken over by sweat bees, best left to their own hums of June and July. One particular table became my summer office. I interviewed for a job, virtually, there to return to a fall position.Across the street, I spotted a small wedding venue for a friend's son and future daughter-in-law. I listened to small concerts through the trees, and heard bands I couldn't see. I came to know the regular dogs, and some of their owners, socially- distanced, of course. I invited friends to my picnic table, BYOT, bring your own takeout. Maybe the park attendants think I'm homeless, but I'm not. I simply remembered a great little park in a neighborhood where I used to teach at the elementary school up the road. I moved my desk up the street, between the trees this summer to do some fine long term reading and iced tea sipping. I've still got a couple of months before the snow claims my office, and iced tea rolls over to coffee. That's at least time for a couple of books at a picnic table in the trees.– Denise Newbolt, Florence, Kentucky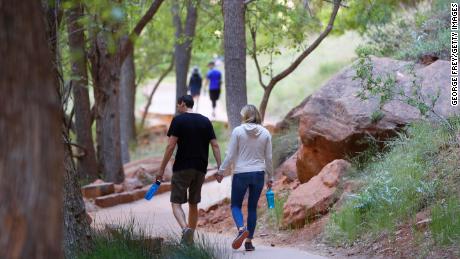 Hikers walk along a paved trail along the North Fork of the Virgin River in Zion National Park on May 15, 2020.I hope things don't go back to 'normal'It's been such a strange and surreal time. Remember when everyone was hoarding toilet paper and baking bread? That feels like years ago. I've been lucky to still have a job and be able to work from home. I miss traveling and hugs and those rare but special moments between strangers. A thrill was going to the store for the first time in months. Or a secluded beach. Simple pleasures became simpler yet more decadent. Life pre-Covid — commuting five days a week, constant obligations and rushing, the constant consumption and consumerism, hustle and bustle, doing my hair and wearing jeans. It all seems ridiculous and unnecessary now. I'm more content with a smaller world and circle. It might be smaller, but I'm more grateful to have it. My family is so important to me and I'm already missing this extra time with them. And I'm grateful to have this time with myself. I figured if I'm lucky enough to be employed AND healthy during this time, I sure as hell should start taking care of myself.I want people to have their jobs back and to be healthy again, but I hope we don't simply move on from this without change as a society, in terms of both pace and how this country is run. I hope things don't go back to "normal"- I hope we remember that we were once forced to slow down and remember what it taught us.– Jess L., Los Angeles, CaliforniaI hope this all becomes another tired old story we tell our newborn daughter somedayThis year we planned to have a baby. What we did not plan was to do it in the middle of a global pandemic. It took two years of testing, timing, and a little medical intervention to finally conceive. Like many millennials we put off starting our family until we felt financially secure. If we couldn't give the next generation more stability it didn't feel morally justified to bring them into the world just yet. We waited so long that at 37 and 39 respectively we almost weren't biologically able to realize that dream. In February of this year I was 12 weeks pregnant. We announced on Valentine's Day to our friends and family. Then by the same time in March, just a month later, both my husband and I found ourselves self isolating at home and working remotely. We constantly struggled to find the right balance of caution. We canceled our baby showers. We only went to the doctor and grocery store for months.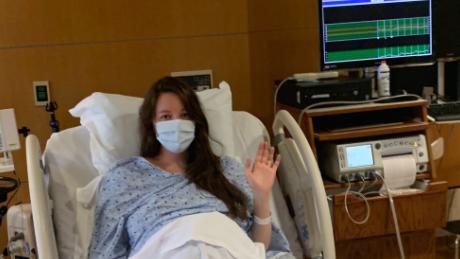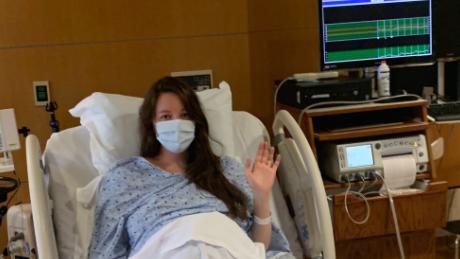 JUST WATCHEDFear, panic as women navigate pregnancy during a pandemicReplayMore Videos …MUST WATCH
Fear, panic as women navigate pregnancy during a pandemic 02:59But could we order take out? Did we need to clean our groceries? Did we really need to leave the piles of Amazon packages full of baby gear in the garage for 24 hours before we handled them? How long should we quarantine before the baby was due? We suddenly had to adjust our plan for 2020 in ways we could never have imagined. My pregnancy presented another set of challenges. Not only was I at risk due to advanced maternal age but I spent 19 weeks battling hyperemesis gravidarum then found myself with a gestational diabetes diagnosis as soon as I started getting past the nausea that regularly threatened to send me to the hospital. For two trimesters I navigated these issues through telehealth appointments. I had a hard time getting nurses and physicians to take me seriously about my nausea or offer the frequency of appointments that would offer adequate monitoring for my diabetes and insulin adjustments. I had to purchase my own fetal doppler and blood pressure monitor and eventually I modified my own insulin dosage scale because my endocrinologist wouldn't keep regular contact with me. In the middle of my third trimester I couldn't handle the discontinuous care any longer and switched practices so I could advocate better for the health of my baby. At the end of my pregnancy I had only managed to gain 14 lbs. Thankfully I took the worst of it and my daughter arrived small but perfectly healthy with a massive swath of black hair that stuns everyone who sees her. Now that my daughter is here, I sit here at 4 a.m. with her lying on my chest and wonder what kind of world I will be sending her out to in November. Will she be safe at daycare? Will we have a successful vaccine soon? Will I eventually feel comfortable leaving the house with her? How long will her relatives seem like strangers to her? My greatest hope is that this illness never touches her and all of this uncertainty becomes just another tired old story we tell about her birth year. — Jessica LaPalm-Lorimer, Nashville, Tennessee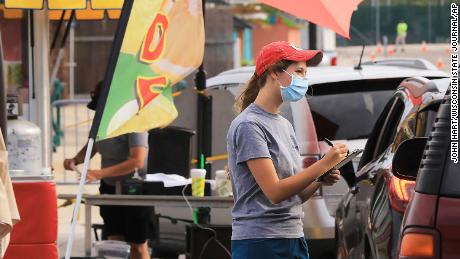 Attendees of the Fair Food Drive-Thru event at Wisconsin State Fair Park deliver their orders to workers outside Funnel Cakes by G&G on the fairgrounds in West Allis, Wisconsin, in July.How our family went to Plan BOur family had grand plans for the summer. A road trip to the Northeast with a brief stop in Canada was going to kick us off in May, then my daughter and I were going on a mission trip to Guatemala in June. A road trip with my son to summer camp in northern Illinois at the end of July was our last major plan, but they all went out the window. When it became apparent that none of these were going to happen, we went with Plan B. We played lots of board games, cooked hot dogs and marshmallows over our backyard firepit, undertook some home improvement projects, and came up with a list of "Family Summer Adventures" we wanted to do over the summer. What made the list of adventures we wanted to make sure we tried? Fishing at a local pond (we didn't catch anything, but we had fun trying). Trip to an escape room (the bomb blew us up as we were on the last clue). Road trip to parts of the state we didn't visit very often (this one happened twice). Cooking competition (we each came up with a recipe and were judged by the rest of the family). Baking and delivering cookies to all of our neighbors and several others (we baked hundreds of cookies). Photographic scavenger hunt around our town (with an emphasis on family history). Making mentos and soda volcanoes (we tried to figure out which sodas made for the best volcanoes). New Year's in August (we did many of our family's New Year's Eve traditions and stayed up until midnight — the kids tried to stay up all night). Bicycling the length of the bike trail around our town. These weren't the adventures we envisioned before the summer began, but they were fun ways to spend time as a family. — Scott, Searcy, ArkansasI'm still waiting for summer to start It seems so strange to me to be sharing my summer experiences while I'm still waiting for summer to finally arrive. In my mind, it is still March. We are 60+ years old and live in Dallas, Texas. My husband "commutes" to work via his short walk down the hallway from our bedroom to his office. We meet in the kitchen for lunch and dinner and then spend our evenings together watching TV. I fill up my hours with household chores and welcoming texts and phone calls from friends and family. I started out this quarantine managing to stay active with daily walks. The oppressive summer heat put an end to that for now. I do workouts at home on my bike. We have all our groceries and other needs delivered to our front door. Amazon is our new best friend, but oh, how I miss not squeezing my own fruit in the produce aisle! But still life goes on around us. We have happily become grandparents in the last few weeks. We FaceTime with our beautiful new granddaughter, but have still not gotten to meet or hold her. All our three children are thriving in different parts of the country, which is helping us remain sane.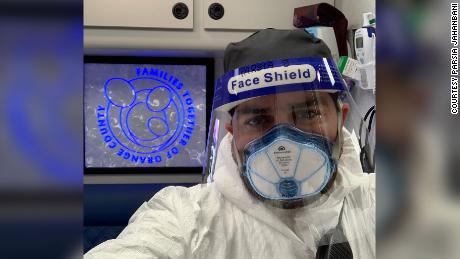 This medical worker used to be a 'hero.' Now he feels hatedYes, during this six month period, life went on, some happy and joyous events and some tragic. Just recently, our loving niece lost her life (not Covid-related). I received a cancer diagnosis just when the pandemic hit our lives as well. I have been through two surgeries and radiation. I struggled with the many decisions associated with my treatment. I had to make all those decisions while weighing the risks of going to a hospital against the risks of waiting to see if my cancer could wait. I chose to go ahead with my treatment and I'm so glad I did. Some decisions seem trite, like deciding what to make for breakfast. Some loom over me and I continue to have no answers. Do I finally step outside of this quarantine and fly to Boston to see my granddaughter for the first time? Do I even feel safe to do my own grocery shopping? Do we permanently move closer to at least one of our kids? Do I find a purpose to my life other than worrying about the future and find meaning in how we are now living? I know that some people have made the best of this time and accomplished great things. I wish I can say I am one of those people. But I do feel that there are also many people who are struggling with their everyday lives as well. Those who feel guilty for complaining, while they remain healthy with a roof over their heads and a steady income. We suffer even though we know we shouldn't. These people need a voice. I hope I have somehow given them a voice. — Arlene Lobell, Frisco, Texas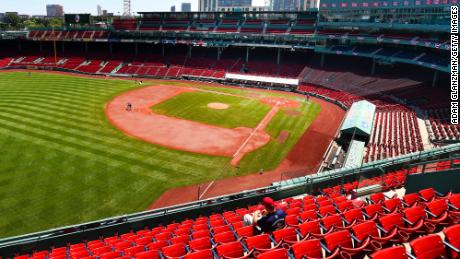 A lone Boston Red Sox employee eats a hot dog in the stands before a game between the Boston Red Sox and the Baltimore Orioles at Fenway Park on July 26, 2020 in Boston, Massachusetts. How quarantine blessed me Have you ever seen the movie Groundhog Day? A guy essentially repeats the same day over and over again in an endless cycle. I would say that is a good representation of my life (and probably many of your lives) for the past six months. It almost felt like a nightmare because for a solid three months in a row, I was asking myself daily, "Is this actually happening or am I going to wake up as a normal [high school] senior again?"Out of all the years in the Earth's lifetime, the universe decided to ruin everything for the Class of 2020. Many people in our society today would think I am dramatic for saying that, but they are the same people who said senior year is supposed to be the best year of your life.
JUST WATCHEDHe waited over 4 months for unemployment benefitsReplayMore Videos …MUST WATCH
He waited over 4 months for unemployment benefits 02:51As I truly reflect on the past six months, I am blessed to say that quarantine happened to me. Without it, I never would have gotten as close to my friends, family, and boyfriend as I am now. Endless all-nighter FaceTime calls, social distanced sunset dinners and movie nights meant that I had started to rely on the people in my life more than I ever had. I got to focus more on the truly important people in my life rather than going to work and spending countless hours on busy work at school. These people made me happy even when a pandemic tried to ruin what was supposed to be "the best year of my life." My loved ones are now hours away from me, and it made me realize that I could not have gotten through quarantine without them. This summer was far from what I expected, but I got to spend more time with the people that mean the most to me, and I cannot thank Covid-19 enough for that. — Maddie Bates, Birmingham, AlabamaMy family trained for this marathon alreadyWe've gotten through the last six months. That's our badge of honor, our reward, we made it through. Our summer has been spent at the house, in the backyard, and at my mother's. My 10-year-old daughter was born 17 weeks early, and we lost her twin brother at just over a day old. She had to stay isolated for two years for her lungs to recover. How is that relevant? We've trained for this marathon. We hoped it would be for two months, but we know we can handle two years of we have to. We play and eat outside as much as we can, we read books, we play games, and we watch movies. We yell, cry, scream, hug, and make it through to the next day. We have taught the children to make bread, to sew, and to cook. Our 10-foot inflatable pool has been a fixture in our backyard this summer. We have special days and make-up special events (Avengers Day, Harry Potter Weekend, Camp Out Inside Day). It is important to create new holidays to break up the monotony.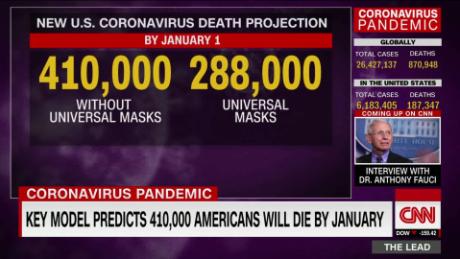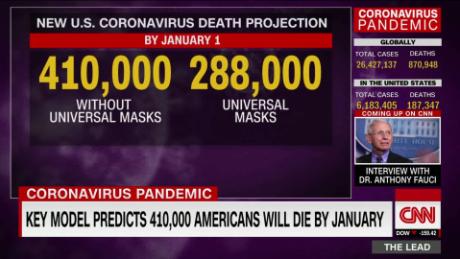 JUST WATCHEDDr. Gupta: Coronavirus 'storm' has not passedReplayMore Videos …MUST WATCH
Dr. Gupta: Coronavirus 'storm' has not passed 07:34We are lucky, and we tell the kids this fact. We have a nice house, no one is sick, we have plenty of food, and we have plenty of toys. We are lucky to have these things, and we hope that we've instilled that same gratitude in the children. This will get better, and we've decided venturing out is not worth the possibility of contracting the coronavirus and dealing with lifelong or life-ending risks that can accompany this virus. Sure, statistics say we should survive, but there is so much we don't know. This is such a new disease that even the experts are still judging the short and long-term consequences. We try to tell our children to look for positives. We tell our children that they are home. We tell our children they are safe, and their grandmothers are safe. We tell them that it is our duty to sacrifice. We are a part of a society and we must do what we can to stop Covid-19 from spreading. This sacrifice is part of what it means to be an American. We hope that this thought gives them purpose and gives them understanding. We tell them it is OK to be frustrated — it is OK to be sad. We try to hide our own frustration. We can't help, though, feeling frustration and anger when we see others nonchalantly going out into the world without a mask or a thought given to social distancing. We tell our children that we can't control others' choices. It is easy to tell our children not to feel anger, but it is so difficult for us to follow. So how do we make it through? We realize that our world has shrunk to four people. We make it through by finding happiness in the everyday. We make it through by realizing this will be a memory, and the four of us will be on the other side of this pandemic after we have made it through this marathon … together.– Joel Farbman, Huntsville, Alabama
People walk by the masked bronze sculpture of the "Fearless Girl" by Kristen Visbal, in front of the New York Stock Exchange (NYSE) on May 15, 2020.I miss being able to hold someone's handIn the early morning hours of February 29, my husband died in his sleep — and my axis tilted. As I tried to right my own axis, a stronger tilt was taking place around the world, and the two became one. With each step forward, I have been met with an equal step back. I want to get out and meet new people with whom I can share my pain — but people are not going out. I want to try new activities to lessen my pain — but there are no activities. I want to invite friends over for dinner, to watch a movie, to lessen the pain — but who is safe? I not only miss my husband because I loved him, but I also miss the companionship of just having someone with me to be my friend, my dinner partner, my traveling companion. I miss being able to hold someone's hand, give and receive a kiss "just because." I miss being able to grieve the life I had, because even if my husband had lived, the life I had no longer exists — and there are no guides for the new one. — Karen Zimmermann, Stratford, ConnecticutI put my acting dreams on hold for nowBefore my six months of quarantine began, I had big dreams of making it into the acting world. I'd just been nominated to compete for an Irene Ryan, a scholarship that would be awarded to theater students after a tough competition. But after being stuck at home for months, and not being able to compete due to my departure from the college, I thought the best way to bide my time while I polished my own skills was to help people. Rather than trying to stay put, I decided to get a job at a plasma center, doing my part to try and help find a cure for Covid-19. And while I do aspire to still achieve my dream of acting one day, for right now I think these last few months of helping people has done an amazing job of holding me over until then! — A'kye Smith, Jacksonville, FloridaI miss feeling safeI was sitting on the bleachers in a small facility, where my daughter's club volleyball tournament was being held. It was February in Boston. We took the train from New Jersey. Her team was competing for a gold medal at an AAU tournament. I felt like I was on top of the world as a mom. Coffee in my hand. Parents all around me; cheering the girls on. The intensity of the moment!They ended up taking home silver. It was a big accomplishment for a 13-year-old kid. We stopped at Harvard Square before we departed. I wanted to show her something so historic. Into the Harvard Bookstore we went and then to the Harvard Store to buy t-shirts. We spoke about how Barack and Michelle Obama must have walked down the street [with Malia] like we were as we stood in front of the University. We stood in the same spot as that scene from "Good Will Hunting" — "How do you like them apples?" There was such a great vibe and crispness in the air. I hold those moments in my heart, as it was the last carefree trip until Covid changed everything. The remainder of her tournament season was canceled. Everything around us was shutting down. People were dying. It all changed. Now, we think twice about where we go, who we are around, where our masks are, if we can skip the barbecues, will the beach be too crowded for social distancing. Everything has changed. What is missed most? The feeling I had sitting on those bleachers that day in Boston — completely carefree and without concern at all, that so many people were around us. Safe. I miss feeling safe. What have I learned — to value life's little moments, because they can all be gone so quickly. — Kelli Kemple, Jackson, New Jersey
Source Link:
https://www.cnn.com/2020/09/05/opinions/labor-day-summer-of-staying-put-carr/index.html
400 Bad Request
Request Header Or Cookie Too Large
Comments
comments