Jim Colucci is a television and entertainment writer. He is the author of "Golden Girls Forever: An Unauthorized Look Beyond the Lanai." The opinions expressed here are his. Read more opinion on CNN.
(CNN)If you're a supporter of President Donald Trump, stop watching "The Golden Girls" — because you're just wasting your time.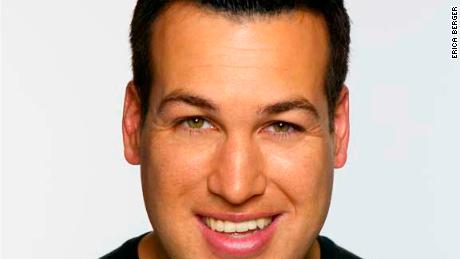 Jim Colucci If you have watched more than a few episodes — particularly certain, pivotal ones — and you still can vote for a Republican Party represented by and kowtowing to Trump, you clearly haven't understood a thing you were watching. In the 10 years I spent researching my book, I've heard from female fans who love the way the "Girls" together found their strength, refusing to be disenfranchised or sidelined or made invisible due to gender or age. As a gay man, and having spoken to many other LGBTQ viewers, I know that we love the show because, like so many of us who are rejected by our relatives, the Girls chose each other as a surrogate family. Still other fans enjoyed how "The Golden Girls," whose seven-year run began 35 years ago this week, tackled the most troubling issues of their day — many of which remain problems today — with both humor and the graceful, loving point of view that comes with decades of life experience.And then there are others of you who have watched. I don't know why. Maybe you just really like wicker. The show's producers confided in me during interviews for the book that they always felt the only reason they were even allowed to talk about society's ills on the show is because the main characters had lived through so many of them. We lived and still live in an ageist society, where older protagonists on TV are rare. Read More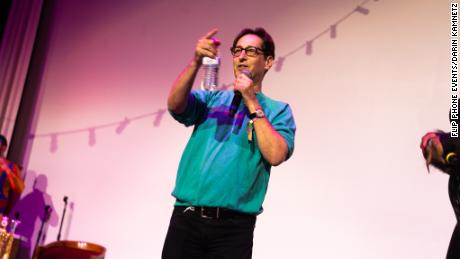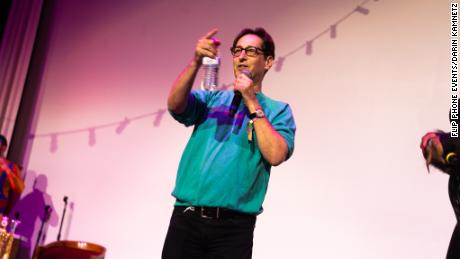 JUST WATCHED'Golden Girls' writer on show's legacy and favorite momentsReplayMore Videos …MUST WATCH
'Golden Girls' writer on show's legacy and favorite moments 11:46That's one of the reasons these women were so fascinating to us. Over their long lives they'd grown, sometimes changing their minds or political points of view. These "Girls" were women who had learned a thing or two about empathy, love and support. It took a village of the best actors, writers, producers and crew of all faiths to bring to the screen what are — whether Rue McClanahan's Blanche Devereaux, Betty White's Rose Nylund, Bea Arthur's Dorothy Zbornak and Estelle Getty's Sophia Petrillo were regular churchgoers or not — true Christian values.Sure, the Girls may have had their moments of greed — picture Dorothy, "grabbing that dough" while competing ruthlessly on a game show — but they also gave to, and respected, the poor. They gave to the homeless, of their time and from their pocketbooks.When the Girls met someone physically different or disabled, they met him or her with understanding. They did not mock him openly, like Trump did with a physically disabled reporter while on the campaign trail in 2015. In fact, when Blanche even accidentally used the word "shrimp" in front of a little person, she marched right back into the kitchen, mortified.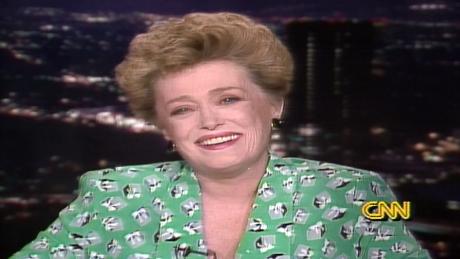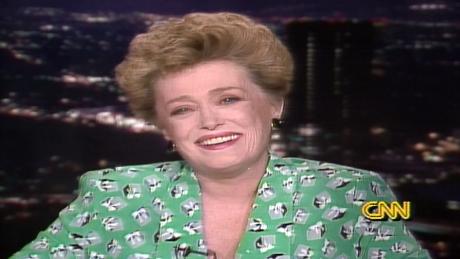 JUST WATCHEDRue McClanahan: We have so much fun filming 'Golden Girls' (1988)ReplayMore Videos …MUST WATCH
Rue McClanahan: We have so much fun filming 'Golden Girls' (1988) 01:01The Girls wanted to provide sanctuary for Dorothy's talented student, Mario, an immigrant who wrote a prizewinning essay about what it means to be an American. They wouldn't have believed false reports of a caravan of boogeymen coming from Mexico and wouldn't have supported an administration that separated migrant children from their parents. They wanted Mario to have the American dream, not to be confined behind a chain-link fence.The Girls worried about health care, its high cost and difficult access. When Sophia's friend Lillian could no longer afford quality nursing care, they pitched in to help. They wouldn't have supported restricting health care coverage for others, rescinding the little bit of coverage some people have or allowing doctors to discriminate regarding whom to treat based on their own prejudices. (And if smart, qualified people like doctors and epidemiologists had asked them to, they would have worn masks.)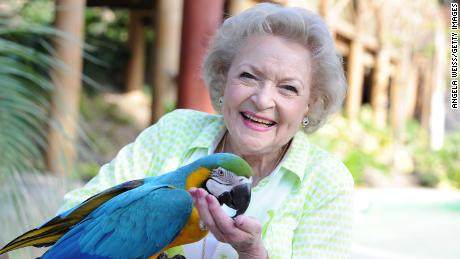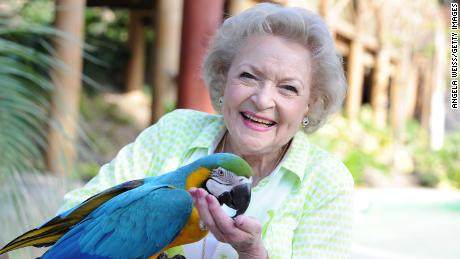 JUST WATCHEDAnderson Cooper wishes Betty White a happy birthdayReplayMore Videos …MUST WATCH
Anderson Cooper wishes Betty White a happy birthday 02:04When Blanche was sexually extorted by her professor, or when she was physically abused by a man she'd been dating, the Girls stood up to the bad men among us who would harm women. They wouldn't have looked the other way when a candidate for President of the United States bragged about grabbing women by the genitals or called any woman who dared publicly disagree with him "nasty" or a "dog."When the Girls met Blanche's gay brother, or Dorothy's lesbian friend, they expanded their minds and their hearts to welcome them into their home. They wouldn't have supported a ban on trans people serving in the military. They wouldn't support bans on LGBTQ parents adopting and building loving families.When they started to become friends with Barbara Thorndyke, a woman who had no problem with anti-Semitism and religious discrimination, the Girls didn't ignore the fact and head out for a meal at the Mortimer Club nonetheless; they ditched the beyotch. They wouldn't have supported a leader who claimed there were "very fine people on both sides" of a rally of White nationalists and neo-Nazis.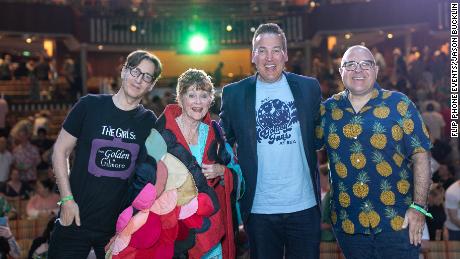 Writer Stan Zimmerman, Dr. Melinda McClanahan, author Jim Colucci, and "The Daily Show's" Frank DeCaro wrap a panel discussion on "The Golden Girls" legacy. The 35th anniversary of "The Golden Girls" premiere is a milestone for all the show's fans. In past years, I've connected with other lovers of the Girls at convention panels, or this past spring, on two back-to-back "Golden Fans at Sea" cruises. Due to the pandemic, I don't know how I'll be marking this occasion, but I do hope it will be in some kind of conversation with my fellow fans.But here's the thing. Don't contact me to talk about or celebrate the Girls if in your heart you're fine with Trump telling the world that I as an LGBTQ person, or my loved ones as immigrants, are less than equal. Don't write me an email if you're fine with him sabotaging the United States Postal Service in order to sabotage the vote. Don't tell me how you enjoyed watching the Girls with your grandma if you're fine with a President who, rather than confront a pandemic that is disproportionately killing the elderly, has waved away the deaths of more than 192,000 Americans and counting with the phrase, "It is what it is."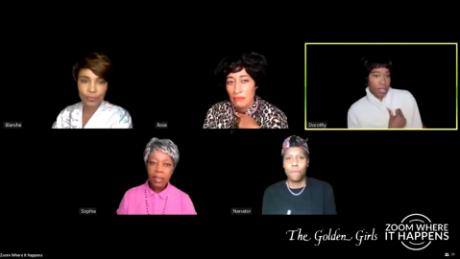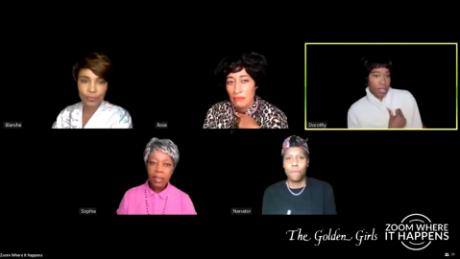 JUST WATCHED'Golden Girls' gets one-night reboot with Black castReplayMore Videos …MUST WATCH
'Golden Girls' gets one-night reboot with Black cast 00:46Instead, go back and watch the episode where Dorothy goes on "Jeopardy" in a dream and meets Merv Griffin. She calls him the "anti-Trump," and believe me, that was meant 100% as a compliment. Even back in 1992, those who knew anything about Trump knew who he was: Narcissistic, soulless, greedy, childish, petulant, proudly uneducated, totally lacking in morals or empathy. Cruel. Unqualified. Seriously — bigoted Barbara Thorndyke would make a better president. Or even misanthrope Frieda Claxton (who, as a hater of living things, would have loved Melania's new, treeless rose garden.)Just as I am parsing the show now, "The Golden Girls" continues to be scrutinized and reinterpreted today. Hulu recently removed one episode from 1988 in which Blanche and Rose are wearing mud masks when they meet Dorothy's future daughter-in-law, who is Black. Get our free weekly newsletter
Sign up for CNN Opinion's new newsletter.
Join us on Twitter and Facebook
Whatever your interpretation, the show's bottom line remains: "The Golden Girls" is about love. Trump is about fear. So please, if you have Trump in your heart, don't proudly show me how you wear your lapel pins, saying "I'm a Blanche" or "I'm a Rose." Because … well actually, when it comes to understanding the issues, you may be a Rose. But we real fans, we who were truly paying attention, are the ones who know the Girls. And you, sir or madam, are no Dorothy Zbornak
Source Link:
https://www.cnn.com/2020/09/13/opinions/golden-girls-35th-anniversary-trump-colucci/index.html
Bad Request
Your browser sent a request that this server could not understand.
Size of a request header field exceeds server limit.
Comments
comments