London (CNN Business)Happy Monday. A version of this story first appeared in CNN Business' Before the Bell newsletter. Not a subscriber? You can sign up right here.
President Donald Trump has not been afraid to lash out at Federal Reserve Chair Jerome Powell, whom he's called "clueless" and compared to "a golfer who can't putt."His most recent insult: "Who is our bigger enemy, Jay Powell or Chairman Xi?" — a reference to Chinese President Xi Jinping.In reality, Fed policy under Powell has helped Trump. The central bank tried to blunt some of the economic pain from Trump's trade war with China when it cut interest rates in July. In leaving the door open for another rate cut in September, the Fed is effectively offering Trump some support as he digs in his heels, as he did late last week."Going forward, it is not clear to us what may lead the US [government] to stop the escalation and try to reach a deal with China, given that the Trump [administration] appears to believe that it is politically popular to be tough on China and the Fed may be more inclined to ease monetary policy further to offset the consequences of the trade war," UBS economists Tao Wang and Nina Zhang said Monday in a research note.Read MoreFed expectations could be one reason that US stock futures are higher this morning. Background: The trade fight between the United States and China is running hot again. China on Friday announced retaliatory tariffs on $75 billion worth of US goods. Many of the tariffs kick in on September 1. The Trump administration is prepared to enact a fresh batch of tariffs on Chinese goods that same day.
Trump's rocky weekend includes ups and downs in China trade warAfter Beijing's announcement, Trump said he would raise tariffs by 5% on all Chinese goods. He also tweeted that he "hereby ordered" US companies that do business in China to "immediately start looking for an alternative."This escalation immediately overshadowed Powell's remarks at Jackson Hole. To investors' disappointment, Powell gave no hints about what to expect in September.Driving the week: Investors think the trade war has backed the Fed into a corner. Expectations for a 25-point rate cut in September are now at 95%, according to CME Group's FedWatch tool. The probability of a 50-point cut has risen to 5% from 0% on Friday.For Trump, that's good news, and could give him space to continue turning up the heat. Investors also support a rate cut, which they think can extend the bull market as global economic growth slows.Investor insight: Gentler rhetoric could also give stocks a boost. "We are willing to use a calm attitude to solve problems by negotiations and cooperation," Chinese Vice Premier Liu He said Monday.Trump appeared to respond positively. "I think we're going to make a deal," he said, adding that "China called last night."German businesses are getting worriedFears that Europe's biggest economy could enter a recession are only deepening.The latest: The Ifo Business Climate Index, out Monday, fell in August to its lowest level since November 2012. The business climate indicator for manufacturing, in particular, was at its worst level since 2009. The services sector was not immune.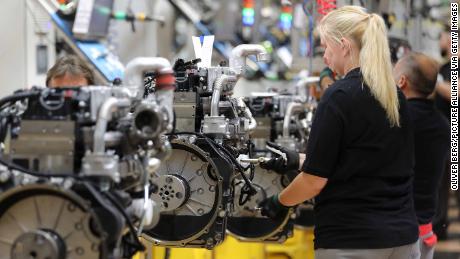 Germany's central bank issues recession warning"Companies were once again much less satisfied with their current business situation. Pessimism regarding the coming months also increased. There are ever more indications of a recession in Germany," the report said.Flashing red: German GDP for the three months ended June contracted 0.1% compared to the first quarter. This quarter doesn't look much better.Germany depends on exporters, which have been hurt by the US-China trade war. Weak global auto sales have also hit German carmakers, and the possibility of a disorderly Brexit looms large.Read more: 5 of the world's biggest economies are at risk of recessionUp nextWe're nearing the end of earnings season, but economic data keeps rolling in.US durable goods orders will post at 8:30 a.m. ET.The Chicago Fed National Activity Index for July will also arrive at 8:30 a.m. ET.Coming tomorrow: Watch for the reaction to US consumer confidence data.
Source Link:
https://www.cnn.com/2019/08/26/investing/premarket-stocks-trading/index.html
[-0.426632]
Comments
comments