(CNN)You know you're a skier when winter daydreams involve swooping down sparkling slopes on far off majestic mountains.
So when your precious ski trip does come around, it pays to have done a bit of preparation.And for most of us, that means a little work on our fitness. You don't have to be an Olympic athlete, or even a gym-obsessed fitness freak, but a bit of ski-specific exercise in the built up to your break will help you ski better, for longer. Even taking the stairs instead of the elevator can be a good start."A lot of people are regretful they weren't fitter … but busy lives take over," says Tom Saxlund, founder of New Generation ski school which operates in the French, Swiss and Austrian Alps. Read More"I see a big difference in clients who are active and those who aren't."READ: 18 stunning images from the world's best ski photographers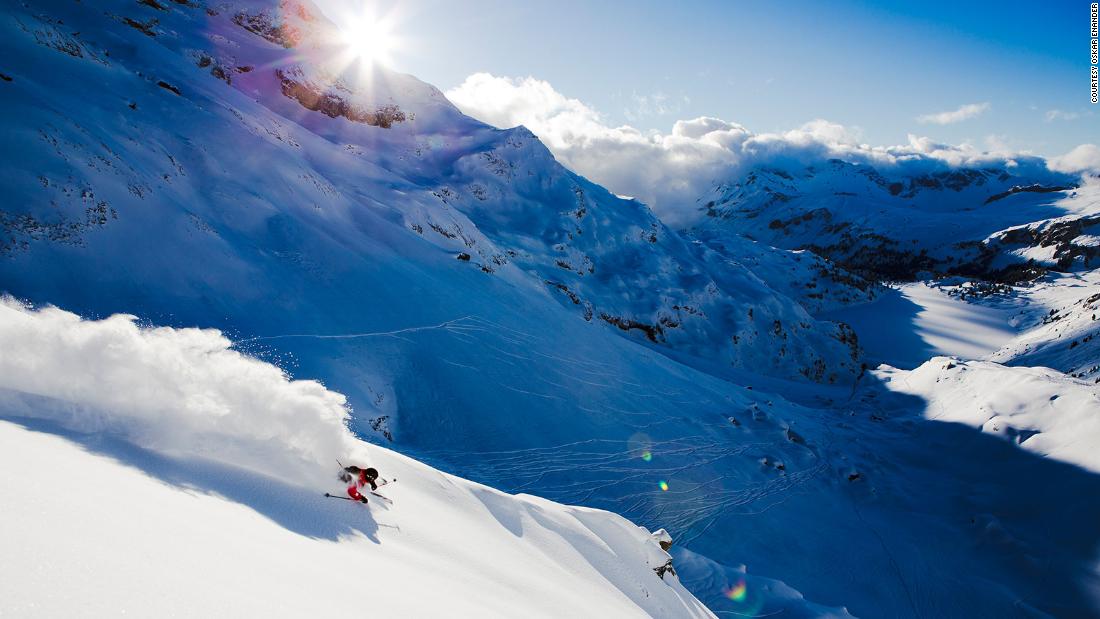 Photos: Powder paradise: They're two of the world's best ski photographers, but shooting elite athletes in spectacular mountains is all in a day's work for Swedes Oskar Enander and Mattias Fredriksson, whose images are showcased in this gallery. For Enander, though, it's a bit harder. He's color blind. "I work a lot with shadows, and dark and light," he tells CNN. This image is Lars Windlin in Engelberg, Switzerland, Enander's adopted home. "This is kind of a classic shot but I like it because of the dramatic clouds, the way the tracks in the background draw your eye down to the lake, the beautiful light, great snow and the shadows." — Oskar Enander.Hide Caption 1 of 18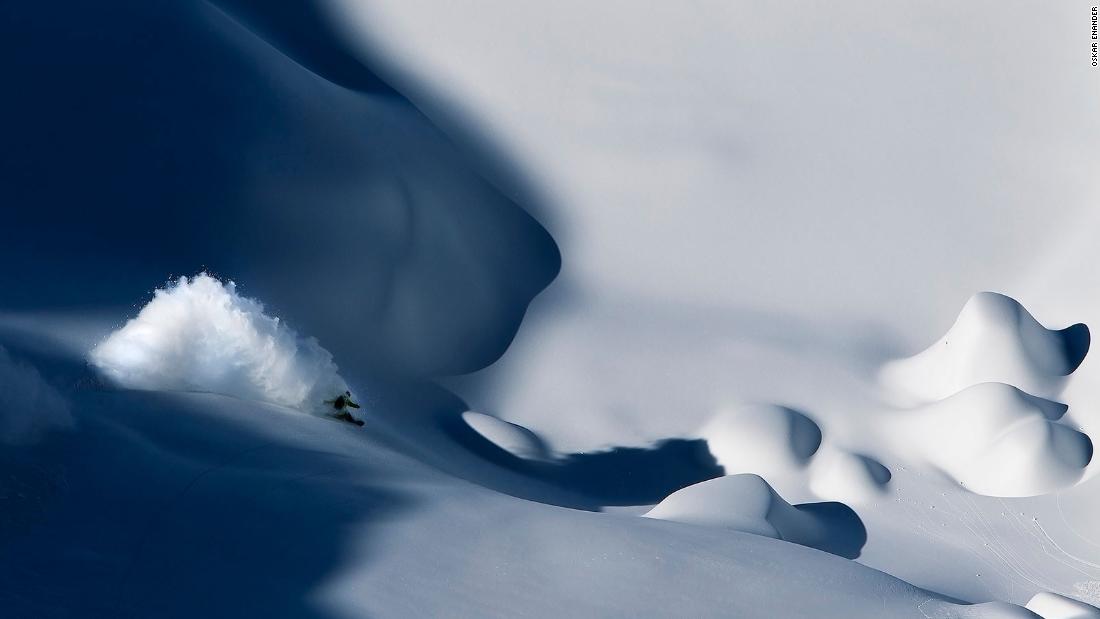 Photos: Shadow surfing: "This is one of my favorite pictures. I'd been looking for this to line up for six years. I saw the shadow and asked snowboarder Yves Husler to hit it. He jumped into the turn and made a huge cloud. We had one chance and we had to try to nail it. I like the deep blue shadows and the contrasts with light and shade. This probably defines my style and is what I'm looking for in a graphic, beautiful image." — Oskar Enander.Hide Caption 2 of 18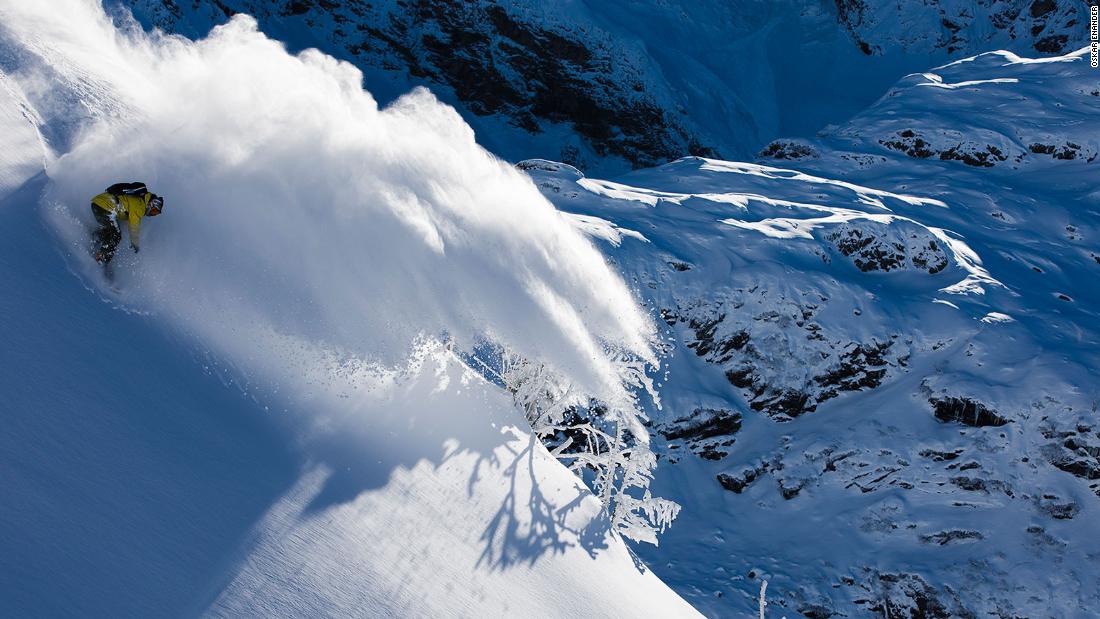 Photos: In the barrel: "This looks like midwinter but it was November 2017 in Engelberg. It's a cool spot because the rider (Yves Husler) can come in from way above with so much speed and the cloud throws forward like a wave. I want to try it again and have him in the cloud like he's under the lip in a big-wave tube. We're working on it, but the snow needs to be right and you can't shoot there in February, March and April because it gets too warm." — Oskar Enander.Hide Caption 3 of 18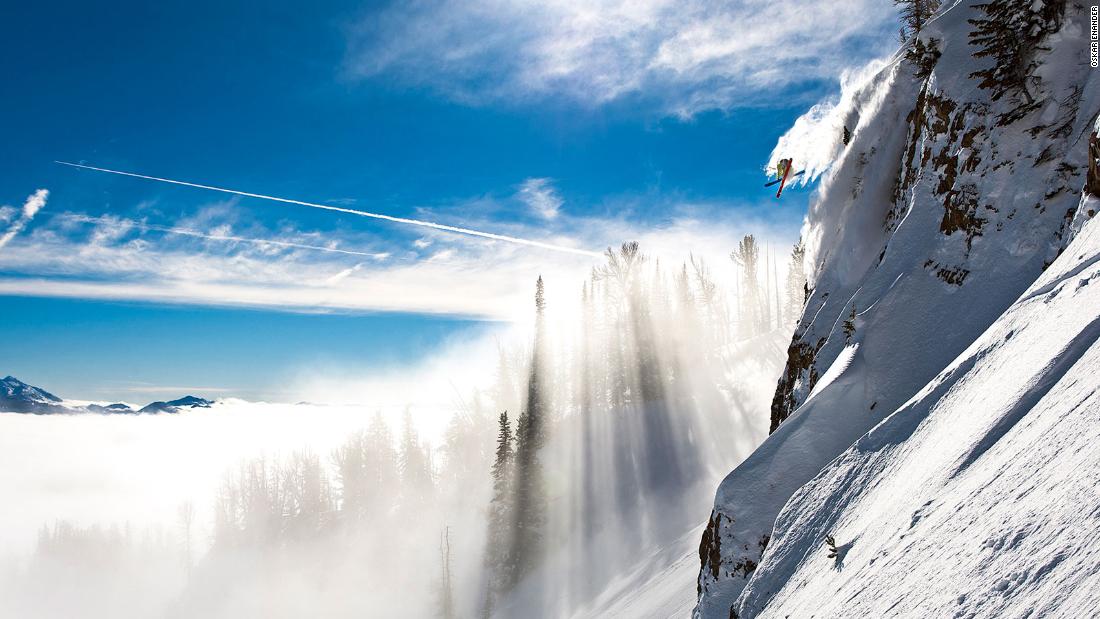 Photos: Ethereal light: "This is the late Jamie Pierre in Jackson Hole. Jamie held the unofficial world record for the highest cliff jump, but died in a snowboarding accident in 2011. This was probably the smallest cliff he jumped on this day. The fog coming through the trees was in and out and wasn't there when we set up for the shot. The second he dropped in it appeared and gave the shot a magical, mystical feeling. A minute or two later it had disappeared. Nature was on our side that day." — Oskar Enander.Hide Caption 4 of 18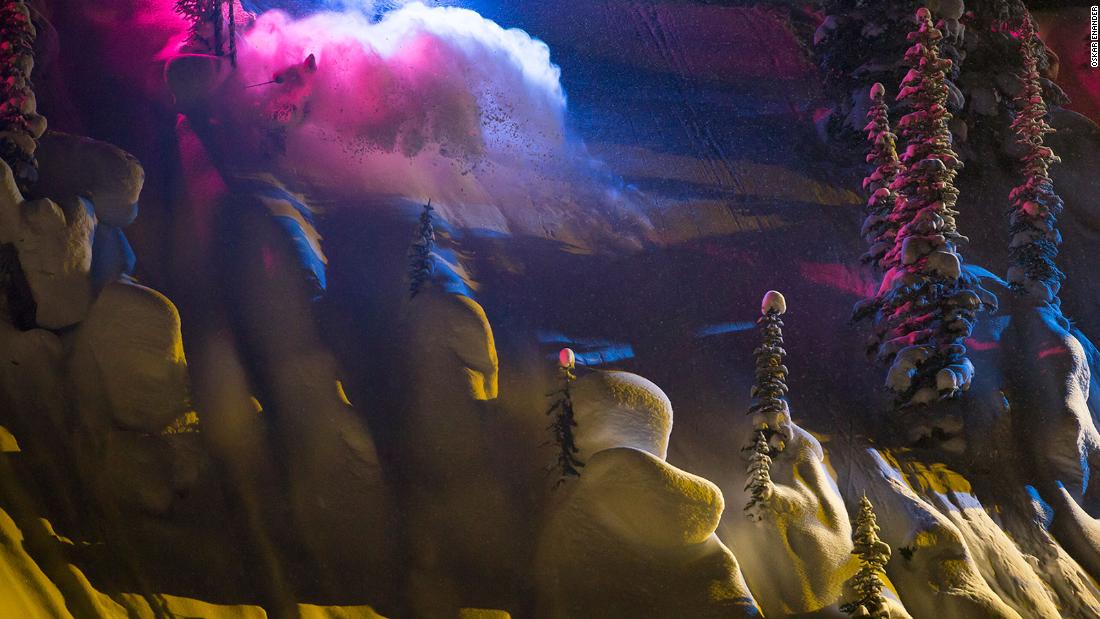 Photos: Light show: "This was a night shoot for a ski video/commercial for a new model of TV filmed near Sentry Lodge in British Columbia. We had five huge Hollywood studio-style lights which we had to haul around the mountain. The physical workload was immense. We slept in the day and shot from about midnight to 6 a.m. for 12 days straight. Shooting in low light made it hard to set the focus and get the right settings, but it was amazing to be part of." — Oskar Enander. (Skier Eric Hjorleifson)Hide Caption 5 of 18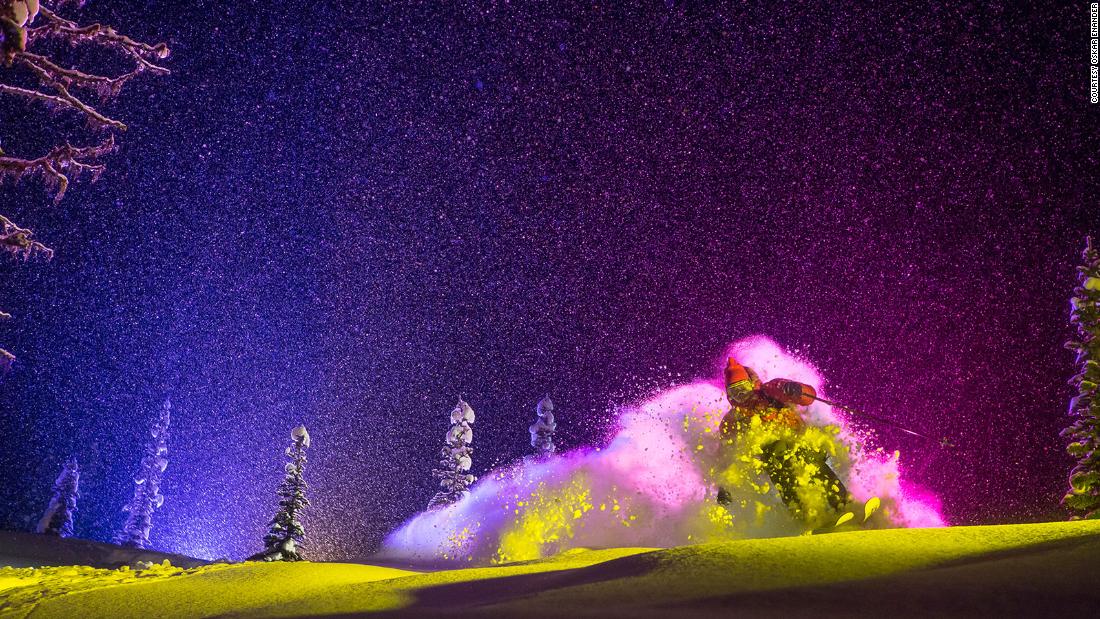 Photos: Pink puff: "For tighter shots we could shoot from close to the ground and hide the old tracks so we didn't have to move location every time. The skier came straight towards us and the rear light hit the powder cloud from behind to give one color and the side light gave another color. Sometimes the skiers wore light suits containing hundreds of LEDs, which often broke, and the batteries burned holes in their pockets." — Oskar Enander. (Skier Eric Hjorleifson) Hide Caption 6 of 18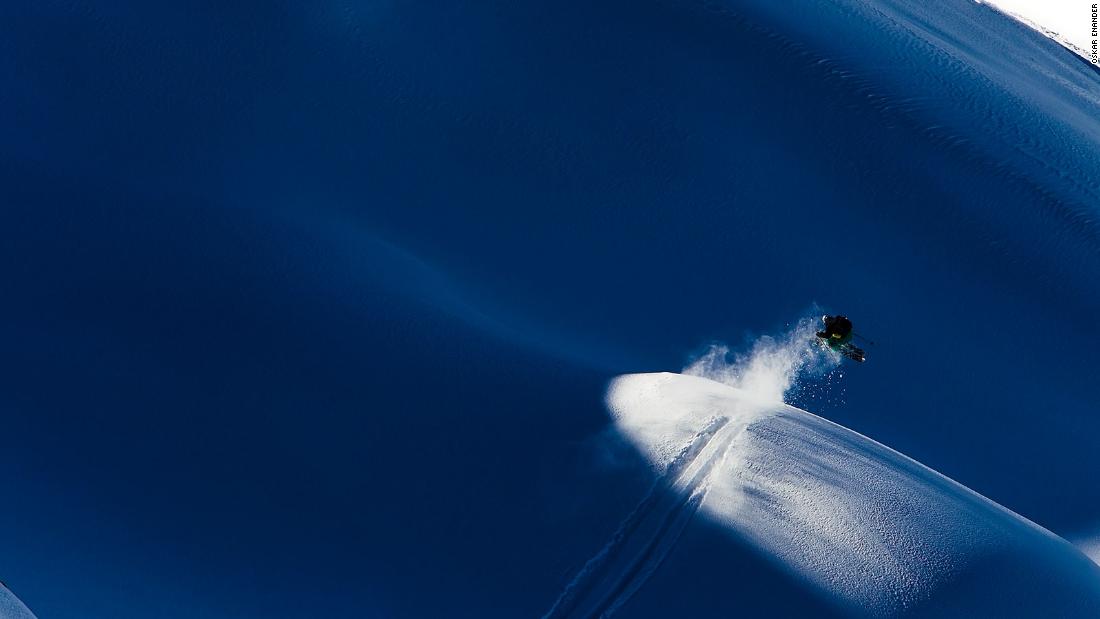 Photos: Out of the shadow: "I was out skiing with Patrick Vuagnat in Engelberg and we came on this by chance. He had no idea how much speed he would need and as he hiked up a bit more the shadow crept in. Every 30 seconds the patch of sunlight got smaller. We had one chance but he hit it perfectly. When I packed up the camera the sun had gone. It was one of those times when everything just matches up." — Oskar Enander.Hide Caption 7 of 18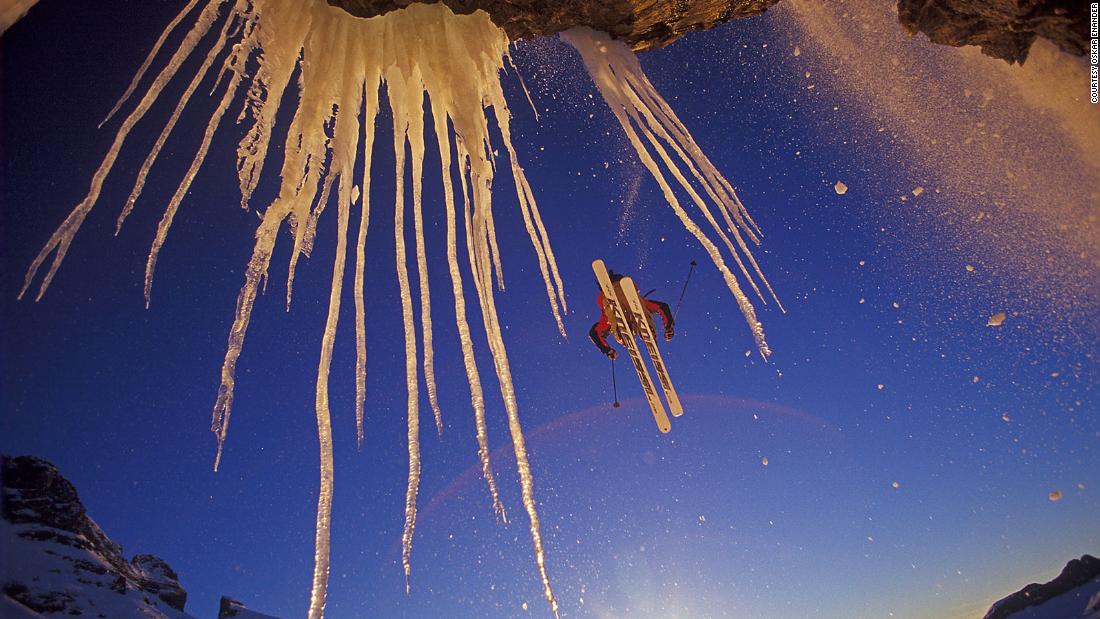 Photos: Ice cool: "It was my first year shooting and I met a Swedish photographer in a lift line in Engelberg. He was working with some skiers and told me to follow him. For this shot we were shoulder to shoulder in a little cave. Luckily, I was little bit more to right so the skier was framed clearly. It was taken on slide film so for about a week I had no idea how it would turn out. I thought it was good but I had no idea if others would. I sent it to Powder, the ski magazine, and got a call a few months later to say it had won its Photo of the Year and I flew to the ceremony in Aspen to get the award." — Oskar Enander. (Skier Kalle Eriksson)Hide Caption 8 of 18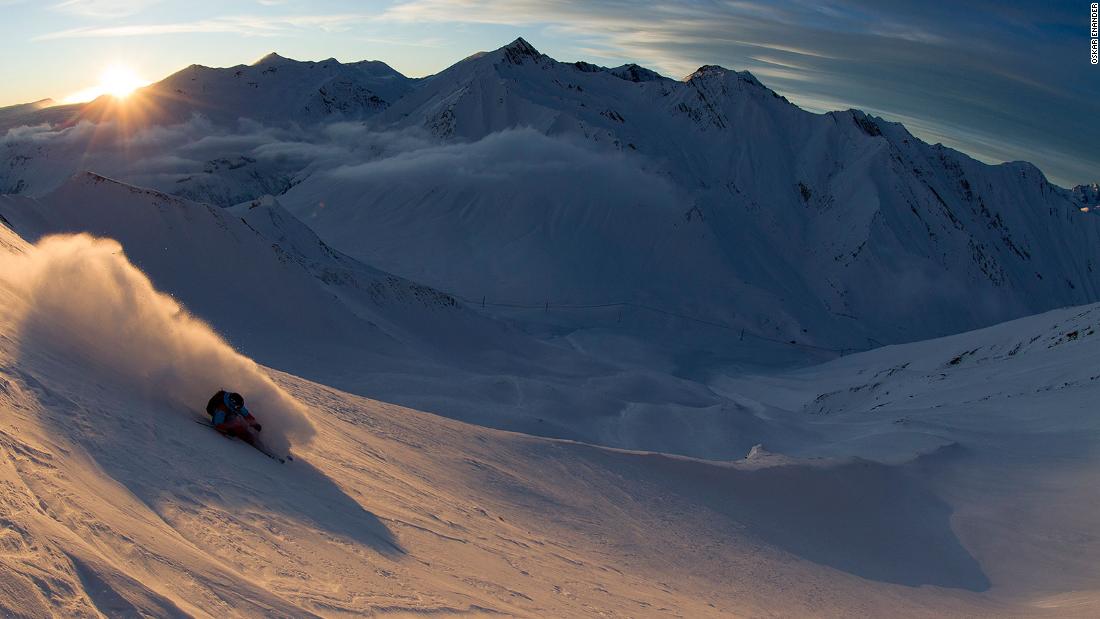 Photos: Georgian sunset: "This is Johan Jonsson on a trip to Gudauri, Georgia. We had been told we could get a taxi home from the road down below but it took us a few hours and we got back way after dark. It was cool to go to a less developed location. The lifts were super run down and the locals skied on pretty old equipment. Sunrise and sunset always bring some stress because you think, 'Is it good enough now, or should we wait?' And then shadow crawls up and it's gone. You have to hustle to maximize this red light which is short but very beautiful." — Oskar Enander.Hide Caption 9 of 18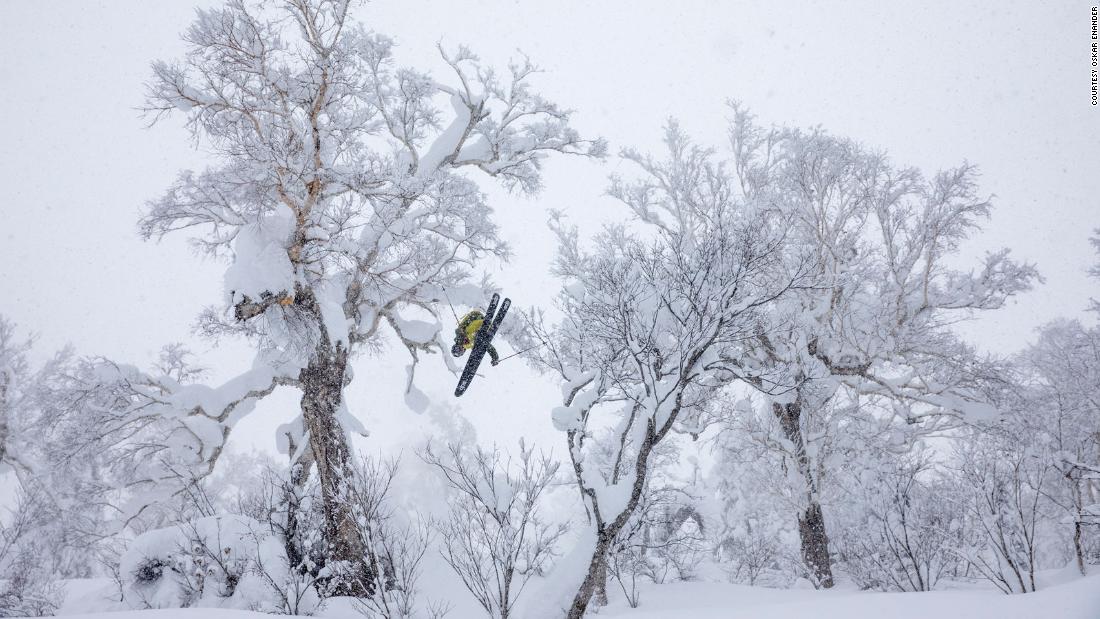 Photos: Big in Japan: "For me this is the classic setting for skiing in Japan. There are always these beautiful, snow covered trees and you could come back on a different day and it would look totally different. It just snows so much, even on a bad year — which would be a great year anywhere else. For this shot we just parked by the side of the road and ski toured uphill for a bit before treading down a jump in the trees." — Oskar Enander. (Skier Piers Solomon at Kiriri Snow World) Hide Caption 10 of 18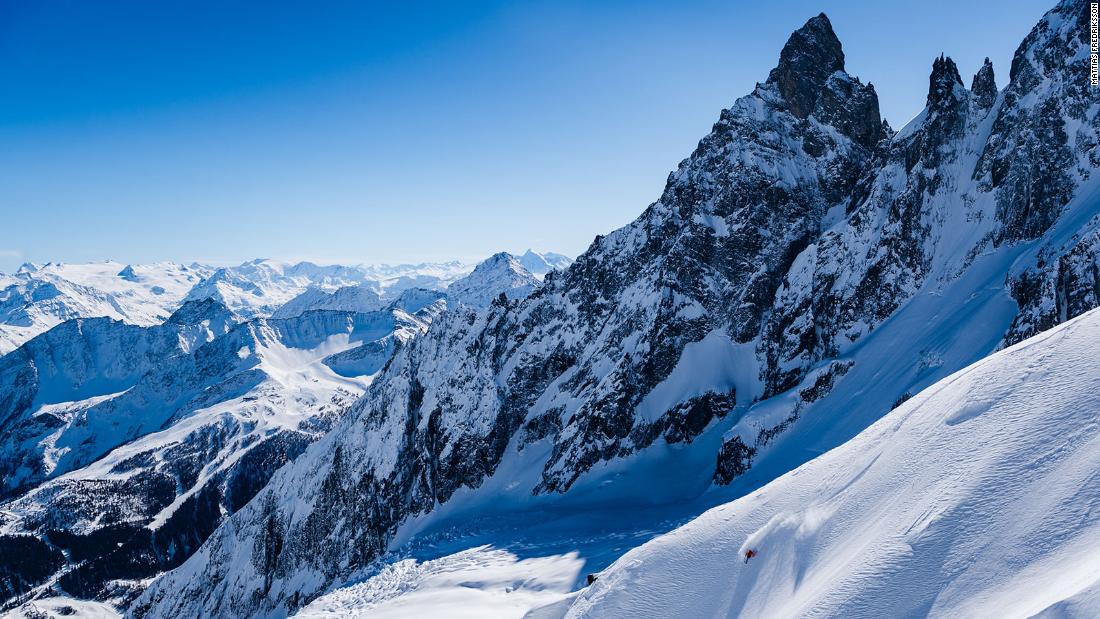 Photos: Mont Blanc massif: "This is one of my favorite areas to ski and photograph in the Alps. The mountains are impressive with endless possibilities. This is Chamonix local Alex Pittin, who is an ex-alpine racer in the French team and now a fully certified mountain guide, skiing powder on the Brenva glacier near Courmayeur in Italy's Aosta valley. The peak in the background is the Aiguille Noire de Peuterey (3, 773 meters)." — Mattias Fredriksson.Hide Caption 11 of 18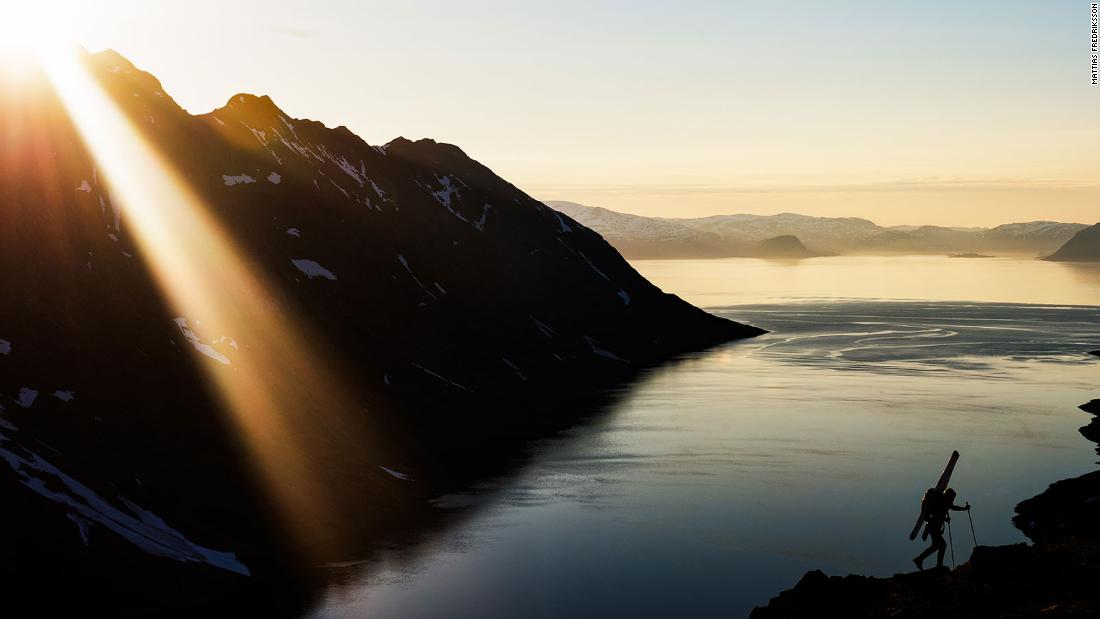 Photos: Midnight sun: "We were staying on a sailboat exploring the fjords in Stjernøya, northern Norway. It was the end of May and still warm under the midnight sun. This shot is of Chad Sayers hiking up one night. We started about 9.30 p.m and reached the summit about 12.00 a.m., dropping in well after midnight. It was one of the most special trips I've been on with a very international crew from France, Sweden and Canada." — Mattias Fredriksson.Hide Caption 12 of 18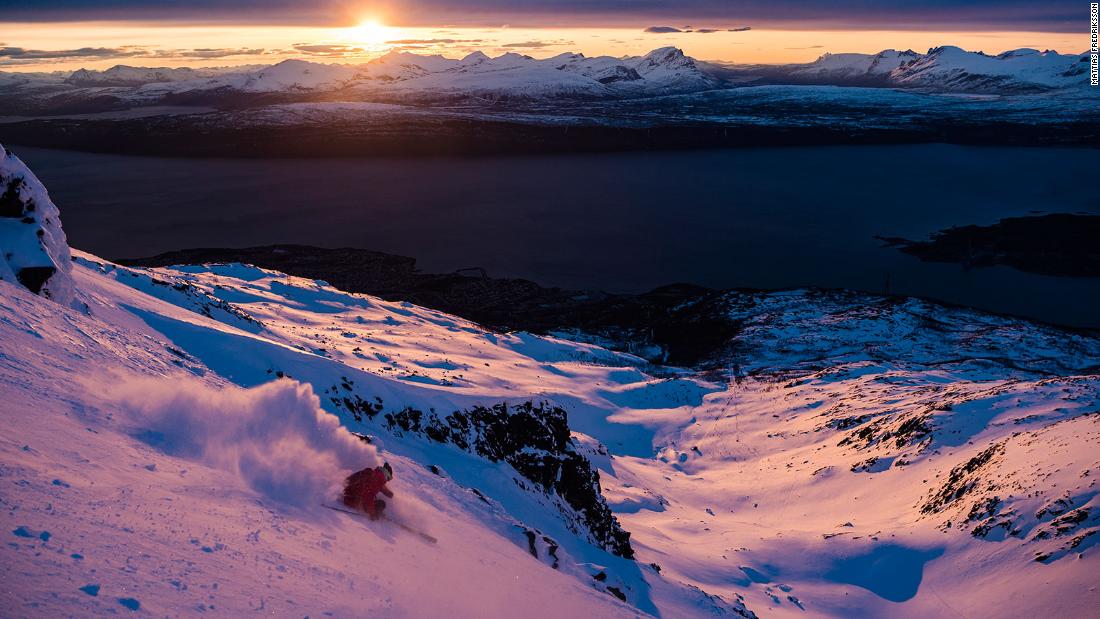 Photos: Pink powder: "This is local skier and mountaineer Micke af Ekenstam dropping in from Tredjetoppen in the backcountry above Narvik, Norway at about 9.30 p.m. We ski toured for half an hour above the top lift and then I got this shot with just a wide angle lens, with no filters or anything. The natural light is so unique up there. To me it's about being in the right place at the right time." — Mattias Fredriksson.Hide Caption 13 of 18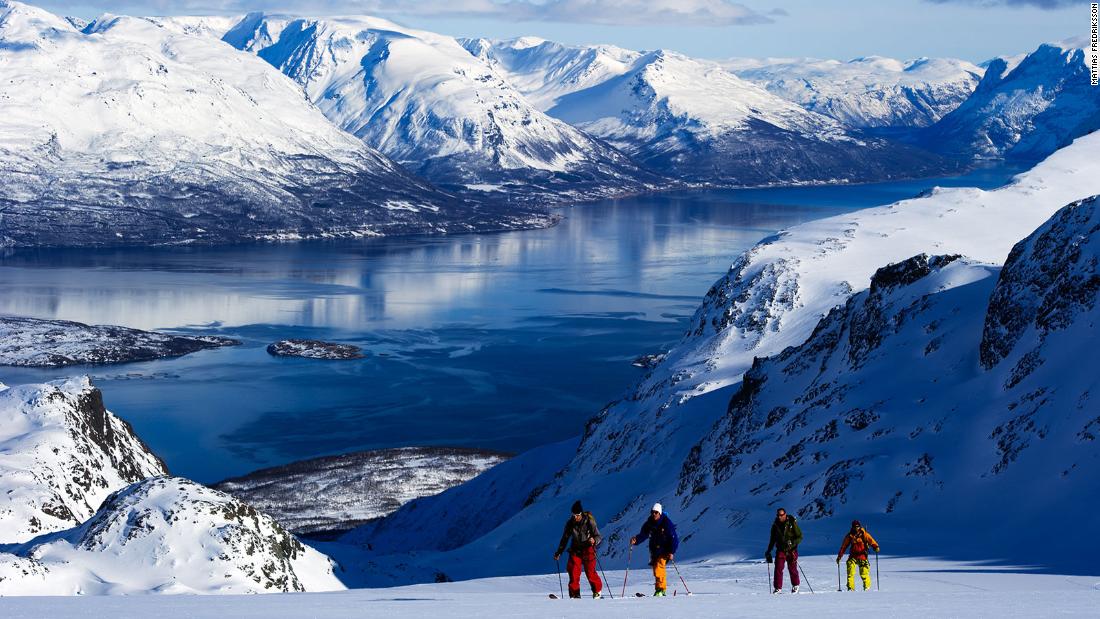 Photos: Debut tour: "Aksel Lund Svindal (second from left) is one of the most successful ski racers of modern times but this was his first ever ski touring trip, being filmed for a video. It was in the Lyngen Alps in the far north of Norway, on the islands to the east of Tromso. It's one of the most unique places in the world and a mecca for ski touring. Aksel was so humble and so happy to learn, and it was a really cool experience to share it with him. We walked for six-seven hours uphill with skins our skis and had amazing snow all the way back to the fjord." — Mattias Fredriksson. Hide Caption 14 of 18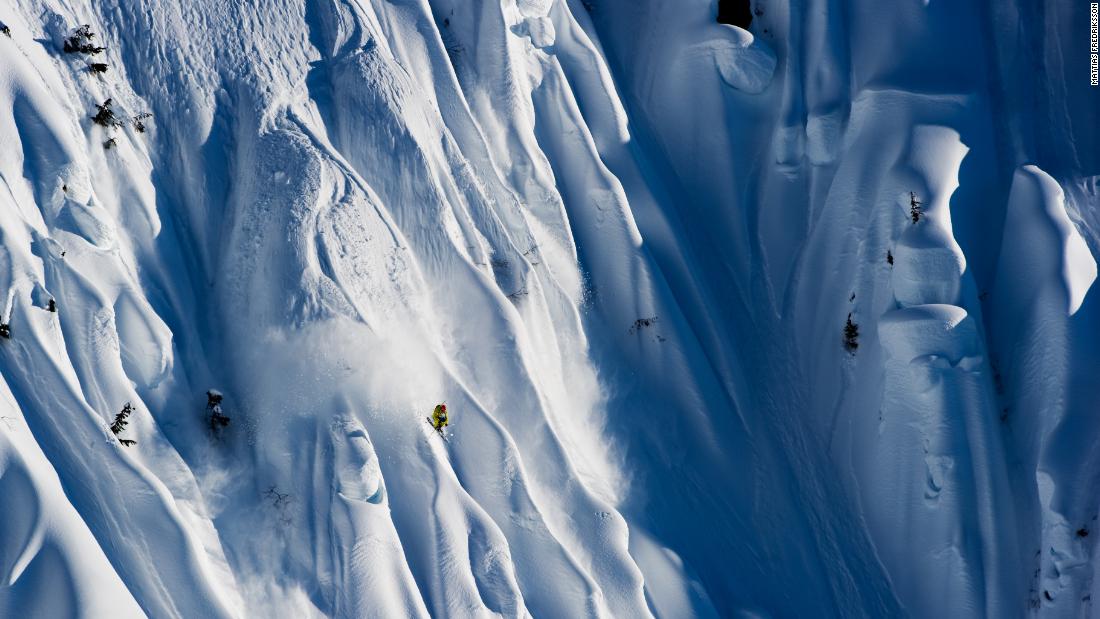 Photos: Spine tingling: "Cody Townsend is one of the best big-mountain skiers in the world. This was at Terrace in northern British Columbia, a really remote spot near the Alaskan border, one of the most amazing places I've been to with those spine walls and no one around. It was during a film shoot with Matchstick Productions. This was the most productive day — in two weeks we only skied four days because it was so stormy. The skiers would look at the lines from the helicopter as they flew up and then take a picture of it and memorize it before their run." — Mattias Fredriksson.Hide Caption 15 of 18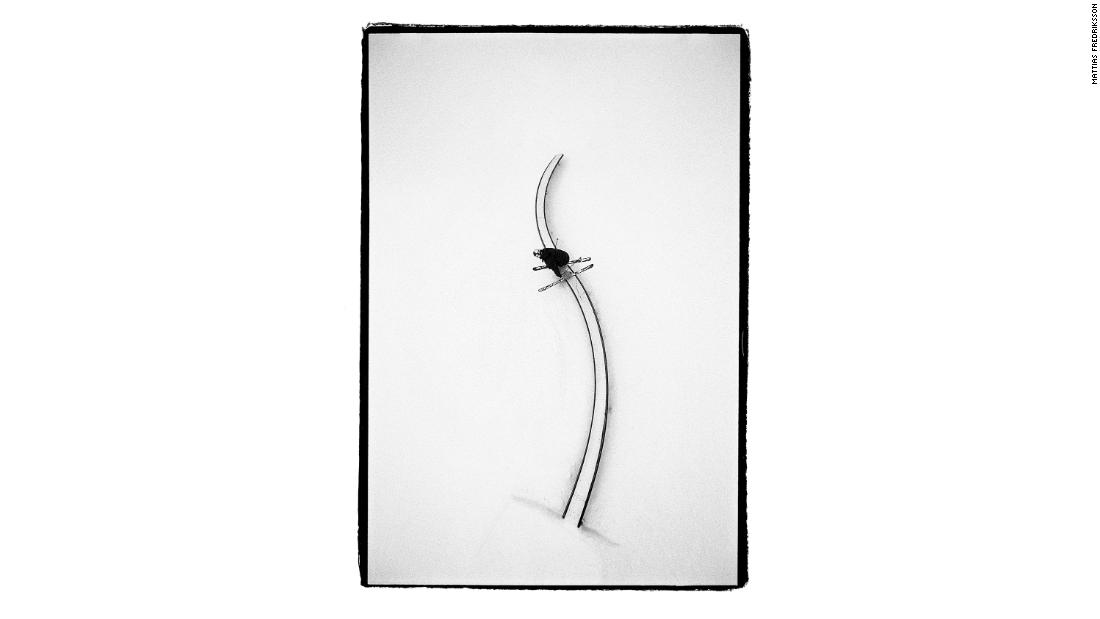 Photos: On rails: "This was shot from a lift on film, before drones and before digital, in a freestyle park in Park City, Utah during a down day on a filming project. I'd seen it from the lift and tried it a couple of times before I got this. It's Swedish pro skier Henrik Winstedt and became my first cover shot for Powder magazine in 2005." — Mattias Fredriksson.Hide Caption 16 of 18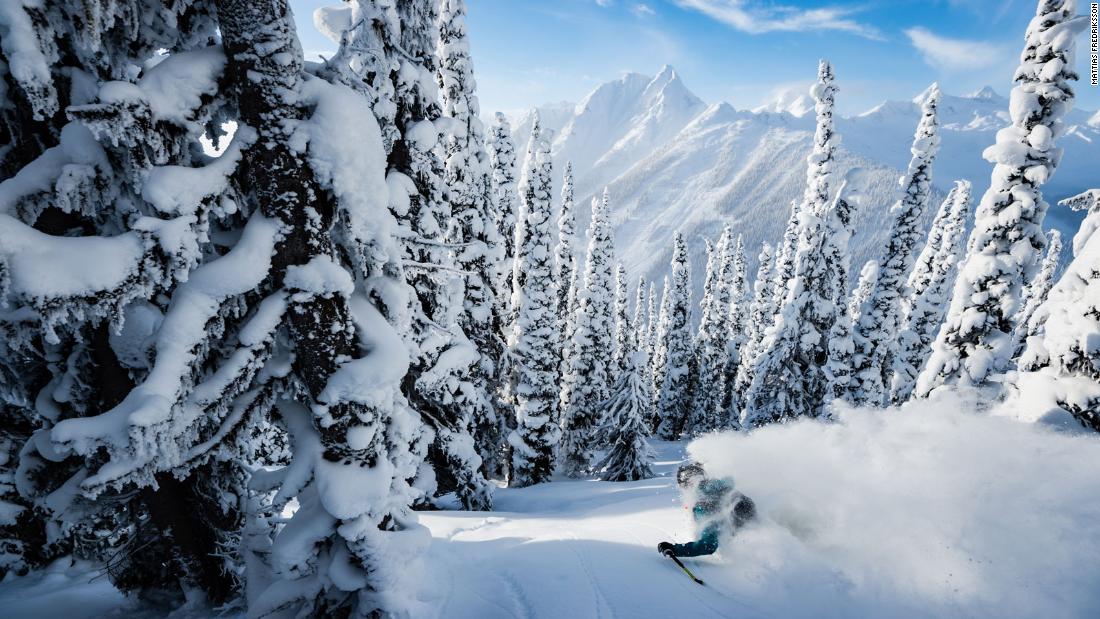 Photos: Mica magic: "Leah Evans is a Revelstoke big mountain skier that I enjoy skiing and working with when I am in the British Columbia interior. Last winter she joined us for a trip to Mica Heli, a well-known heli-skiing operation a few hours north of Revelstoke. The conditions were amazing and Leah skied so well." — Mattias Fredriksson.Hide Caption 17 of 18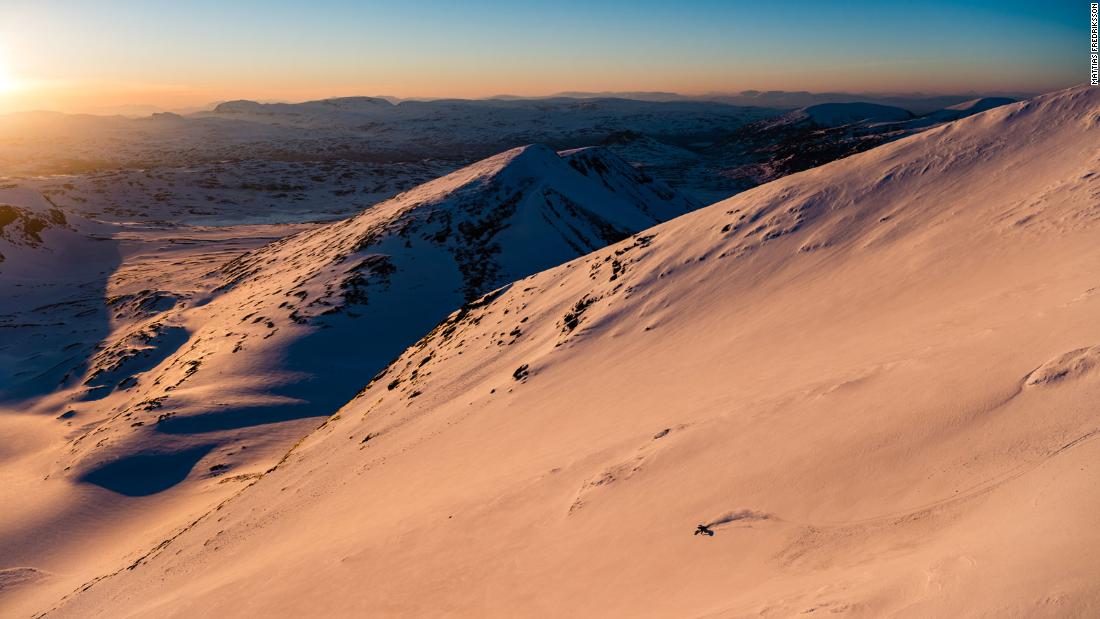 Photos: Lapland lines: "When I was about 20 and just starting out, I spent a few seasons in Riksgränsen, the most northern ski area in Swedish Lapland. The area is unique and the soft, Arctic light is a dream. I try to return at least once every winter. This photo was taken from a helicopter while filming and shooting for an all-female ski documentary called Between (by Shades of Winter). The skier is Sandra Lahnsteiner from Austria, who also produced the movie." — Mattias Fredriksson. Hide Caption 18 of 18


















'Weekend warriors'Some gentle "pre-hab" could also help prevent injury."Ultimately, it's super simple. If you don't fall over, you're not going to hurt yourself," says Chris Maher of Ski Physio, which runs chartered physiotherapy clinics in 10 resorts in the French Alps."Anything you can do to stop yourself falling is a good thing: so be better at skiing — get ski instruction; use the right equipment; and be fitter for your sport. "If you're one of those people we call a 'weekend warrior,' where they do nothing and then suddenly turn up and think they're 21 again — they seem to have big problems. When muscles get fatigued the more chance there is of making mistakes and falling over."However, if people go to the gym, do a bit of running or cycling, their muscles seem to be able to cope a little bit better." READ: How Special Forces training is speeding up US downhillers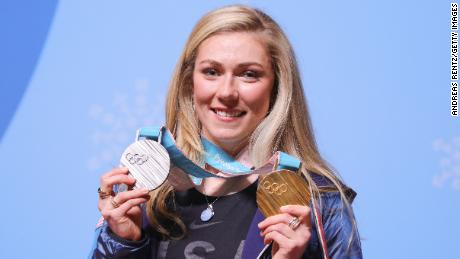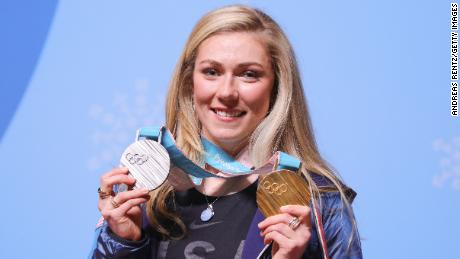 JUST WATCHEDMikaela Shiffrin: Why I won't be objectifiedReplayMore Videos …MUST WATCH
Mikaela Shiffrin: Why I won't be objectified 03:06Power sportHaving a decent cardiovascular base is a good foundation, and speeds up recovery from exercise, but the more advanced you become the more it becomes about power, according to Jeff Lackie, coach to US superstar ski racer Mikaela Shiffrin."Even though Mikaela makes slalom look effortless, much like a figure skater or a ballerina moving gracefully across the stage, there is a huge power component to that which makes that huge bound or series of tight turns look effortless," says Lackie. READ: Mikaela Shiffrin: How to train an Olympic championREAD: Mikaela Shiffrin on idolizing Roger Federer and why she won't be objectifiedAt the extreme end of the sport, John McBride, head coach for the US men's speed team, has taken his charges on Special Forces training camps to work on their physical and mental fitness.Training for squad members is "very extensive" and incorporates an almost year-round cycle, with aerobic- and technique-driven training in spring, followed by a power block with strength and plyometric training, and then more sports-specific work closer to race season.Visit CNN.com/Sport for more news, features and videosBut for the average skier McBride says "consistency" of any kind of training is key, rather than a two-week blitz before a trip."Most people don't recognise the loads that are demanded. The faster you ski, the fitter you need to be to handle the forces, so you need to get some good strength in the quads and hamstrings," he says."If the average skier can spend a little bit of time working on core and leg strength, those are two great components that will benefit their skiing. I'm a big fan of cross training in any kind of capacity."READ: World's 12 best places to go heli-skiing
Photos: Chugach Range (Alaska) – The Chugach Mountains surrounding Valdez receive an annual average of nearly 700 inches of snow. Near the coast, the snow is moist, so more stable on steep slopes.Hide Caption 1 of 12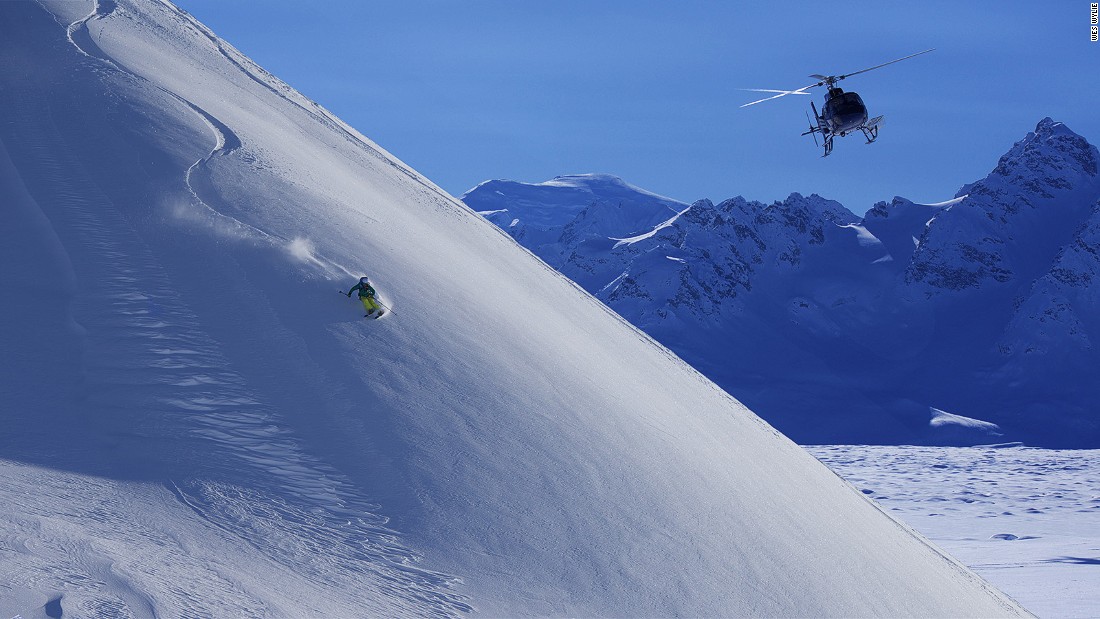 Photos: Tordrillo (Alaska) – The heavily glaciated Alaska Range offers endless terrain to keep skiers challenged, with runs that top out at 7,500 feet.Hide Caption 2 of 12
Photos: Bella Coola (British Columbia) – Bella Coola Heli Sports has access to a blade-busting 2.64 million acres of prime Pacific powder.Hide Caption 3 of 12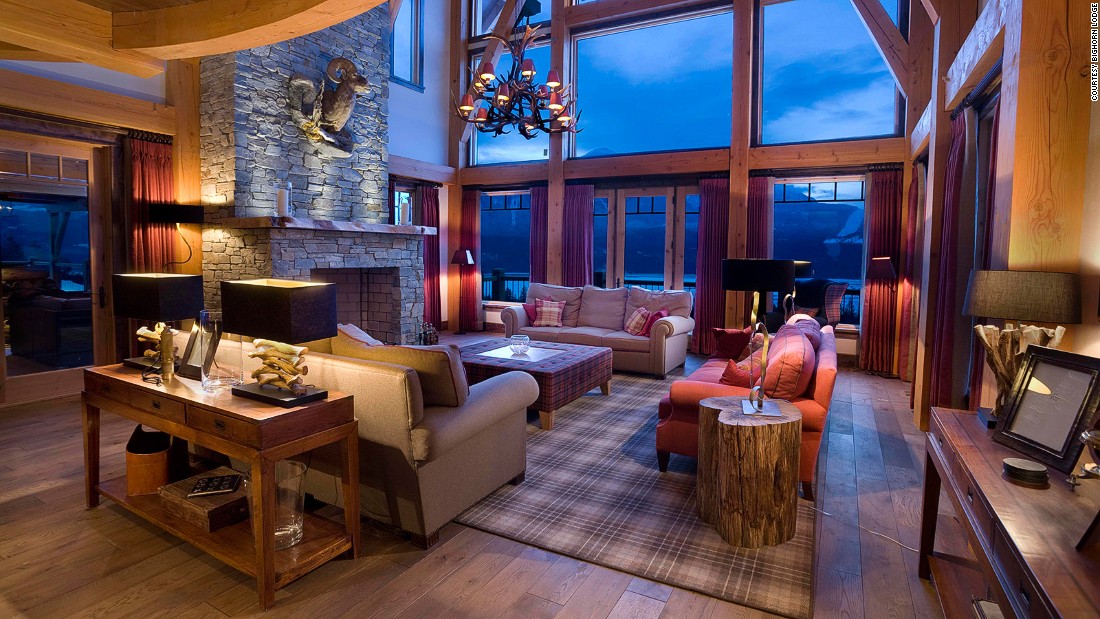 Photos: Revelstoke (British Columbia) – Bighorn Lodge is an ultra-luxe alpine-style chalet for 16 people. It overlooks the Columbia River at the foot of Revelstoke Mountain Resort and has its own helipad.Hide Caption 4 of 12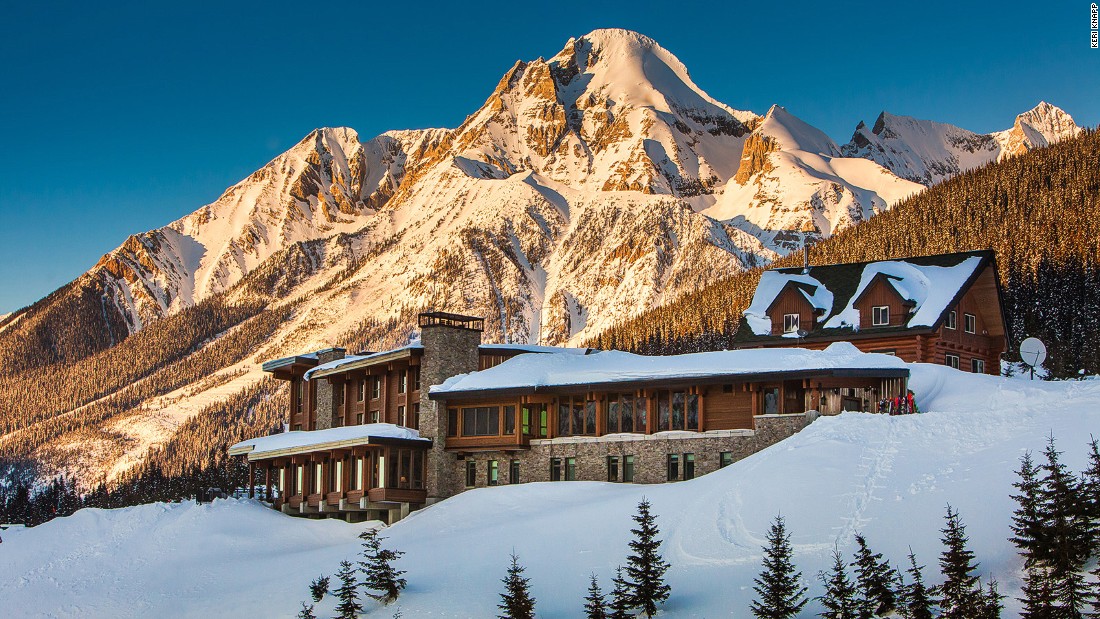 Photos: Mica (British Columbia) – Accessible only by helicopter, Mica Lodge is an elegant eyrie high above the Columbia River, with access to 11 valleys with a variety of terrain.Hide Caption 5 of 12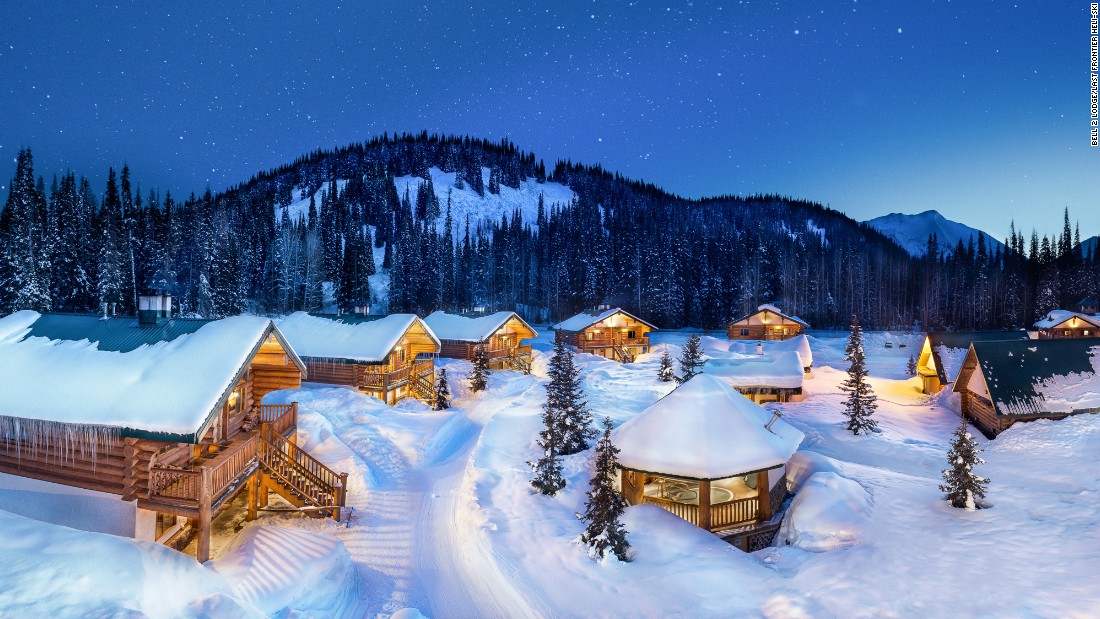 Photos: In the wilds of northern British Columbia at Bell 2 Lodge, Last Frontier lays claim to the largest heli-skiing area on the planet with plenty of the deep stuff.Hide Caption 6 of 12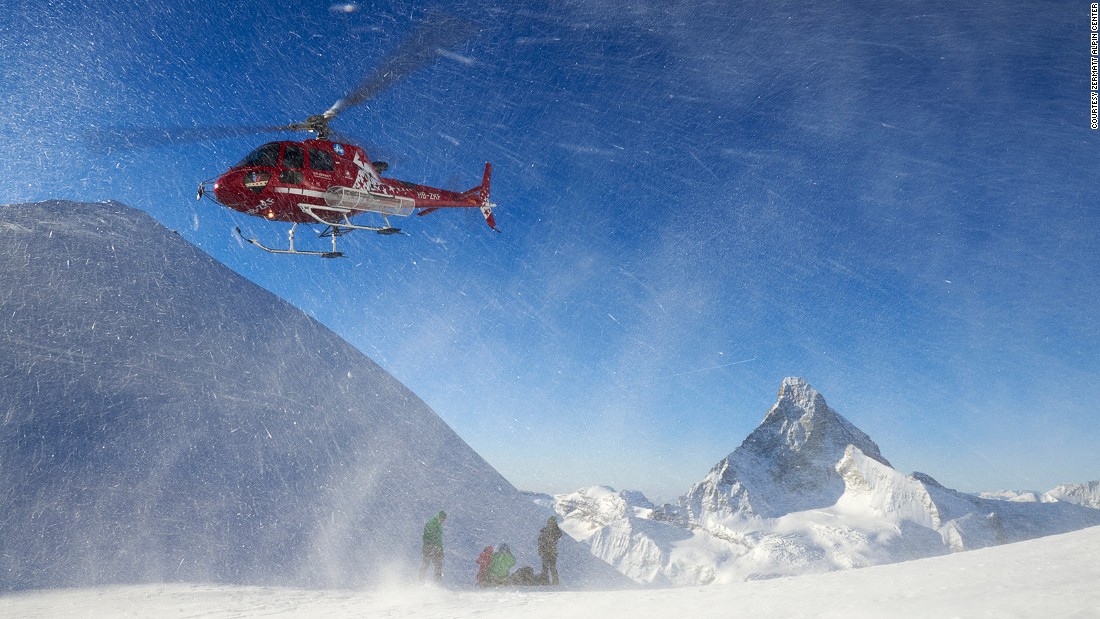 Photos: Zermatt (Switzerland) – Air Zermatt lifts passengers above the roofs of the picturesque old town for a quick buzz of the Matterhorn before settling the skids near the summit of western Europe's second highest mountain, the Monte Rosa (15,200 feet).Hide Caption 7 of 12
Photos: Hokkaido (Japan) – The Japanese island of Hokkaido receives up to 60 feet of snow annually. You can ski on dormant volcanoes and through perfectly spaced birch trees.Hide Caption 8 of 12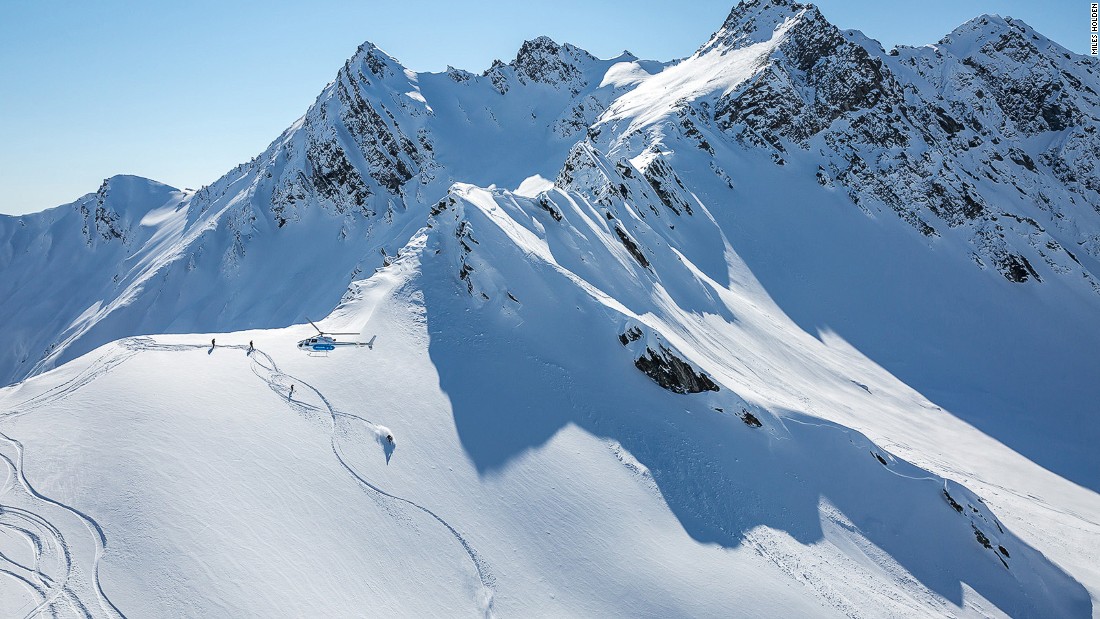 Photos: Southern Alps (New Zealand) – Southern Lakes Heli-Ski operates out of Queenstown and Wanaka from July to September, with access to 3,200 square miles across 11 different mountain ranges, including the Clark Glacier. Hide Caption 9 of 12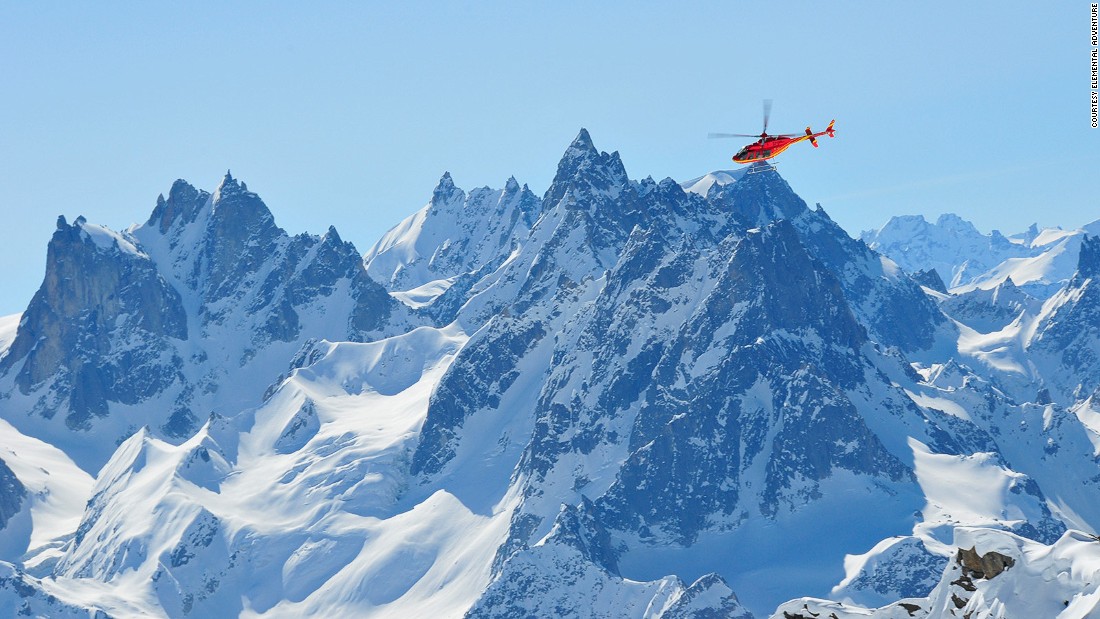 Photos: Himachal Pradesh (India) – The Himachal Pradesh region of India has everything on the heli hit list, from skiing steep summits to racing down ridges, and plunging into birch, oak and cedar forests.Hide Caption 10 of 12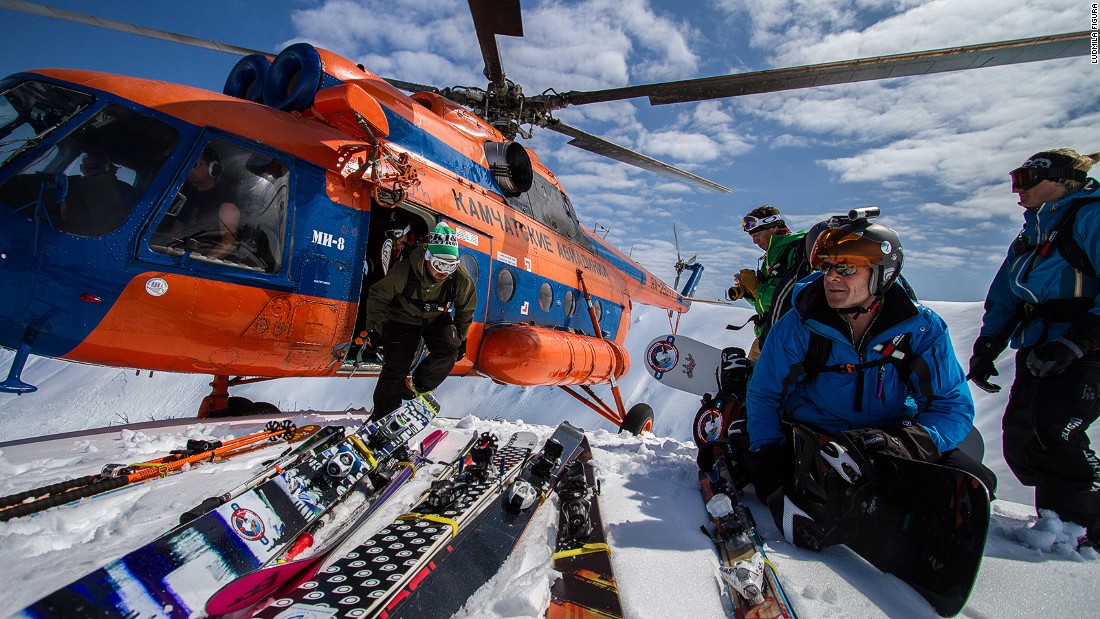 Photos: Kamchatka (Russia) – Russia's vast Kamchatka Peninsula is home to 200 volcanoes — 29 are active. Here you can helicopter up to smoking summits then hurtle down volcanic faces, couloirs, open bowls and tree runs. Hide Caption 11 of 12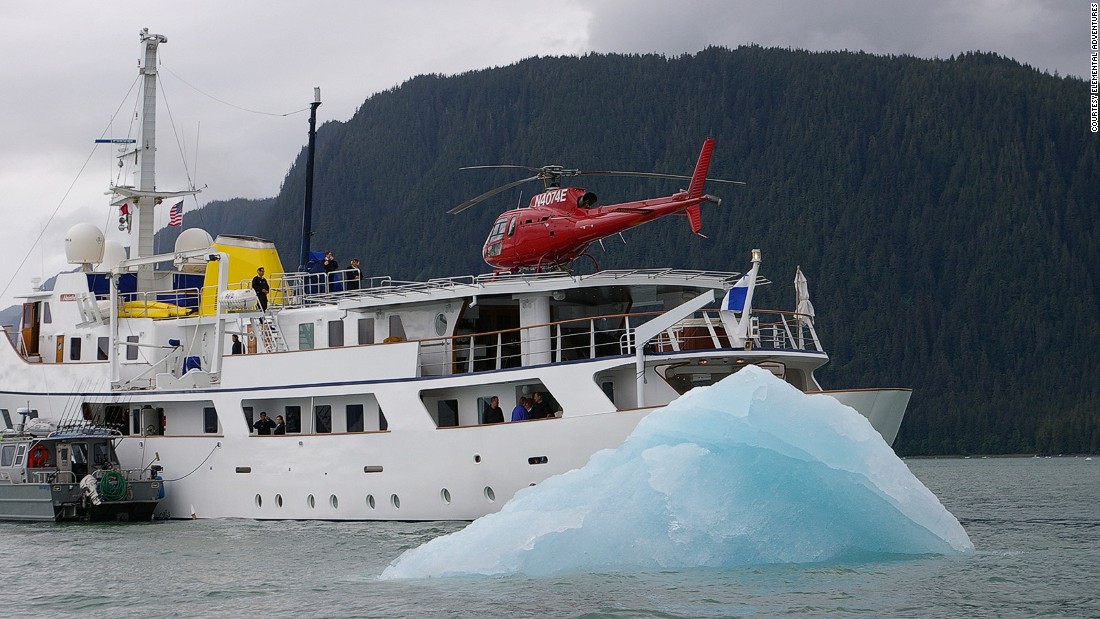 Photos: Luxury yacht (anywhere) – Luxury yachts can simply sail within touching distance of mountains and jump on a helicopter from the deck each morning. Anyone who has to ask how much it costs probably can't afford it.Hide Caption 12 of 12










'Good at skiing badly'Saxlund says holiday skiers should think about the movements they make while skiing and then try to replicate that in their training."We generally ski for about a minute before we stop so any kind of exercise for the legs such as squats or lunges — from eight to 10 weeks out if you are really committed — will make a big difference," says Saxlund, who even suggests calf raises to help alleviate the familiar sore calves early in a ski trip."A lot of our customers make the same movement pattern again and again and so they're very good at skiing badly. It's about replacing that old movement pattern with something different. "But as a ski instructor it's harder to help people who have low levels of fitness because it's harder to learn when muscles are tired and stiff and sore."READ: 10 of the best "hidden gem" ski resorts in Europe
Photos: Champoluc (Italy) – The westernmost valley of the Monterosa ski area — with 180 kilometers of groomed runs — Champoluc is only an hour by road from Turin but offers an amiable Italian backwater off the main Aosta Valley.Hide Caption 1 of 10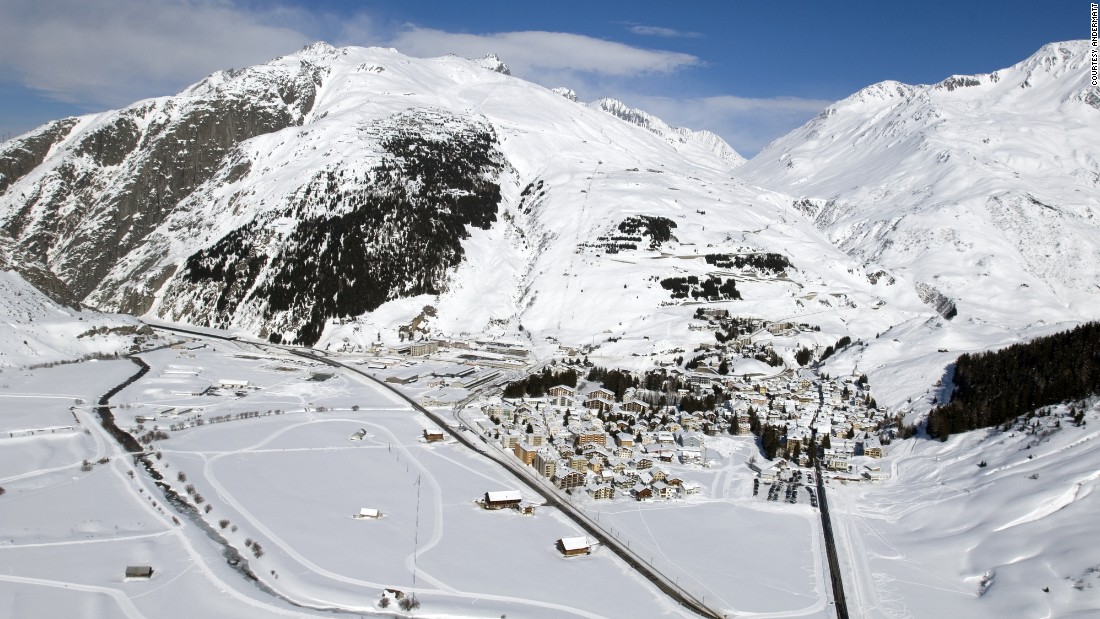 Photos: Andermatt (Switzerland) – Sleepy Andermatt is undergoing a $1.8 billion facelift. Swanky hotels, chalets, apartments, a leisure center and golf course will nearly double the size of the town. Hide Caption 2 of 10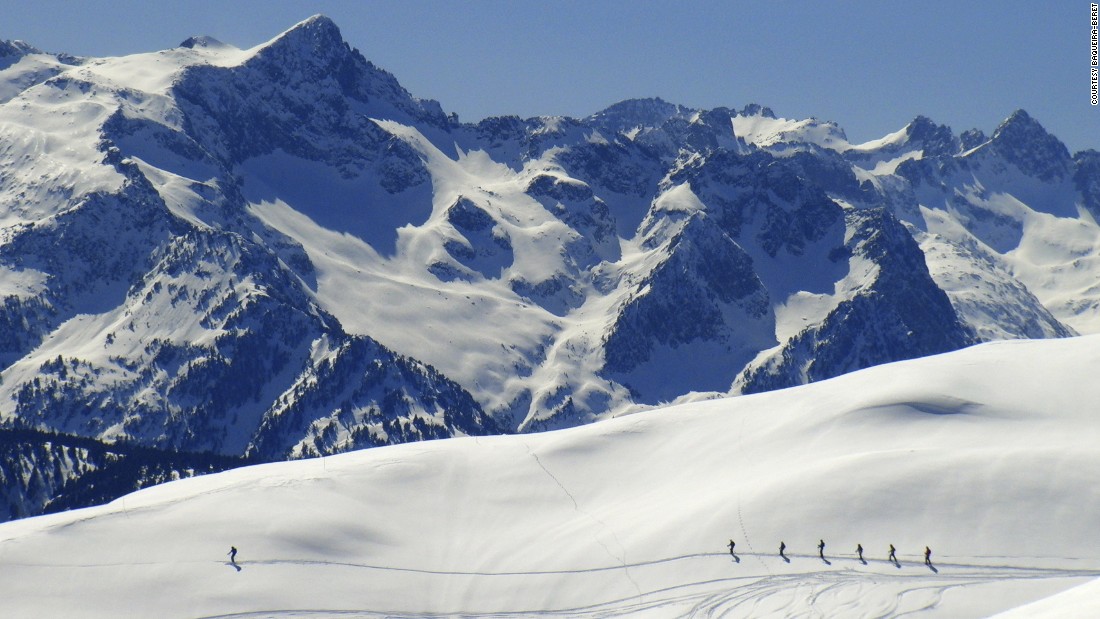 Photos: Baqueira-Beret (Spain) – Baqueira-Beret, long cherished by Spanish skiers, is a decent-sized resort — 150 kilometers of groomed slopes and 35 lifts — with an outstanding snow record because of the Atlantic influence.Hide Caption 3 of 10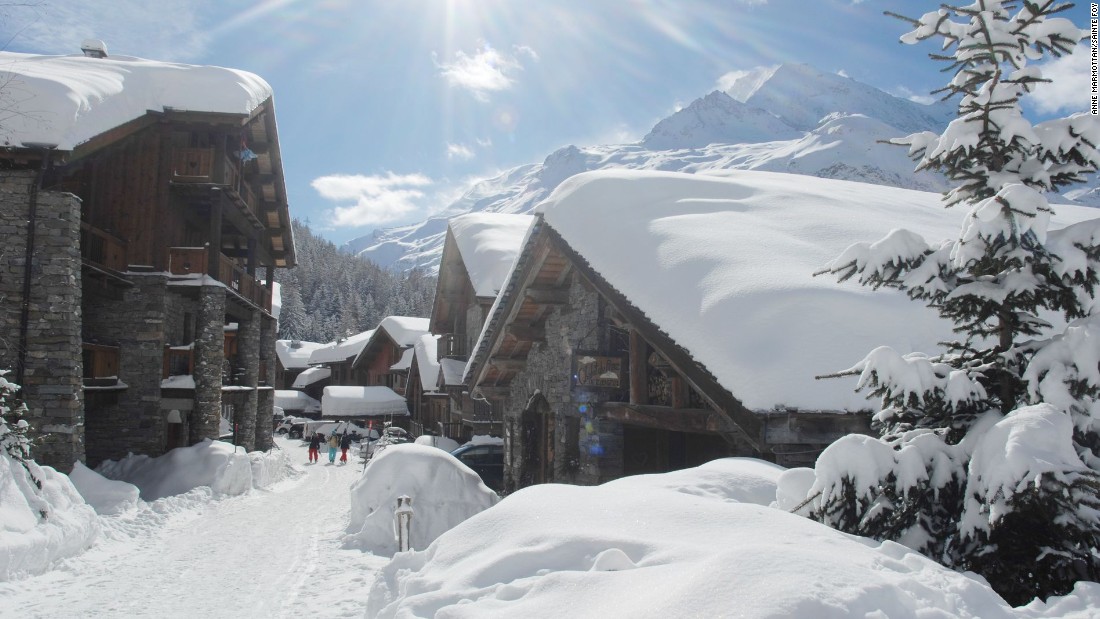 Photos: Sainte Foy (France) – This Tarentaise resort was once the preserve of instructors and guides on days off from Val d'Isere and Tignes, but now little Sainte Foy has flourished into a decent all-rounder for those seeking a quieter life.Hide Caption 4 of 10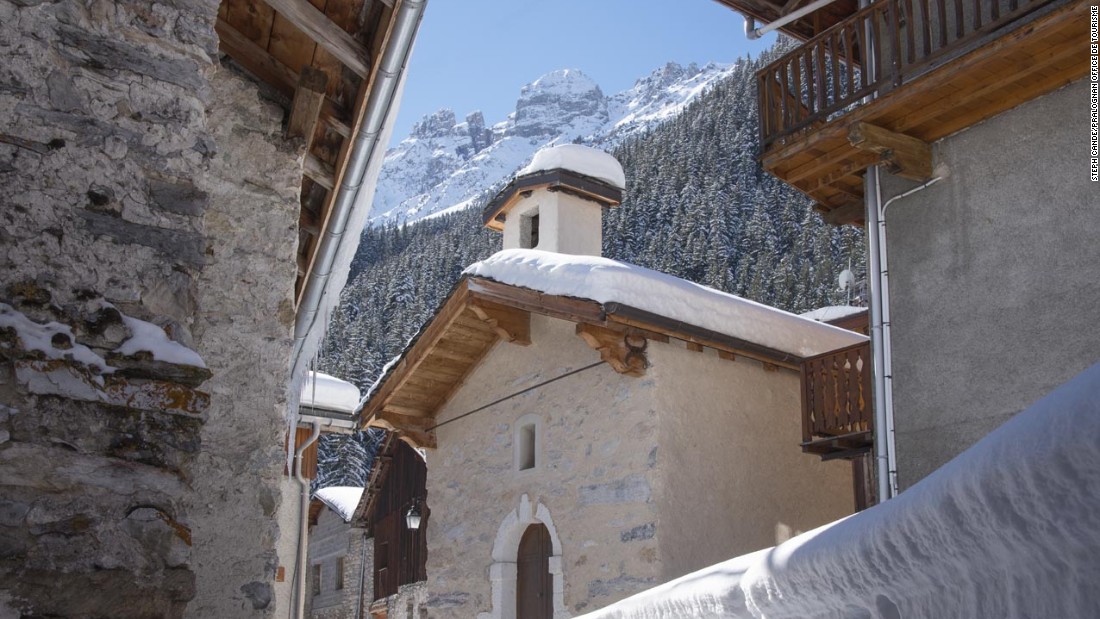 Photos: Pralognan-la-Vanoise (France) – Hiding at the end of a steep-sided valley under the imposing 3,855-meter Grand Casse, pretty Pralognan is an authentic Savoie village at the heart of the Vanoise National Park.Hide Caption 5 of 10
Photos: Serfaus (Austria) – Serfaus is an amiable spot sitting on a sunny shelf it shares with sister resorts Fiss and Ladis above the Inn valley in the Tyrol region of Austria. Hide Caption 6 of 10
Photos: Hochkoenig (Austria) – Hochkoenig is the highest mountain in the Berchtesgaden Alps (2,941 meters) and the name of an untapped goldmine of a resort 80 kilometers south of Salzburg.Hide Caption 7 of 10
Photos: Val d'Anniviers (Switzerland) – Home to five small unspoilt resorts, the Val d'Anniviers area is gaining recognition thanks to the recent cable car link between the two biggest, Grimentz and Zinal.Hide Caption 8 of 10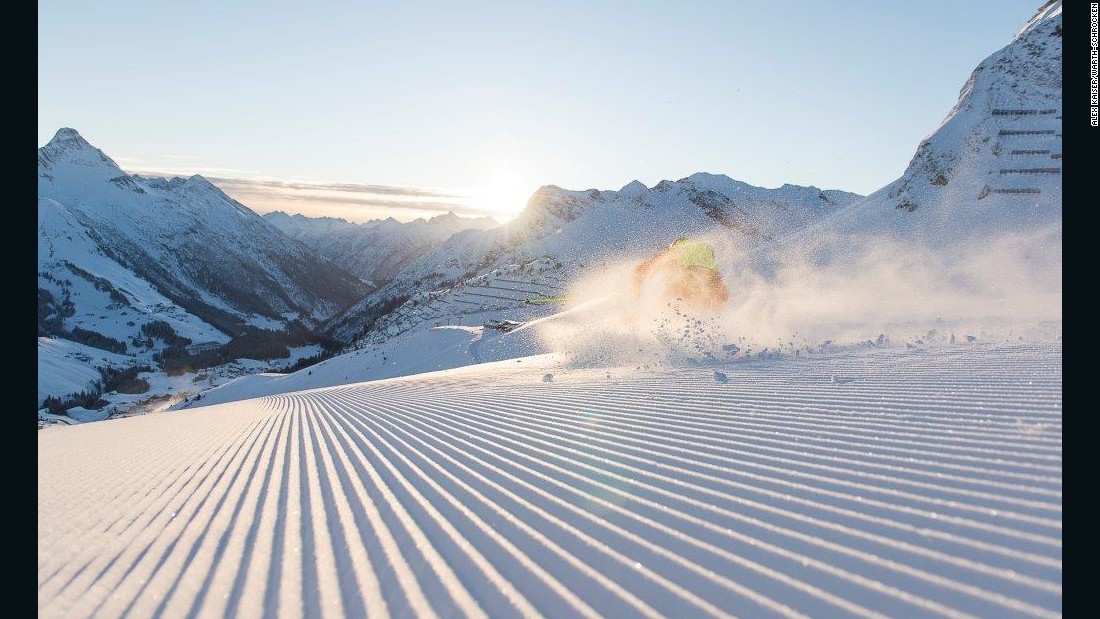 Photos: Warth-Schrocken (Austria) – Unheralded Warth is a traditional village offering good value for money and quiet slopes away from the major rat runs of the vast Arlberg ski area in Austria.Hide Caption 9 of 10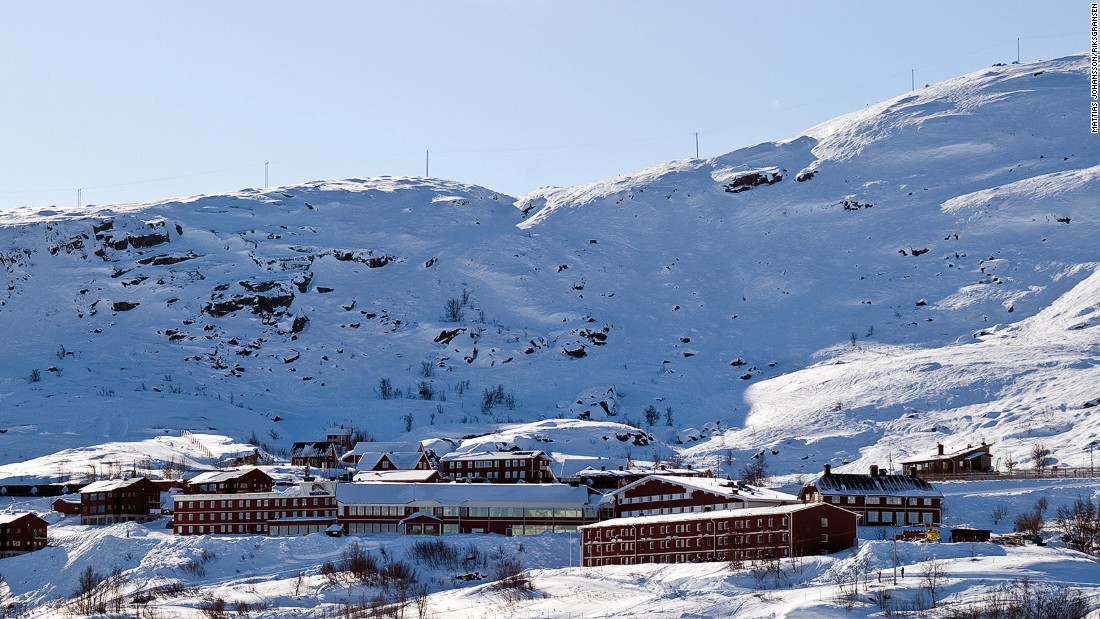 Photos: Riksgransen (Sweden) – On selected dates in May it's possible to ski under the midnight sun here at the world's most northerly ski resort — Riksgransen in Sweden. During this period lifts open from 9.45 p.m. to 00.30 a.m. Hide Caption 10 of 10






'Element of magic'Lackie is another advocate of ski-specific training. "Our sport is done from our feet, we're carrying our body weight and carrying forces of gravity and moving it in very random and variable ways," he says."So we're trying to find movements that replicate the sport's movements instead of doing intervals on a bike or an ergo that don't necessarily replicate the positions you're going to be in while skiing. "Not that everything needs to be sport specific, but when you feel the lactic acid as a by-product of hard physical work it should in some way replicate how you're going to experience those sensations in your own sport. "There is that mind-body connection. We want to make sure that what Mikaela experiences in preparation is what she experiences in competition."READ: How northern Norway is skiing's new frontier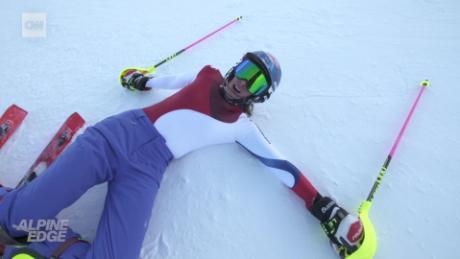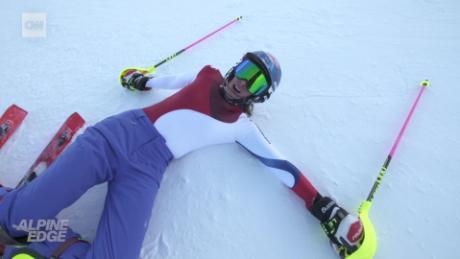 JUST WATCHEDHow to ski slalomReplayMore Videos …MUST WATCH
How to ski slalom 03:21But skiing isn't all about brute force, which is why input from instructors such as Saxlund is crucial. "We have a lot of people say that once technique improves, the actual physical effort decreases because they're in balance more of the time and they're making more efficient movements," says Saxlund. "They often say, 'I didn't think it could feel this easy.' When you make the right movements there's almost an element of magic to it."READ: Kilian Jornet: Speed climber dances twice in Everest 'death zone'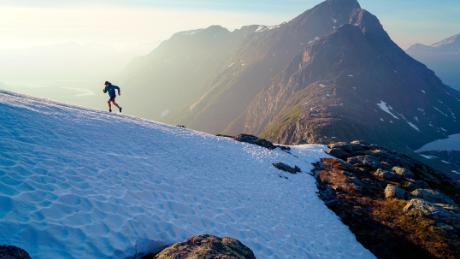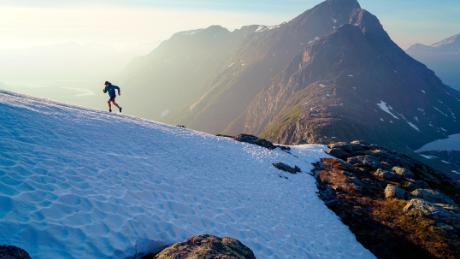 JUST WATCHEDThe man who conquers mountainsReplayMore Videos …MUST WATCH
The man who conquers mountains 01:40Sixth senseDespite the folklore of skiing being a breeding ground for injury, the statistics suggest otherwise. For every 1,000 skier days in France, there were only 2.57 injuries, according to figures compiled by its mountain doctors' association, Medecins de Montagne, in 2016-2017. While figures have remained broadly the same for at least 10 years, Maher suggests an increase in fitness, better skis, boots and bindings, higher quality instruction and improved slope grooming have contributed to a reduction in some types of injury. "There is an element of danger in skiing, but it's actually quite small," says Maher, who advocates warming up with ski specific movements at the start of the day rather than stretching. "It's rare we see certain fractures now."Among skiing injuries in 2017-2017, 34% were knee injuries and of those, 18% were anterior cruciate ligaments (ACL). According to studies into female footballers in the US, women are more than four times more likely to rupture an ACL than males, says Maher, who adds researchers think hormonal, biomechanical and bone issues could be involved.Snowboarders made up only 12% of the eight million slope users in France, but of those injured, 28% were fractured wrists. Only seven percent of those wore wrist guards. Collisions accounted for 13 percent of accidents.READ: 9 of the world's best private ski resorts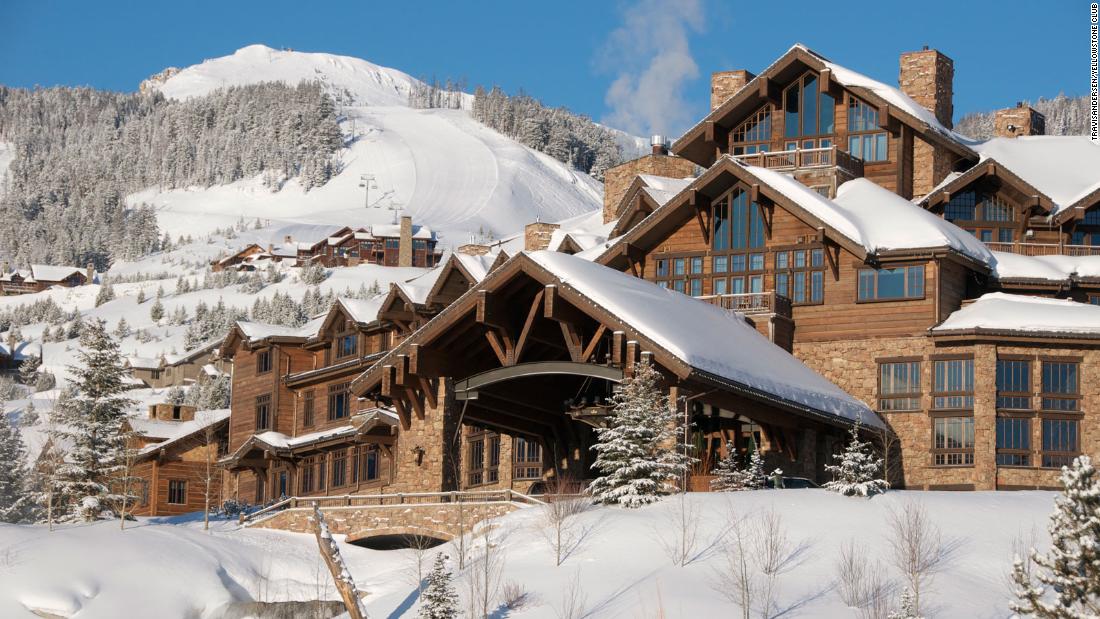 Photos: Exclusive powder: World's best private ski resortsPrivate powder: What if you could avoid lift lines and still be skiing fresh snow into the afternoon? Well, you can by becoming a member of a private ski resort. Here's some of the best, including Yellowstone Club (pictured).Hide Caption 1 of 18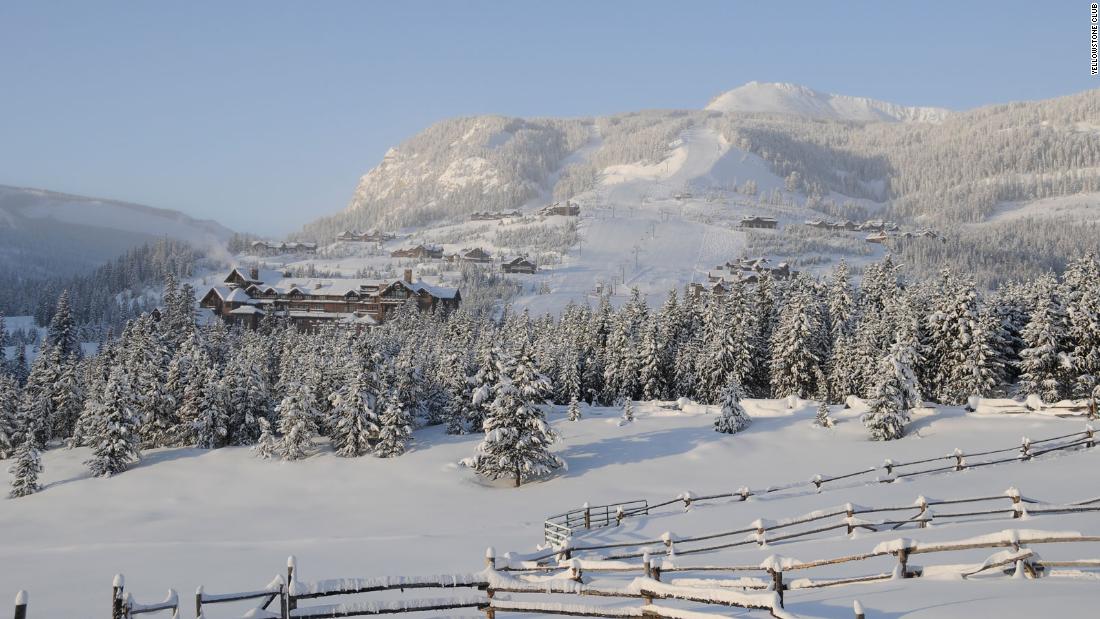 Photos: Exclusive powder: World's best private ski resortsYellowstone Club: This powdery paradise for moneyed mountain types (Bill Gates is a member) lies in the Rocky Mountains of Montana on the outskirts of Yellowstone National Park. Hide Caption 2 of 18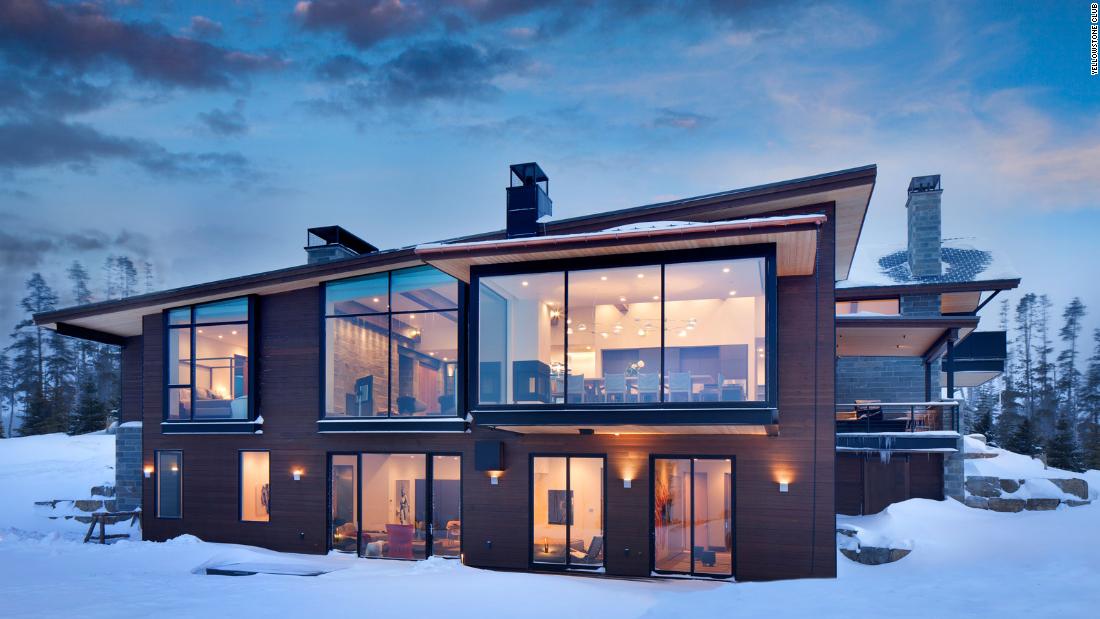 Photos: Exclusive powder: World's best private ski resortsYellowstone Club: The damage is as steep as a double black diamond run — an initial fee of $300,000 and an annual fee of $37,500 is the small change. To become a member you have to own property, which ranges from condos starting at $3 million to ranches north of $25 million.Hide Caption 3 of 18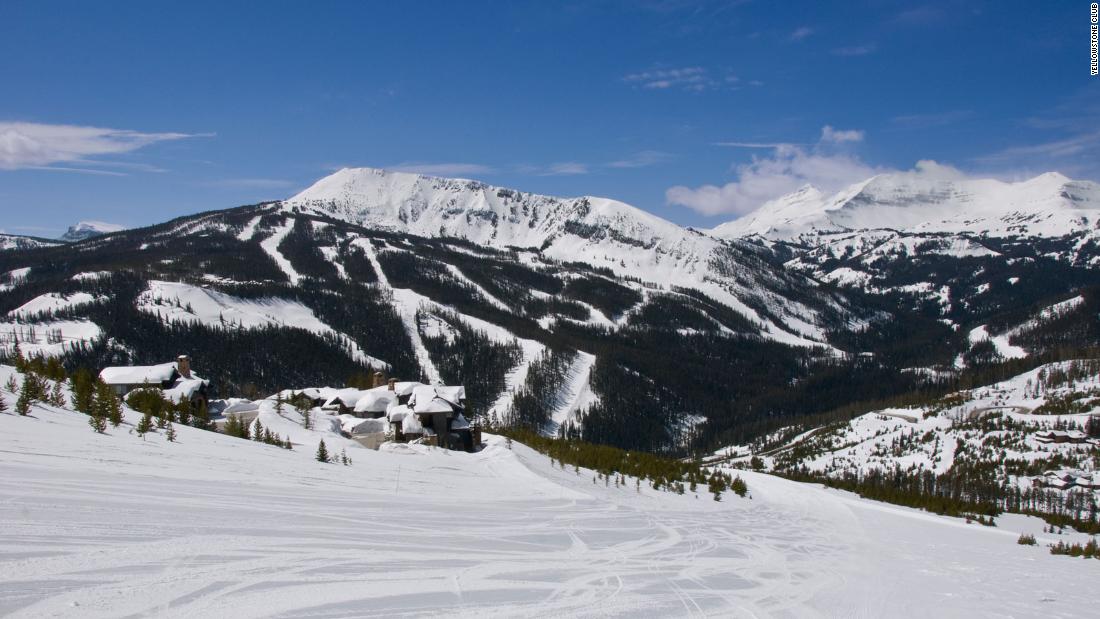 Photos: Exclusive powder: World's best private ski resortsYellowstone Club: Once you've splashed the cash the skiing's epic, with 16 lifts, 60 runs and 2,700 vertical feet of downhill action, all of which you can enjoy with resident pro and ski movie legend Scot Schmidt. The resort of Big Sky is also next door.Hide Caption 4 of 18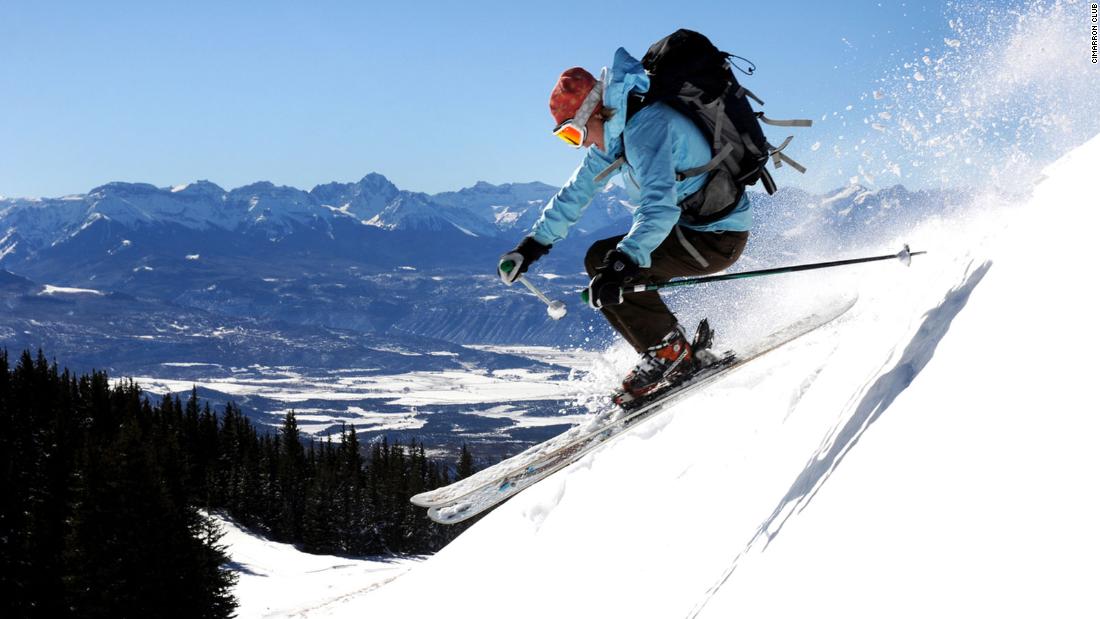 Photos: Exclusive powder: World's best private ski resortsCimarron Mountain Club: Set to open in December 2018, this exclusive enclave in the San Juan mountains of Colorado could just be the most elite resort-based ski experience in the world.Hide Caption 5 of 18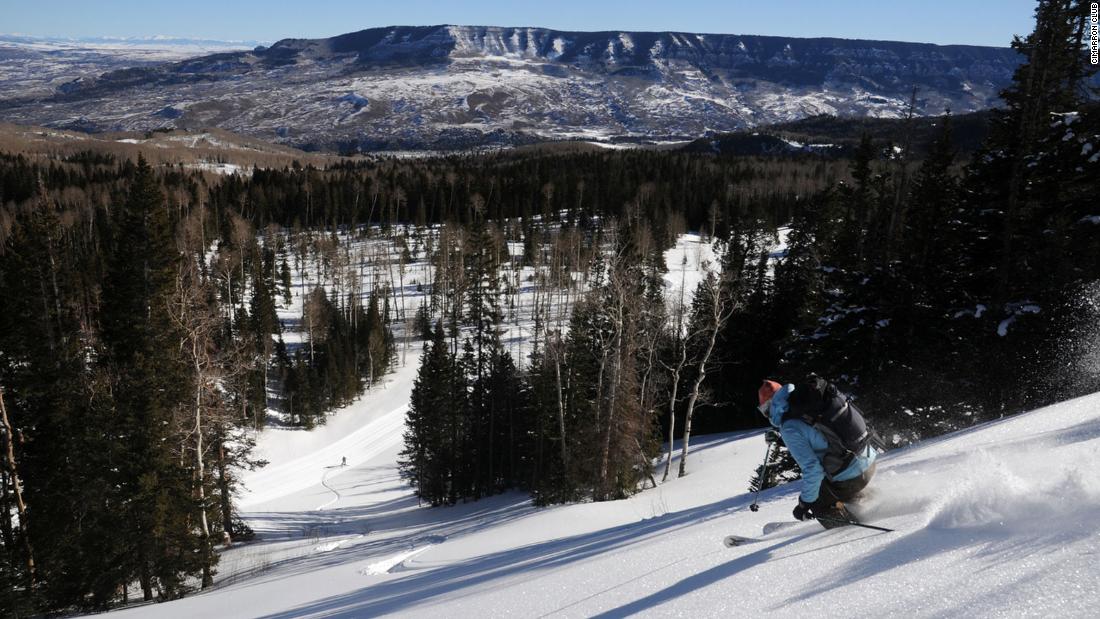 Photos: Exclusive powder: World's best private ski resortsCimarron Mountain Club: The 1,750-acre property will be available to just 15 home-owning families and their guests. The initial buy-in is likely to be about $3.4 million, with annual dues between $55,000 and $65,000.Hide Caption 6 of 18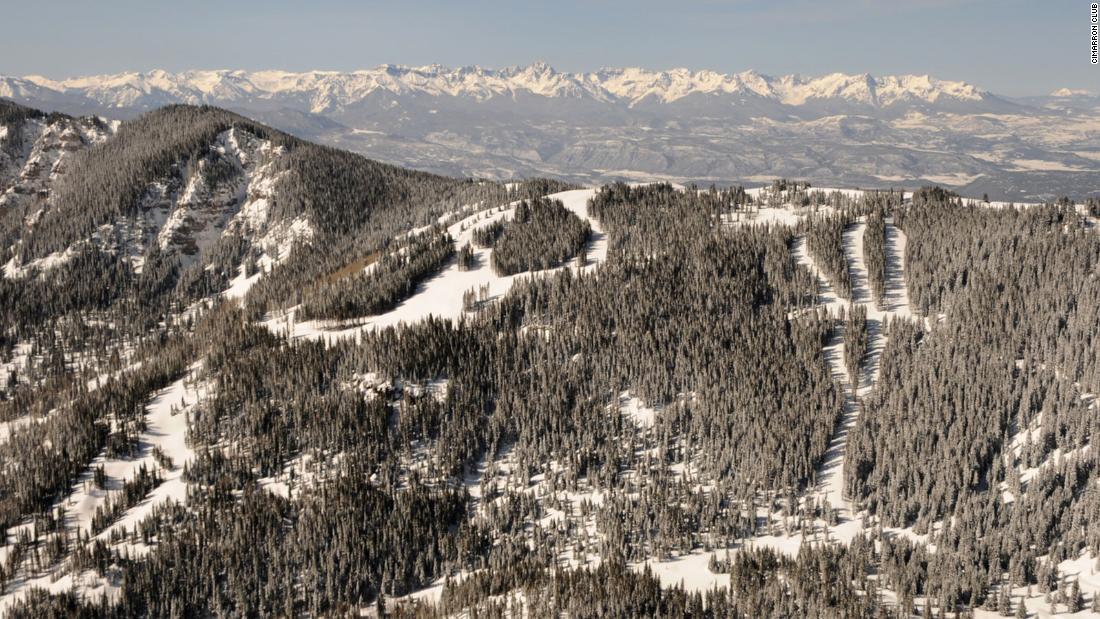 Photos: Exclusive powder: World's best private ski resortsCimarron Mountain Club: The ski area encompasses 1,000 acres along the club's two-and-a-half miles of the Cimmaron Ridge, with access to another 950 acres of public land. The 60 runs will be reached by snowcat, with six distinct areas offering a variety of terrain from leisurely groomed runs to glades, chutes and bowls. Hide Caption 7 of 18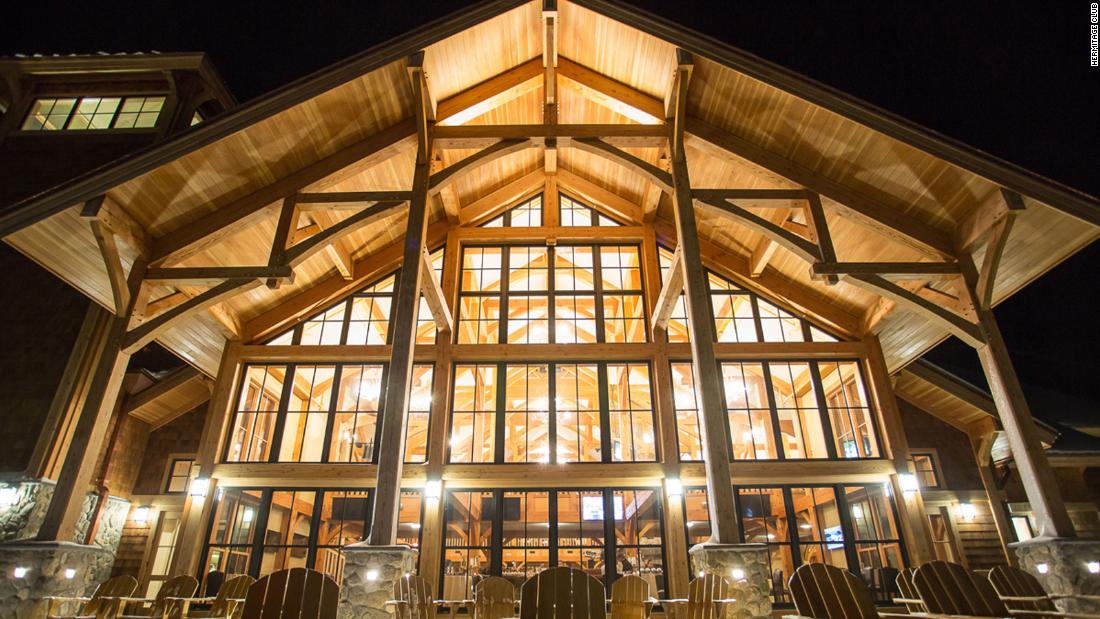 Photos: Exclusive powder: World's best private ski resortsHermitage Club: The Hermitage Club is a 1,400 acre private club in the Green Mountains of Southern Vermont, with five chairlifts and 46 tree-lined trails on the side of Haystack Mountain.Hide Caption 8 of 18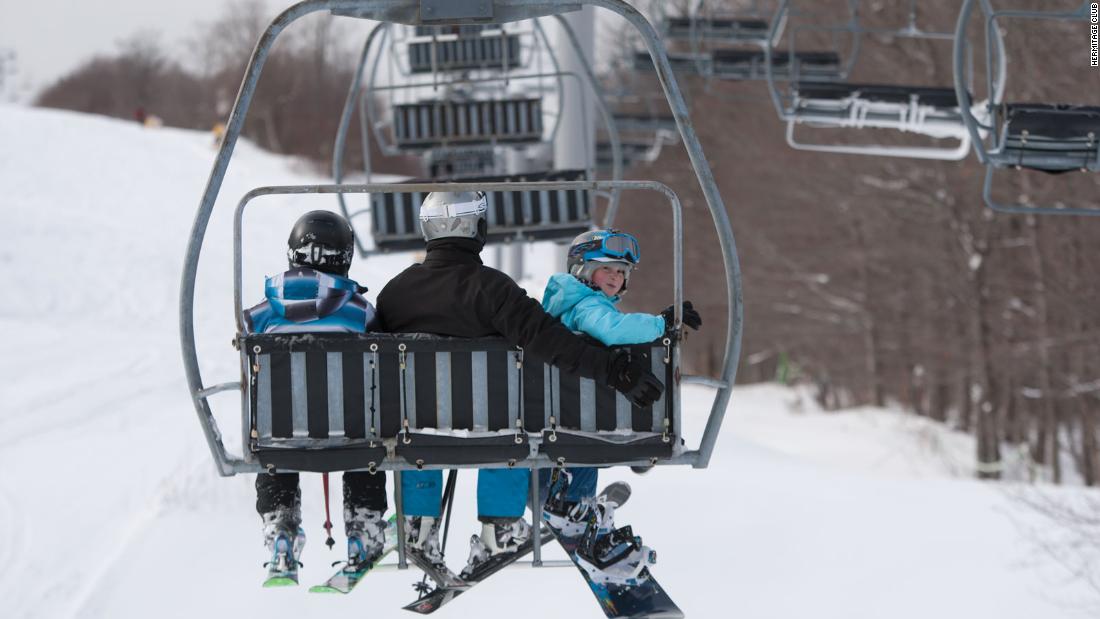 Photos: Exclusive powder: World's best private ski resortsHermitage Club: It costs a cool $85,000 up front with $9,500 annually in dues. Lodging is in one of six local inns, slopeside townhouses or condos with further development planned.Hide Caption 9 of 18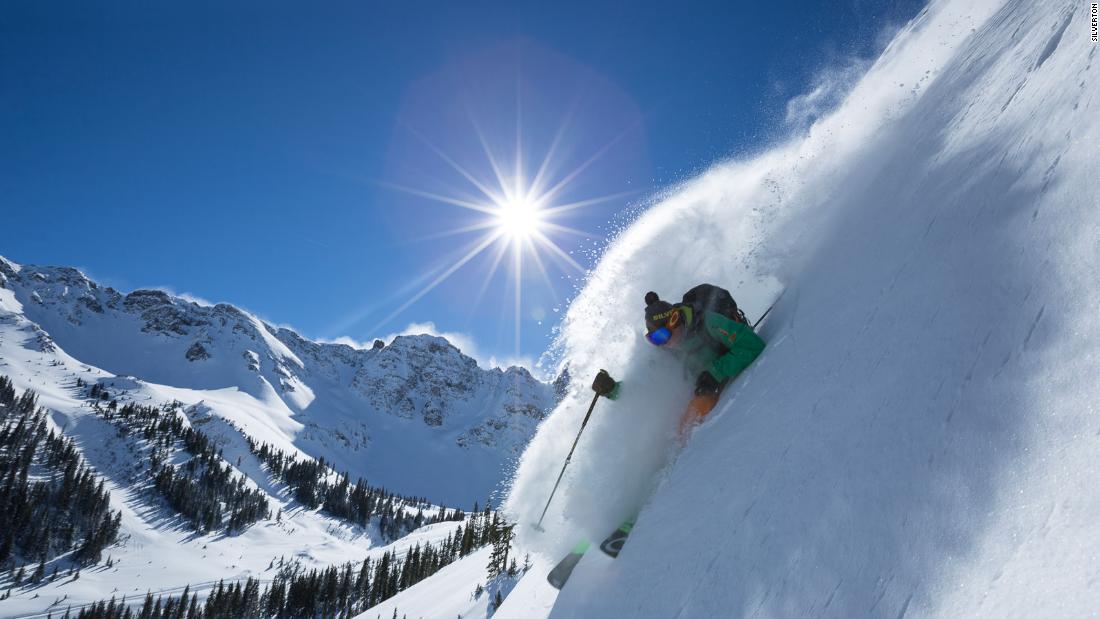 Photos: Exclusive powder: World's best private ski resortsSilverton Mountain: A short distance from Telluride in Colorado, and enjoying the same whopping 400 inches of snow per year, Silverton's one single chairlift is a highway to heaven for advanced and expert skiers.Hide Caption 10 of 18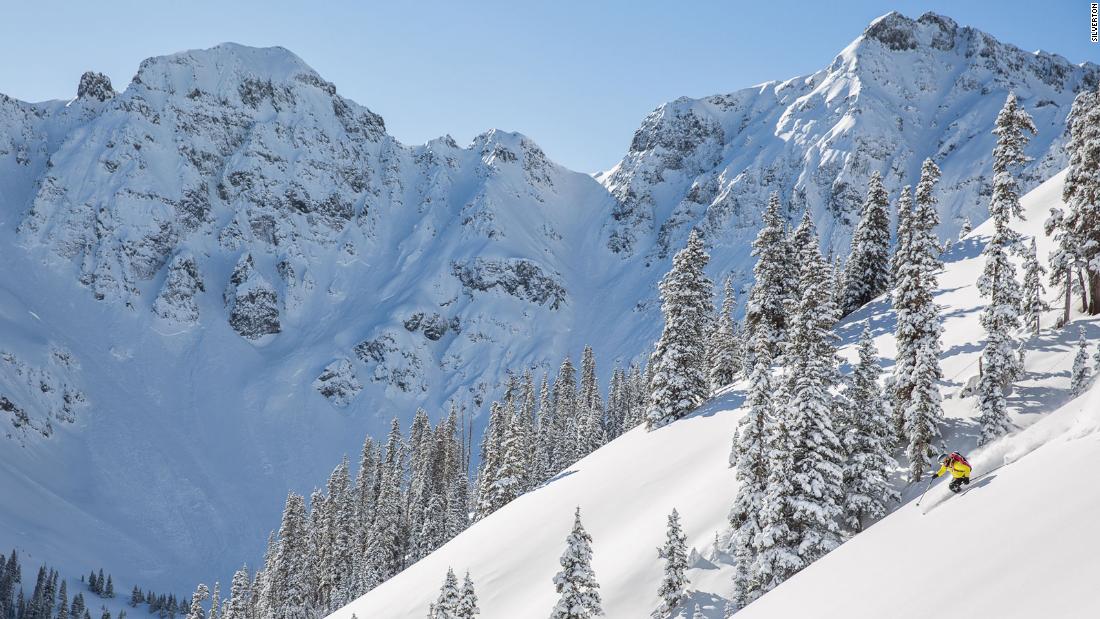 Photos: Exclusive powder: World's best private ski resortsSilverton Mountain: The vast ski area is open to guided groups only from December to March (Thursday-Sunday), which limits the number of visitors. If that's not private enough, you can book the whole mountain for about $14,900 per day.Hide Caption 11 of 18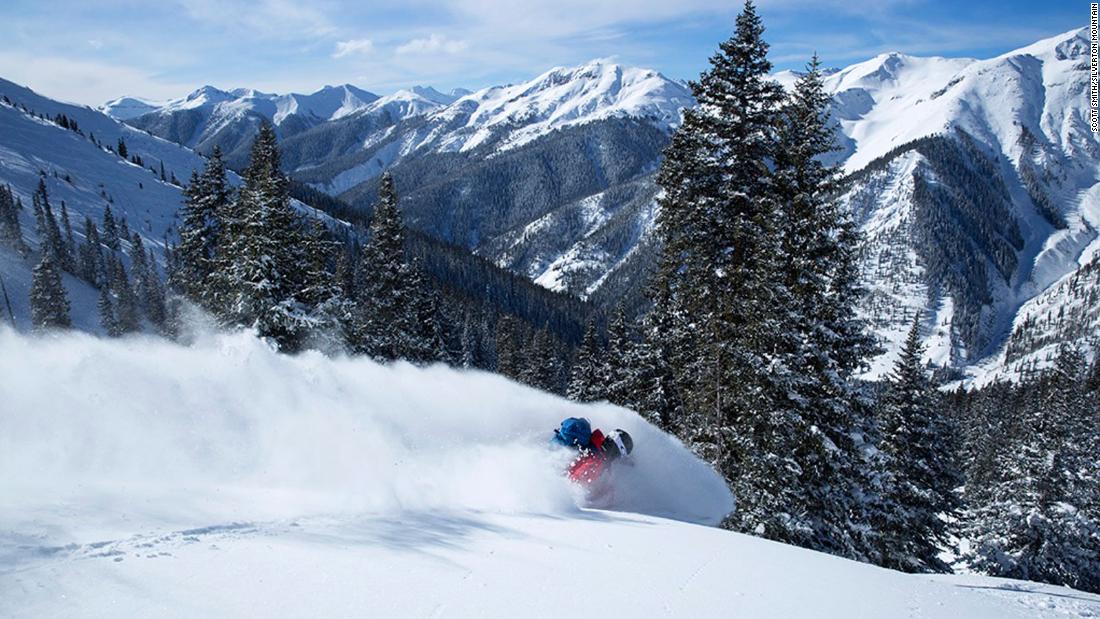 Photos: Exclusive powder: World's best private ski resortsSilverton Mountain: With no groomed slopes and only one chairlift to access the mountain, Silverton is reserved for advanced and expert skiers.Hide Caption 12 of 18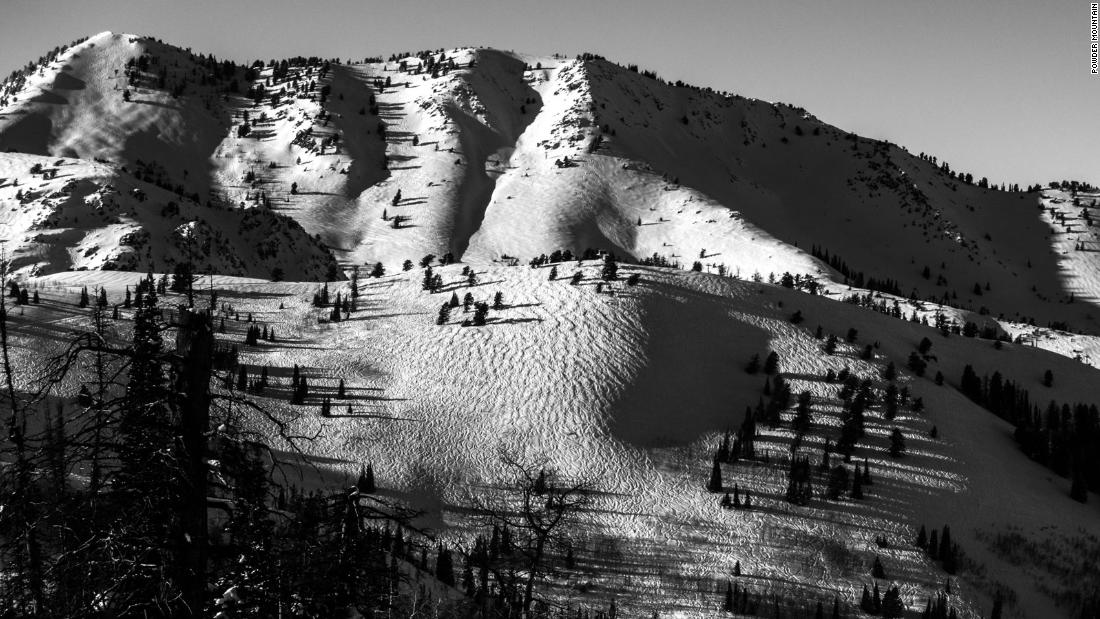 Photos: Exclusive powder: World's best private ski resortsPowder Mountain: "Pow Mow," as it's known to locals, lies an hour north of Salt Lake City in the Wasatch mountains of Utah. It's not private, but lift tickets are limited to 1,500 per day to preserve its soul.Hide Caption 13 of 18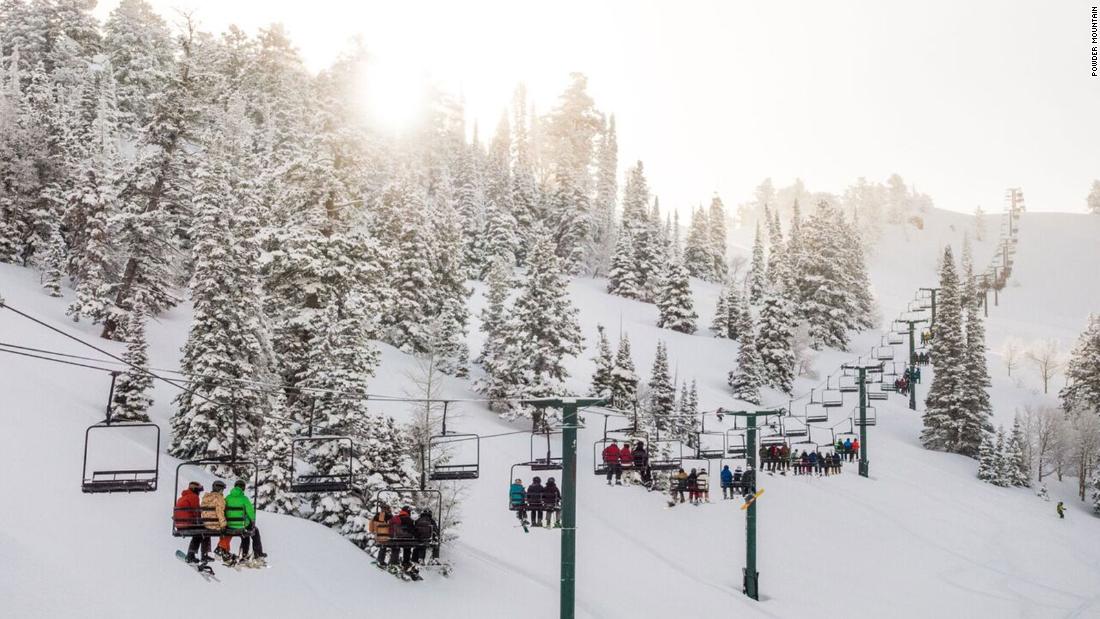 Photos: Exclusive powder: World's best private ski resortsPowder Mountain: The resort was taken over in 2013 by the Summit collective of new-age entrepreneurs and thought leaders. The vision is to create a sympathetic "next-generation"alpine town at the top of this upside-down ski area, which boasts nine lifts and 167 groomed runs. Hide Caption 14 of 18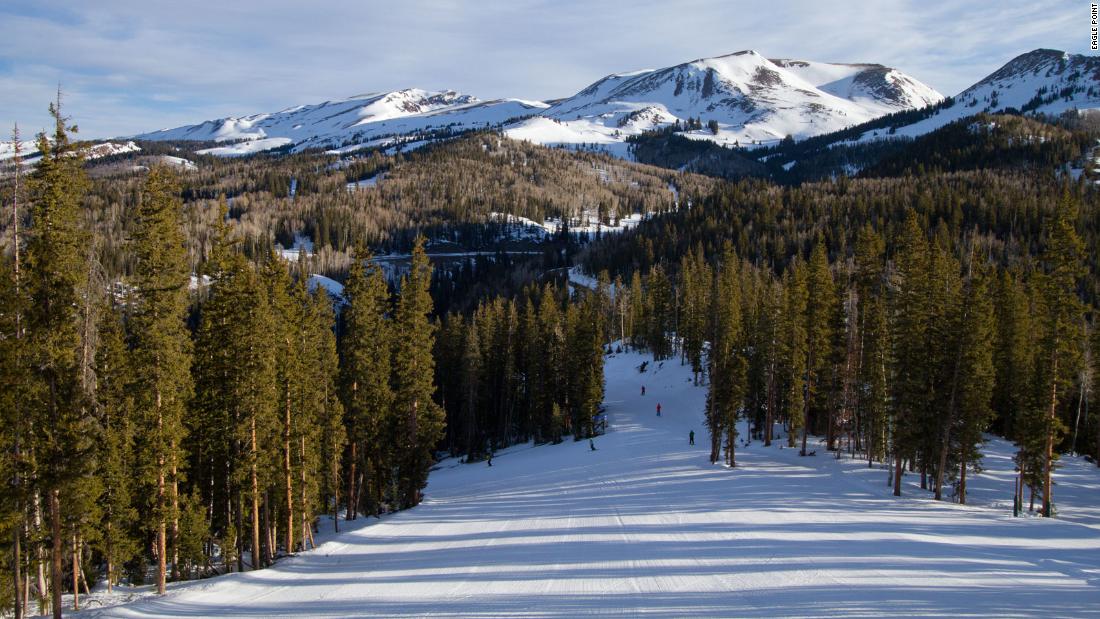 Photos: Exclusive powder: World's best private ski resortsEagle Point: Lying halfway between Salt Lake City and Las Vegas in southern Utah, Eagle Point is a public ski resort with an exclusive twist.Hide Caption 15 of 18
Photos: Exclusive powder: World's best private ski resortsEagle Point: For the pocket change of $10,000 a day, the entire mountain — five lifts, 40-plus pine-clad runs, 600 skiable acres, 1,500 feet of vertical — can be rented Tuesday-Thursday, January through the end of March.Hide Caption 16 of 18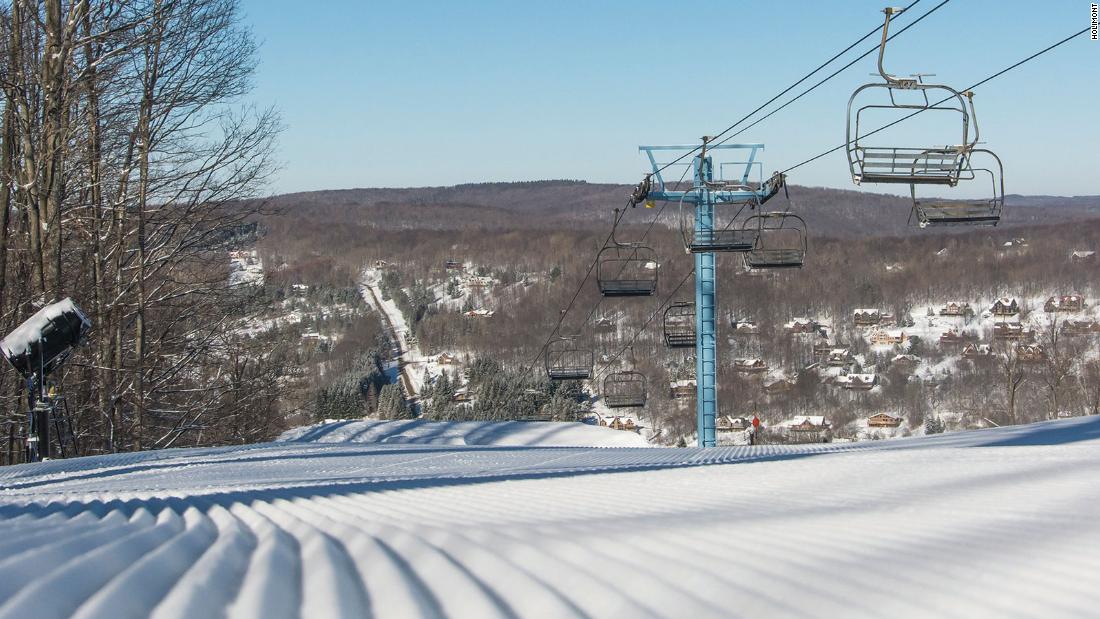 Photos: Exclusive powder: World's best private ski resortsHoliMont: This resort in upstate New York opened in 1962 and is now the largest private ski club in the United States. It's open to the public during the week but weekends are reserved for the 4,000 members to enjoy the 52 tree-lined trails, eight lifts and 135 skiable acres, with plans to develop the Westmont Ridge ski area.Hide Caption 17 of 18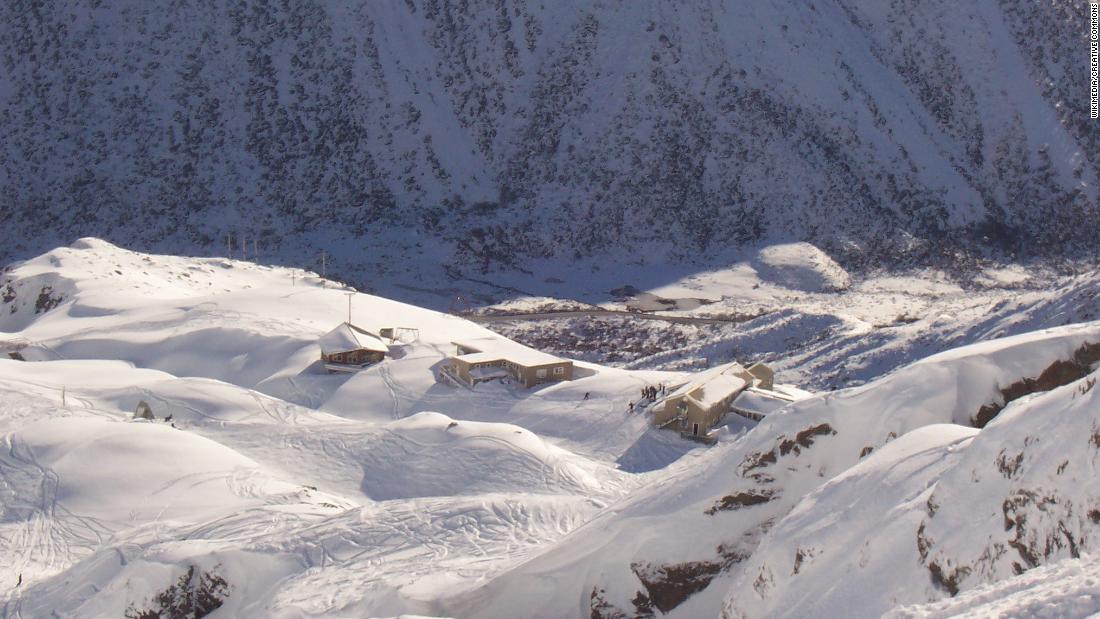 Photos: Exclusive powder: World's best private ski resortsTemple Basin: New Zealand's back-to-basics "clubbies" are members' ski fields also open to the public. "TB" has its own Range Rover-driving-designer-set filter — you have to walk the final 45 minutes uphill to the base area. Hide Caption 18 of 18
















'Positive mental attitude'One way of trying to reduce accidents that could lead to injuries is by improving your "sixth sense" or proprioception — the awareness of relative positions of your body and the strength of effort needed for movement — says Maher.Simple exercises such as balancing on one leg for as long as you can, and then trying it with your eyes shut, for example, is a good way to train the brain for activities such as skiing."When you start to lose control for whatever reason, it's about how quickly you can regain control," he says. "We have definitely seen that getting the muscles to work better in unison with the brain — this proprioception mechanism — seems to be super helpful."The message is clear: a little physical effort beforehand will reap big rewards when you hit the slopes. And that's before you factor in the mental approach to skiing."Having a positive mental attitude and remembering you're there to enjoy yourself and have fun would be a big help to a lot of people," says Saxlund.
Source Link:
https://www.cnn.com/2019/01/04/sport/ski-fitness-training-alpine-edge-spt-intl/index.html
[0.487473]
Comments
comments