(CNN)The man tasked with keeping Phil Mickelson in check as the pressure ramped up on a major championship Sunday has had years of experience with him.
Tim Mickelson caddied for his brother Phil during his record-breaking PGA Championship victory on Sunday, with which Mickelson became the oldest major winner in golf history. And while Tim was the only person who had direct contact with Mickelson on the course, their mom was trying to send her own piece of advice to "Philip" from afar. "Text Philip and tell him just to par in," Mary Mickelson texted to his sister Tina, she revealed on Twitter. "Don't hit bombs or activate calves. Just par. They will have to catch him. He won't listen to his mother so you text him. Hurry."It's unclear whether Mary's message made it through — Tina did say she would text Tim because "he's the only one Phil is listening to today" — but between Phil, Tim, Mary and Tina, the Mickelsons got over the line and into the history books. Read More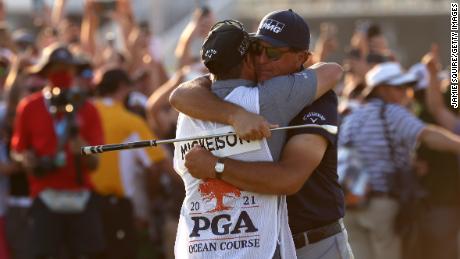 Mickelson celebrates with brother and caddie Tim Mickelson on the 18th green after winning during the 2021 PGA Championship.Mickelson had previously won five majors with his former, long-time caddie Jim Mackay, but having his brother on the bag with him was just that little bit more special as the pair shared an emotional embrace after the 50-year-old tapped in the winning putt.And having someone with you who knows you so well is something Mickelson fed off during Sunday's crucial final round and is part of what makes Tim "a great caddie." "As I'm walking off 6, I had made some uncommitted swings the first six holes," Mickelson told the media after his victory. "I had been striking the ball awesome the first three days. "I had a wonderful warm up session, like I was ready to go and I made some uncommitted swings the first six holes. He pulled me aside and said: 'If you're going to win this thing, you're going to have to make committed golf swings.' "It hit me in the head, I can't make passive — I can't control the outcome, I have to swing committed. The first one I made was the drive on 7. Good drive on 7 gave me a chance to get down by the green and make birdie. From there on, I hit a lot of really good shots because I was committed to each one."READ: The 'Rain Man of golf' who amazed even the greats of the sport
Mickelson looks on from the eighth tee with his caddie and brother Tim during the final round.Eyes on moreWith six major victories and 45 PGA Tour wins in his locker, Mickelson is one of the most legendary and beloved figures in modern golf. In finishing two shots ahead of Brooks Koepka and Louis Oosthuizen at Kiawah Island's Ocean Course, Mickelson — who is nicknamed "Lefty" because of his left-handed playstyle — picked up his second PGA Championship title, 16 years after his first. In winning at age 50, Mickelson surpassed the record of the oldest major winner previously held by Julius Boros, who won the PGA Championship in 1968 at age 48.However, in his long and storied career, one trophy has most notably alluded him: the US Open. He's managed to finish second on multiple occasions, while he's be able to win the other three majors.And so, with the 2021 US Open approaching in June at Torrey Pines and with it remaining the only thing standing between him and the famed career grand slam — winning all of the major tournaments during a player's career — Mickelson sees no better time to try and break that duck.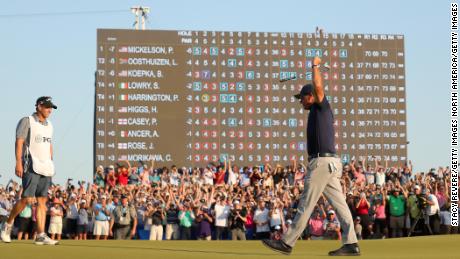 Mickelson celebrates on the 18th green after winning the 2021 PGA Championship."I do believe that, if I stay sharp mentally, I can play well at Torrey Pines," Mickelson said. "I know I'm playing well and this could very well be my last really good opportunity to win a US Open, so I'm going to put everything I have into it."Mickelson needs the US Open to join Tiger Woods, Jack Nicklaus, Gary Player, Gene Sarazen and Ben Hogan as the only golfers to complete the career grand slam.He will turn 51 on the eve of the major in California, and he is being realistic that his momentous victory in South Carolina could be the last time he ever wins."So it's very possible that this is the last tournament I ever win," he said. "Like if I'm being realistic. "But it's also very possible that I may have had a little bit of a breakthrough in some of my focus and maybe I go on a little bit of a run, I don't know. But the point is that there's no reason why I or anybody else can't do it at a later age. It just takes a little bit more work."Mickelson puts his resurgence last week down in a large part to his more focused diet and his use of meditation to focus his mind. Visit CNN.com/sport for more news, features, and videos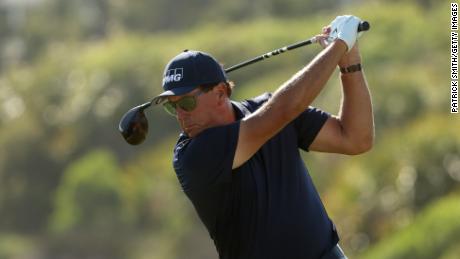 Mickelson plays his shot from the 12th tee during the final round.But he believes that although a round of golf now takes more energy out of him than before, there's no reason he can't continue to compete at the top level with the correct preparation and work ethic. "But if I work a little harder, spend a little more time in the gym, eat well, practice hard, there's no reason why I can't put it all out there for 18 holes," Mickelson said."There's no reason why you can't accomplish your goals at an older age. It's just going to take more effort. If you put in the work, there's nothing you can't accomplish."
Source Link:
https://www.cnn.com/2021/05/24/golf/phil-mickelson-family-us-open-pga-championship-spt-intl/index.html
[-0.437421,"negative"]
Comments
comments